NLFA and CXSports Provide New Opportunity in a Broken College Sports System
We all like to think that success as an athlete is based on nothing but pure talent alone. But, if the Varsity Blues admissions scandal taught us anything, it's that this isn't always the case. The reality on the ground is that thousands of talented athletes miss out on opportunities every year, quite often for no other reason than not having access to the finances needed to succeed.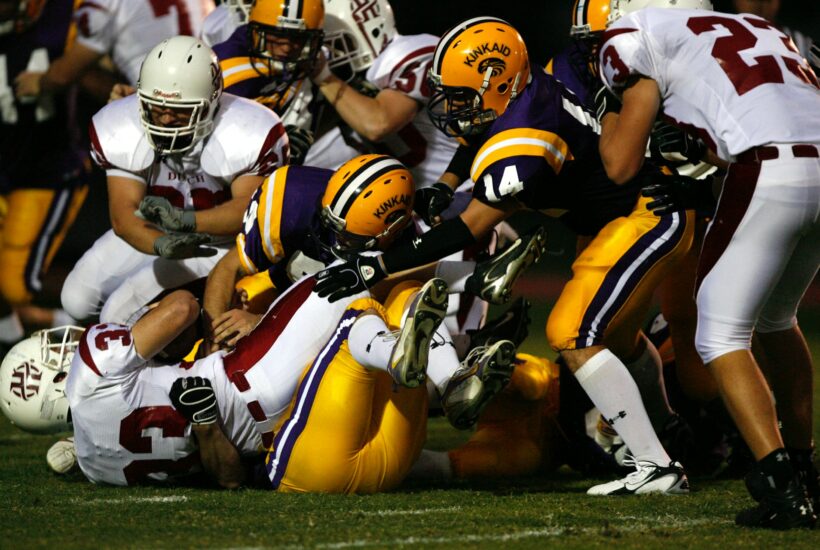 On March 12, 2019, the United States Attorney's Office dropped a bombshell on the college sports community. In a press release titled "Arrests Made in Nationwide College Admissions Scam," details of a nationwide conspiracy to cheat on college athletic program admissions were released. Names were named and arrests were made, but the damage had already been done; equality of opportunity in college admissions was clearly nothing more than an illusion.
One month later in an unrelated but fortuitously well-timed event, a new semi-professional football league named the North Louisiana Football Alliance (NLFA) announced its arrival. In its April press release announcing its formation, it promised to deliver the football community a different impression of semi-professional football.
The NLFA Is All About Levelling the Playing Field
In reality, the NLFA's launch plans predate what we now know as the Varsity Blues scandal. In discussion with NLFA founder Holland Witherspoon, we learned that his plans for a new kind of football league aimed at college-aged athletes had been years in the making.
However, while there was no direct correlation between the creation of the NLFA and the outbreak of the college admissions scandal, we do find a common thread between them. Namely, that thread is the equality of opportunity for aspiring athletes to access the programs that might help them sustain or advance their careers.
In the NLFA's case, that thread lies in its goal of providing the countless high school athletes who miss out on college football programs with an alternative development platform.
Given the timing of the NLFA's launch, such a goal could be seen as taking direct aim at the college admissions scams. And to a certain extent, it does. When kids are able to pay to play — or worse, to idly occupy a spot on the team without any athletic talent to show for it — there is clearly deep inequality in accessing college sports programs.
But it didn't take the outbreak of a scandal for Witherspoon to observe this phenomenon of missed opportunity. Nor is his observation limited to the sort of one-dimensional financial inequality highlighted by the Varsity Blues scandal. After all, the vast majority of athletic admissions to universities are still, presumably, granted on athletic talent alone.
Financial Inequality Goes Deeper than Admissions Alone
However, even if 100% of college sports program admissions were purely talent-based, there are still many reasons an aspiring athlete could miss out. Financial circumstances in the years leading up to admission are one, as Saahil Desai writing for The Atlantic notes in his article College Sports Are Affirmative Action for Rich White Students. In it, he remarks that "the typical student athlete… comes from a well-to-do family that has shelled out thousands and thousands of dollars over the years to nurture a budding athletic talent."
And this is all before we start to deal with the problems some athletes have with joining such a program. Even if an athlete manages to make the grade, other hurdles such as severe illnesses in the family can force them to prioritize becoming a caregiver over pursuing an athletic dream.
Witnessing these sorts of missed opportunities — amongst others — is what drove Witherspoon to build the NLFA, which now provides a viable alternative to college football programs.
When Finances Impact Leagues and Teams, It's the Athletes That Suffer
Of course, financial circumstances don't just hit athletes at an individual level. Indeed, it doesn't take much digging in any sport to find a rich history of failed sports ventures that flopped due to insufficient funding. In fact, the NLFA's formation followed in the wake of one such case — the Alliance of American Football (AAF), which imploded spectacularly despite its billionaire backer and national TV deals.
While the fallout from these collapses is often soon forgotten, what is harder to ignore are the hundreds of opportunities that evaporate with them. Athletes are left scrambling for a new home, and those who fail to grab one of a limited number of open slots find themselves facing major career setbacks.
For this reason, any league that wants to position itself as primarily about providing athletes with opportunities has to take finances very seriously. The multitude of costs associated with keeping a team or league breathing is enormous, even if players don't take a salary and provide their own equipment.
To this end, the NLFA has made steps to position itself on a more stable footing than others. For example, we don't see the usual 'growth at all costs' mindset that can so often lead to rapid-onset financial ruin. Sure, dropping big dollars on recruiting high-profile players and large-scale marketing campaigns can create a buzz fast. But if that buzz fails to stick, all that remains is a string of debts and certain ruin.
How Is the NLFA Securing the Future?
The approach we see in the NLFA is rather a more organic approach that relies more on putting stable foundations in place, and letting growth develop naturally. This means that, for the time being, athletes do not receive compensation. It also means the focus remains on producing a quality football competition ahead of becoming a sports promoter, which usually entails massive marketing budgets.
This is not to say that the NLFA isn't making inroads in this respect. For example, there are plans in the works to provide athletes with bonus and incentive schemes. And the league has also announced a broadcast partnership with OTT network FOXD.
NLFA Teams up with a Like-Minded Partner: CXSports
Most recently, the NLFA's efforts to further its development include a new "Digital Asset Monetization" partnership it has just entered into with CXSports. The partnership will see the league working to generate a range of new monetization opportunities through the CXSports platform.
What makes the new partnership particularly interesting is that CXSports was founded in much the same way as the NLFA. That is to say, it was founded to solve some of the major challenges facing amateur and semi-professional level sports.
Of course, CXSports isn't tackling college football programs. But it is focused on creating opportunities for leagues, teams, and athletes to level the playing field somewhat by providing tools to bolster their finances — a problem that, as we've seen, is often the difference between success and failure in sports.
How CXSports Will Help the NLFA Secure Its Future
If the notion of "Digital Asset Monetization" didn't already give it away, the basis of CXSports' tools is rooted in finding ways to leverage digital assets — that is, websites, social media, podcasts, etc. — to generate revenue.
What's so attractive about this proposition is that most teams, leagues, and athletes already have an online presence. It's just that most are simply using them as a sort of show and tell — here's who we are and what we do — without realizing the vast opportunities for monetization that exist.
Take, for example, the humble but obligatory history/biography. Every league, team, and athlete has one, but almost no one is seeing it as a chance to make money. However, suppose they instead publish their bio through CXSports's platform. In that case, they then unlock the opportunity to populate their bio with targeted sponsor offers that CXSports sources and manages on their behalf. The net result of this is that what was once an asset with zero monetary value can now generate passive income on an ongoing basis.
This is what CXSports calls Money Pages, and it is the first in a series of products that aim to unlock the latent monetary potential locked away in any digital asset with an audience. Eventually, we could see the range of tools expanded to include everything from classic social media influencer style deals, to more creative ideas like browser plugins and sports results feeds.
A New Hope for All Athletes
While the NLFA and CXSports aren't going to solve the entire problem of access to finance and opportunity across the entire sports ecosystem alone, they each make a valuable contribution. Importantly, they each show that reliance on the traditional pathways is no longer a necessity.
In the NLFA's case, the league is giving hope to athletes who miss out on opportunities in the unbalanced — and at times corrupt — system of college-level sports. And in CXSports, we see a platform that unlocks new funding opportunities for the teams, leagues, and athletes that most desperately need them.
Ultimately, the real hope is the potential both create for us to see a system where raw athletic talent alone is given a chance to develop and shine, regardless of how well funded or marketed it was to begin with. And if either one can help just one athlete who might have missed out, that can only be a good thing.
__
(Featured image by Keith Johnston via Unsplash)
DISCLAIMER: This article was written by a third party contributor and does not reflect the opinion of Born2Invest, its management, staff or its associates. Please review our disclaimer for more information.
This article may include forward-looking statements. These forward-looking statements generally are identified by the words "believe," "project," "estimate," "become," "plan," "will," and similar expressions. These forward-looking statements involve known and unknown risks as well as uncertainties, including those discussed in the following cautionary statements and elsewhere in this article and on this site. Although the Company may believe that its expectations are based on reasonable assumptions, the actual results that the Company may achieve may differ materially from any forward-looking statements, which reflect the opinions of the management of the Company only as of the date hereof. Additionally, please make sure to read these important disclosures.