Biotech applications branch out to healthcare data processing
Biotech developments are now giving more focus on IT healthcare software on client data management and processing.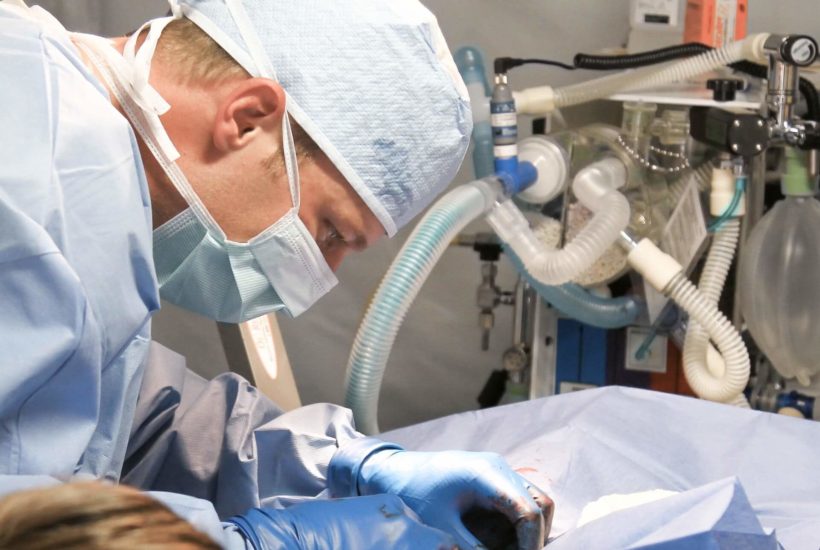 Of all the industries betting on hiring outsourcing development services, the healthcare industry is one of the select groups leading the way.  It's enough to say that the IT healthcare outsourcing market is expected to reach $61.2 billion by 2023, with 2019 being an exemplary year of such growth.
Though no one can say this rise is new, recent years have seen more and more healthcare providers seeking the help of companies from abroad. What's the reason behind this boom? There's certainly more than one. Higher levels of patient satisfaction, increased productivity, and reduced costs are some of the explanations for this rise.
Let's take a more detailed look:
A shift to a client-centric approach
While some years ago the main reason for the healthcare industry to increasingly partner up with teams from other countries was cutting costs, this doesn't explain the whole picture anymore. Sure, costs are a concern among healthcare providers, but what makes a bigger impact when considering outsourcing is the search for a change in approach.
Now, healthcare institutes understand that they need to deliver more valuable experiences during their patient's treatments. They are relying on software solutions to offer higher quality patient care through a myriad of services, including revamped patient portals, custom mobile apps, centralized invoicing systems, and CRM and loyalty platforms.
In a context where software development is experiencing a talent shortage in the US, companies from outside American soil appear as the better choice to go with those new needs. As more and more actors of the healthcare industry start seeing the benefits of digitizing their services, this lack of talent will become even more evident.
Thus, finding the right development partner is not only essential – it's getting harder with each passing day. That's why cost isn't the biggest deciding factor anymore: high quality is. Healthcare providers are willing to pay more to get the quality software their patients are coming to expect – and outsourcing companies are the only ones capable of providing highly-skilled professionals at a moment's notice.
More efficient ways to assess and manage data
Though healthcare providers are outsourcing their digital projects to meet the highest standards for their patients, there's also an internal reason as to why they do that: the medical staff's growing dissatisfaction with their current software solutions.
While most clinics and hospitals already have electronic medical records (EMR), the med staff still perceives their platforms as overwhelming and time-consuming. Given the need to manually capture and manage medical data in those systems, physicians and administrative assistants see many platforms as a waste of time.
To solve this issue, healthcare providers are turning to software companies specialized in health systems. The idea is simple – by hiring a dedicated team of developers with the necessary skills and experience, companies can get their hands on real-time data through the use of artificial intelligence and innovative methods of data processing.
It's not a surprise that some of the most commonly outsourced software for healthcare industries are:
Electronic Medical Records (EMR): electronic platforms to store and share clinical data and laboratory information.
Customized software for new devices: new diagnosis tools need appropriate software to get the best of new med technologies.
Customer Relationship Management platforms (CRM): systems to manage financial tasks, staff resources, and patient care delivery.

Predictive systems: predictive analytics work with big data sets to bring better insights and provide suggestions for more accurate diagnosis and care for several illnesses.
This explains why the IT administration segment is expected to be the biggest investment in IT outsourcing services spending. A Transparency Market Research report says that this segment will spend $21.5 billion by 2023 in the development of healthcare data management, operations management, asset management, and billing.
Keeping up with mobile and progressive web app trends
Recent research says that 48% of all Internet traffic in 2018 was mobile. People are using their mobile devices more than ever! This means that healthcare providers have to keep up with the trend to offer the superior experience both their patients and their staff are demanding.
Software outsourcing companies have the expertise needed to develop tailor-made solutions for the increasing number of mobile users looking for the best experience in their preferred devices. Additionally, these external teams can offer a mobile-friendly solution that can be developed in less time and at a fraction of a cost: Progressive Web Apps (PWA).
PWAs are apps that combine the experience of a website with that of a mobile app. It's a solution that stands in-between, providing some basic features found both in a site and in an app. For instance, a PWA can give patients easy access to their healthcare provider's platform to create appointments, check invoices, see lab records and so on, without having to install an app.
Regardless of the choice of the healthcare provider, it's evident that these actors increasingly need digital solutions for the mobile world. This means that they need to develop platforms for mobile devices in a time when most companies are trying to do exactly the same in every industry. Accessing talent capable of doing this is increasingly difficult, and this is why so many are retorting to outsourced developers to get the job done.
The challenges ahead
All of the above explains why healthcare providers are turning to outside talent to address their digital needs. A demanding clientele, the need for time and cost-efficient tools for medical staff, and the desire to keep up with the latest trends force the healthcare institutions to seek quick and high-quality solutions.
Given the lack of talent available in the US (and its increasing costs), outsourcing feels like the way to go for many companies. The possibility to have a high-skilled team on demand is very attractive in and by itself but it doesn't come without its challenges.
Maybe the most pressing concerns are the confidentiality issues and data breaches that could happen when outsourcing in the healthcare industry. Additionally, relying on developers from other countries can bring inherent issues, such as cultural and language barriers and mismatched expectations.
That's why it is so important to learn how to pick the right software outsourcing services provider. Checking the existing offer to assess their expertise, work method, and costs is a necessary process for all healthcare institutions looking to be at the forefront of the industry with this boom serving as context.
With the coming years promising more and more healthcare companies getting on board of the outsourcing trend, finding the right ally in a competitive market will become a key factor for everyone involved.