Wall Street catches high on cannabis stocks, marijuana operators and CBD investments
The gradual legalization of cannabis in the USA is attracting entrepreneurs and hedge funds to the market, but the unclear legal situation has curious consequences.
New York, NY and Frankfurt, Germany. Hussein Rakine is surrounded like a rock star. The man with the muscular arms and the gelled black hair could easily pass for a boxing professional. But he actually only sells sweets.
The entrepreneur has the most prominent stand at the Cannabis World Congress in New York. Here, in the large exhibition hall of the Jacob-Javits-Center, on the outskirts of Manhattan's Midtown office district, the toy and car fairs take place at the same time.
But on three days at the end of May, a large part of the exhibition space belongs to the industry in which Rakine is feels right at home. With the many types of jelly babies he has put up for tasting in fine glass containers, his stand looks like a candy store. The lettering of his company "Just CBD" is emblazoned on the wall in large illuminated lettering.
CBD stands for Cannabidiol, a non-psychoactive compound of the hemp plant, which is supposed to help against cramps, sleep disorders and nausea. The gummy bears are sprinkled with CBD, and thanks to a new law, the substance can be sold anywhere in the USA.
Two managers at the New York investment bank, Oppenheimer, have also mixed in with the small cluster of people surrounding Rakine. In their suits, shirts and backpacks, they are hardly noticeable in the crowd. They discreetly exchange business cards with Rakine. "If you need investors, let me know," says one. But Rakine waves her off.
The company is currently not dependent on money from outside investors. For companies like "Just CBD," which ships products from Florida all over the country, these are fantastic times. "Last year we grew by 2000 percent," reveals Rakine, grinning.
Cannabis is booming like hardly any other young industry today. A market that was previously reserved to backyard dealers and shop owners with rasta hairdoos, has brought new start-ups, new products and new promises for investors within just a few years.
While the scene in Germany is only just beginning to form, in the USA one has to marvel at how cannabis has morphed from a pothead drug to a lifestyle product over the past few years – and how baffling the slow reaction of politicians and regulators to this trend has been. One important difference has to be taken into account: THC is the active ingredient of the cannabis plant that makes you high, while CBD has a relaxing effect, but does not lead to intoxication.
According to a recent study by the investment bank Cowen, the US market for CBD products alone is expected to grow to 16 billion dollars by 2025. According to estimates, turnover in 2018 was only around two billion dollars. What attracts them are the enormous margins in the industry. "30 to 35 percent EBIT margins are normal for many companies," says Cowen analyst Gerald Pascarelli. Cannabis entrepreneurs lure investors with future profits.
This is also due to the fact that the prohibition of cannabis has not yet been properly lifted. At the federal level, marijuana, the dried flowers of the female hemp plant containing the high-generating substance THC, is still classified as an illegal drug like heroin and LSD.
But in recent years, more and more US states have legalized marijuana for medical and recreational use. Colorado and Washington, which allowed recreational use in 2014, have since followed nine additional states. Marijuana is even legal for medical use – for example as a painkiller – in 33 states.
Wall Street has also become aware of this trend: several cannabis companies are already listed publicly, such as Aurora Cannabis, Canopy Growth and Cronos, in which the Philip Morris parent company Altria controls a stake. Their price gyrations show just how quickly intoxication and disillusionment still alternate in the industry: all shares have doubled in value at least once this year, and all have since relinquishing a large part of their profits.
Vivien Azer, analyst at the investment bank Cowen, considers Aurora to be the company best positioned for international growth. Aurora is also already active in Germany. Recently, the company increased its sales by 370 percent, but is not yet profitable.
Other US companies are "growing like a weed", pun intended. In the state of Colorado, for example (the first US state to legalize marijuana for recreational use), a small company by the name of West Coast Venture Group (OTC: WCVC) recently made headlines when it became America's first CBD restaurant stock. CBD (Cannabidiol) is a phytocannabinoid discovered in 1940. It represents one of some 113 identified cannabinoids in the cannabis plant and accounts for up to 40% of the plant's extract.
WCVC's Illegal Burger Writer Square location in Downtown Denver serves a "CBD infused" menu of items and is expected to generate over $1 million in sales this year while a second location (Denver CitiSet) is on track to exceed $700,000 in sales in its first full year of operations.
During the course the last fiscal year (2018), West Coast Venture Group earned over $3 million in revenue and witnessed consistent year-over-year growth. And the company expects this trend to continue well into 2019 and 2020. The first quarter of 2019 already saw year-over-year revenue growth of over 20% in what is traditionally known as a slow slow quarter in the restaurant industry.
To further kickstart its growth, the company also recently announced the launch of its Illegal Pizza franchise, and it opened its first location on June 19, 2019 in Fort Lauderdale, Florida. This location is expected to generate around $700,000 in revenues within the first twelve months of operation, and it will mark the first of many Illegal Pizza locations across the country.
One additional things connects the stock exchange pioneers among the cannabis entrepreneurs: they have their headquarters in Canada and are listed on the local stock exchange because US companies that sell products with THC are not allowed to trade on the Nasdaq or the New York Stock Exchange. In 2018, America's northern neighbor was the second country in the world to legalize the cultivation, sale and use of cannabis.
In Germany, marijuana has been approved for medical use for seriously ill people since March 2017, and it is also reimbursed by health insurers. Since then, the imports of dried flowers have increased rapidly.
The drug dronabinol from the natural drug manufacturer Bionorica has also multiplied its revenues by a wide margin. Last year, more than 185,000 prescriptions for cannabis-containing preparations such as dronabinol, flowers and Sativex were issued, according to the German Health Insurance Association (Spitzenverband der gesetzlichen Krankenkassen).
The German market becomes interesting
The analysis company Brightfield Group estimates that sales of medical marijuana in Germany will increase from 73 million dollars last year to 2.7 billion dollars in 2023, while sales of CBD-containing products will rise from 38 million to 605 million dollars.
This is why the German market has also become intriguing for companies hailing from North America. Canopy, Aurora, Aphira and others have made purchases in Germany with several smaller takeovers. The acquisition of the cannabis activities of medium-sized company Bionorica via Canopy Growth (for almost 226 million euros) became a temporary highlight in May.
Aurora and other Canadian companies also plan to grow cannabis flowers in Germany, with the first harvest expected in the fourth quarter of 2020. It is unlikely, in the foreseeable future, that marijuana would also be legalized for recreational use in Germany. Various motions by the Greens, FDP and the Left were rejected in the Bundestag's health committee at the beginning of June.
In the USA, the ambivalent legal situation leads to curious contradictions: "Whoever wants to start a new company needs a bank account," says Christian Hageseth. The tall man with broad shoulders and a pronounced jaw founded "One Cannabis", a successful chain of cannabis shops, in Colorado's capital Denver.
In fact, banks would have to take him as a customer. But the US federal laws are decisive for large institutions. Anyone who wants to sell or grow marijuana cannot simply open a business account with JP Morgan Chase or Wells Fargo.
For a long time, the industry was therefore an all-cash business. Hageseth stored the sales he earned with joints or sweets sprinkled with THC in a large safe and had the cash collected by armed security services. Although marijuana is legal in Colorado, armored money transporters arrive at the IRS every month. Hageseth made $1.2 million in sales last year with One Cannabis. He estimates the cost of replacing the bank with security and courier services at $20,000 a month.
How great the fear of compliance and anti-money laundering violations is, even among smaller banks, became clear at a hearing of the US House of Representatives in February. The State Bank Northwest in Washington State, for example, refuses to have the regional energy provider as a customer because it also counts pharmacies among its customers.
"Otherwise, we would be taking on additional legal risks and compliance processes," bank boss Gregory Deckard explained to the deputies. Other regional banks and credit cooperatives, on the other hand, in consultation with the U.S. Treasury and the governments of their respective states, have ventured into a field that legally remains a gray area.
The Credit Union in Colorado has outsourced its business with cannabis entrepreneurs to a separate entity: Safe Harbor now operates in ten states, with its cannabis customers generating $1.2 billion in revenue last year. Only those who comply with certain regulations and can provide evidence to dispel any suspicion of money laundering are allowed to open an account at Safe Harbor.
"We are the most curious bankers there are," says Michael O'Neill, who heads the bank's compliance program. Until the politicians offer a comprehensive solution, donors use creative detours: Al Robertson of real estate financier Leaf Funding, for example, takes real estate from cannabis entrepreneurs as collateral. "Anyone who already owns a greenhouse or a shop, for example, can borrow on it and get a loan from us," he explains.
Loans with twelve percent interest
According to Robertson, this is legal because he has nothing to do with the sale of marijuana itself, but only comes into contact with the real estate. The calculation is simple and – for him – lucrative: the loans are typically worth up to five million dollars. He demands a down payment of two percent and an impressive twelve percent interest rate per year.
The idea that the industry might have something to do with illegality would not come up at the New York Cannabis Fair. There you can see how the sector has become a lot more professional in recent years. Instead of ex-hippies in batik shirts, many wear suits, some even ties.
CBD products in particular are available in ever more exotic variations: honey, coffee and energy drinks containing CBD, creams, chocolate and muesli bars. Also, great packaging suppliers so that the products look as serious and high-quality as possible. And law firms, tax consultants and laboratories that certify the ingredients.
But because the industry has long been unregulated, there have been scandals in recent years about products containing high levels of pesticides and heavy metals. At the end of May, the FDA invited important industry representatives to a first hearing in Washington.
The industry has long since become too big to be given a free hand. The stricter monitoring can also be an opportunity: Josh Epstein, CEO of CBD producer Socati, hopes that the black sheep will disappear. "We are in a critical phase," says Epstein, whose company supplies food manufacturers and has just collected 40 million dollars from hedge funds.
However, the founder boom hides the fact that the medical benefits of cannabis are still passionately debated by doctors, scientists and users – and that in addition to adulterators there are also quacks on the market who attribute all kinds of therapeutic purposes to marijuana.
A Pennsylvania survey shows that more than half of patients use marijuana for chronic pain, 14 percent for post-traumatic stress disorder, others for multiple sclerosis, irritable bowel syndrome or epilepsy. Clinical studies are often lacking – also because there is no money for long-term studies because funding for such studies is classified as illegal at the federal level.
Many Americans therefore still rely on their "Bud-Tender" sellers to pass on the marijuana experiences of other customers and, if in doubt, their own. The German professional association of gynecologists warned only on Tuesday that marijuana should not be consumed during pregnancy because it could alter the brain of the embryo.
The scientific opinion on the recently legalized CBD is similarly vague. "Studies show that it helps patients with sleep disorders to fall asleep and sleep through the night," explains physician Peter Grinspoon in an article for Harvard Medical School. However, further studies are needed to substantiate these claims.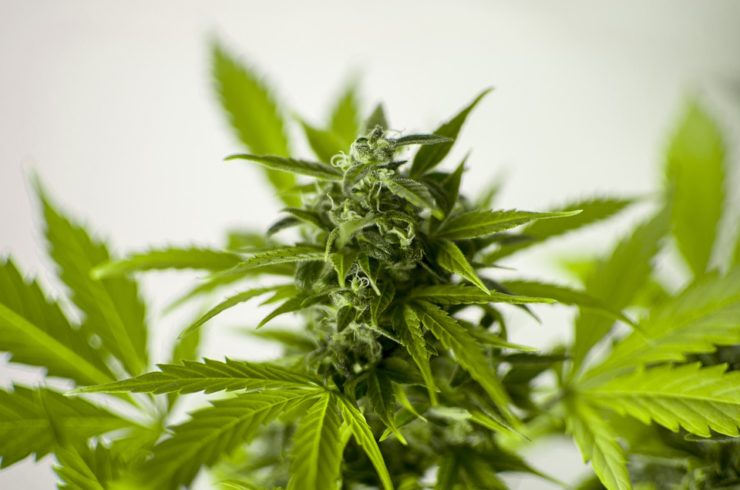 Appetite stimulation and appetite suppression
Meanwhile, the manufacturers of CBD products have long since become creative in promoting their products. "It also helps to lose weight," says the Elixinol saleswoman at the New York Cannabis Fair. The yoga and Pilates teacher only switched to the industry six months ago and now sells drops, creams and capsules for a CBD manufacturer.
"Anyone who sleeps better and doesn't worry so much doesn't eat so much during the day," she explains. But CBD can also have the opposite effect if necessary. "An acquaintance of mine has cancer and the drops help her not to lose her appetite."
As always, whenever there is a gold-rush atmosphere, serious and dubious entrepreneurs are on their way. Global opportunities meet the uncertainty created by the lack of research as well as conflicting laws. And where uncertainty prevails, at least one profession benefits reliably: lawyers.
A number of law firms and consultants have started to specialize in the uncertain and volatile legal field in which the industry operates. These include Sichenzia Ross Ference LLP. Marc Ross, co-founder of the firm, has discovered an entirely new source of business after casting initial doubts. Ross is confident that cannabis products will soon be legalized nationwide. "Cash attracts crime," he believes. It is therefore in the interest of politicians to give the industry access to banking services.
A Bill has already been drafted in the democratically led US House of Representatives. It could be voted on within the coming months. The Finance Committee has also signaled its support for the Bill. But resistance can be expected in the Senate, the majority of which is led by the Republicans. In view of pressing problems such as the trade dispute with China, the immigration crisis with Mexico and the conflict in the Gulf of Oman, the politicians in Washington have little capacity to deal with the issue on a more granular level.
Ross may have a creative idea for the US president and his fellow Republicans. "If Trump wants money for his wall, he can simply legalize and tax cannabis."
—
DISCLAIMER: This article was translated and adapted from the original, which was previously published in Handelsblatt. In case of a discrepancy, the original will prevail.
While reasonable efforts are made to provide accurate translations, some portions may be incorrect. No liability is assumed by Born2Invest for any errors, omissions, or ambiguities in the translations provided on this website. Any person or entity that relies on translated content does so at their own risk. Born2Invest shall not be held responsible for any losses caused by such reliance on the accuracy or reliability of the translated information. If you would like to report a translation error or inaccuracy, we encourage you to please contact us.
This article was written by a third party contributor and does not reflect the opinion of Born2Invest, its management, staff or its associates. Please review our disclaimer for more information.
This article may include forward-looking statements. These forward-looking statements generally are identified by the words "believe," "project," "estimate," "become," "plan," "will," and similar expressions. These forward-looking statements involve known and unknown risks as well as uncertainties, including those discussed in the following cautionary statements and elsewhere in this article and on this site. Although the Company may believe that its expectations are based on reasonable assumptions, the actual results that the Company may achieve may differ materially from any forward-looking statements, which reflect the opinions of the management of the Company only as of the date hereof. Additionally, please make sure to read these important disclosures.