The TopRanked.io Weekly Digest: What's Hot in Affiliate Marketing [Week 47]
The World Cup is here, Twitter is changing, and things are getting awkward. Fortunately, that doesn't mean affiliate marketers have to sit by and watch from the sidelines. Actually, it's quite the opposite. Opportunity abounds if you know where to look and have the right partner programs by your side. Here's a look at how you can put all of this together to boost your affiliate earnings.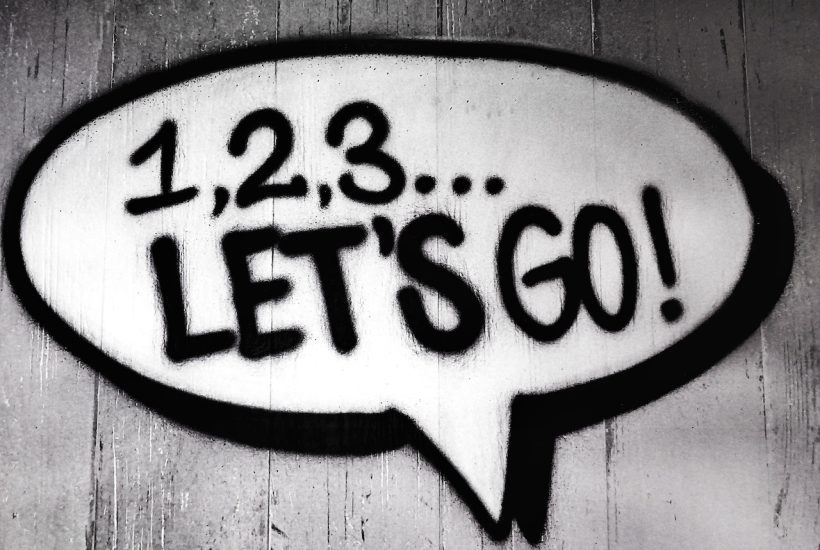 We independently review products to bring you the best of the best. When you click a 22Bet Partners link, we may earn a small commission.
The World Cup has kicked off, and boy, are we touched by the global unity and togetherness it fosters. I mean, who didn't shed a tear when Morgan Freeman (for an undisclosed figure) posed the question: "How can so many countries, languages, and cultures come together if only one way is accepted?"
And who here in the west didn't want to leap to Qatar's defense any time someone accused it of being, can we say, set on promoting the one way?
Oh yeah, right. That was a little bit awkward.
But hey, do you know what's not awkward? Helping sports fans place bets on the World Cup and earning a profit for doing so.
Wanna know how to do it?
Then read on.
TopRanked.io Affiliate Partner Program of the Week: 22Bet Partners
Let's cut straight to the chase — you've got three-and-a-bit weeks left to take advantage of the World Cup. And whether you're looking to get a late start, or to optimize conversions by testing out a couple of new sportsbooks, our #1 affiliate marketing directory addition this week is just the partner you need.

Meet 22Bet Partners, a relatively new entrant to the sportsbook and casino scene that's been making a storm since it arrived. And just in case it wasn't obvious — yes, 22Bet Partners is the 22Bet partner program. And yes, it's a good one.
Here's Why You Should Test 22Bet Partners This World Cup
The number one reason you should be testing 22Bet Partners this World Cup is simple — the name is synonymous with football.
You see, the fact is, getting gaming traffic is just half the battle. The other half comes from monetizing that traffic. And, the reality is, you're never going to make as much as you should if your audience doesn't recognize the sportsbooks you're promoting.
Fortunately, 22Bet Partners is super active in the world of football/soccer/whatever you want to call it. And this commitment starts from the top, such as its sponsorship of Paris Saint-Germain…
…and goes right down to the grassroots level, such as the 22Bet Partners commitment to grassroots football in Nigeria.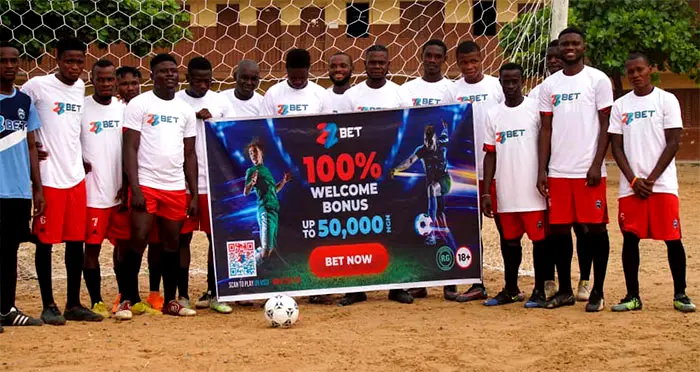 Basically, 22Bet Partners is a global household name in the sport, meaning it should be a super high-converting brand among World Cup football fans.

Here Are the 22Bet Partners Details You Need to Know
22Bet Partners Commissions
Alright, let's get this out of the way. 22Bet Partners commissions aren't going to wow you out of the gate. As a new 22Bet Partners affiliate, you'll have to start on a 20% rev share plan.
But while that's not exactly a wow-inducing number, it's not bad. Remember, 22Bet Partners is more or less in line with industry standards — most rev share plans in the iGaming space start out in the 20-30% range.
22Bet Partners Payouts
Payouts with 22Bet Partners are once a month, so long as you hit the minimum $100. Fortunately, if you don't hit this number, 22Bet Partners will roll your balance over into the next month, so even if you only manage a few bucks a month, you will eventually qualify for a payout.

Other Useful Bits and Pieces
22Bet Partners Casino
For those who are interested, 22Bet Partners also runs a top-notch casino. Players will have access to heaps of games from most of the top names here, so this one should be a pretty easy one to sell.
22Bet Partners Promotions and Affiliate Support
To help with your promotion efforts, 22Bet Partners delivers a pretty wide arsenal of tools. This includes attractive welcome bonuses to help make snagging new players just that little bit easier, along with a comprehensive library of customizable media assets to keep your site/socials looking slick.
How to Get Started With 22Bet Partners
To get started with 22Bet Partners, simply head here to register.

Or, for a more in-depth coverage of this great partner program, read the TopRanked.io 22Bet Partners Affiliate Program review.
As for the next step after that… well, that's up to you. Get creative.
News Takeaways
Twitter 2.0
Since everyone's favorite space cadet took over Twitter, there hasn't been a lot happening. Sure, there's been a bunch of layoffs. And there was that Twitter Blue launch-not-launch thing.
But finally, forward progress looks like it's finally happening.
For example, Musk made it official — suspended accounts are getting an amnesty.
And plenty more changes are on the horizon.
For starters, he's just hired George Hotz (famous for iPhone jailbreaks, PS3 hacks, and self-driving cars) on an "internship" of sorts.
His official mission is to overhaul Twitter search. Here's a taste of what to expect.
And then, of course, the ongoing rumor mill about the future is starting to get a little more specific.
Meanwhile… Some Things Are Yet to Change
Of course, the whole takeover has upset a bunch of folks. Advertisers, for one, are all up in arms about "brand safety," meaning many of them have hit the pause button on Twitter for now.
According to the Atlantic, the result of this is that "If you go on Twitter today, most of the ads are for gizmos and weird tchotchkes, such as "magical" ice scrapers or 'dragon' eggs."
And naturally, the doomsayers are predicting the end of Twitter.
Of course, we all know that ain't likely to happen. After all, when your doomsday tweets are getting mad engagement on the platform that's supposedly dying… well…
Takeaways — Some of This Looks Familiar
Yes, we've already touched on some of this in previous affiliate marketing digest editions. But it's worth reiterating.
The important things to takeaways here are:
Twitter's audience isn't going anywhere. And if it does, there'll be a new audience to replace it. Yes, there are plenty of people swearing to leave the platform. But they're also using the platform to say so. And, putting this cognitive dissonance aside, let's not forget that account amnesty is probably going to bring back a bunch of previously disenfranchised users.
Platform changes mean new opportunities. Paid DMs are one. Long-form videos are another. And every other change is, too — you just have to figure out how to use it, then jump on it before it's over-saturated.
While big ad buyers take a break, Twitter ads will be easier to crack, for now (and likely cheaper to bid on). That's why some are noticing a change in the Twitter ad mix. Just don't expect this to last forever. After all, it's not the first big ad buyer boycott we've seen. A case in point is the 2020 Facebook ad boycott. You know, the one where Facebook ended up posting (what was, at the time) record revenues. In short, we all know the big boys will eventually come crawling back.
Some tactics that work on other platforms might eventually work on Twitter. After all, long-form video and creator monetization tools sound a hell of a lot like that site with the big red play button, doesn't it?
Basically, Twitter is currently the most exciting social platform bar none. There's a big audience shakeup, new toys coming your way, and little gaps in things waiting for you to exploit.
So keep your eyes peeled and your creative juices flowing. There's money to be made here, kids.
Closing Thought
Let's try something fun this week.
Remember how Morgan Freeman asked that question? You know, the one that went like "How can so many countries, languages, and cultures come together if only one way is accepted?"
Now let's see what happens if we change the wording around.
"How can so many marketers, influencers, and affiliates make a profit together if only one way is accepted?"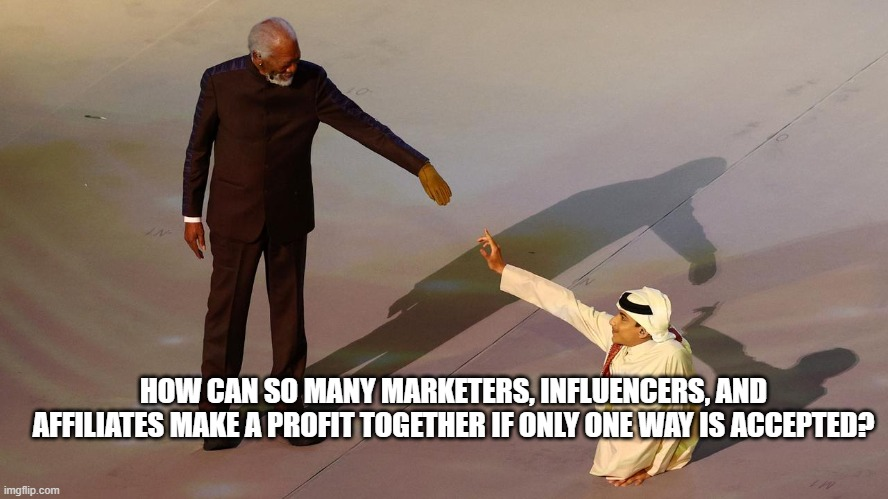 Moral of the story is, you're probably not going to have much success if you just do what everyone else is doing. Remember that competition, saturation, and all that other stuff puts a cap on how much there is to make with any one way of doing things.
So if you're still copying methods and not having much success, maybe it's time to start things your own way. It may work out better.
__
(Featured image by SevenStorm JUHASZIMRUS via Pexels)
DISCLAIMER: This article was written by a third party contributor and does not reflect the opinion of Born2Invest, its management, staff or its associates. Please review our disclaimer for more information.
This article may include forward-looking statements. These forward-looking statements generally are identified by the words "believe," "project," "estimate," "become," "plan," "will," and similar expressions. These forward-looking statements involve known and unknown risks as well as uncertainties, including those discussed in the following cautionary statements and elsewhere in this article and on this site. Although the Company may believe that its expectations are based on reasonable assumptions, the actual results that the Company may achieve may differ materially from any forward-looking statements, which reflect the opinions of the management of the Company only as of the date hereof. Additionally, please make sure to read these important disclosures.