Apple, Amazon and possibly Microsoft play with the trillion dollar mark
Many are betting that Microsoft could be the next U.S. company to hit the $1 trillion threshold.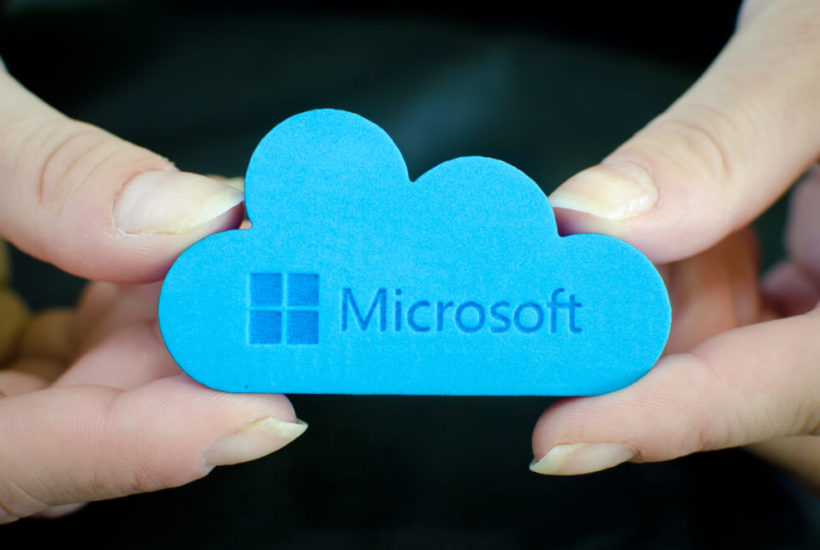 Despite several headwinds faced by the U.S. stock market at present, many analysts hope that the year could still welcome the next trillion-dollar American company. Bets are placed on Microsoft as its cloud business continues showing strength.
To reach a market cap of $1 trillion, Microsoft stock price needs to go beyond $131. At the time of publication, the stock has been trading at $112 which means that it only needs to grow by as little as 16 percent within the year to achieve the most coveted total dollar market value based on outstanding shares.
Microsoft's ambition hinges on its Cloud business
Wedbush Securities analyst Daniel Ives believed that Microsoft's cloud business – led by Satya Nadella during his appointment as CEO in 2014 – is the company's ticket to the much anticipated $1 trillion market cap.
"We believe the shift to cloud is a major secular trend that is significantly benefiting MSFT in the field as a key tailwind," Ives wrote in a note to investors in February.
"Nadella & Co. are in the catbird's seat to get more of these complex workloads (e.g. AI, machine learning, etc.) as more enterprises take the leap to a hybrid cloud architecture over the coming years," he added.
Ives's observation was aligned with the companies reporting of its second quarter financial results on Jan. 30.
Microsoft reported revenue of $32.5 billion, an increase of 12 percent compared to the same period in 2017. Its operating income was $10.3 billion, up by 18 percent and its net income was $8.4 billion. Speaking during its financial reporting, Nadella said the company's strong commercial cloud results were the product of its growing businesses with the major players in the retail sector, financial services, and healthcare.
Much of that strong result was delivered by the cloud infrastructure segment Azure which grew by 76 percent. Microsoft's array of commercial cloud services, which include Microsoft Office 365 and Microsoft Dynamics 365 grew 48 percent. Perhaps what drove the growth of its cloud business in a relatively short time is its acquisition of LinkedIn and GitHub. The platforms brought with them 610 million and 31 million users respectively.
Analysts perceive Microsoft as the top cloud services providers at present, hence, expected to dominate the market share in the multi-billion industry. For context, the worldwide cloud computing market is projected to reach $411 billion by 2020.
Another estimate said it would grow to $206.2 billion in 2019, up from $175.8 billion in 2018. More so, the fastest growing segment of the cloud computing segment is cloud system infrastructure services which are expected to grow to $39.5 billion this year, up from $31 billion in 2018. As mentioned, Microsoft Azure gave the strongest push to the company's growing cloud business.
Could Microsoft's surge toward the $1-trillion threshold a foretelling of its demise?
Apple became the first U.S. publicly traded company to reach and go beyond the $1-trillion mark in August 2018. On that particular day, Apple's stock closed at $207 per share. The achievement was delivered primarily by massive iPhone sales both in the local and international market and its revenue from its software businesses.
Apple's reign, however, didn't last long as the following months saw the company struggling amid impact of the US-China trade dispute. Indeed, it reported a 5 percent decline for its fiscal 2019 first quarter ended Dec. 29, 2018. Its revenue from its flagship product declined 15 percent due to lower than expected output from the Chinese market.
Another U.S. company that crossed the $1-trillion threshold last year was Amazon. It hit the mark on Sept. 4, 2008, only to fall off again by the end of that same day. Days prior to this, the US just implemented a 25 percent tariff on 279 goods originating from China which were worth $16 billion.
But perhaps the strongest demonstration of how a company could rise and then crash immediately after is the story of PetroChina.
Chinese oil giant PetroChina reached the $1-trillion mark in 2007 after successfully debuting on the Shanghai Stock Exchange on Nov. 5, 2007. Its shares almost tripled that day, pulling the company's market cap at $1.1 trillion.
PetroChina broke several major milestones that day. It beat analysts' expectation 60 times over and its earnings per share were 18 times higher than the global average for all oil companies publicly traded at the time.
PetroChina's soar, like that of Apple, did not last long. By 2008, it's market value was only at $260 billion. The incident was described as "the largest destruction of shareholder wealth in world history."
It is important to note that PetroChina's downfall happened after the Great Recession.
Will 2019 welcome Microsoft as the next trillion dollar company?
Microsoft needs to be cautious and tread carefully with its surging toward the coveted threshold. Simply put, once up, it has no other way but to go down.
Based on the stories of Apple and PetroChina, surging towards the trillion-dollar mark could actually indicate that the stocks are already nearing a saturation point. When Amazon is thrown into the mix, surging may indicate an extremely volatile market movement. The latter is still something Microsoft should be worried about since the US-China trade dispute remained to be unresolved.
(Featured image by Emilija Miljkovic via Shutterstock)