China Has Been a Major Buyer of US Soybeans This Year After a Very Slow Start
Soybeans and the products were higher in recovery trading on Friday. Soybeans and Soybean Meal were higher for the week and Soybean Meal closed at new highs for the move on the weekly charts. Soybean Oil was still lower for the week. Basis levels are still strong in the Midwest. The US cash market is still running low on Soybeans but there are still renewed Chinese lockdowns.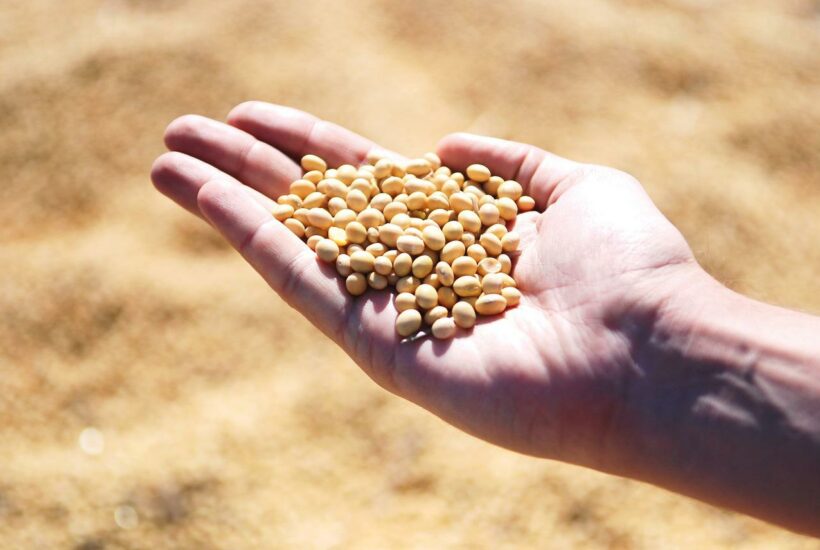 Wheat:  Wheat markets were higher last week. Trends are turning up on the daily charts but are still down on the weekly charts. The funds were sellers early in the week and fear a deflationary situation here and around the globe and fear that a recession is coming. Demand remains poor for US Wheat. The Winter Wheat harvest is expanding through the Great Plains and Midwest. Futures should form a harvest low earlier in the harvest due to the small crop size. Yield reports have been weakening in Kansas despite recent rains that have helped kernel size and test weight. Hot and dry weather is back for this week to southern areas while northern areas have more moderate temperatures and some rains. Northern Plains and Canadian Prairies weather has been improved but is still variable. Europe is too hot and dry and India and Pakistan are both past major heat waves and dry conditions.
Weekly Chicago Soft Red Winter Wheat Futures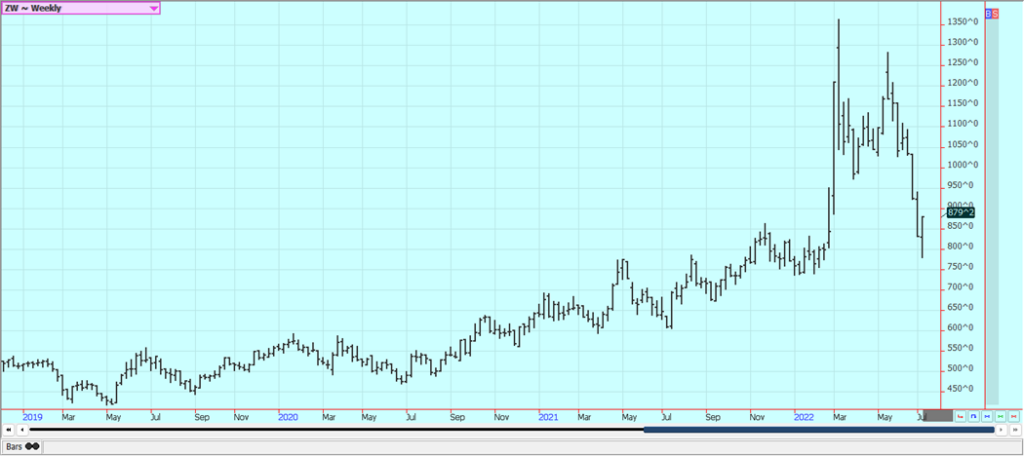 Weekly Chicago Hard Red Winter Wheat Futures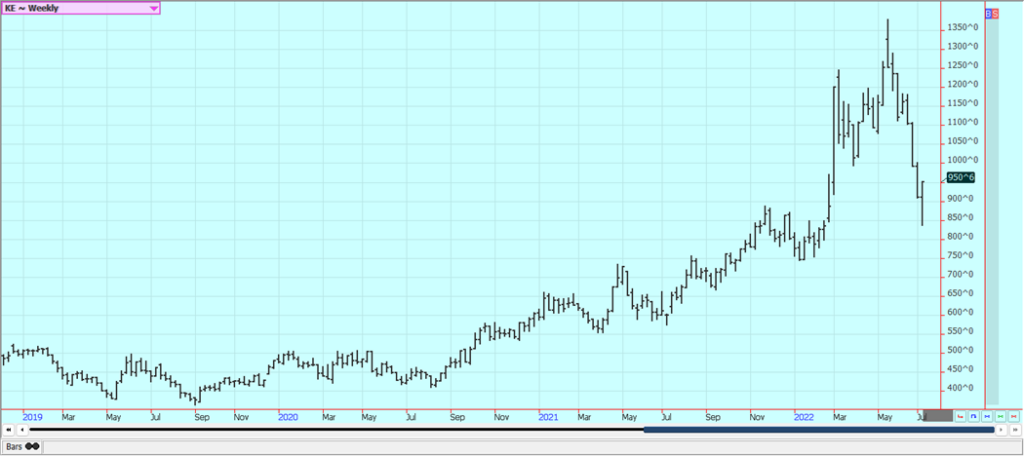 Weekly Minneapolis Hard Red Spring Wheat Futures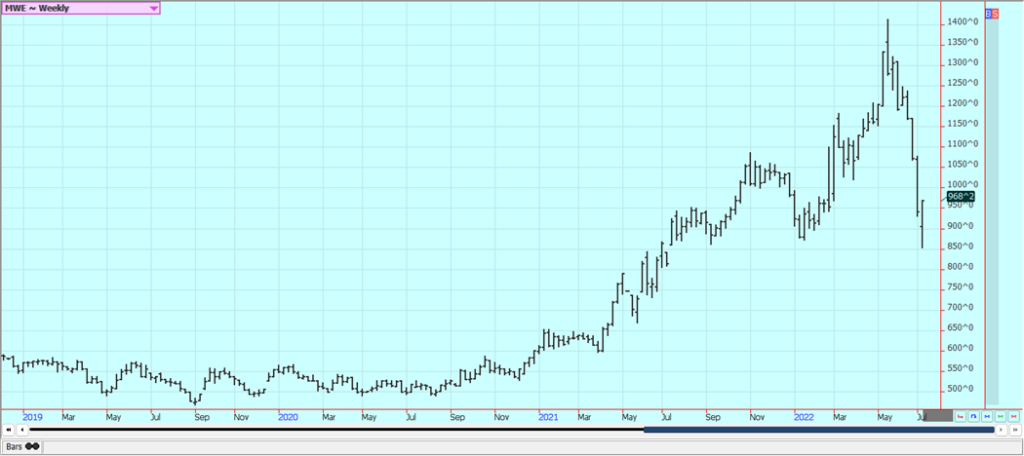 Corn:  Corn closed higher on Friday in recovery trading and was higher for the week. The weekly charts show that Corn is now testing some resistance areas and could turn trends up with moves higher this week. Basis levels in the Midwest are strong amid light farm selling and good demand. Corn has emerged under what is considered good conditions but it has been hot in the Midwest and many areas have been dry. More moderate temperatures are forecast for the weekend, but it will be mostly dry starting tomorrow. Continued hot and dry weather could hurt yields down the road. Stress could start to develop if the hot and dry weather returns as forecast. Many think the top end of the yield has been taken off the Corn crop due to the delayed planting but others look at the crop condition rating and expect improved yields. 
Weekly Corn Futures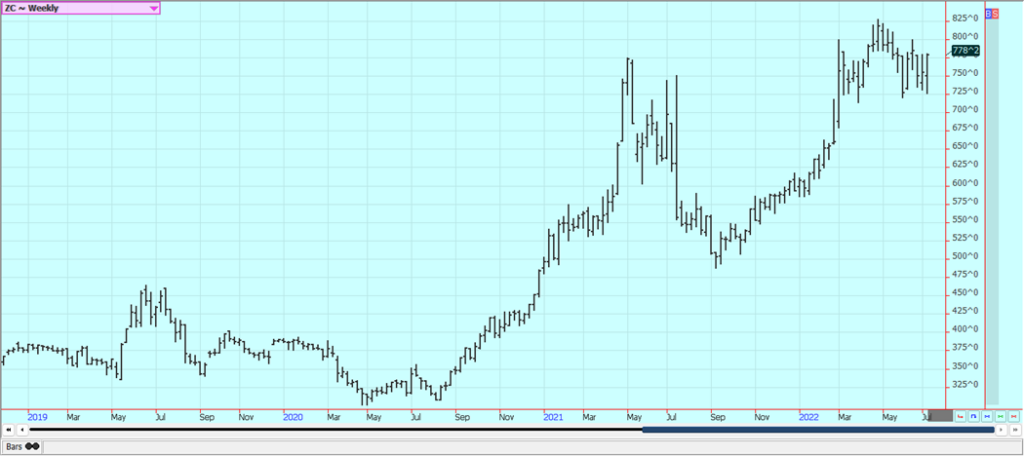 Weekly Oats Futures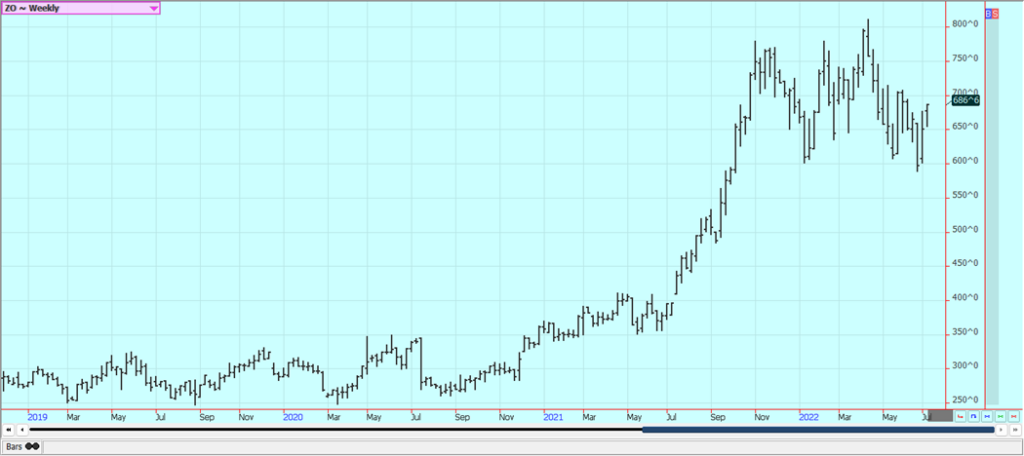 Soybeans and Soybean Meal: Soybeans and the products were higher in recovery trading on Friday.  Soybeans and Soybean Meal were higher for the week and Soybean Meal closed at new highs for the move on the weekly charts. Soybean Oil was still lower for the week. Basis levels are still strong in the Midwest. The US cash market is still running low on Soybeans but there are still renewed Chinese lockdowns. There is less Chinese demand for Soy products due to the lockdowns there and China is starting to renew the lockdowns now as Covid cases have risen in number. Ideas are that purchases could increase as the lockdowns and port closures are finally eased by the government there.  China has been a major buyer of US Soybeans this year after a very slow start due to the problems in South America. They are buying for this year and already have booked a large amount of new crop Soybeans to cover future needs. Most of the current buying is for next year. 
Weekly Chicago Soybeans Futures: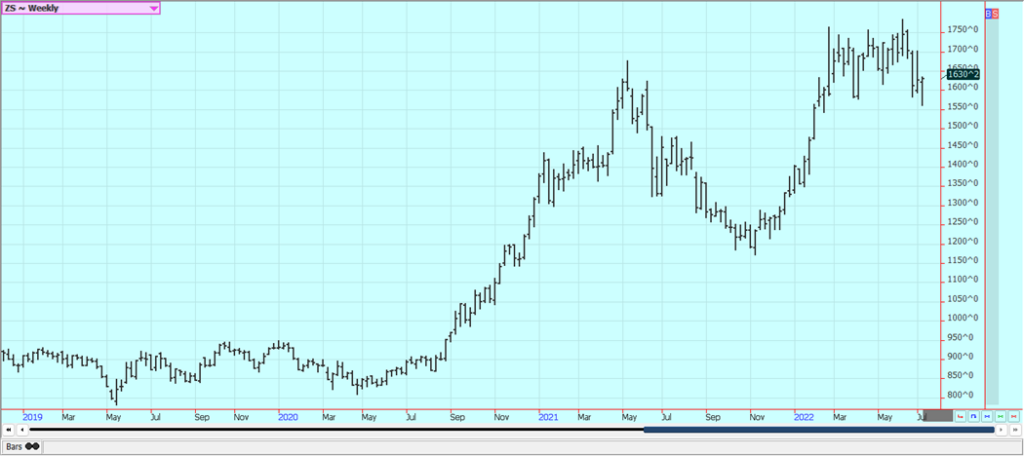 Weekly Chicago Soybean Meal Futures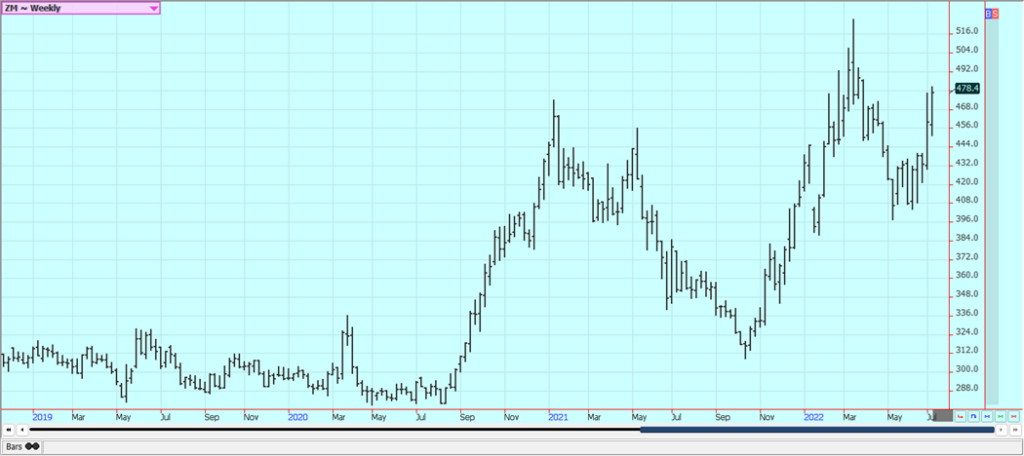 Rice: Rice was a little higher last week with little in the way of news for the market.  USDA said the previous week that 2.343 million acres of all Rice were planted and that current stocks are now 56.6 million cwt.  Both levels are below those of a year ago and should have been considered neutral to positive for prices.  The speculators have been the best sellers lately even with perceived bullish fundamental news as many are worried about a worldwide recession.  Growing conditions are said to be deteriorating due to hot and dry weather in Texas but Arkansas has had rains recently. 
Weekly Chicago Rice Futures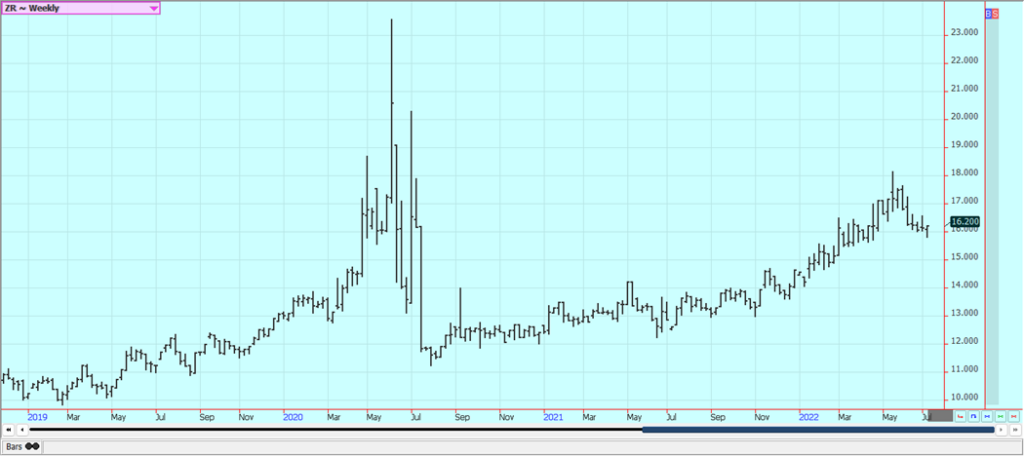 Palm Oil and Vegetable Oils: Palm Oil closed higher on speculative buying on Friday and despite ideas of increasing supplies in Malaysia.  Futures were lower for the week. Export reports from private sources are showing weaker demand this month and this has been the trend for the last few months. Production from Malaysia is expected to increase as well as the Covid lockdowns finally go away and as the weather is good for production. Canola was a little lower along with other vegetable oils markets.  Ideas of poor demand have hit this market as well as others. The crops are going into the ground and the growing conditions are much improved. It is reported to be very dry and has been cold for planting but better planting weather is coming now as it is now much warmer. There are ideas of reduced Sunflower export potential from Russia and Ukraine. The market is worried about South American production as well.  Canada produced a very short crop of Canola last year so supplies are tight. 
Weekly Malaysian Palm Oil Futures
Weekly Chicago Soybean Oil Futures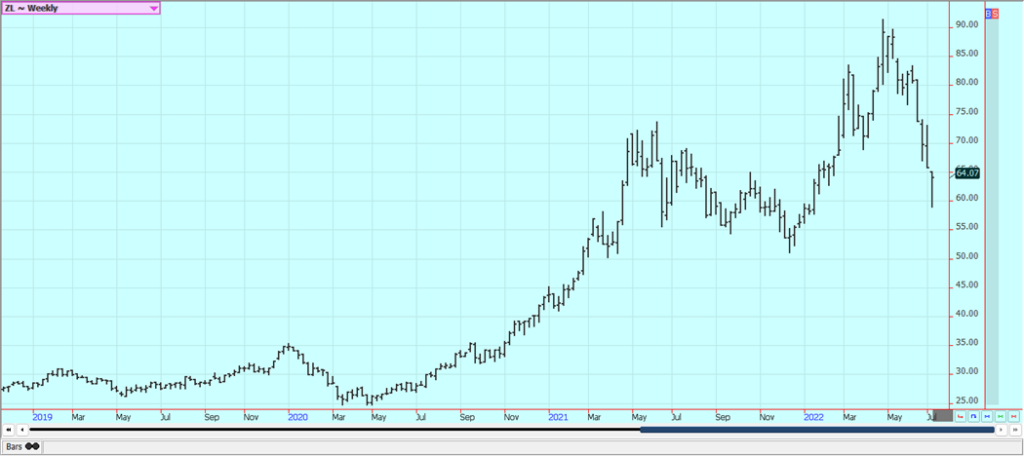 Weekly Canola Futures: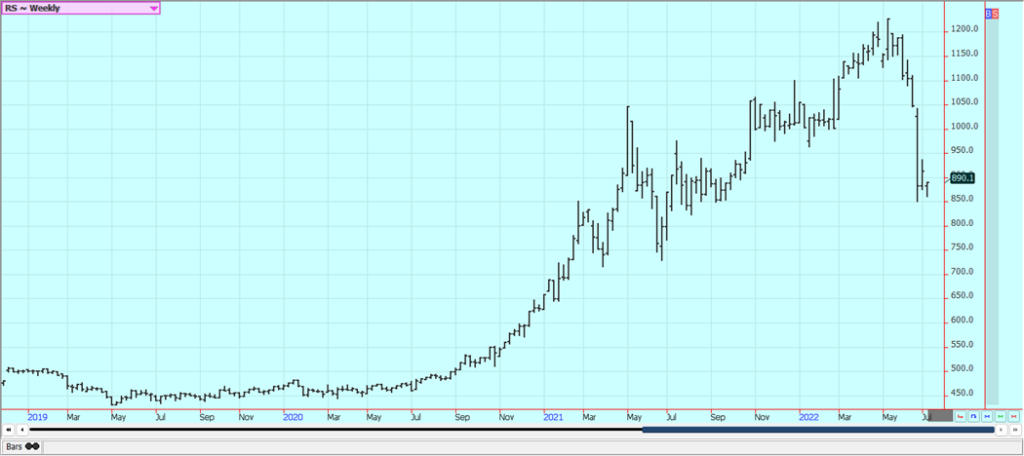 Cotton:  Cotton was higher Friday on speculator buying tied to oversold market conditions. Trends are now mixed on the daily charts but are down on the weekly charts. There continues to be talk of a big recession here in the US and around the world. Traders worry that the continued Chinese lockdowns will hurt demand for imported Cotton for that country and that a weaker economy in the west will hurt demand from the rest of the world.  There are forecasts for hot and dry weather to return this week after some showers in West Texas and the rest of the Great Plains over the last couple of weeks.  The Indian weather is cooler and wetter and conditions appear good.  Chinese demand could become less due to the Covid lockdowns there be trimming imports due to Covid and has closed a number of cities as the Covid spreads through the nation.  The cities and ports are shut down again.
Weekly US Cotton Futures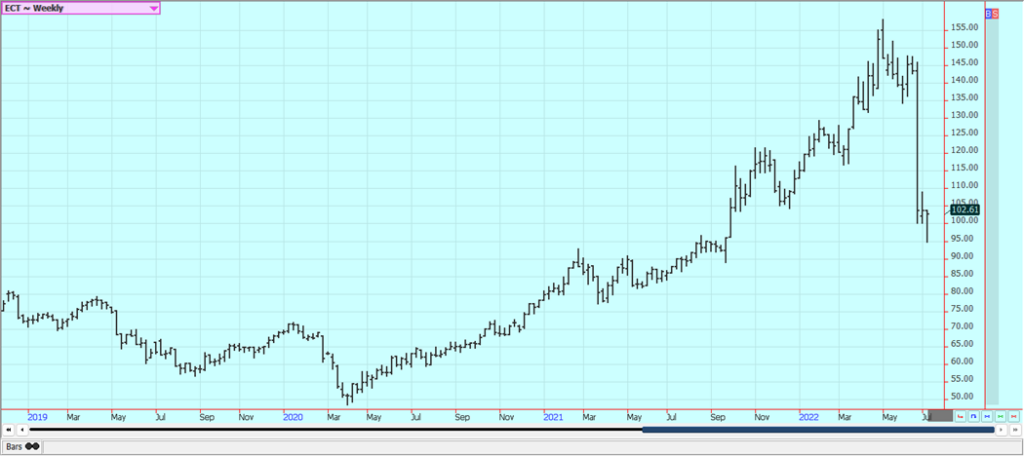 Frozen Concentrated Orange Juice and Citrus: FCOJ was slightly lower yesterday and lower for the week.  Trends are mixed on the daily and weekly charts. The recent market weakness has been dramatic since the market made new contract highs earlier this month. The weather remains generally good for production around the world for the next crop. Brazil has some rain and the conditions are rated good. Weather conditions in Florida are rated mostly good for the crops with some showers and warm temperatures.  The Florida FCOJ movement and pack report showed that inventories are more than 24% below last year.  Nielsen said that 29.22 million gallons of FCOJ were sold through June 16, the lowest volume since October 2019.  Volumes are now 23% below those of last year. 
Weekly FCOJ Futures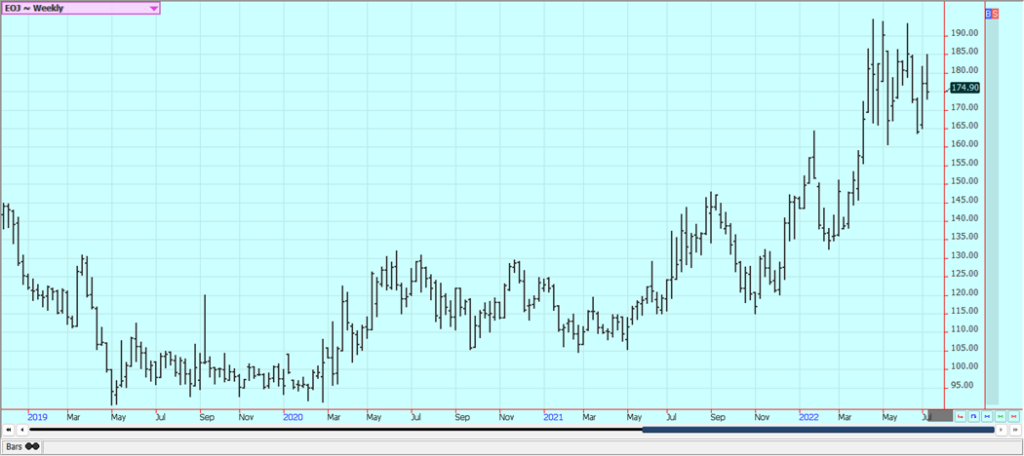 Coffee: New York and London closed higher Friday after making new lows for the moved on the daily charts. The weekly charts show that New York tested support at the bottom of a small trading range.  Trends are down in London on the weekly charts. Futures remain rather cheap and certified stocks keep dropping.  Demand for Coffee overall is thought to be less as the world economic situation changes for the worse but the strong cash market means that even less Coffee is on offer. There is less Coffee on offer from the origin, with Brazil offering less and Central America and Vietnam offering less as well.  Temperatures are near to above normal in Brazil and there are no forecasts for frosts or freezes in the short term.  Colombia produced 951,000 60kg bags of washed arabica coffee in June, the Colombian Coffee Federation said on Tuesday, down 10% from the same month last year because of wet weather.   
Weekly New York Arabica Coffee Futures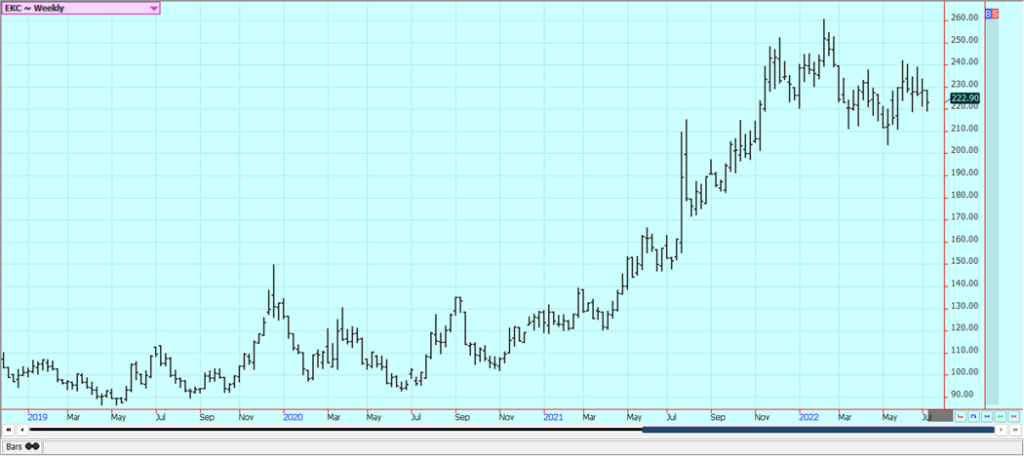 Weekly London Robusta Coffee Futures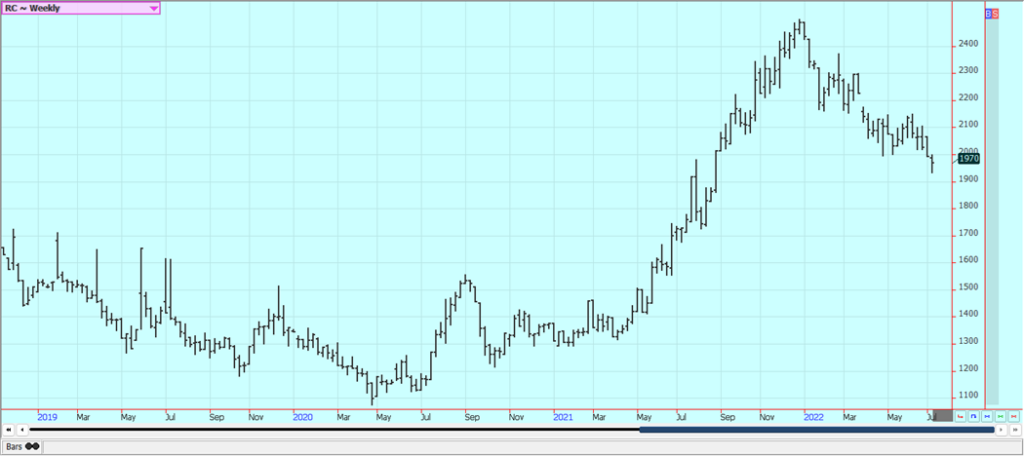 Sugar: New York and London closed higher again Friday and near the highs for the week. The weekly charts suggest that a strong rally is now possible.  The markets had become oversold early in the week and the US Dollar was steady. White Sugar supplies and production are short right now. New York Raw Sugar tends are still down but London White Sugar trends are sideways to perhaps up on the daily charts. India is reported to have a big crop of Sugarcane coming and Brazil is harvesting its crop of Sugarcane and turning most of it into Ethanol but some Sugar is making it into export channels. Ethanol demand ideas were hurt again yesterday on continued weakness in Crude Oil futures.  Sugar production from these countries is expected to be surplus or at least in line with demand. Thailand is still offering and exporting. Reports from India indicated that conditions are generally good for Sugar production.  The Indian weather service is predicting a normal monsoon season this year. 
Weekly New York World Raw Sugar Futures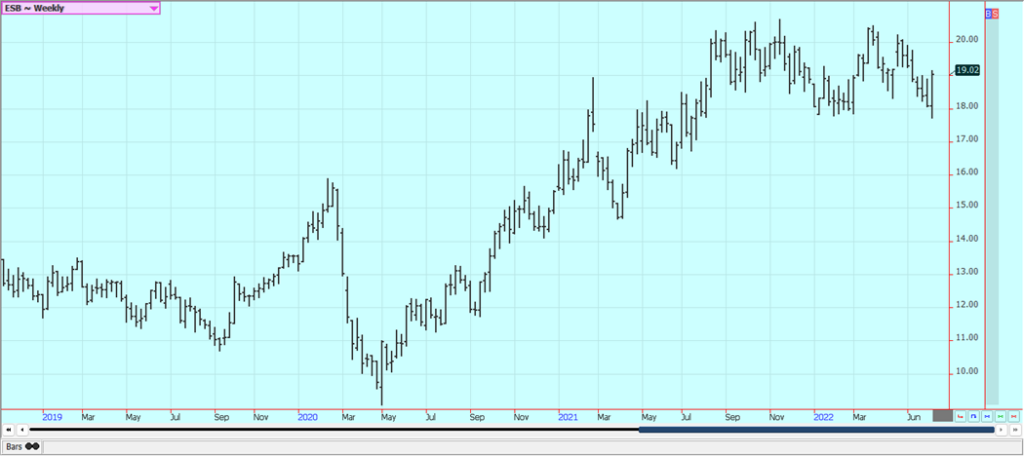 Weekly London White Sugar Futures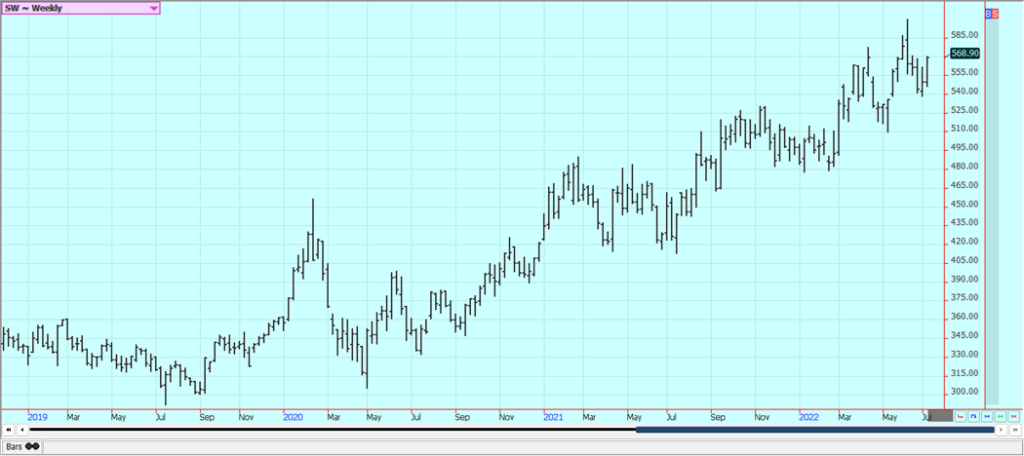 Cocoa: New York and London were higher last week and trends are sideways in New York and in London.  Selling came from ideas that a recession for the world is just around the corner and this was reinforced by a major rally in the US Dollar. The selling could run through the market again today or else the funds could rest as they have already liquidated a lot of positions. Reports of sun and dry weather along with very good soil moisture keep big production ideas alive in Ivory Coast. Some very good rains were reported last week.  Ideas are still that good production is expected from West Africa for the year.  The weather is good for harvest activities in West Africa. Current reports from Ivory Coast indicate that the weather is a good mix of sun and rain so good midcrop production is expected.  The weather is good in Southeast Asia. 
Weekly New York Cocoa Futures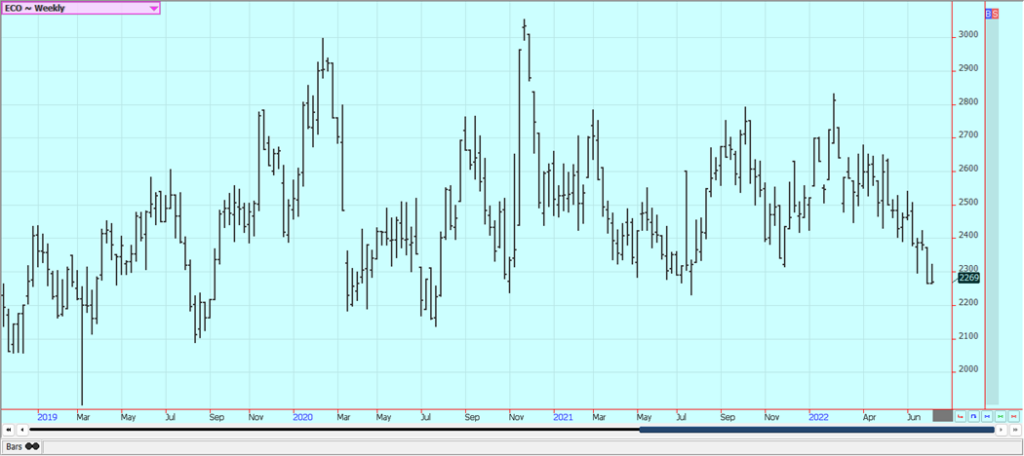 Weekly London Cocoa Futures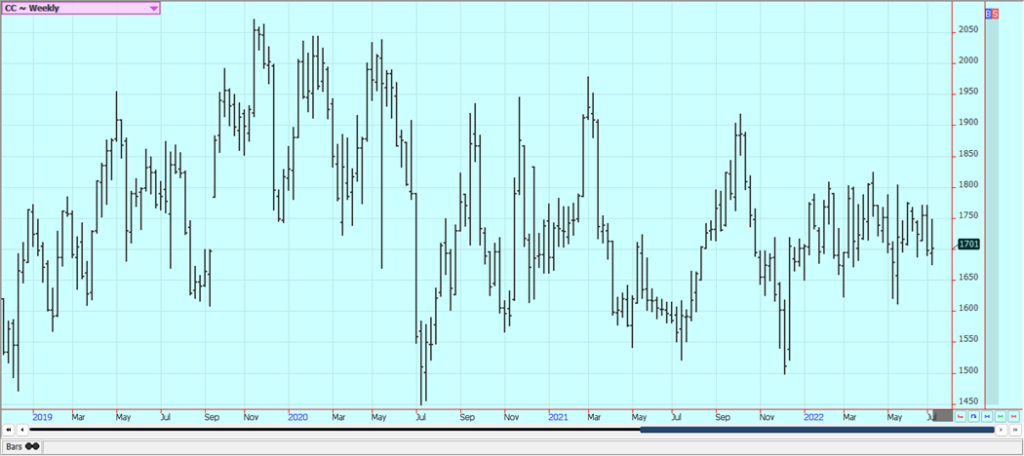 __
(Featured image by 1737576 via Pixabay)
DISCLAIMER: This article was written by a third party contributor and does not reflect the opinion of Born2Invest, its management, staff or its associates. Please review our disclaimer for more information.
This article may include forward-looking statements. These forward-looking statements generally are identified by the words "believe," "project," "estimate," "become," "plan," "will," and similar expressions. These forward-looking statements involve known and unknown risks as well as uncertainties, including those discussed in the following cautionary statements and elsewhere in this article and on this site. Although the Company may believe that its expectations are based on reasonable assumptions, the actual results that the Company may achieve may differ materially from any forward-looking statements, which reflect the opinions of the management of the Company only as of the date hereof. Additionally, please make sure to read these important disclosures.
Futures and options trading involves substantial risk of loss and may not be suitable for everyone. The valuation of futures and options may fluctuate and as a result, clients may lose more than their original investment. In no event should the content of this website be construed as an express or implied promise, guarantee, or implication by or from The PRICE Futures Group, Inc. that you will profit or that losses can or will be limited whatsoever. Past performance is not indicative of future results. Information provided on this report is intended solely for informative purpose and is obtained from sources believed to be reliable. No guarantee of any kind is implied or possible where projections of future conditions are attempted.  The leverage created by trading on margin can work against you as well as for you, and losses can exceed your entire investment. Before opening an account and trading, you should seek advice from your advisors as appropriate to ensure that you understand the risks and can withstand the losses.