These cities have the most fake hotel reviews
New research suggests that more than one-third of hotel reviews you can find online are fake.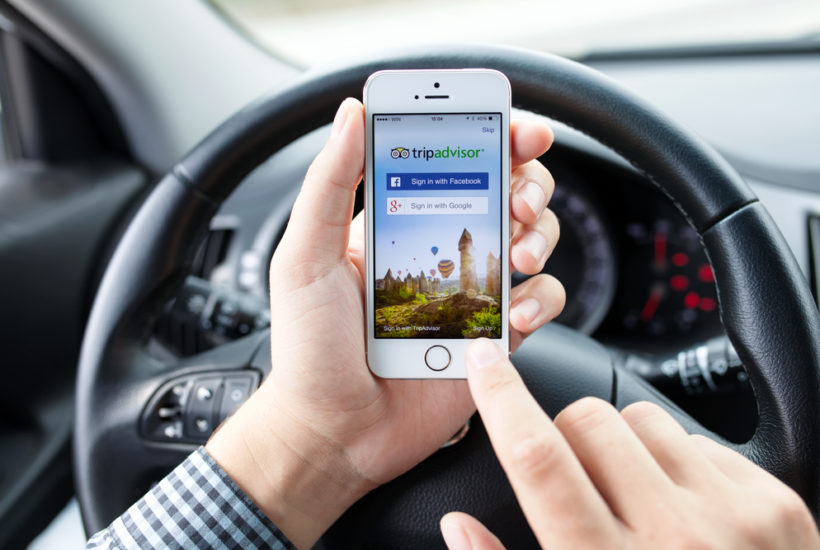 More than one-third of online hotel reviews are phony, new research from fraud detection company Fakespot suggests. The troubling study of fake hotel reviews also shows that you're more likely to be fooled in some American cities than others.
Fakespot, which analyzes and detects suspicious online reviews, says 36 percent of the ratings on TripAdvisor are "fake and unreliable."
"Just like Google search results, if you are not on the first page you are probably never going to get noticed," says Saoud Khalifah, CEO of Fakespot. "To get to the first page these businesses will use fake reviews to increase their search ranking."
TripAdvisor dismissed the findings as "inaccurate and misleading."
Is TripAdvisor doing enough to stop fake hotel reviews?
Khalifah insists his methodology is sound. He says Fakespot analyzed "several million" reviews using its proprietary data extraction and analysis engines.
He also says TripAdvisor knows it has a fake review problem, which is why it has poured considerable resources into spotting bogus reviews. He notes that while TripAdvisor has made several positive changes to prevent fake hotel reviews, it hasn't been enough.
"They have actively pursued businesses that use fake reviews," he says. "But at the same time, they have prevented users from posting authentic negative reviews."
Here are the cities with the most fake hotel reviews
Now, for the first time, Fakespot has released a list of cities with the most fake hotel reviews. It offers a guide for summer travelers who are trying to avoid falling prey to a fraudulent review. The fraud warning is also a heat map for consumer advocates like me, who are always on the lookout for trouble.
1. Houston (38.4 percent)
H-Town tops the list of cities with the most fake hotel reviews. "The newer cities like Houston do not have as many established businesses as the old ones do," says Khalifah. "The landscape of the hospitality industry is constantly experiencing growth and volatility." That volatility, he says, makes it a prime target for a fake review. Example: an over-the-top review of the Hotel Alessandra, which declared, "I loved every moment of being there over the weekend! The location, the staff, the rooms, everything was amazing! The bellhop men are THE BEST!!!!!!"
2. Chicago (35.9 percent)
While Chicago's fake hotel review numbers are high, they are one-tenth of a percentage below the national average. That means outside of the big cities, where new hotels are being built, there's a higher likelihood of finding a fake hotel review. Still, the Windy City's numbers are high — too high for an established urban area in the United States, says Khalifah. The reviews for the Courtyard by Marriott Chicago Downtown/Magnificent Mile received a "D," with only half the reviews listed as reliable.
3. Miami (34.8 percent)
Fake hotel reviews abound here. Consider this rating for the National Hotel in Miami Beach, which Fakespot flagged as inauthentic. Superlatives like "amazing," "beautiful," and "wonderful" mean that a full 60 percent of the reviews are fake. "Miami is a very competitive hotel market, with a lot of properties vying for top billing," says Khalifah.
4. Dallas (34 percent)
Khalifah says Dallas also has a lot of fake hotel reviews because it has many new properties. Here's one for the Sheraton Dallas that raised Fakespot's red flag: "I was on the property last week for a quick business trip and was astounded by the quality of the product and the value provided." Fakespot gave the Sheraton's reviews an overall grade of "C."
5. Boston (30.5 percent)
The reviews here are better, but not perfect. This write-up of the Boxer Boston stood out: "This low key hotel has everything you need. Walkability is very high with plenty to do, see, and eat in close proximity. Hotel staff was friendly and helpful with all our needs…even at odd hours." Reads like a brochure, doesn't it?
6. Los Angeles (30 percent)
Same dynamic in the city of angels. There are fewer fakes, but 30 percent is still a high number. Example: This review of the London in West Hollywood, which raved about its "amazing" customer service. Fakespot says it's probably a fake.
7. New York (29.5 percent)
"The well-known hotels don't need to compete using tools like fake reviews," says Khalifah. "They're probably going to rank highly because of their reputation." But an occasional fake slips in. For example, here's a review of the Artezen Hotel that sounded a few alarms: "The lobby smells delicious which is a great way to be greeted, and the staff go the extra mile to provide true hospitality, something that is often lacking in this city."
8. San Francisco (28.5 percent)
"If you're looking at hotel reviews in San Francisco, you're more likely to be reading an honest review," says Khalifah. But not always. Consider this review of the Hotel Emblem, which raves that it's a "fabulous" hotel. "The staff makes the place extra special, very welcoming, super helpful and always friendly," it adds. Fakespot disagrees, giving it a "C" for authenticity.
TripAdvisor disputes Fakespot's fake hotel review findings
"We totally reject their claims as inaccurate and misleading," says James Kay, a TripAdvisor spokesman. "Their attempts to analyze reviews are extremely unreliable and fundamentally flawed."
He notes that Fakespot doesn't have access to the key technical data you would need to determine whether or not a review is fake.
"At a minimum, for example, you would need to have a way to track the IP address from which a review is submitted," he says. "Other technical information, such as the specifications of the device a reviewer is using, may be needed too. Fakespot has no access to such data. We do."
Kay says TripAdvisor has made a "significant" investment in technology and fraud detection expertise to track and analyze millions of reviews. Its techniques can spot fraudulent activity.
"That is how we are able to catch fake reviews," he says.
Khalifah says there's ample evidence of unreliable reviews on TripAdvisor. He acknowledges that Fakespot doesn't have IP addresses of reviewers or other proprietary data, but points out that a sophisticated reputation management operative can also fake some of that information.
"There's an ocean of fake information out there," he adds.
(Featured image by DepositPhotos)
—
DISCLAIMER: This article expresses my own ideas and opinions. Any information I have shared are from sources that I believe to be reliable and accurate. I did not receive any financial compensation for writing this post, nor do I own any shares in any company I've mentioned. I encourage any reader to do their own diligent research first before making any investment decisions.