Golf Carts Just Got Real Sexy—Triad Pro's eCell Is the Reason Why
What's one EV that's sure to get you talking? How about the solar-powered SPREE golf cart? No? Let's change that. Coming to a golf course near you soon, the SPREE hides something very special under its posterior support section (yeah, its seats). That special something is its parent company's eCell energy storage technology. In certain applications, lithium can't even come close to touching it.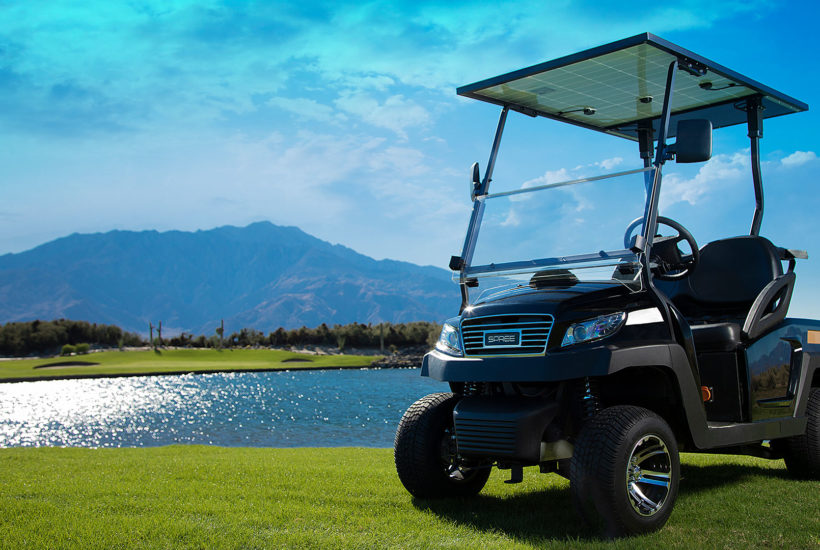 If you had to name one Electric Vehicle (EV) that's sure to get conversations going, what would it be? The futuristic Cybertruck from Tesla (NASDAQ: TSLA)? What about that motorless, hill-sledding truck from Nikola (NASDAQ: NKLA)? Or maybe even that solar-powered SPREE golf cart from Triad Pro Innovators, Inc. (OTC PINK: TPII)?
Say what? Triad Pro Innovators? A golf cart?
Okay, okay. At this point, you're probably wondering one or two things. Who are Triad Pro Innovators, and why would anyone be talking about a golf cart?
Good questions. Let's answer them.
The Spree Golf Cart Is Just the Beginning for Triad Pro eCell
Before diving into what the SPREE golf cart is all about, there's something important to realize: the SPREE is as much a technology demo as it is a golf cart.
The real conversation starter is the unit's Triad Pro eCell energy storage technology. This is a power unit that does exactly the same thing as a regular lithium-ion or lead-acid battery—it stores power for later use. What it doesn't do, however, is wear out with repeated recharges, overheat, or take forever to charge.
Now, of course, there's no such thing as a free lunch. The Triad Pro eCell leverages solid-state technology that doesn't have the same energy density as chemical-based batteries. What this means is that we're not going to see the eCell appearing in cellphones or other portable consumer electronics anytime soon… or ever.
However, for all other energy storage applications where a little extra battery space is an acceptable trade-off, the eCell really is better.
If the eCell's So Great, Why Stick It in a Golf Cart?
So why a golf cart? Actually, a better question would be why not. But I get it: there are a thousand and one applications out there that are about a million and one times sexier than pensioners rollin' 'round the local greens.
But stick with me here: the logic behind the golf cart is actually pretty compelling.
The first thing to understand is that Triad Pro Innovators is still an early-stage company. Not only that, but they're also trying to bring a paradigm-shifting product to the market. That's no easy feat for an R&D-heavy business that's doing nothing but burning cash.
For this reason, developing products that not only demonstrate the eCell's advantages but also bring in some revenue makes sense. It's a cornerstone of Triad Pro Innovator's broader strategy.
As for why a golf cart in particular, think about it.
Yeah, I Thought about It. But I Still Want to Know: Why a Golf Cart?
Even last year, in the midst of Covid, golf carts were a $1.86 billion industry. And that number's expected to hit over $2.5 billion by 2026.
But there's more to this than just the market size.
Think about product development costs, manufacturing facilities, ease of market penetration… all that stuff. When your number one goal is zero-to-revenue and you don't have a spare billion in the bank, the product you develop has to make sense.
So here's why a golf cart makes sense, especially compared to a fully-fledged, road-ready vehicle:
Low product development costs—a golf cart is a simple beast compared to the average car. Fewer panels, fewer accessories, lower standards and regulatory compliance burdens, etc.
Easier market to penetrate—unlike cars, the golf cart market is relatively stale with little competition. Triad Pro Innovator's SPREE is, hands-down, the biggest disruption to hit this market in pretty much forever.
Quick and cheap manufacturing—fewer parts, more compact size, simpler assembly processes. All these things add up to make bringing manufacturing online quick and cheap.
Bigger upfront margins—in its base configuration, the SPREE goes for about $15k. Compare this with the roughly $40k base price of a Model 3 Tesla. A third of the price, sure. But, all things considered, Triad Pro Innovators would have sunk way way way less than a third of what Tesla did into all of the above.
Suddenly that golf cart looks a whole lot sexier, right?
Good, now let's get to the really good stuff.
What Gives? This eCell Sounds Too Good to Be True
Okay, so you're convinced by the golf cart, but maybe not the eCell.
Now, first, let's just get one thing straight: Triad Pro Innovators aren't claiming the eCell's about to displace lithium and other battery technologies completely.
As we already touched on, the eCell comes with a space trade-off. Don't go looking for it in your smartphone, laptop, or whatever portable, handheld device you may wish to insert in this space anytime soon.
However, in applications like electric vehicles, look out. When there's plenty of space to hide batteries without upsetting the slimline fits-in-yer-pocket lines, the eCell's fast proving itself to be the top choice.
The main reason why is all traceable back to its solid-state energy storage technology. This keeps it free from volatile chemical reactions other battery technologies rely on—reactions that lead to excess heat and shortened battery life.
Here are a few of the advantages the eCell's solid-state technology delivers:
Ultra-rapid charges—non-explosive and non-volatile, the eCell can accept a charge at any rate, limited only by the source of the charge.
30,000+ discharge-recharge cycles—no, there's not an extra zero there!
Stable in extreme temperatures—the eCell operates down to -50°C without breaking a sweat. Lithium starts breaking down at -10°C.
100% recyclable—with no harsh chemicals, the eCell can be easily broken down and recycled at the end of its life.
So What's Next Then? How're They Bringing This eCell to Market?
The solar-powered SPREE (oh yeah, did I mention it's solar-powered, too?) is just the beginning for Triad Pro Innovators. In parallel to its current work in generating sales and production momentum for its carts, it also has a number of parallel product developments in progress.
Each of these is designed to highlight unique strengths that the eCell has over its chemical battery competitors.
A great example is the company's EEL Diesel Hybrid Genset. Aimed at remote communities and industrial operations (mining, construction, etc.), it is the first hybrid generator to withstand ultra-cold climate operation. The advantages of a hybrid construction are dramatically reduced diesel consumption—as much as 80% over regular generators.
However, as strong as the company's products might be, the real success is brewing in the licensing of its patent-pending technology. We all know the importance of energy storage in our electrified, green energy future, and the benefits of its eCell are too hard to ignore in countless applications.
For this reason alone, you'd do well to keep an eye on Triad Pro Innovators.
You'll be glad you did.
—
(Featured by Triad Pro Innovators, Inc.)
DISCLAIMER: This article was written by a third-party contributor and does not reflect the opinion of Born2Invest, its management, staff, or its associates. Please review our disclaimer for more information.
This article may include forward-looking statements. These forward-looking statements generally are identified by the words "believe," "project," "estimate," "become," "plan," "will," and similar expressions. These forward-looking statements involve known and unknown risks as well as uncertainties, including those discussed in the following cautionary statements and elsewhere in this article and on this site. Although the Company may believe that its expectations are based on reasonable assumptions, the actual results that the Company may achieve may differ materially from any forward-looking statements, which reflect the opinions of the management of the Company only as of the date hereof. Additionally, please make sure to read these important disclosures.