Argentinian Grilling Had One Big Problem… Then Kankay Came Along
Known for its mastery of the Argentinian "asado", Kankay Grills are durable, versatile, and of exceptional value compared to their American counterparts. Packed with features like thick iron construction, adjustable racks, and heavy-duty griddles, they're a compelling alternative to popular American brands. Previously unavailable stateside, Kankay now offers free shipping to the U.S. and Canada.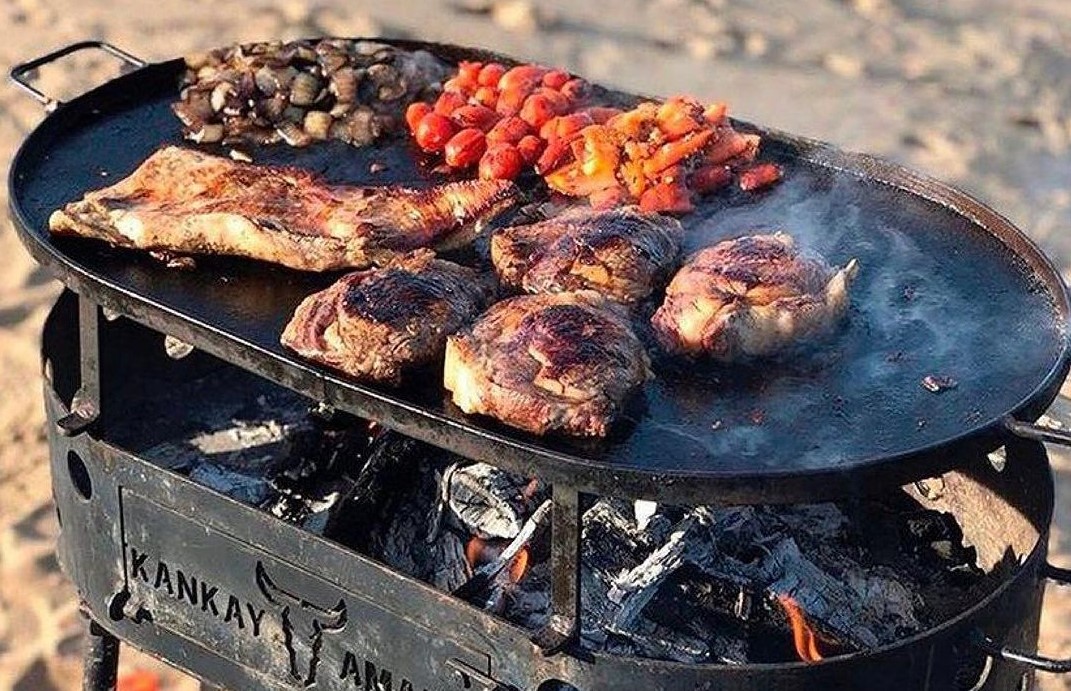 Ask anyone to name something distinctly American, and, 9 times out of 10, grilling will rank right up there with guns and white picket fences.
But while there's no disputing America's crown when it comes to fine revolvers or the idyllic suburban lifestyle, that's not so much the case when it comes to grilling.
That title belongs to Argentina, the land of Kankay Grills and the cultural home of the "asado" — a practice where grilling is way more than just a holiday pastime. It's a deeply rooted cultural tradition where the otherwise humble grillmaster takes on a revered status.
Naturally, with such reverence, the Argentinians have honed their grilling craftsmanship like no others. All while avoiding a very American trap — the trap of turning a pastime of the people into an expensive hobby that's almost as much about flaunting gimmicky toys alongside over-marketed, overpriced grills.
Obviously, this ethos has long made Argentinan grills the best value, highest-quality products on the market, bar none.
Except, they've long suffered one massive problem.
Getting one in the USA was next to impossible.
However, recently, Kankay Grills, a respected Argentinan grill manufacturer, started offering its superior line of grills with free 5-7 day shipping to the USA.
Kankay BBQ — Superior Argentinian Grills Now Shipping Free to the USA (and Canada)
With roots running deep in the Argentinian asado tradition, Kankay BBQ brings the sort of craftsmanship and respect to the humble grill that's rare in the USA.
Or, at least, it's rare at the sort of prices Kankay is asking.
To be fair to the US, there are plenty of quality grill makers turning out high-quality, handcrafted grills that'll last a lifetime (and then some). But, unfortunately, that sort of quality comes at a hefty premium, with prices often soaring towards $5k or more.
Now contrast this to Kankay, whose craftsmen distill generations of knowledge into every hand-built grill. Their range-topping grill — the Monster FULL Grill fire pit — comes in at a relatively modest $2,280* all-in (shipped free to the USA with all accessories).
Now, the Kankay Monster FULL is way more grill than most people will ever need (we're talking about a grill so big that you literally need to walk around it to use it). And, even if its ~$2k price tag represents incredible value for what you're getting, it's still a lot more than what Joe Average is probably looking for.
This is where the more affordable end of the Kankay grill range comes in, like the Kankay 3.0, which is just $479*. Coming in at about the same size as a Weber 22" Kettle, this is the perfect size for smaller gatherings of up to about 10 people.
Of course, this is about where the comparisons to the Weber stop. While the Kankay 3.0 might share similar dimensions, it's in a whole other league when it comes to versatility and construction (hand-formed, hand-welded iron that's 3.3mm thick — about ⅛").
The Kankay 3.0 is also a much more versatile beast, coming replete with an adjustable iron rack for that slow-cooked smoky goodness, a super heavy-duty iron griddle for evenly distributed heat, and even a built-in chopping board.
And yes, at 28kg (62lbs) and built like a tank, The Kankay 3.0 is more than sturdy enough to handle whatever last-minute prep a busy grill master might want to throw at it.
Now try doing that with your flimsy Weber — even if you manage to throw together a DIY cutting board, the thing will probably just topple over.
On the downside, if weight is a concern, the Kankay 3.0 probably isn't right for you. There's a ton of iron in it, making it one heavy beast. However, that's the price you're going to have to pay if you want superior heat distribution and built-to-last-a-lifetime quality.
With that said, the Kankay 3.0 has a fully detachable structure that's been designed to be easy to assemble/disassemble. That definitely makes hauling it up into the back of a pickup way easier. It also makes it fairly compact once broken down.
Elevate Your Grilling Game With Kankay
If you're going to invest in a Kankay grill, then it's probably also worth investing a little in your grilling technique.
That's not to say there's anything wrong with the American way. It's just that the Argentinians have an entirely different ethos when it comes to grilling, which shines through in techniques handed down through generations.
The biggest contrast here lies in the simplicity Argentinians bring to the grill. You won't find complex marinades and exotic rubs. Instead, you're going to get a strong emphasis on minimal use of seasonings (usually just coarse salt) in favor of superior cooking techniques to bring out and enhance the true flavor of the meat.
Of course, these sorts of techniques demand the right grill. So no flimsy wire grates or gas burners allowed. Instead, you'll need wood-fired goodness backed up with the sort of controllable, evenly distributed heat you can only get out of a properly crafted grill — exactly the sorts of attributes Kankay bakes into every one of its grills.
One great example of this style of cooking comes from Kankay itself, with its delicious chorizo beef recipe requiring nothing more than some coarse salt and a quality grill. What we then get at the end is the rich flavor of a perfect gentle char on the outside with an inside that's still glistening with juices.
And while we're at it, check out the mouthwatering goodness Kankay cooks up in this video.
Get the Argentinian Grilling Experience Delivered to Your Door
As we already mentioned, Kankay is now offering free shipping across its entire line to US and Canadian addresses.
That pretty much makes getting a Kankay as your next (and, trust us, probably your last) grill a no-brainer.
Of course, you're still going to have to select what grill you actually want. To get started with that bit, the Kankay Grill catalog is probably a good place to start. Either that or its grill size comparison page.
And finally, if you're still not sure, maybe keep an eye out for some of the reviews floating around the internet, like this one for the Kankay Amara 3.0 grill (which is currently just $598* with free shipping).
To learn more about Kankay Grills and why the Argentinian Asado is long overdue in America, visit:
__
(Featured image courtesy of Kankay Grills)
DISCLAIMER: This article was written by a third party contributor and does not reflect the opinion of Born2Invest, its management, staff or its associates. Please review our disclaimer for more information.
This article may include forward-looking statements. These forward-looking statements generally are identified by the words "believe," "project," "estimate," "become," "plan," "will," and similar expressions. These forward-looking statements involve known and unknown risks as well as uncertainties, including those discussed in the following cautionary statements and elsewhere in this article and on this site. Although the Company may believe that its expectations are based on reasonable assumptions, the actual results that the Company may achieve may differ materially from any forward-looking statements, which reflect the opinions of the management of the Company only as of the date hereof. Additionally, please make sure to read these important disclosures.