Surveys Show People Invest in Crypto Mostly Due to Its Ease of Trading, but What Other Reasons Are There?
In what feels like the blink of an eye, crypto has become a major buzzword of our era. But what's driven the mass adoption? Is it all hype-driven, or is there something else? A recent survey suggests there's more to it, with the number one reason being ease of trading. Beyond this, crypto convertees also cite factors like portfolio diversification and the potential for significant gains.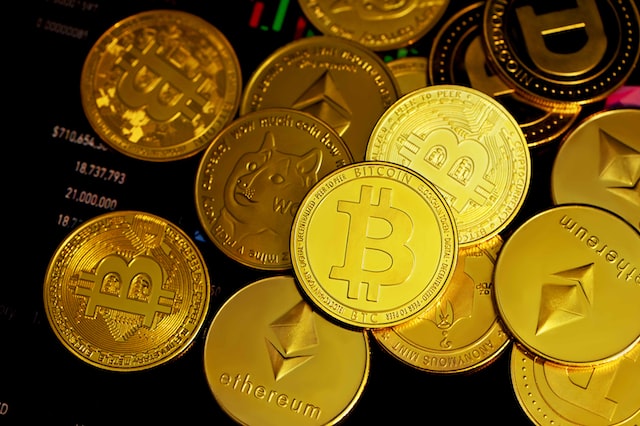 Cryptocurrency – the buzzword is common in the investing world these days. But why are so many people interested in crypto? Is it due to its surging popularity, or are there other reasons people choose to invest in it?
No one can deny that digital currencies have seen significant growth recently. Spurred on by the remarkable growth of Bitcoin and Ether, the crypto market has continued to develop. The blockchain technology underlying cryptocurrencies has been renowned as a gamechanger for numerous industries, including supply chains, healthcare and banking.
Distributed ledgers can facilitate economic activities without relying on trusted actors and intermediaries. People who believe digital currencies have a promising future find investing in crypto attractive, as they think it's a way to earn significant returns. According to surveys, most people jumping into crypto do it because of the ease of trading. Other top reasons are that investing in crypto is exciting, and there's potential for significant growth in a relatively short time.
Education is crucial in the crypto world
As with any other asset, investing in cryptocurrency can be risky. This new territory may be cool and exciting, but it still involves putting risk on your cash. For people who want to jump right in, experts suggest they should first do their crypto research to ensure they understand what they're getting into. Since crypto isn't like stock exchanges or banks, there's no fail-safe to protect you supposing you make an error. When you invest in crypto, you become your own bank, and this includes learning to be responsible for your investments and keep them secure.
This involves understanding the coin you want to purchase and deciding what type of crypto wallet you will use and how you'll secure your passwords and other sensitive data. After doing your research, it's also critical to choose a reliable trading platform, such as Binance. The platform gives you real-time data about cryptocurrencies – for instance, you can see how ETH price changes or learn more about Ethereum if you opt for this cryptocurrency.
When investing in crypto, do it with caution
Once you grasp crypto's basics, there's another crucial step – ensuring you trade it according to your long-term goals. At the end of the day, you should treat crypto like any other asset. This means getting clear on where it fits into your financial plan. Many crypto newbies trade their digital coins regularly – about a third of them do it monthly or weekly, and almost one-quarter trade daily. However, financial experts consider this may not be ideal – if you want to build wealth, it's better to buy and hold assets long-term.
Moreover, since cryptocurrencies are volatile, buying and selling without a strategy increases your risk of losing cash on a bad trade. Therefore, you should create a plan beforehand and invest in crypto strategically and cautiously without letting social media influence your decisions.
Why do so many people invest in crypto?
As mentioned previously, there are several reasons why so many people choose to invest in cryptocurrencies. Some investors' top goals include building savings, diversifying portfolios, making money for goals like travel or education, or simply making a fortune quickly.
Let's look closely at people's reasons for investing in cryptocurrencies.
Diversified portfolios
If you want to diversify your portfolio behind the standard basket of bonds and stocks, crypto provides you with this unique opportunity. Many people invest in crypto to diversify portfolios – especially retirement portfolios. This is because of the expectations around the increase in digital assets in the future and its enthusiastic customer base.
While crypto has its set of risks, it's also promising in terms of long-term success, and it can provide an alternative for many people, regardless of their age.
Transaction freedom
Investing in crypto provides transaction freedom, something that traditional banks can't offer. You can easily access and liquidate crypto and its exchanges if you need cash. Anyone can send some money peer-to-peer, at any hour, without relying on a third party. An Internet connection is the only thing you need to get into crypto. You can then create a wallet, and you're ready to start trading.
You don't need lengthy paperwork or access to a significant bank branch. Crypto is all about freedom, empowering people to be in control of their digital assets. However, it also comes with a lot of responsibility, so it's paramount to act wisely and consider your decisions thoroughly.
Social experience
If your family and friends started investing in crypto, you might also feel compelled to join them. This may be because you simply want to get into the crypto world or because you want to avoid FOMO.
One reason why people choose to invest in crypto is the social experience. Investors become a part of a community and engage with other people worldwide also interested in digital currencies.
Potentially profitable returns
In the crypto world, the word potential involves two different things. Firstly, crypto has significant potential because it's a new concept, opening the door to boundless opportunities.
Secondly, it implies that early investors have the opportunity to earn potentially profitable returns due to the future scope. Yes, cryptocurrencies are speculative investments, just like stocks.
Therefore, they imply risks and volatility. However, the returns can be significantly higher, and the turnaround time can be quick – it's a matter of significant growth over a short time. You can't achieve it with stocks, and crypto's long-term growth can't be compared to other asset classes.
Independence and flexibility
Regardless of your chosen coin, your crypto money will only belong to you. Cryptocurrencies don't rely on banks that require exorbitant fees. Additionally, the crypto market is open day and night, so you don't have to worry about opening times. Plus, it provides the flexibility to decide how and when you want to trade.
You can choose how to organize your trading routine to fit into your lifestyle. This flexibility is attractive for many people, as they can trade crypto even while traveling, which is pretty convenient.
So, should you invest in crypto?
Whether or not you should invest in crypto is a decision only you can make. However, it's paramount to get clear about your investment goals before getting started with cryptocurrencies.
You should be realistic and not put crypto investments above other significant financial goals, such as retirement savings. The truth is, no one can guarantee if you will get rich or not, and this is why it is crucial to start small and invest only as much as you can afford to lose.
__
(Featured image by Kanchanara via Unsplash)
DISCLAIMER: This article was written by a third party contributor and does not reflect the opinion of Born2Invest, its management, staff or its associates. Please review our disclaimer for more information.
This article may include forward-looking statements. These forward-looking statements generally are identified by the words "believe," "project," "estimate," "become," "plan," "will," and similar expressions. These forward-looking statements involve known and unknown risks as well as uncertainties, including those discussed in the following cautionary statements and elsewhere in this article and on this site. Although the Company may believe that its expectations are based on reasonable assumptions, the actual results that the Company may achieve may differ materially from any forward-looking statements, which reflect the opinions of the management of the Company only as of the date hereof. Additionally, please make sure to read these important disclosures.