The big tech companies and trends that are about to hit in 2022
With the new year upon us, we're all naturally looking to the future. What will the year bring, and how will it set us up for the future? To answer these questions, the best place to start is by looking right under our noses at the tech trends already emerging. Here we see some clear patterns and undeniable momentum pointing to a handful of major trends and emerging companies like XRApplied.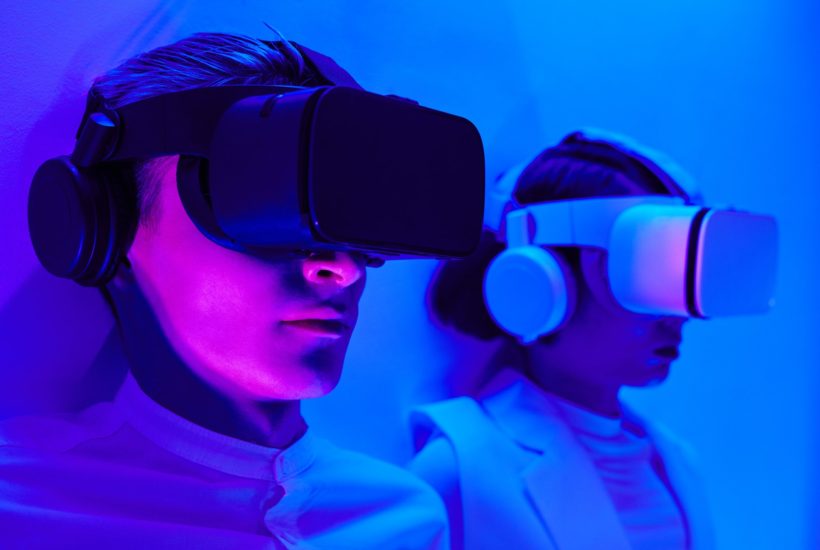 With the last year barely behind us and the rest of this one staring us down, it's that time when we start looking ahead. What will the year bring? What significant trends will emerge? And who will the big movers and shakers in tech be?
Of course, while the changing of the year does act as a sort of punctuation point in our observance of these things, nothing ever really stops, starts, and changes in this way, especially in tech.
As we look to the future, let's also look to the past and present of tech
Already, less than one week from the changing of the calendar, we're about to witness CES 2022—the biggest consumer tech event there is. And while some news might signal that big tech companies are now gearing up for a big year, the truth is that they're just rolling on like nothing ever happened. Indeed, it was a couple of weeks before Christmas when news broke that Google (NASDAQ: GOOG) was on a hiring spree to build the next augmented reality operating system—no one was waiting around for new years and new resolutions.
With this said, it would seem that if we really want to know what the year ahead looks like, we'd be best served by looking at what's already in place. So we'd do well to look at what's already gaining traction, what's already being created, what the current trajectory of it all looks like.
Big tech's big bet on the metaverse
Without a doubt, the biggest momentum gain that any trend has seen over the last year would have to be the metaverse. Even if we ignore Mark Zuckerberg's major announcement of a symbolic Facebook rebrand to Meta (NASDAQ: FB), we still have massive interest growing in crypto and NFTs, VR and AR, and a whole range of other metaverse-related tech.
This has seen big tech companies in something of a scramble to shift their strategies towards the metaverse in a way we haven't seen since the mobile revolution of the late 2000s. Apple (NASDAQ: AAPL) has been rumored to have a major new headset device in the works which will likely be released this year. Companies like Niantic, Snap (NYSE: SNAP), and XRApplied (CSE: XRA) have been making major bets on augmented reality tech. And then, of course, there's Google who, after laying dormant in this space for quite some time, has started to show signs that major new projects are in the works.
The metaverse is driving one major tech trend
While there are some big differences between the projects each of these companies is bringing to market, there's one notable commonality between all of them—augmented reality tech. Without a doubt, this is one piece of the metaverse puzzle that will be vital in liberating tech from the confinements of our screens and bringing it into the real world.
This is, after all, the very essence of the metaverse—a hybrid fusion of the real and virtual. Whereas we currently have to pull out our phone and tap a search query into Google to find out more information about the monument sitting in front of us, for example, augmented reality will change that completely. Soon we'll automatically have information overlaid on top of it in real-time. We'll be able to have friends join us virtually, perhaps with them enjoying a digital hologram of it as if they were there with us. And this will all be achievable with nothing more than maybe a few simple gestures or voice commands given to our smart glasses (or maybe even contact lenses in the not-too-distant future).
In 2022, AR will bring a whole new breed of companies to the fore
While the answer to what the biggest tech trends in 2022 will be already seem apparent, we still haven't touched on what this means for companies and investors. If the past has taught us anything, it's that each new shift in tech sees a whole new slew of companies rise from obscurity to become major players—Apple, Google, Facebook are all companies that shot up on the back of bringing the right products and services to market at the right time.
Augmented reality, and the metaverse in general, will be no different, either. While all of the above-mentioned companies are hot in the race, rest assured other companies you may not yet have heard of will soon join them. In fact, even at this early stage, the early signs of the next major players are showing, especially for one leading AR tech company.
Simple and accessible mass-market AR—XRApplied is an emerging leader
If we look at the Apples and Googles of the world—companies that emerged on the back of previous tech disruptions—it's clear they all did one thing well: made tech useable and straightforward for the mass market. And, in the years to come, the same will be said for companies that emerge on the back of augmented reality and, more broadly, metaverse trends. For one company, in particular, this bodes rather well.
That company is XRApplied, and the very core of what they do is making AR tech easy and accessible, particularly for the SME market, which will be one of the biggest growth drivers this year. In addition, with a suite of proprietary tools and components built up over its short history, the company is one of the only ones to offer cost-effective, scalable, and platform-agnostic solutions in the AR space.
How XRApplied fits into the future augmented reality picture
What sets XRApplied apart from the crowd is its relentless focus on driving down costs and time to market for real-world applications in the AR metaverse. While we can't ignore the work of companies like Google, Facebook, and Apple, focusing on them alone would be to miss the bigger opportunity.
In this way, we see that XRApplied is filling a vital hole in the landscape of AR technology—a hole that is about to get very big over the coming years as more consumers adopt the tech. Before we know it, there will be massive demand for all types of applications, from educational AR games to AR catalogs and other business solutions. And when there is, we can already see who the market is going to turn to.
—
(Featured Image by Michelangelo Buonarroti via Pexels)
DISCLAIMER: This article was written by a third-party contributor and does not reflect the opinion of Born2Invest, its management, staff, or its associates. Please review our disclaimer for more information.
This article may include forward-looking statements. These forward-looking statements generally are identified by the words "believe," "project," "estimate," "become," "plan," "will," and similar expressions. These forward-looking statements involve known and unknown risks as well as uncertainties, including those discussed in the following cautionary statements and elsewhere in this article and on this site. Although the Company may believe that its expectations are based on reasonable assumptions, the actual results that the Company may achieve may differ materially from any forward-looking statements, which reflect the opinions of the management of the Company only as of the date hereof. Additionally, please make sure to read these important disclosures.