2020, a record year for regenerative medicine and advanced therapies
In the first half of the year alone, the sector raised $10.7 billion worldwide. Companies globally engaged in the development of gene, cellular and tissue and biomaterial engineering therapies exceeded 1,000. Among the most important novelties of this first part of 2020, the approval in Europe and Japan of Zolgensma, gene therapy for the treatment of spinal muscular atrophy (Sma) developed by AveXis.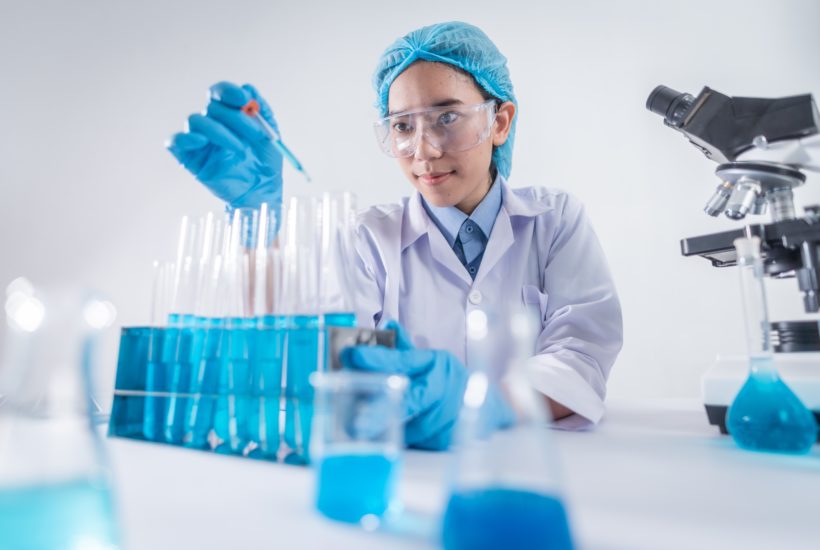 2020 was an unprecedented year so far for the regenerative medicine and advanced therapies sector. Not only because of the inevitable impact of the COVID-19 pandemic but above all because, despite the consequent economic crisis generated by the global emergency, the sector showed remarkable resilience in the first half of 2020. 
"Patients continued to benefit from cell and gene therapies currently on the market and in the trial phase. Investment in the sector has been robust and we have made significant gains by improving our market access policy. Clinical progress has continued, albeit with new obstacles caused by the pandemic and its effects," wrote Janet Lambert, CEO of Alliance for regenerative medicine (Arm), an international advocacy organization dedicated to regenerative drugs and advanced therapies, in her recent report "Innovation in the Time of COVID-19."
Read more about the development of the biotech sector in the first half of the year and find the most important financial news in the world with our companion app, Born2Invest.
Unprecedented growth for the biotech sector
In the first half of 2020 alone, the sector raised $10.7 billion globally, surpassing the total amount raised in 2019 with a year-on-year increase of 120%. With gene and cell therapies driving this slice of the market, with $7.9 and $7.5 billion raised in the first half of 2020, respectively, 81% and 387% more than the previous year.
European and Israeli companies did equally well, with $2.6 billion raised in the first half of 2020, 103% more than in 2019. "Even with many delays in clinical trials, regulatory slowdowns and the challenge of managing R&D from home, companies were able to attract investors and raise significant funding for their programs," said Mandy Jackson Commercial Editor for Scrip Informa Pharma intelligence. For the first time, the number of companies globally involved in the development of gene, cellular and tissue and biomaterials engineering therapies has also surpassed 1,000, with almost half of them involved in clinical trials. In the lead once again the United States with 543 biotech, followed by Europe/Israel with 238.
"Although the COVID-19 pandemic is far from over – with the long-term impacts on the industry that remain to be seen – the first half of 2020 was, without a doubt, the strongest half as far as funding in regenerative medicine and advanced therapies is concerned to date," reads Amr's report. With investors remaining optimistic about the potential of these therapies, beyond the immense economic challenges of the emergency.
New approvals in the time of COVID-19
Despite the difficulties, in fact, clinical trials have not stopped, but rather have continued in a wide variety of indications with unmet medical needs. Regulatory agencies such as the U.S. Food and Drug Administration (FDA) and the European medicines agency (Ema) in the first half of 2020, continued to provide accelerated pathways to marketing authorizations with seven Regenerative Medicine Advanced Therapy (Rmat) designations from the FDA and two PRIority MEdicine (Prime) from Ema. While new drugs have arrived on the market. 
Among the most important novelties of this first part of 2020, the approval in Europe and Japan of Zolgensma, gene therapy for the treatment of spinal muscular atrophy (Sma) developed by AveXis, a Novartis company. While Kite, a Gilead company, received FDA approval for its second Car-T Tecartus therapy (KTE-X19), for the treatment of relapsing or refractory mantle cell lymphoma. Mallinckrodt has also completed the Biologics license application (Bla) in the United States for StrataGraft, a tissue-engineered product for the treatment of severe burns. 
While Mesoblast has obtained the Fda's Priority Vision King for Bla for Ryoncil, a cell therapy for the treatment of transplant disease against the host. Bristol-Myers Squibb received priority review by the Fda for Car-T liso-cell therapy for the treatment of adult patients with relapsing or refractory large B-cell lymphoma. Ema also validated Kite's marketing authorization (Maa) application for KTE-X19 in Europe, while in the old continent, PTC Therapeutics submitted a Maa for PT-Aadc gene therapy for the treatment of aromatic L-amino acid decarboxylase deficiency (Aadc).
Accelerated approval given in the first half of the year due to COVID-19
Despite the criticality due to a global emergency and the resources dedicated to the therapeutic response to Sars-Cov2, regulators have tried to maintain their usual activity, so as not to leave behind patients with unmet medical needs not related to the crisis. So much so that last June 23rd the FDA announced that it has maintained the same pace of review of applications for new medicines during the pandemic, as in recent years. While Guido Rasi, outgoing Executive Director of Ema, expressed reassurance that the FDA will continue to fulfill its mission to protect public and animal health during this rapidly evolving crisis. And in fact, as already mentioned, the accelerated approvals given during this first part of 2020 have been different.
Crispr Therapeutics and Vertex Pharmaceuticals have received the advanced regenerative medicine therapy designation from FDA for the CTX001 therapy indicated for the treatment of sickle-cell anemia and beta-thalassemia. The "ex vivo" strategy consists of taking the patient's hematopoietic stem cells, genetically modifying them in the laboratory through the Crispr-Cas9 editing system to produce high levels of fetal hemoglobin and reinfusing them in the patient. Rmat designation has also been awarded to Ilixadencel from Immunicum, a cell therapy for the treatment of kidney cancer; Novartis Kymriah's Car-T therapy for the treatment of follicular lymphoma; TissueTech's TTAX02, a tissue-engineered product indicated for fetal surgical repair of spina bifida in utero; and Tessa Therapeutics' Car-T therapy for the treatment of classic CD30-positive relapse/refractory Hodgkin's lymphoma. Ema, on the other hand, granted Prime designation on March 2 to the AAV-RPGR gene therapy of MeriaGTx and Janssen for the treatment of X-linked retinitis pigmentosa. And to AlloVir's Viralym-M cell therapy for the treatment of serious infections with BK virus, cytomegalovirus, human herpesvirus-6, Epstein Barr virus, and/or adenovirus in immunocompromised patients.
New data on clinical efficacy have also come from the manufacturers
Crispr Therapeutics and Vertex showed that 9 months after treatment with CTX001 therapy, the first sickle cell patient in the study was transfusion-independent. Allogene Therapeutics and Gracell Biotechnology reported initial data from clinical trials of their respective allogeneic Car-T therapies: Allo-501 for relapsing or refractory non-Hodgkin's lymphoma (Allogene) and GC007F for acute T-cell lymphoblastic leukemia (Gracell Biotechnology).
Editas and Allergan announced the dosage of the first patient to be treated with Crispr-based "in vivo" therapy in a study on Leber 10's congenital amaurosis. Finally, Locus Bio started the first clinical study of a bacteriophage enhanced with Crispr.
Advanced therapies against COVID-19
In addition to the "classic" applications, several academic research centers and companies have announced that they will try to use regenerative medicine technologies to treat the infection caused by Sars-Cov2 in the short term and address related complications.
Among the various approaches proposed are therapies aimed at promoting and activating the immune response and managing inflammatory responses in patients with Covid-19, as well as strategies to repair tissues damaged by the protracted disease. Currently, as reported by Arm, there are eleven ongoing clinical trials using regenerative medicine and advanced therapy technologies to treat COVID-19, with another 25 programs in preclinical development. Many biotech companies are using mesenchymal stem cells and other stromal cells to treat acute respiratory distress syndrome (Acute respiratory distress syndrome, Ards), a serious complication due to COVID-19.
"A small percentage of patients with COVID-19 develop Ards and have high mortality rates. Plx cells are mesenchymal allogeneic cells with immunomodulatory effects that can prevent or reverse the dangerous overactivation of the immune system and thus perhaps reduce the severity of COVID-19, pneumonia and other lung complications and improve the results of these patients," said Racheli Ofir, vice president, Research and Intellectual Property of Pluristem Therapeutics, which also has a Plx cell therapy among its developing products. While Eric Jenkins, senior medical director and head of clinical operations at Athersys, who is developing a stem cell product (Multistem) also against Ards, said the company is working on commercial scale production. "It would allow us to significantly increase production capacity to target the moderate to severe Ards patient population," he added.
According to the authors of the Arm report, further data on the efficacy of mesenchymal and stromal stem cells to treat this serious and potentially fatal complication of COVID-19 should arrive in the second half of the year. Many companies and research centers are engaged in extended access programs, compassionate use and clinical trials.
However, they also want to make it clear to experts that there are currently no treatments approved for COVID-19, which is why patients should avoid unproven and potentially harmful therapies marketed by professionals without proper regulatory oversight. Because as history teaches, it wouldn't be the first time that stem cell therapies could be passed off as "miraculous" without a real authorization behind the scenes.
An uncertain future
Although Lambert is optimistic about the progress made in 2020 – including progress on the reimbursement of expensive Car-T therapies and consequently patient access and the European Commission's relaxation of regulations for clinical trials of products using genetically modified organisms (GMOs) to treat or prevent Covid-19 – there have also been negative implications. "We have seen disruptions in the development of regenerative drugs not related to COVID-19," continued Arm's CEO. "Many global regenerative medicine companies have reported difficulties in conducting clinical trials due to patient recruitment, recruitment, data collection and/or follow-up.
In addition, as the pandemic does not hint at stopping, it is likely that the industry will begin to feel both the direct and indirect effects of the emergency later on clinical and regulatory issues, as Paige Bischoff Senior Vice President, Public Affairs, Arm said: "The FDA recognizes that the pandemic could lead to delays in the areas of neurodegenerative diseases, genomic editing and Car-T therapies, as well as ultra rare disorders therapies. And despite the flexibility shown by international regulators in clinical trial protocols, the possibility of the virus interrupting the identification, enrollment, dosing and collection of patient data in dozens, if not hundreds, of trials may contribute to delays in clinical development."
__
(Featured image by Clockniti Khongchum via Pexels)
DISCLAIMER: This article was written by a third party contributor and does not reflect the opinion of Born2Invest, its management, staff or its associates. Please review our disclaimer for more information.
This article may include forward-looking statements. These forward-looking statements generally are identified by the words "believe," "project," "estimate," "become," "plan," "will," and similar expressions. These forward-looking statements involve known and unknown risks as well as uncertainties, including those discussed in the following cautionary statements and elsewhere in this article and on this site. Although the Company may believe that its expectations are based on reasonable assumptions, the actual results that the Company may achieve may differ materially from any forward-looking statements, which reflect the opinions of the management of the Company only as of the date hereof. Additionally, please make sure to read these important disclosures.
First published in ABOUTPHARMA ONLINE, a third-party contributor translated and adapted the article from the original. In case of discrepancy, the original will prevail.
Although we made reasonable efforts to provide accurate translations, some parts may be incorrect. Born2Invest assumes no responsibility for errors, omissions or ambiguities in the translations provided on this website. Any person or entity relying on translated content does so at their own risk. Born2Invest is not responsible for losses caused by such reliance on the accuracy or reliability of translated information. If you wish to report an error or inaccuracy in the translation, we encourage you to contact us.