Algernon Pharmaceuticals Is Developing Pioneering Treatments With a Cost-Efficient R&D Pipeline
Some approaches to developing pharmaceuticals are more efficient than others. Algernon Pharmaceuticals provides a perfect example of the efficient way, with a large portion of its R&D pipeline focussed on drug re-purposing, which sees it investigating new uses for existing, already-approved drugs. The company is also pioneering the use of DMT (a naturally occurring substance) in stroke treatment.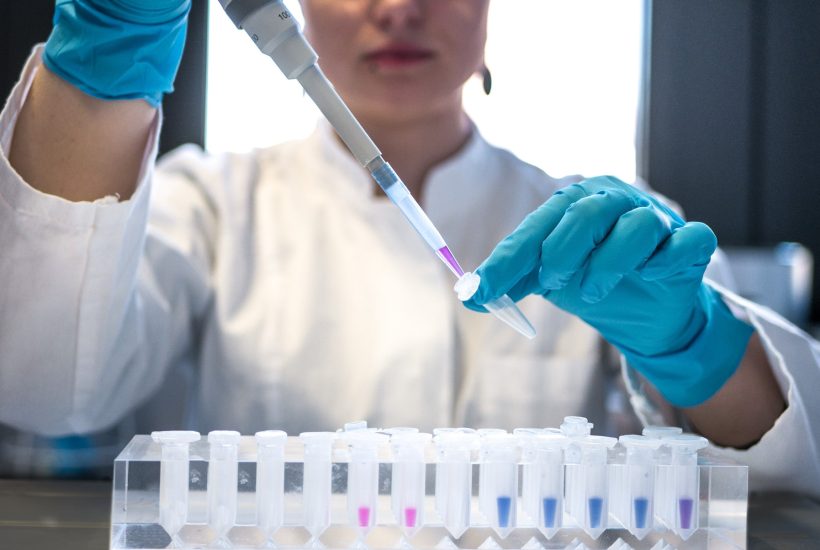 Like all things in life, when it comes to developing pharmaceuticals, there's an easy way and a hard way. Of course, this is a gross oversimplification regarding pharmaceutical development, but bear with me on this one.
Now, as for the hard way — this is probably our default vision of pharmaceutical development. That is, some boffins in a lab synthesize a new compound. Said compound is subjected to years of development and animal trials. Reams of paperwork are completed, and finally, multiple rounds of human clinical trials get underway. Eventually, if all goes well and the risk-reward balance for said pharmaceutical passes muster, it gets approved, and everyone's happy.
As for the easy way, the extreme end of this is known as off-label prescribing. That is, a doctor prescribes an existing pharmaceutical as a treatment for which it was not initially approved. Anecdotal evidence might encourage other doctors to follow suit, and said off-label use might eventually enter common practice as the data surrounding its use grows.
But there is a third way that comes with many of the cost benefits of off-label prescriptions, but all of the safety benefits traditional pharmaceutical development delivers. This is the approach Algernon Pharmaceuticals Inc. (CSE: AGN | OTCQB: AGNPF | XFRA: AGW0) is taking.
Let's take a closer look.
The Algernon Pharmaceuticals Approach to Drug Development
Algernon Pharmaceuticals is a clinical-stage drug re-purposing company investigating safe, already-approved drugs and naturally occurring compounds for new disease applications. In many ways, its approach is similar to off-label prescribing. However, unlike in-field off-label prescribing, Algernon properly investigates the use of existing drugs for new purposes. In one of those rare cases of win-win all around, this approach has several major benefits for doctors, patients, and pharmaceutical companies.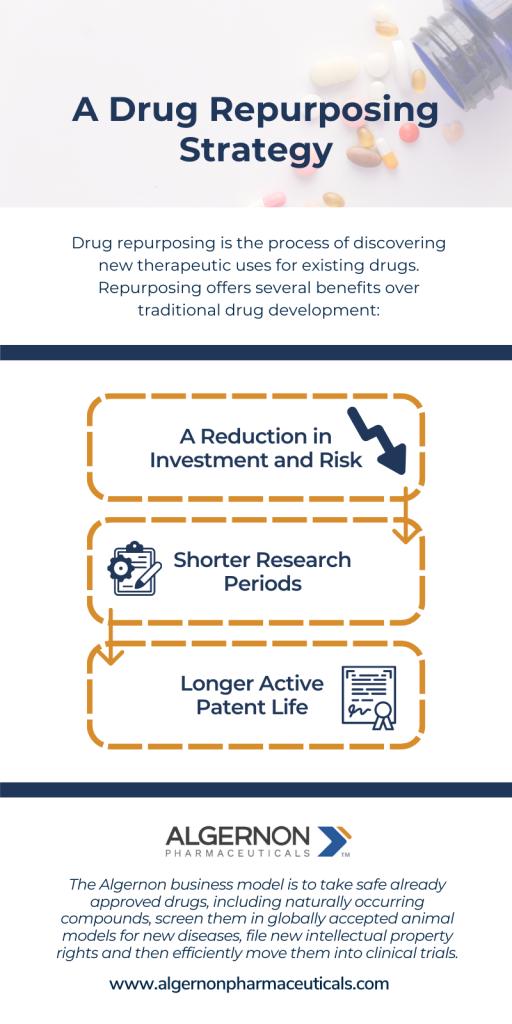 The most obvious one is that it means a patient getting treatment with the drug can be sure of its appropriateness for treating their condition. This is not to say that doctors are just wildly prescribing anything and everything. But it is to say that new off-label uses developed by doctors in the field are something of a leap of faith based just as much on hunches and intuition as on hard, data-backed science.
The second benefit flows directly from this last statement. As off-label pharmaceutical use initially requires a leap of faith, doctors will only turn to it as a last resort. Moreover, off-label prescribing necessarily requires a higher level of familiarity with a drug than is typical, or even familiarity with drugs that usually fall outside of a doctor's specialty field (e.g., prescribing a chemotherapy pharmaceutical as a treatment for ectopic pregnancy, as is the case with Methotrexate). This means many potential uses go unseen — quite simply, doctors cannot learn everything there is to know about every single pharmaceutical.
In effect, by having pharmaceutical companies like Algernon dedicating resources to investigating new disease indications for existing drugs, patients and doctors gain rapid access to new treatments — treatments that may never have been discovered otherwise.
The last major benefit — and the one that benefits Algernon Pharmaceuticals — is that discovering new indications for prescribing a pharmaceutical product allows a pharmaceutical company to apply to re-patent the compound. This is essentially where the Algernon business model kicks in.
Algernon Pharmaceuticals Is Re-Purposing Off-Patent Drugs With a Strong Safety History
In a nutshell, the Algernon Pharmaceuticals business model is all about taking off-patent drugs that have a strong safety history and investigating new disease indications for them. It conducts these investigations using accepted animal models for new diseases. When these investigations lead to new discoveries, the company can then file to re-patent the compound.
The kicker here, though is that they only focus on drugs that have never been approved in the U.S. or Europe. This makes policing any new patents they acquire much easier. The company is particularly focused on drugs that are approved in Japan but have never been approved or marketed in any other jurisdiction.
Besides being incredibly capital efficient, the whole process also allows drugs to move extremely quickly through to clinical trials and, eventually, to approval for the new disease indication. Having a long track record for safety removes massive barriers that new compounds must overcome at every stage of the process.
"Leveraging the history of a drug and leveraging its safety data is what drug repurposing is about. The complexity on the other end comes from having to file new patent applications for the drug and protecting your new intellectual property."

Christopher Moreau, CEO and Director, Algernon Pharmaceuticals
As for what its current research looks like, the company is currently researching treating Chronic Kidney Disease (CKD) and Idiopathic Pulmonary Fibrosis (IPF) with chronic cough. It is also exploring the use of a proprietary form of N, N-dimethyltryptamine (DMT), a naturally occurring yet proven safe psychedelic compound, to treat stroke patients.
Addressing IPF and Cough, Chronic Kidney Disease, and Strokes
Ifenprodil as a Treatment for IPF and Cough
Algernon Pharmaceuticals' CEO and Director, Christopher Moreau says that the company is investigating the use of Ifenprodil (or NP-120, an NMDA receptor antagonist and formerly a Sanofi drug) as a treatment for IPF and cough. Its Phase 2a IPF and cough study showed patients treated with the drug had stable or improved lung function over a 12-week treatment period, with 30% of subjects achieving a 50% reduction in the average number of coughs per hour over 24 hours from baseline to week 12. The next stage of research, a Phase 2b study, is now in the works.
Repirinast as a Treatment for CKD
Algernon is also examining the use of Repirinast, a mast cell inhibitor developed in the 1980s by Mitsubishi to treat asthma for CKD treatment. Moreau says the animal study is showing promising data, and the company is aiming to follow through with its first human study in early 2023.
Algernon Is Re-Purposing DMT as a Treatment for Strokes
While DMT has never been previously approved, it has been primarily used for its psychedelic effects for centuries in religious ceremonies as traditional spiritual medicine by indigenous people in the Amazon basin. A hallucinogenic that produces effects similar to those of other psychedelics like LSD, ketamine, and psilocybin, DMT occurs naturally in many plant species. It can also be synthesized in a laboratory.
However, in Algernon's hands, it is being "repurposed" away from its psychedelic effects for its potential as a pharmaceutical to treat stroke recovery. For this purpose, it will be administered at a non-psychedelic dose.
"On its own after a stroke, the brain is trying to make new connections to compensate for the damaged area. It seems that DMT is aiding and abetting that process from the preclinical and animal study data. We hope to see this effect repeated in our human study," said Moreau. "We're trying to see if it will help heal the brain after a stroke, and we're doing it without giving people the psychedelic experience," he continued.
Lab testing shows that neurons exposed to DMT grow and make new connections — what we call neuroplasticity — and that "all of the growth that occurs in the neurons creates new opportunities for synapses, where brain cells can communicate with each other."
Algernon Pharmaceuticals to Commence DMT Studies in 2022
In Algernon's animal studies, rats that experienced a were then treated with DMT. Rats receiving the treatment showed a smaller area of damage in the brain, called the infarct volume, when compared to controls and almost had a full recovery of motor function after 30 days.
With this early success, Algernon has now received approval for its Phase 1 DMT stroke study which it will start before the end of this year. The study will involve 60 people, focusing on prolonged intravenous drug infusion at sub-psychedelic doses for durations that have never been clinically studied. One key piece of the planned study is to identify DMT's safety, tolerability, and pharmacokinetics when administered as an intravenous bolus initial injection, followed by prolonged infusion.
This also means monitoring a patient's heart rate and blood pressure to determine whether DMT could be used for hemorrhagic strokes (those caused by bleeding in the brain) and ischemic strokes (those caused by a blockage of blood flow to the brain). This would be another significant breakthrough in determining if DMT can help all stroke victims, not just those who have suffered an ischemic blockage.
"If you could deliver DMT early [after a stroke] and it reduces some of the damage caused by a stroke, that would be really good," Moreau says, adding, "If it's the earlier the better, the data will tell."
There's certainly a need for post-stroke treatment as well. According to the Centers for Disease Control and Prevention, almost 800,000 people suffer strokes each year in the U.S., and the global total is roughly 15 million. Additionally, the prevalence of post-stroke cognitive impairment ranges from 20 to 80 percent.
Algernon Pharmaceuticals Is on Track to Capitalize on Biotech Comeback
While Moreau and the Algernon board are optimistic about the prospects for Ifenprodil, Repirinast, and their proprietary version of DMT, they are operating at both a challenging and promising time for biotech companies. The sector slowed in the first half of 2022, but both it and Algernon have rebounded since.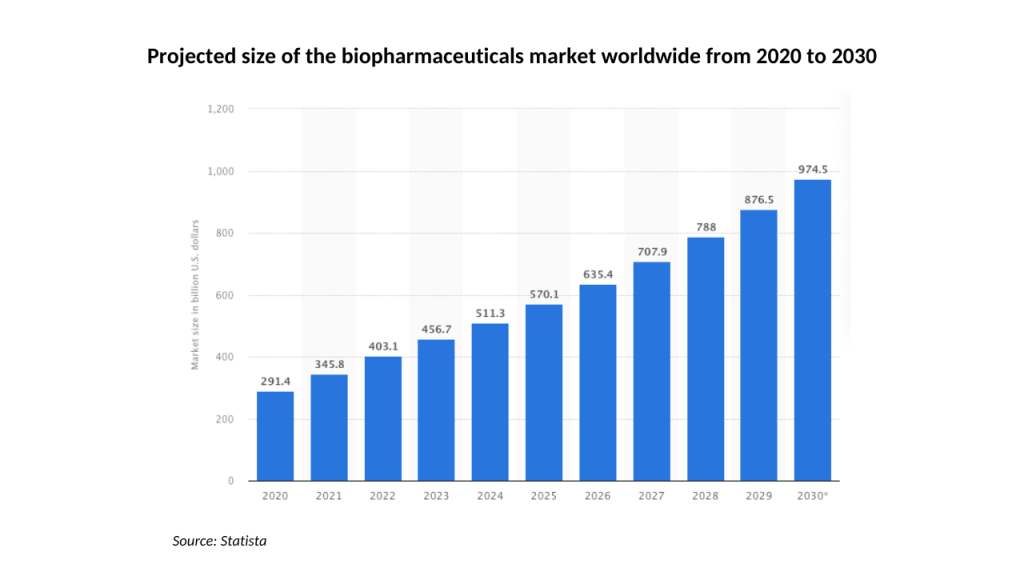 Looking ahead, the outlook also looks extremely promising. With Algernon already at an advanced stage with several pharmaceutical developments, it's well-positioned to take full advantage of the predicted 13.9% CAGR at which biotech is forecast to grow through to 2030.
This combination of industry tailwinds and a promising pharmaceutical development model is now getting the attention of institutional investors. For one, President and Chief Investment Officer of Toronto-based AlphaNorth Asset Management, Steve Palmer, says, "I like the fact that they have multiple [drug] programs. They're lower risk than a normal biotech because they're using drugs that are already known to be safe." AlphaNorth currently owns 13 percent of Algernon.
Palmer also notes that he sees Moreau's leadership at the company as a positive sign, stating that "He's [Moreau] done a very good job of moving things forward in a timely manner. He's a pretty aggressive CEO."
He notes that Algernon's work on Ifenprodil for treating IPF and cough represents a massive potential market. It is the most advanced product in Algernon's pipeline, and the company's market capitalization is much lower than its competitors with less promising drugs.
Building Awareness for Algernon
Moreau says Algernon hopes to generate similar enthusiasm as lead sponsor of November's Wonderland psychedelic conference in Miami, Florida. Some of the psychedelic world's leading founders, investors, therapists, practitioners, researchers, thought leaders, innovators, and media will be on hand.
Moreau, who has more than 30 years of senior management experience in private and publicly traded companies, including a strong background in biotech research, has raised over $60 million from the capital markets. He says he believes Algernon is well positioned in the psychedelic sphere to address stroke's US$15 billion global market.
"We're stepping up our visibility," he says, noting that he will give two keynote addresses at the conference on repurposing DMT and the science of DMT." Moreau's two keynote addresses will be on the Business of Drug Repurposing DMT and a science session on the preclinical data showing DMT's promise as a new potential treatment for stroke. Dr. Rick Strassman, Algernon consultant and author of the book DMT: The Spirit Molecule, will be joining Moreau for the science session.
"We'll have an opportunity to get Algernon's model and our name in front of a larger market, so investors know our story," Moreau says. "That's the bottom line."
For more information on Algernon Pharmaceuticals Inc., visit its website here.
Make sure to follow Algernon on social media for the latest news:
__
(Featured image by Julia Koblitz via Unsplash)
DISCLAIMER: This article was written by a third party contributor and does not reflect the opinion of Born2Invest, its management, staff or its associates. Please review our disclaimer for more information.
This article may include forward-looking statements. These forward-looking statements generally are identified by the words "believe," "project," "estimate," "become," "plan," "will," and similar expressions. These forward-looking statements involve known and unknown risks as well as uncertainties, including those discussed in the following cautionary statements and elsewhere in this article and on this site. Although the Company may believe that its expectations are based on reasonable assumptions, the actual results that the Company may achieve may differ materially from any forward-looking statements, which reflect the opinions of the management of the Company only as of the date hereof. Additionally, please make sure to read these important disclosures.