De Beers to close Snap Lake diamond mine, invest in blockchain
De Beers has decided to shut down its troubled Snap Lake Mine.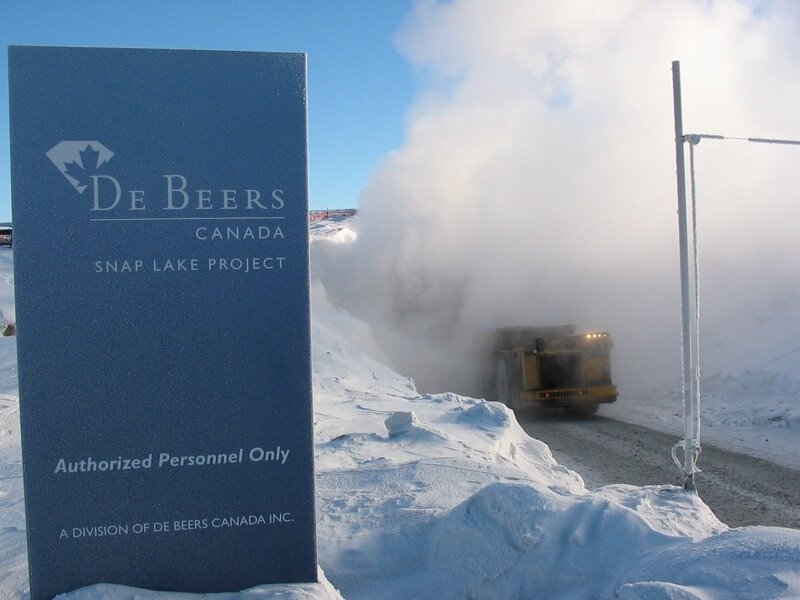 De Beers Canada said it will file a final closure and reclamation plan for its Snap Lake diamond mine. The mine began operations in 2008 and was forecast to run for 15 years. The mine produced 1.2 million carats of diamonds in 2014.
De Beers told the Mackenzie Valley Land and Water Board that it will cease to file an interim closure plan that would have extended the care and maintenance of the site. The company has also set a final closure plan in 2019.
More problems for the Snap Lake diamond mine
De Beers spokesperson Terry Kruger called the plan for a final closure and discussion of costs "premature" until a plan is submitted. According to the documents filed with Mackenzie Valley Land and Water Board last year, the North West Territories hold about $40 million in reclamation security for the Snap Lake Mine.
Kruger added that De Beers has employed a 12-man team to look after the mine's care and maintenance. However, Kruger said that the number of onsite employees fluctuates depending on the time of year and the work required.
Located 220 kilometers northeast of Yellowknife, Snap Lake was De Beers' first mine outside of Africa. In December 2015, De Beers announced the closure of the mine and laid off 434 workers. The announcement came following the drop in diamond prices, as well as water problems that required an amendment to the mine's water license.
De Beers Canada CEO Kim Truter called the Snap Lake mine a "troubled operation" since it opened and the plan was to mothball the mine under a care and maintenance plan. Another option would be to wait for a market rejuvenation or for a buyer to come forward. However, none of those happened in 2016 and De Beers flooded the underground portions of the mine.
De Beers looks into blockchains
While things seem to be looking south on its Snap Lake diamond mine, De Beers is also getting in on with the changing times by investing in a blockchain-based platform that would enable them to better track its stones.
The platform allows tracing of the diamonds' route through the value chain, which is from mine to consumer. It would help consumers to know the accurate register of a diamond's journey that would help to assure the diamond's provenance and authenticity. De Beers said that the open platform will be open to the diamond industry that would also allow other apps to be built on top of it.
The blockchain technology used in diamond tracking will be the first of its kind that would offer traceability along the entire diamond pipeline. It would make verification possible without having to disclose the deals' details to a more general public. Moreover, De Beers CEO Bruce Cleaver said that blockchain would help keep sensitive data confidential and that this new technology would help trade respond to new requirements "in ways that were previously unimaginable." Cleaver added that De Beers still needs to work on the project before it can properly launch a platform. In January, the company plans to release further details on the project.
However, critics have voiced their concern about the blockchain technology as it does not prevent money laundering using diamonds. Currently, diamonds are sent in sealed containers that have certificates that indicate that they are conflict-free. In addition to this, the Kimberley Process was put up in 2003 due to concern over conflict diamonds.
De Beers ends the year steady with positive sales
Despite De Beers' setback in Snap Lake and the company moving forward by applying blockchain technology in its operations, the company is ending the year steady in terms of sales.
According to JP Morgan Cazenove analyst Fraser Jamieson, provisional diamonds in the tenth and last De Beers "sight" for 2017 totaled $450 million, down 3 percent on the recorded $466 million for the ninth sight. Jamieson said that De Beers "continued the recovery from the seasonally quieter summer period."
De Beers' year-to-date sales exceeded JP Morgan's estimates. The company had sales of $5.31 billion and is 1 percent above the estimates of $5.23 billion estimate for 2017. Cleaver said that the tenth sales cycle for the year "saw the continuation of good demand for De Beers rough diamonds" as the company heads in the end of 2017.
In 2016, De Beers sold $5.6 billion worth of rough diamonds, up 30 percent with a depressed level of $4.7 billion sold in 2015. Meanwhile, they sold 29.9 million carats of diamonds in 2016. De Beers CFO Nimesh Patel said in February that the company's sales forecast for 2017 would range between 31 million carats and 33 million carats.
(Featured image by Michael Fuller via Flickr. CC BY SA-2.0)