These famous international airports are havens for every traveler
For those who find airports a bit claustrophobic, Changi offers a breath of fresh air in the form of their world famous butterfly garden.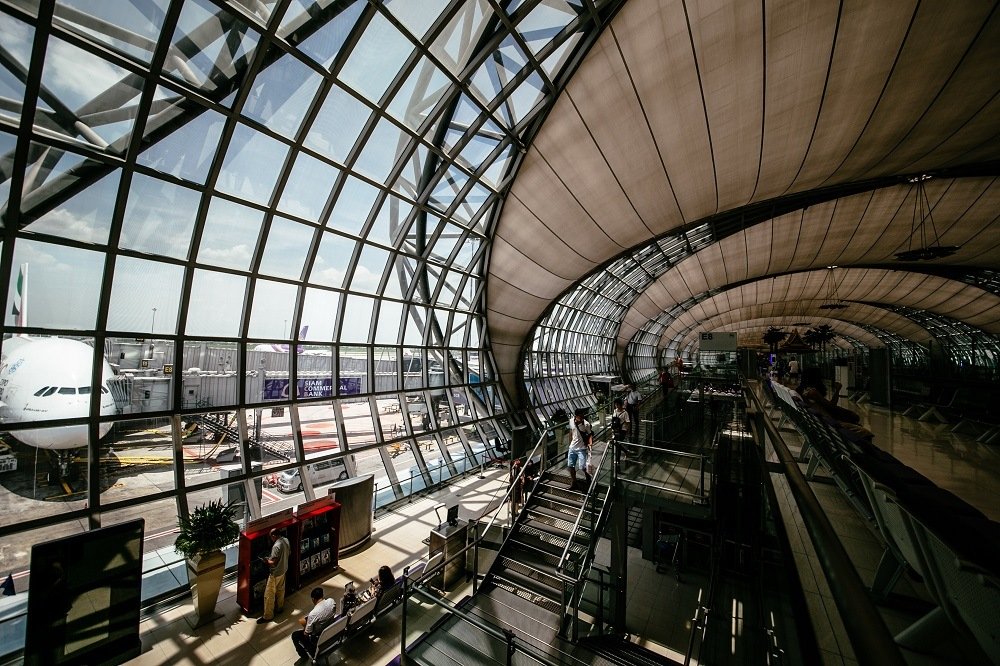 If you're flying out of one of these state-of-the-art airports, the vacation begins as soon as you check your baggage.
What makes the perfect vacation? Beautiful scenery, breathtaking art, immersion in unfamiliar cultures — no matter where you travel, a kodak-worthy adventure certainly awaits you.
Although travel tends to be focused on a destination, how you get there is just as important as where you go. But how can you make your journey just as enjoyable as your vacation?
1. Singapore Changi Airport
Between its breathtaking architecture and luxurious amenities, it's no wonder this state-of-the-art airport is consistently ranked as the #1 airport in the world.
But what exactly sets this airport apart from its competition? For those who find airports a bit claustrophobic, Changi offers a breath of fresh air in the form of their world famous butterfly garden, which houses 1,000 species of butterflies and a 20-foot indoor waterfall.
Other features include Changi's beautiful Balinese swimming pool, modern art exhibits, entertainment centers, and an open-air cactus and sunflower garden. Thinking of traveling to Singapore? Pencil in some extra time in your itinerary and explore everything Changi Airport has to offer.
2. Hong Kong International Airport
Home to the world's only airport IMAX, the Hong Kong International Airport is an oasis for those looking to escape the stress of travel. At this bustling travel hub, amenities range from world class tea shops to a nine-hole golf course, conveniently located at the AsiaWorld-Expo adjacent to Terminal 2.
Fascinated by the power of flight? Stop by the Aviation Discovery Centre (ADC), a mini-amusement park geared toward flight enthusiasts. Travelers of all ages will love the ADC's interactive rides and fact-filled exhibits.
3. Hamad International Airport
This beautiful airport in Doha, Qatar, cost a whopping $16 billion to construct — and it shows. Between its deluxe 25-meter-long suspended swimming pool and its quirky installations (including a giant dinosaur robot), Hamad is easily one of the world's coolest airports.
Looking to shop? Stop in at one of Hamad's 80 designer stores. Missed your connecting flight? Catch some zzz's in a luxurious suite at Hamad's in-airport hotel. Whether you're staying in Qatar or just passing through, you're sure to have an unforgettable time in this cutting edge airport.
4. Munich Airport
Germany is a country that takes its beer seriously, and breweries at the Munich Airport are no exception. Airbräu, a microbrewery conveniently located in one of the airport's many terminals, provides excellent brews as well as entertainment, generally courtesy of local talent.
Not big on beer? Take a trip to the airport's visitors park, where you can play a game of mini-golf, or take a spin on their giant slide. No matter where you turn, fun is just around the corner at the Munich Airport.
5. London Heathrow Airport
This image might look like it was taken in a posh London apartment, but it's actually one of the many luxurious shopping lounges that London Heathrow offers to those who have a little cash to burn. With an incredible array of high-end stores, including an outpost of the world-famous Harrods, Heathrow is a shopaholic's dream come true.
For globetrotters who don't want to shop till they drop, Heathrow has plenty of other amenities to offer — between extensive art galleries and soothing spas, this enormous airport has the power to rejuvenate even the weariest of travelers.
—
DISCLAIMER: This article expresses my own ideas and opinions. Any information I have shared are from sources that I believe to be reliable and accurate. I did not receive any financial compensation in writing this post, nor do I own any shares in any company I've mentioned. I encourage any reader to do their own diligent research first before making any investment decisions.