Forget Ecological Footprints: Handprint is Facilitating a Sustainability Revolution
You've heard of the 'ecological' footprint you leave behind, now get ready to start having a far more positive impact with Handprint. This digital and green tech startup is setting its sights on fighting climate change by bridging the many gaps between climate-conscious consumers, companies, and the projects making real climate impacts happen around the world. A sustainability revolution.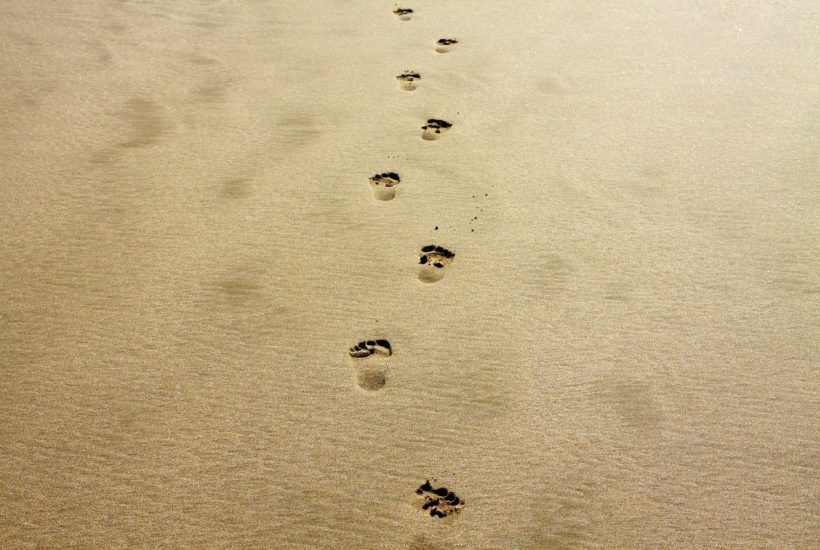 The ecological 'footprint' has been a popular method for measuring an individual's, or a company's, negative impact on the ecosystems of our planet for decades. The resources we consume and the pollution we emit are combined to give us an impression of the severity of harm we are doing to the environment on a daily basis.
But emphasizing the harm and destruction has framed questions of sustainability in an increasingly negative light. Which can lead to rejection with, or apathy towards, real action. This attitude, along with the many barriers on the path to sustainability, is what the green tech startup Handprint is setting out to tear down.
Obsessing Over the Footprints we Leave Behind Bars the Path Forward
The popularization of the 'footprint' as an ecological measure of our impact on the planet emerged out of a simple truth. It is hard to get people to conceptualize their personal effect on the environment, but crucial for us to do so. So the footprint, which measures our impact in 'bioproductive land equivalent' used, was born. Flexible to use and easy to understand it has been a useful tool for educating people about the need for action. Unfortunately, it is flawed when it comes to enabling that action for two key reasons: negativity, and abstraction.
Even its creators acknowledge that the footprint can only take us so far, but they fail to see that it also inhibits action. For one thing, it places consumers and companies, who are those in a position to determine outcomes on an everyday basis, on the defensive. By only measuring the quantity of renewable resources used up by the action, we are defining all actions as (more or less) harmful. Doing so paralyzes climate-conscious consumers by offering no positive choice, and turns off those who don't really care. After all, apathy is easier on the soul than guilt.
Another flaw is born out of the footprint's biggest strength: as an abstract tool to aggregate various different and unrelated actions into a common outcome. This has been essential in teaching generations about their impact, but leaves no clear path for a solution because it obscures the link between action and outcome. This abstraction, while it made measurement easy in the 90s, divorces individuals from the real-world consequences of their actions, be they negative… or positive.
Sustainable living will require the opposite: solutions that individuals can identify with and feel involved in, with the positive motivation to make those solutions happen. And most importantly, as Handprint knows well, the simplicity to do so with as little friction and as much ease as possible.
Handprint Offers a Solution for Accessible Sustainability
If we are leaving footprints—impacts we can no longer control or influence—behind us; the solutions will have to be ahead of us. These are the 'handprints' that one green tech startup is helping companies and individuals create. Giving everyone a chance, and an easy streamlined path, to shape their positive impact on the planet.
Handprint's narrative is the perfect example of the positive attitude needed to establish change. They tell the story of every bite-sized piece of change a customer buys through a partner company. For example, seeing each mangrove tree planted in one of their flagship partners with a transaction on a partnering eCommerce site. A client will know with certainty (thanks to blockchain tech) where exactly their incremental impact is happening, and companies will be able to demonstrate the extent of their positive ecological impact over wide areas (thanks to satellite imaging).
Not only is Handprint creating a positive digital infrastructure to bolster the right kind of behavior, but the innovative startup is also solving the problem of abstraction. Creating a precise and almost social connection between customers, company, and climate projects. A relationship that goes beyond abstract knowledge but into precise detail, visual confirmation, and, as a result, emotional connection. Where the footprint was vague, your handprint is specific, measurable, and even comparable between individuals, adding a social dimension as well.
But their innovation does not stop at removing the problems with the 'footprint' mentality.
Handprint is Tearing Down Barriers to Sustainability Impact Projects
In order to achieve their vision of a system for creating positive change, Handprint has needed to tackle some of the most difficult problems in sustainability: risk and ease of access.
With a background in the academic, business, technological and climate sectors, the creators of Handprint had already run into the problems facing sustainability on just about every level possible. But this has given them the insight needed to overcome them.
In the past, if a company wanted to purchase trees or some other carbon offset project to sell as part of their offering to customers, they had to do so in advance. This meant taking on substantial risks in complex projects. Smaller companies often could not afford the bulk fronting costs, icing them out immediately. Bigger companies had to figure out how to take their large-scale project and divide it up for their customers. To which you can add future risks such as the project falling through or unpredictable costs (or consequences).
Even those who succeeded still found themselves sometimes lambasted by the web or media for inadequate action, disincentivizing future sustainable initiatives.
Handprint has significantly reduced these risks. They have turned the tables so that companies no longer have to purchase risky carbon offset projects in advance, but instead simply partner up with one directly through the Handprint platform. Then sit back and watch as their customers make the change happen through pre-structured 'bite-sized' pieces of climate impact. Accessible to big or small companies, Handprint also takes on the burden of assessing the projects, while making transparency simple to all from customer to company and curious public. And all this is done with the greatest possible simplicity, a few clicks, and virtually no cost.
Leaving Footprints Behind, Future Climate Action is Hands-On
It is impossible to put a price on the sustainability of our planet, just as it is impossible to undo a footprint. But thanks to the technology and innovation of startups like Handprint, it is more than possible to build a new model for sustainability, which puts the power to create change back into the hands of individuals. The revolution is already here.
—
(Featured image by chezbeate via Pixabay)
DISCLAIMER: This article was written by a third party contributor and does not reflect the opinion of Born2Invest, its management, staff or its associates. Please review our disclaimer for more information.
This article may include forward-looking statements. These forward-looking statements generally are identified by the words "believe," "project," "estimate," "become," "plan," "will," and similar expressions. These forward-looking statements involve known and unknown risks as well as uncertainties, including those discussed in the following cautionary statements and elsewhere in this article and on this site. Although the Company may believe that its expectations are based on reasonable assumptions, the actual results that the Company may achieve may differ materially from any forward-looking statements, which reflect the opinions of the management of the Company only as of the date hereof. Additionally, please make sure to read these important disclosures.