Handprint's Impact as a Service (IaaS) makes going carbon neutral easy
Going carbon neutral in business can be a difficult task. Besides getting past a lack of transparency from carbon offsetting projects, even the seemingly simple process of buying carbon offsets and offering them to customers can be needlessly complicated. But Handprint believes they can solve these problems, neatly integrating all the necessary tools into an "Impact as a Service" platform.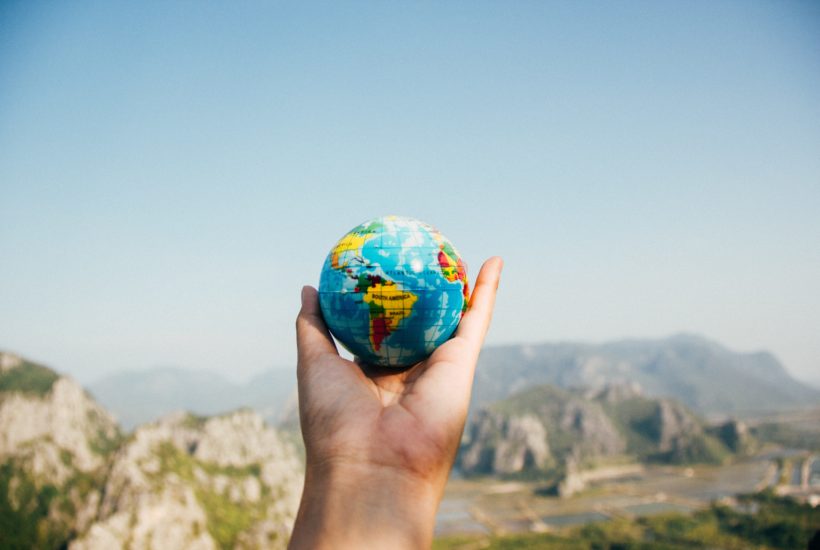 We all know that some things are easier said than done. Sometimes it's the little things, like waking up early and getting enough exercise. However, more often than not, overcoming these types of challenges is just a matter of self-discipline. On the other hand, other problems come with hidden complexity that rebuffs even the most strong-willed and well-intentioned—problems like solving world peace and going carbon neutral. But, while world peace still comes with the same 'human nature' challenge as waking up early, going carbon neutral does not. That makes it a perfect problem for a technological solution, which is why a savvy new green tech startup called Handprint is throwing blockchain, AI, and even satellites at the problem.
Handprint offers "Impact as a Service," overcoming some of the biggest hurdles on the path to carbon neutrality
The result of this amalgamation of technologies is what Handprint is calling "Impact as a Service" (IaaS), fitting right in with the trending XaaS naming convention that's so hot in tech right now. To put that in more concrete terms, Handprint's platform combines social apps, widgets, and eCommerce integrations to connect businesses, consumers, and carbon-offsetting projects together, along with the accountability and auditing tools needed to track climate impact and ensure funds are used efficiently.
This is how Handprint is creating Impact as a Service and helping businesses overcome some of the biggest hurdles along the road to carbon neutrality. Its eCommerce integrations, for example, takes the pain out of offering carbon offsets at checkout time to customers. No longer is it necessary to research and source different projects and offsets from a mishmash of various providers, purchase bulk units in advance, and then solve the problem of dividing the credits up in a resellable way. That is all taken care of. Packaged up units in a variety of carbon offsetting projects are available in bite-sized units off-the-shelf, all ready to be directly integrated into checkouts and shopping carts. But, beyond this, Handprint's Impact as a Service platform also resolves some of the biggest transparency and accountability shortcomings of current carbon offsetting programs.
The lack of transparency in current carbon offsetting options makes going carbon neutral difficult
For businesses wanting to make their operations carbon neutral, there are very few off-the-shelf options out there. Even carbon offsets for flights—something which many airlines now make available at the time of booking—demand that questions of efficacy and transparency are asked; taking the seller of a carbon offsetting program at their word is not enough. The now infamous €1 Ryanair gimmick serves as a perfect case in point.
And, even when a carbon offsetting program is not so immediately gimmicky, things are still not so simple. All too often, carbon-offsetting packages are just a non-descript portfolio of green-sounding projects that look good in a corporate responsibility statement. But without proper auditing and accountability in place, no one has any real idea if they're really providing the carbon neutralizing impact being claimed at all.
Understandably, consumers are becoming increasingly cynical of these sorts of carbon neutral claims, with a neologism even being coined to describe it: "greenwashing." Currently, there's nothing to stop a logging company from setting up a tree planting foundation and claiming to be engaged in reforestation efforts. There's also nothing to stop the same company from just replenishing plantation stocks on its sister company's plantation properties—trees that would have been planted in any case.
Of course, while such an example sits at the more cynical end of the spectrum, it does illustrate the problems that a lack of transparency and accountability engender. Unless businesses or independent auditors actually visit the sites of such a tree-planting initiative, we are often left with nothing but a glossy brochure by which to judge a project.
How Handprint is solving the carbon neutral problem with satellites and AI
Auditing a carbon sequestration project is currently an expensive and time-consuming process. Currently, independent auditors must visit the site in question—quite often requiring international travel to remote locations—and then spend a minimum of several days onsite. And, if auditing is to be effective, it cannot be a one-off occurrence.
Necessarily, not all carbon offsetting projects are subjected to such rigor. Even if extensive oversight was always desired, in many instances it is just too cost-prohibitive. After all, easier said than done. 
But Handprint saw that there was an alternative solution for monitoring projects businesses wanting to go carbon neutral might be interested in. If everyone from Google to mining companies are using satellites to survey the earth, then why not use them to audit carbon sequestration projects? By combining satellite imagery with AI analysis, constant, 'hands off' monitoring of the evolution of any given site on earth over time becomes possible.
The advantages of this technological approach are multiple. The need for auditors to make costly visits is removed. Greater transparency is demanded from projects that otherwise might hide behind the smokescreen of isolation and distance from the market into which it sells credits. And the actual climate impact of a project is accurately measured.
Handprint's IaaS removes friction for businesses wanting to go carbon neutral
Besides offering greater oversight and transparency, the other key focus of Handprint's efforts has been on the sale of carbon offsets. As it currently stands, there is no simple solution for businesses that want to offer carbon offsets to their customers. They must first source the credits from a disparate array of providers and markets, then work out how to integrate the credits into their offering. And if a particular project is more attractive than a generic portfolio approach, issues with purchasing and dividing up the purchased credits arise.
To solve this, Handprint has combined several elements, creating a marketplace of sorts where carbon offsetting projects can resell credits in a standardized exchange. This is then integrated with ready-made eCommerce integrations (or opened up via an API for businesses wanting a more customized integration), making it mindlessly simple for businesses to offer audited, tangible carbon offsets to their customers.
__
(Featured image by Porapak Apichodilok via Pexels)
DISCLAIMER: This article was written by a third party contributor and does not reflect the opinion of Born2Invest, its management, staff or its associates. Please review our disclaimer for more information.
This article may include forward-looking statements. These forward-looking statements generally are identified by the words "believe," "project," "estimate," "become," "plan," "will," and similar expressions. These forward-looking statements involve known and unknown risks as well as uncertainties, including those discussed in the following cautionary statements and elsewhere in this article and on this site. Although the Company may believe that its expectations are based on reasonable assumptions, the actual results that the Company may achieve may differ materially from any forward-looking statements, which reflect the opinions of the management of the Company only as of the date hereof. Additionally, please make sure to read these important disclosures.