Germany repatriates gold reserves, China increases its bullion considerably
In January of 2016, the Bundesbank announced that three years after commencing the transfer of some of its offshore-held gold from vaults located at the Banque de France in Paris and the NY Fed in New York, it had repatriated a total of 366.3 tonnes, bringing the German central bank's gold reserves held in Frankfurt to 1,402 tonnes, or 41.5% of Germany's total gold of 3,381 tonnes, for the first time greater than the 1.347 thousand tonnes located at the New York Fed, which as of January 27, 2016, held 39.9% of Germany's official gold.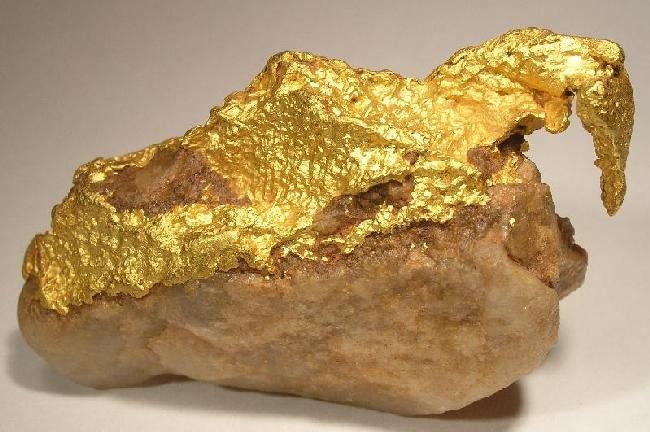 Latest news in the metals sector: China increases its bullion considerably, Germany repatriates gold reserves, and much more.
Caution:
Large bears were seen wandering the street in front of the trading exchanges. All I can say is, "Don't poke that golden bear" as he's supposed to be hibernating and this current rally woke him up and he's hungry. The only thing that will make him happy is a break in the metals market. Volatility is king right now, so hang on!
Friday's Trivia Question:
How many pounds of copper are in the average home; the total includes appliances?
Pete:
I never depend on Bank of China's numbers on gold holdings. They always end up wrong but this is from the Dragons mouth so here ya go.
2.58 million ounces of gold bought in China in 2016/Bullion-Investor.com:
The Bank of China, the official Chinese bank, added 2,58 million in bullion to the state's gold assets in the year 2016, according to its own explanation, and is thus one of the largest central bank gold buyers in the world. China owns gold worth 71 billion US dollars.
The Chinese have announced that they have 59.24 million gold ounces, which amounted to US $ 71.292 billion at the end of January. This value considers the gold price increase in January, since the end of December which was the equivalent of $ 67.878 billion more in US dollars.
In the whole of January, no one wants to buy gold for the state in China-this would be the third month in a row, where no additional gold is bought. This would be the longest period since the publication of the state's gold reserves in the middle of 2015. The Chinese central bankers, who were not allowed to consider the charts in the past, gave no reason why no gold is currently being bought.
Bundesbank has completed gold repatriation from New York Fed, three years ahead of schedule:
In January of 2016, the Bundesbank announced that three years after commencing the transfer of some of its offshore-held gold from vaults located at the Banque de France in Paris and the NY Fed in New York, it had repatriated a total of 366.3 tonnes, bringing the German central bank's gold reserves held in Frankfurt to 1,402 tonnes, or 41.5% of Germany's total gold of 3,381 tonnes, for the first time greater than the 1.347 thousand tonnes located at the New York Fed, which as of January 27, 2016, held 39.9% of Germany's official gold.
"With approximately 1,403 tons of gold, Frankfurt has been our largest storage location, ahead of New York, since the end of last year," said Carl-Ludwig Thiele, Member of the Executive Board of the Deutsche Bundesbank. "The transfers are proceeding smoothly. We have succeeded in once again significantly increasing the transport volume compared with 2014. This means that operations are running very much according to schedule," added Thiele last January.
As a reminder, according to its gold storage plan, unveiled in January 2013, the Bundesbank would store half of Germany's gold reserves in its own vaults in Frankfurt am Main by 2020 which would necessitate a transfer to Frankfurt of 300 tons of gold from New York and all 374 tons of gold from Paris. It also meant that as of January, another 111 tons of gold from the NY Fed and 196.4 tons of gold from Paris remained to be transferred.
Billionaire Eric Sprott Says Western Central Banks Panicking as 'The Whole World is Buying Gold Here,' Including Druckenmiller/King World News: Eric Sprott states, "When Druckenmiller sold his gold, which turned out to be great timing, I never subscribed to the thesis of why he sold it, although it was correct (in terms of timing). I had been wondering lately, is this guy going to come back in here? I was wondering that simply because of all the uncertainty with U.S. politics and what's going on in Europe, Japan, and China. With that as the backdrop, you would think he would want to own gold. So, I was quite pleased to see him stepping back in and I think it's a leading indicator of how other mainstream people are thinking." He continues, "I can tell you that the thing I'm watching the most is the Chinese gold ETF, which, just yesterday, had $28 million more in inflows that resulted in them buying close to a ton of gold to add to their growing hoard. That ETF only has a value of about $1.1 billion, so that was almost a 3.3 percent increase in their gold holdings in just one day.
Susanne Barton:
Gold climbed to the highest in almost three months as investors purchased metal through the biggest exchange-traded fund for a fifth day, the longest buying spree since June. Holdings in the SPDR Gold Shares ETF rose 8.3 metric tons to 827 tons as of Tuesday, the highest since Dec. 20, data compiled by Bloomberg show. Assets have rebounded from a 10-month low set in late January, helping gold prices extend their first annual gain since 2012
Four dead after armed robbers storm DRC gold mine/Mining.com:
An armed attack on the Twanziga gold mine in eastern Democratic Republic of Congo (DRC) Tuesday has resulted in four casualties. Among the dead are three policemen that were guarding the mine and one of the robbers, according to a statement on Banro Corp's (TSX: BAA) website.
The incident occurred early Tuesday morning and involved an attempt by the seven-member raiding party to break through the gate. Police fired on the robbers, ending the assault. A security guard was also injured during the altercation. No items were stolen and the mine continues to operate normally, Banro said. The attempted break-in was recorded on security cameras and has been reported to authorities. An investigation is underway.
A 21st-century gold rush/Smaulgld:
Gold was discovered in the Namayingo district of eastern Uganda in 2012. Since then, the region has attracted immigrants seeking to make their gold fortunes, or at least a living, in the nascent gold mining or attendant industries. The Namayingo district now resembles a 19th century U.S. gold mining boom area with tens of thousands of newly arrived gold mining hopefuls and gold traders as well as makeshift services providers of mining equipment, ore grinders, gold processors, food and water vendors all plying their wares to the growing population of the area. According to an AP report, small mining operations can turn a sizeable profit and even day laborers working the Namayingo district can pull in about $6 a day which is significant in a country where the average daily earnings are about three times less.
Here's how first majestic silver corp regained its Luster in January and rose 26%/Silver Production-Sean Williams:
For 2016, First Majestic wound up producing 18.7 million silver equivalent ounces (SEO), which includes 11.9 million ounces of silver, 62,436 ounces of gold, 32 million pounds of lead, and 10.6 million pounds of zinc. In August, First Majestic updated its full-year guidance to between 16.83 million SEO and 18.7 million SEO, meaning the company came in at the very top of its guidance range. While each of its six producing properties contributed more than 1 million SEO, its relatively new flagship Santa Elena mine generated around 30% of total SEO production and was, therefore, pivotal to First Majestic's success.
Copper/Bloomberg:
Workers at the world's biggest copper mine vowed to start an indefinite strike Thursday as talks with BHP Billiton Ltd. failed to produce an agreement following weeks of collective bargaining in Chile. Prices climbed.
"We will start what is maybe the most important union fight that this country has seen in recent times," the union representing about 2,500 workers at the Escondida mine said in a statement Tuesday. BHP responded by saying that production would stop in the event of a strike.
Management refused to budge from its previous position after four days of a scheduled five-day extension in negotiations, Carlos Allendes, a union spokesman said by phone. The union decided not to take talks into a fifth and final day and is getting paperwork in order to begin the strike, he said.
Copper has surged more than 20 percent since mid-October as stockpiles tracked by the London Metal Exchange shrank. Goldman Sachs Group Inc. says prices could exceed its six-month target of $6,200 a metric ton because of potential supply disruptions, including at Escondida, that could force the market into a deficit. The metal advanced 1.3 percent on Wednesday to $5,869 a ton.
All copper exports from this world-leading nation stopped last night/Dave Forest:
Officials at Indonesia's mining ministry confirmed that miners including Freeport-McMoRan have now halted copper concentrate exports. In accordance with rules that mandated a complete stop to concentrate shipments as of January 12.
That comes even as Indonesian officials said earlier this week they are writing new rules to allow continued concentrate shipments. With Energy and Mineral Resources Minister Ignasius Jonan saying he aimed to keep miners exporting beyond the January 12 deadline. It appears, however, that lawmakers were unable to get new rules finalized. And the clock ran out on Indonesia's miners for the moment — with the concentrate export ban reportedly also now affecting lead, zinc and iron ore producers across the country.
China to build more charging points for electric vehicles consuming massive amounts of copper wire/Xinhua:
China plans to build 800,000 charging points, including 100,000 public ones, for electric vehicles this year to meet increasing demand, the National Energy administration (NEA) said Thursday.
A total of 100,000 public charging points has been installed nationwide in 2016, bringing the total number of public charging points in China to 150,000, according to the NEA. A total of 14,000 kilometers of highway has also been equipped with inter-city fast-charging stations, with an average spacing of 48.6 kilometers. Electric vehicles consumed more than 1.2 billion kilowatt-hours of electricity in China last year, saving about 400,000 tons of fuel, according to the NEA.
Pete's Corner:
We will be at the Long Beach Metals Show doing the roll out on the new upgrade of Tornado Hedging Platform. We invite you to come by our booth and see for yourself. If you're not hedging with us this year why are you leaving yourself so exposed?
Gold dealers beware as rumors swirl that Venezuela is literally selling passports and false identification of all types. Most gold sales are going to Columbia but if you get an offer from Venezuela those ID's might be no good so be careful.
Good jobs are coming back!
Goldman Sachs Hedge Fund Folding London Operations, Shifting Staff to U.S./Business News: Goldman Sachs Group Inc's (GS.N) hedge fund Goldman Sachs Investment Partners (GSIP), which was one of the largest-ever hedge fund launches in history, is closing its London operations and shifting staff members to New York, four sources told Reuters. About eight staff members who made up the London team were recently told to move to Goldman's Battery Park City headquarters or find a new job internally, said the sources. Separately, Goldman may move up to 1,000 staff out of London in response to Britain's vote to leave the European Union, it was reported last month.
Mnuchin Could Surprise Wall Street and Main Street/Forbes: A quick overview of who's signature will be on our paper money. Mnuchin got his start at Salomon Brothers (which became a part of Citigroup in the late 1990s) "under the mentorship of Lew Ranieri and Mike Mortara, who started the mortgage-backed securities market." After having been a partner at Goldman Sachs, Mnuchin co-founded hedge fund Dune Capital Management that invested in commercial real estate and residential mortgage-backed collateralized debt obligations. In 2009, Mnuchin led a group of investors that bought beleaguered California-based residential lender IndyMac, which changed its name to OneWest Bank. Mnuchin served as CEO and chairman and proceeded to buy several other failed banks including First Federal Bank of California and La Jolla Bank as well as a $1.4 billion multifamily and commercial real estate loan portfolio from Citibank. One year after Mnuchin took the OneWest reigns, the company was profitable and went on to become the largest bank in Southern California, with assets worth $27 billion, before being sold to CIT Group for $3.4 billion in 2015.
Fridays Trivia Answer: The average home contains 400 pounds of copper that are used for electrical wiring, pipes, and appliances. This is why the housing starts number is so important for the base metals business. We also look at industrial buildings as well.
—
DISCLAIMER: This article expresses my own ideas and opinions. Any information I have shared are from sources that I believe to be reliable and accurate. I did not receive any financial compensation in writing this post, nor do I own any shares in any company I've mentioned. I encourage any reader to do their own diligent research first before making any investment decisions.