Sproutly (SRUTF) joins the ranks of Canopy Growth (CGC), New Age Beverages (NBEV) and HEXO (HEXO) with groundbreaking joint venture
This cannabis company, with a truly natural water-soluble solution, is about to move to the next level with a beverage joint venture with Moosehead Breweries.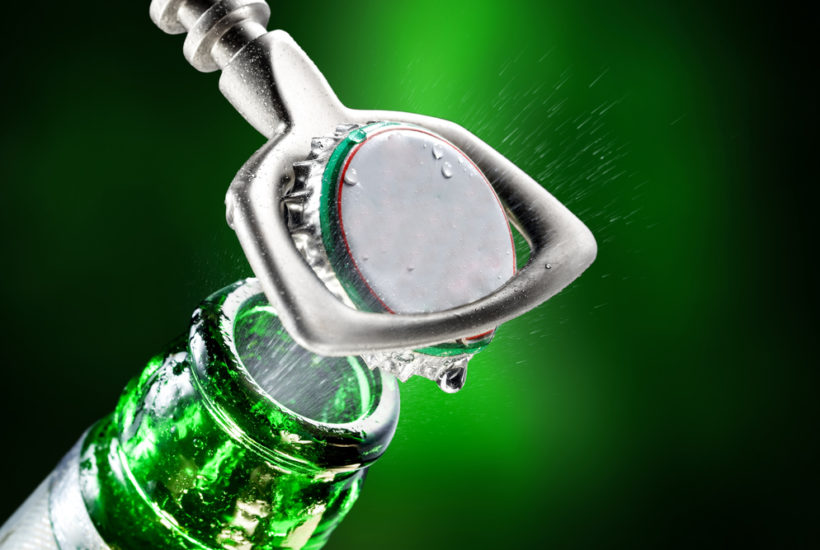 When Canopy Growth Corp. (WEED, CGC), HEXO Corp. (HEXO.TO, HEXO), and New Age Beverages Corporation (NBEV) are all rushing into a new idea, you know you're onto something big. As countless cannabis and beverage giants rush to plant their flag, they've all been outmaneuvered by two innovative Canadian companies. By joining forces with Moosehead Breweries, Sproutly Canada, Inc. (SPR.CN, SRUTF) has marked itself as a fierce competitor in one of North America's hottest markets.
Big beverage is rushing to claim a stake
It might still be in its infancy, but the marijuana sector is pegged to be worth more than $75 billion by 2030. The demand for cannabis beverages specifically is expected to outpace the demand for other cannabis products two times over.
These figures explain why Big Alcohol has kept such a close watch on the cannabis sector. Changing tastes have sent alcohol sales into a year-on-year decline for the last five years. In fact, the global rate of decline reached 1.3% in 2016, while demand for low and non-alcoholic drinks soared by 30% over the course of 2017.
This could be good news for Big Alcohol. Just as soda companies have pivoted to health drinks, and tobacco companies are trying to enter the e-cigarette sector, alcohol companies see their future in the marijuana adult beverage industry. Especially as Canada prepares to legalize cannabis edibles in October 2019.
Joint ventures offer unique opportunities
The emerging marijuana beverage sector has been defined by a series of high-profile joint ventures (JVs). One of the most iconic was between Canadian brewer Molson Coors Brewing Company (TAP) and groundbreaking cannabis company HEXO Corp.
This JV was highly beneficial for Molson Coors. Like other big alcohol companies, Molson Coors was looking for a way to shore up declining beer sales. By marrying non-alcoholic beer and marijuana, it will be able to tap into the trend that saw Constellation Brands, Inc. (STZ) and Canopy Growth Corp. sign a $4 billion deal in 2018.
The figures might look impressive—but there's an elephant in the room nobody is willing to discuss. Marijuana-infused drinks simply don't yet have the quality to satisfy modern consumers. Well, maybe not until now anyway.
Introducing the game-changing Sproutly and Moosehead joint venture
In a move that propels Sproutly to the same heights as HEXO and Canopy Growth's beverage initiatives, the company has forged an agreement with Canada's oldest and largest independent brewery, Moosehead Breweries. The company is renowned for producing high-quality brands like Moosehead Lager and HopCity, and partner brands such as Angry Orchard Hard Cider—now having an opportunity to break into the marijuana adult beverage sector.
3 Unstoppable Forces That Will Drive the Next Marijuana Super-Cycle
Sproutly is a licensed producer that is focused on delivering water-soluble solutions to the food and beverage industry.
The 50/50 JV will be led by Matthew Oland, one of Moosehead's senior executives. Moosehead will have exclusive rights to use Sproutly's APP Technology for five years. Moosehead will provide infrastructure support to ensure the smooth running of operations, procurement, finance, sales, and distribution.
Moosehead is uniquely well-placed to tap into the upcoming marijuana sector trend. The company sells over 140 million cans/bottles of beer annually throughout Canada, the United States and 15 other countries across the globe. This formidable distribution network gives Sproutly the muscle it needs to get the world's first Infuz2O infused beverages on shelves in Canada, and the added potential to enter European markets once cannabis use is recreationally legalized.
Sproutly ups the stakes with water-soluble cannabis
It's Infuz2O that separates the Sproutly-Moosehead JV from anything anyone else is doing. Many companies have water-compatible solutions but nothing that is truly water-soluble. Existing solutions rely upon techniques like CO2 extraction which use oil as their primary emulsifier. While it works, it brings a large number of problems along with it.
As anyone who has added olive oil to pasta water can tell you, oil and water do not mix well. Emulsifiers are necessary to ensure that the oil can be suspended in liquid. These chemically produced emulsifiers have been linked to not only adverse health effects in mice but also cause unexpected problems for the end user. The body treats oil-delivered cannabis as a fat molecule. This means that the onset and offset times can vary by a couple of hours. The unpredictable effects can easily lead to a user ingesting more than they should.
Sproutly's Chief Science Officer, Dr. Arup Sen, has created the only solution that is truly water-soluble so far. Rather than using emulsions, Sproutly takes advantage of Dr. Sen's groundbreaking Aqueous Phytorecovery Process (APP). This process recovers all water-soluble phytochemicals before releasing the "free oils." In short, APP is capable of extracting parts of the cannabis plant that can dissolve in water and separating them from the non-soluble oils.
This process creates a solution that is free from harmful chemicals and uses only reagents that are common ingredients in our ordinary diets. The resulting Infuz2O is more predictably absorbed by the body and users will know exactly what the effects of their dose will be. Most importantly, it means that it is finally possible to create cannabis-infused beverages with a great taste profile.
On top of this, Infuz2O provides a similar time frame experience to that of smoking marijuana. There is an approximate five-minute onset time to feel the effect, and the experience lasts around 90 minutes. The mixture will also be true to strain. This makes it possible to produce functional beverages for specific purposes, such as pain relief, or different kinds of conditions.
A better product, a stronger partner, a winning move
It is almost certain that we are going to see an increasing number of joint ventures announced between cannabis companies and beverage companies as we move closer to Canada legalizing cannabis edibles and beverages. What really sets the Sproutly and Moosehead JV apart is that Sproutly is not just a cannabis company, but could also be framed as a cannabis technology company.
Sproutly's joint venture is with a leading beverage company that has a history of producing high-quality products and brands, with some even grabbing medals at the Annual Canadian Brewing awards, including a Gold in 2015 for its pale ale and a Gold and Silver, respectively, for its Alpine Lager and Cracked Canoe in 2016. Moosehead is far better placed than many other major brewing companies to make a real success of high-quality cannabis adult beverages.
These factors all combine to create a unique opportunity for companies and investors alike. Moosehead Breweries is a private company, so the only way investors can take advantage of one of cannabis' most promising JVs is through Sproutly (CSE:SPR, OTCQB:SRUTF), which will have a 50% stake in the joint venture company.
In an increasingly crowded field, the Sproutly and Moosehead JV represents a genuine breath of fresh air. A cannabis beverage created using Sproutly's unique AAP technology as an opportunity to revolutionize a sector that hasn't even begun, for Moosehead and Sproutly, the future's looking bright indeed.
(Featured image by S_photo via Shutterstock)
—
DISCLAIMER: This article was written by a third party contributor and does not reflect the opinion of Born2Invest, its management, staff or its associates. Please review our disclaimer for more information.
This article may include forward-looking statements. These forward-looking statements generally are identified by the words "believe," "project," "estimate," "become," "plan," "will," and similar expressions. These forward-looking statements involve known and unknown risks as well as uncertainties, including those discussed in the following cautionary statements and elsewhere in this article and on this site. Although the Company may believe that its expectations are based on reasonable assumptions, the actual results that the Company may achieve may differ materially from any forward-looking statements, which reflect the opinions of the management of the Company only as of the date hereof. Additionally, please make sure to read these important disclosures.