Keywords research tips for busy entrepreneurs
Looking at a bigger business picture, keywords drive quality traffic to your website, build page ranking and help establish your online presence.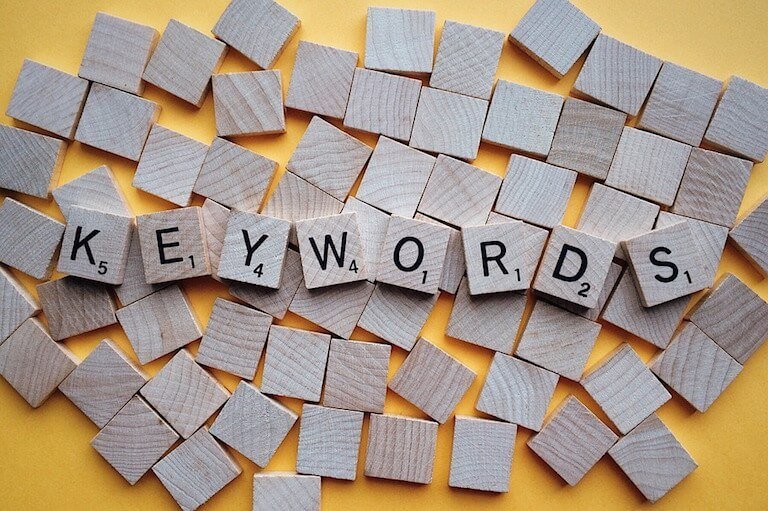 If you want to drive a ton of traffic to your site consistently, you need to run your marketing campaigns based on feasible keywords that you carefully researched.
For one thing, keywords represent what your brand is made for. They are the signposts that tell your target audience, "We've got what you NEED right here! Come inside!"
Putting up copy and content without integrating keyword research into the equation will most likely cause your site to rank poorly in search engine results. This, of course, always results in a pittance amount of conversions — or none at all.
And that's not only due to poor visitor count. It has more something to do with the quality of visitors, hence the need to drive TARGETED traffic to your website.
To draw visitors who are likely to have a genuine interest in what your website has to offer, you need to consider your target audience's intent as you figure out which keywords they are using. In short, you need to refine your keyword research.
Here's where long tail keywords come into the picture. If you want your keyword research to pay dividends in the long run, you should never ignore long tail keywords.
In fact, a study by Statista showed that successful on-page optimization requires 50 percent of your focus to be on long-tail keywords.
Keyword research tool
If all that sounds complicated, we promise you that it's not.
All you have to do is read up on the basics and use a dedicated keyword research tool to help you with your SEO efforts. When you have these in place, your chances of being able to come up with the right keywords to target drastically increases.
One keyword research tool we can't recommend enough is Ubersuggest — an online keyword research tool that generates keyword suggestions that will establish and bolster your digital marketing strategy.
One of the best things about the FREE keyword research tool is that it's straightforward and easy to use. All you need to do to generate keyword suggestions is enter the search terms you have in mind in the query field — your seed keyword.
To be more specific with your search, you can select the source (Web, Image, Shopping, YouTube, and News) from the drop-down menu. Next, select the language using the right-most drop-down list.
After clicking "Look up," you'll be taken to the results page.
Here's where the real magic happens. As you can tell from the screenshot below, you'll be getting a comprehensive report of keyword suggestions relative to the search terms you entered.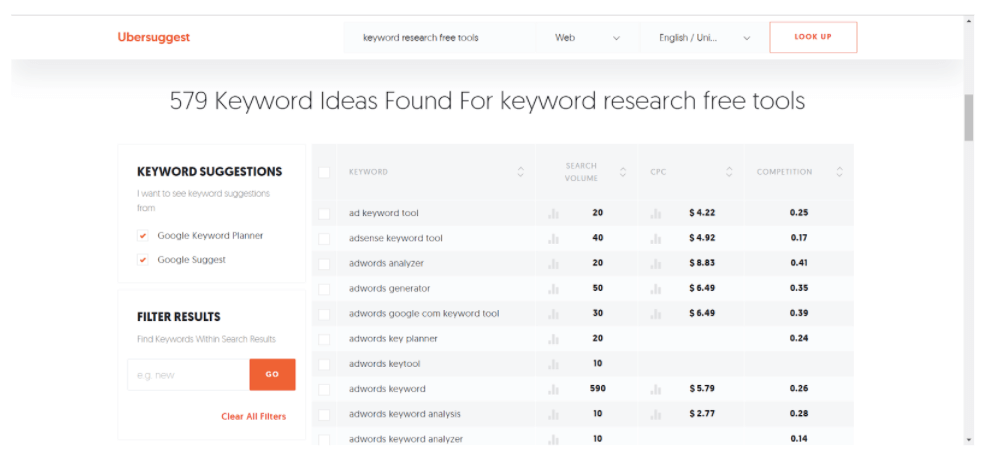 On top of generating hundreds of suggested keyword phrases and long tail keywords, Ubersuggest also provides you the monthly search volume, CPC and competition data for each.
Better yet, you can significantly improve the quality of your results by filtering out negative keywords (phrases or words that you don't want to be included in your research).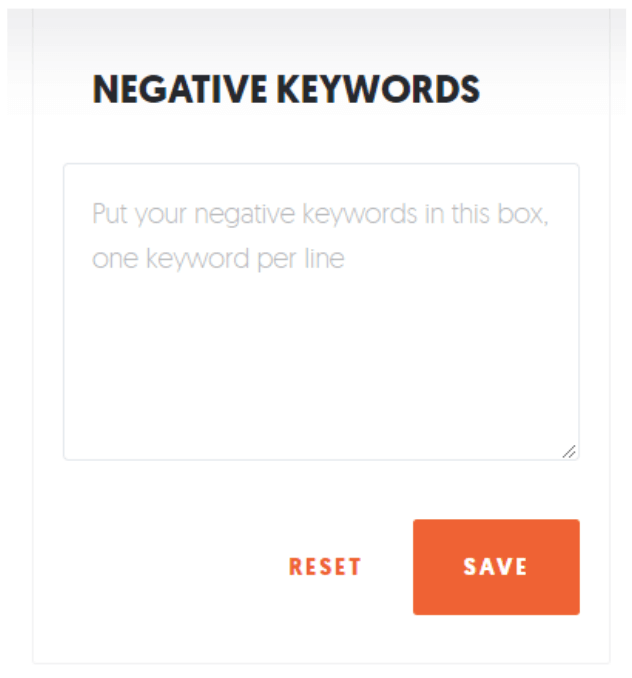 While Ubesugget uses a simple interface, it's in-depth and comprehensive reports will provide you relevant data and key insights that will help you in your keyword research efforts.
1. Look for the low-hanging keywords
Most are naturally inclined to focus on the more obvious phrases when doing keyword research. We're now telling you straight off the bat that this is NOT the way to go about it.
More general keywords like "running shoes" or "Italian restaurants" are called head terms and are comprised of one or two words.
Since these phrases are frequently searched, the level of competition in ranking for them is very high. And it will be next to impossible to rank high on search engines using these keywords unless you own a big company and have a deep pocket for marketing.
If you want to have a fighting chance at earning conversions, you have to go a different route. You need to focus on low-hanging or long tail keywords.
Long tail keywords are keyword phrases composed of three or more words, such as (to expand on the examples above) "running shoes for men" or "Italian restaurants in Seattle."
Since they have a longer string of words than head terms, long tail keywords typically have lower search volume. On the positive side, they have more targeted traffic.
While their search volume is low, long tail keywords more than make up for it through decreased competition. This, of course, translates to better conversion and subsequently a higher ROI.
2. Take notice of the buying intent the keyword represents.
To determine which low-hanging keywords are likely to drive targeted traffic to your site, you have to take into consideration user intent.
Typically, the keywords you have to target are the phrases your potential clients will be typing into the search box as they look for information on the web.
The most common types of user intent can be classified into three: informational, navigational and transactional.
Informational.

People use these keyword phrases in the hopes of learning more about the subject that interests them. These phrases are usually in the form of a question, most likely beginning with the phrases "how to…" or "why is…"

Navigational.

These keywords are often used when a user wants to get to a specific website. Normally, the user already knows about the company and is using a search engine, so he or she doesn't have to type the site's full URL.

Transactional.

These keywords are used by those who want to buy stuff from a website. Good examples of this would be "buy Amazon" or "free trial Spotify."
By taking into account the possible intent of your potential clients when typing keyword phrases on search engines, you can easily figure out which long tail keywords can drive targeted traffic to your site.
3. Use a less overwhelming keyword tool
Google Keyword Planner, SEMRush, and other tools are far too overwhelming, and thus will negatively impact your productivity.
Which is why it's in your best interests to use a more straightforward keyword tool like Ubersuggest. For one, it has all the tools you need to come up with lucrative, yet, feasible keywords to target.
What's next?
As already established, keyword research plays a crucial role in helping your site rank highly in search engines relative to your targeted keywords, whether your strategy involves SEO or PPC — or preferably, both.
However, it bears noting that there's more to digital marketing than keyword research. That said, keyword research sets you on the right foot in more ways than one. And with a top-notch keyword research tool at your disposal, you'll be taking huge leaps towards digital marketing success in no time.
—
DISCLAIMER: This article expresses my own ideas and opinions. Any information I have shared are from sources that I believe to be reliable and accurate. I did not receive any financial compensation in writing this post, nor do I own any shares in any company I've mentioned. I encourage any reader to do their own diligent research first before making any investment decisions.