How to use LinkedIn Groups to boost your brand awareness
In anticipation of LinkedIn groups being resurrected, here's how businesses can use these professional groups to help increase your brand's visibility.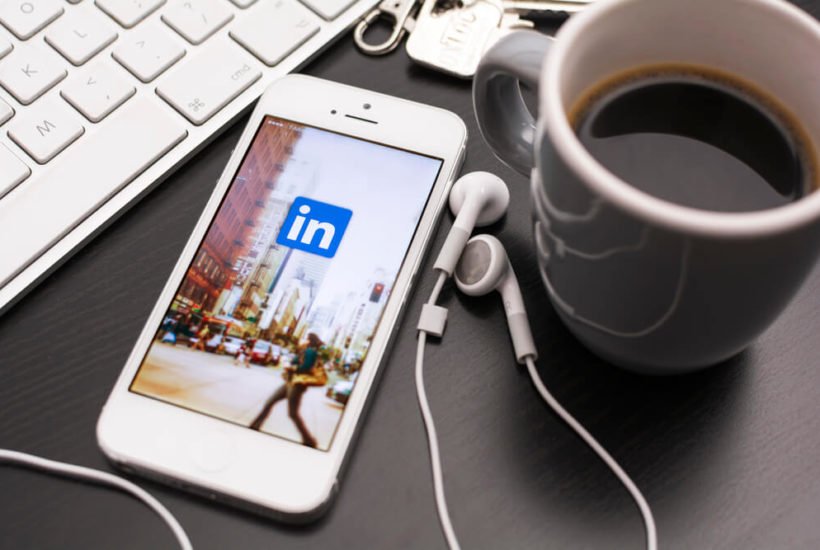 You may already be aware of the value that LinkedIn brings to your small business social media efforts, especially in a B2B space.
For several years, another benefit to using this social media channel was the ability to create your own branded LinkedIn group that helped boost brand visibility.
However, in 2017 LinkedIn made several changes to their layout and groups seemed to take a back seat. They were suddenly hard to find, plus their API was altered, which prevented social scheduling apps like Hootsuite from connecting.
These changes drastically reduced the engagement and activity that was once found in many thriving groups.
As a result of these changes, many assumed the death of groups was imminent.
But LinkedIn issued a release in September 2018 stating that they have rebuilt groups from the ground up. This announcement boasted new features with promises of more to come.
Maybe LinkedIn groups aren't dead after all! I certainly was a fan of them and found a lot of value in the community of like-minded professionals I connected with there.
So in anticipation of LinkedIn groups being resurrected, keep reading to learn about creating your own LinkedIn group so your business can benefit from the increased brand visibility it brings.
Benefits to owning a LinkedIn Group
A LinkedIn group enables your business to have a discussion board related to your industry. It gives you the opportunity to create a special interest group of individuals that is specific to your product, service and/or expertise.
Groups also provide excellent visibility for your business, since every member who is a part of your group will have your logo visible in their profile. One of the upcoming promised features is having the group discussions show up in the member's LinkedIn feed, which will help foster meaningful engagement.
Group owners now have the ability to post different types of media such as videos and images. Immediate notifications are also new, so real-time conversations can happen easier than ever before.
There are well over a million groups in LinkedIn. To make yours stand out you will want to encourage active participation by having members of your group post articles and updates for other group members to benefit from.
How to create a new LinkedIn Group
Log into your account and click on the "My Network" tab in the top navigation and select "Groups" from the left-hand side menu. These groups are the ones you are currently a member of.
At the top right side of the page, click on the "Create a new group" button. This will open a pop-up window for you to fill out.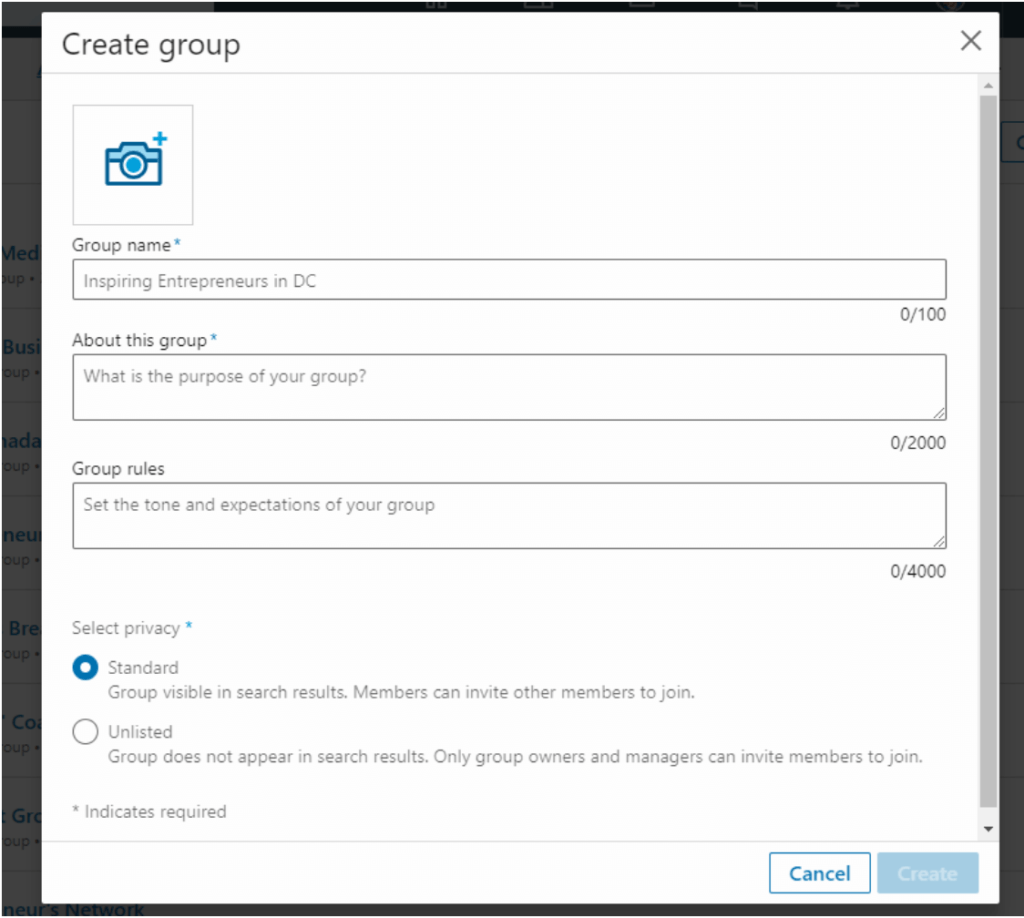 Use your company logo or a logo specific for this group. Your logo will serve as an identifier of your group on the main group page.
When creating your group name, be sure to select a name that clearly represents your group's mission or subject area.
Fill out a brief summary that concisely describes what your group is about. When writing this, be sure to emphasize the benefits for someone to join. Tell people why should they join and what they will get out of being a part of your community.
The longer "Group rules" description gives you room to fully explain what topics will be discussed, how people can participate and the rules you set for such participation.
Standard or unlisted? You decide which access type
When determining the Privacy option, the "Standard" selection means it is open for anyone to join your group. Your group will be found in the search results and existing members can invite others to join.
The "Unlisted" option does not appear in the group search results and only group owners and managers can invite people to join.
Now you're ready to click "Create" and your group has been formed!
Invite new members to join
Your next step is to invite people to join your group by showcasing the benefits of being a part of your community.
Create an initial welcome post inviting new members to post an introduction about themselves and encourage them to be engaged and keep the discussions going.
Keep the momentum by adding posts and being engaged with others. With consistent effort, soon your group will be a thriving community.
(Featured image by DepositPhotos)
—
DISCLAIMER: This article expresses my own ideas and opinions. Any information I have shared are from sources that I believe to be reliable and accurate. I did not receive any financial compensation for writing this post, nor do I own any shares in any company I've mentioned. I encourage any reader to do their own diligent research first before making any investment decisions.