Travel to Madrid: A cosmopolitan haven in Southern Europe
Madrid is one of Europe's most beautiful cities and boasts of many culturally rich locations that tourists love to visit.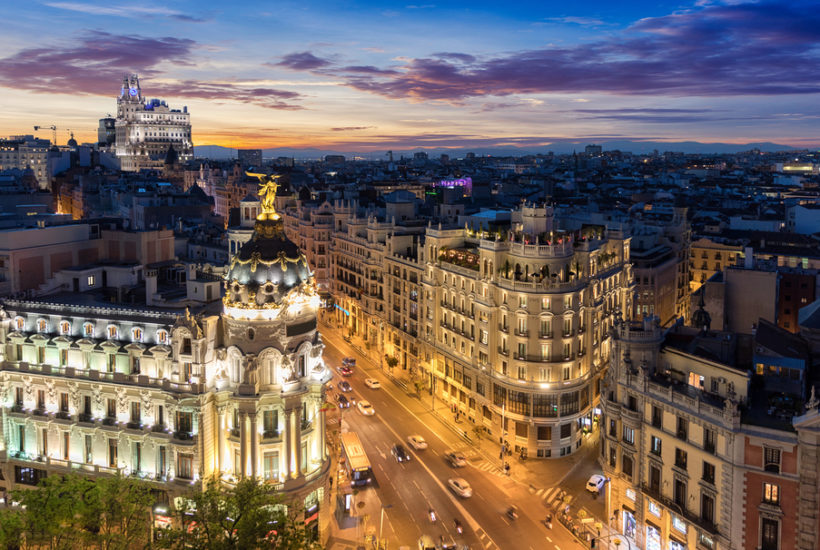 Madrid is the third biggest city in the European Union after London and Berlin. It's a bustling, cosmopolitan city that possesses an exhilarating historical background. Nowadays, Madrid offers a metropolitan atmosphere with plenty to show for from the past.
The Spanish capital will quickly win you over. The people are friendly, the food is to-die-for and there is always something going on. That is probably why Madrid has become such a desired hub for expats.
Being part of such a culturally rich city with so many traditions is very appealing to tourists and locals. The Madrileños know how to live the good life. For example, meeting friends after work to have a few laughs over tapas and wine in a busy mercado is a must. To give you another example: being in central Madrid on a cold November Sunday evening can sometimes seem to you as if it's rush hour on a Friday afternoon. The city is alive at all times.
And in order to experience the most of Madrid if you happen to be there for a few short days, you can focus on visiting a few key spots and having some fun.
1. Plaza Mayor
Plaza Mayor is considered to be one of the most iconic places in Madrid. The square took a long time to build and has been altered throughout the years. It has nine entrance ways that lead to different charming streets and there are 237 balconies in total from the buildings around. In different historical periods, the name of the square has varied. In the distant past, Plaza Mayor was used for different events. Some of those include executions and penance of heretics.
Today, however, it is a great place to either sit down and enjoy the surroundings or explore the Christmas market that takes place every year. Also, it is highly recommended to book a ticket to a flamenco show in one of the tabernas in the area—it is truly a divine experience. La Taberna de Mister Pinkleton will offer you affordable packages, a show of a lifetime and a great atmosphere.
2. Puerta del Sol
Just in walking distance from Plaza Mayor, you'll find yourself on Puerta del Sol. That's another very central part of the city where you can stroll around the big shopping area. There are also plenty of restaurants and cafes around the square so if you feel famished after a long morning of walking around, this is a good place to stop and recharge.
Puerta del Sol is where you'll find the "Km 0". From that point, all Spanish roads are measured. Another interesting landmark on the square is the Puerta del Sol tower clock. It marks the official start of the new year. The ritual of "eating the 12 grapes" is connected to this clock. According to tradition, people celebrating New Year's eve eat a grape each time the bell strikes at midnight on the 31st of December. Supposedly, that brings prosperity and chases away bad spirits.
3. Real Jardín Botánico de Madrid

Next on an adventure-full agenda can be the botanic garden of Madrid. The space is used for research purposes since it is home to approximately 100,000 plants and 1,500 trees. It will be time well-spent if you happen to be a plant lover.

There are several divisions of the garden which present various species of plants and a few important greenhouses. The Real Jardín Botánico de Madrid is home to the largest Herbarium in Spain. A walk through the calm but alluring gardens is ideal for learning a bit about nature and being alone with your thoughts. It is also an amazing spot that makes for great pictures. It costs 4 euros to enter for adults and if you're a senior citizen or a student, there are discounted prices.
4. The Museo Nacional Centro de Arte Reina Sofía and Thyssen-Bornemisza Museum
In close proximity to the Botanic Garden, you will encounter two of the most popular museums in Madrid. When it comes to either one of them, you won't be disappointed. If you have the time, you should definitely visit both.
The Reina Sofia Museum is focused more on modernism and contemporary art. Inside you will find some of the works of Picasso and Dali among many others. Given that there are 4 floors, you should take into account that seeing all exhibitions could take you a better half of the day.
On the other hand, the Thyssen Museum is very rich when it comes to other periods in art history. In the Thyssen, you will find the works of many impressionists and expressionists. Some of the most popular artworks you can see there are by Rembrandt, Caravaggio, Van Dyck, Degas, Dali and other exceptional artists.
5. Gran Via
The Gran Via is a very long and big shopping street. However, it just has this quality to pull you in and steal all of your attention. It is mainly known for having a lot of stores, restaurants, cafes, and bars. That is why it seems as if it is one of the most crowded places on Earth. There are inviting-looking bistros, neatly organized stores and blinking lights everywhere.
The Gran Via has been named the street that never sleeps and the Spanish Broadway. That's due to the fact that if you continue your way down the Gran Via you will reach the part that is filled with movie theatres, many of which look like they came from the streets of New York in the 90s. You can start your exploration up the Gran Via from the iconic Metropolis building where the Gran Via and the Calle de Alcalá intersect.
Those are just a few of the absolute must-see spots in Madrid. It is a humongous city and it will take you several days to cover all must-see spots.
However, you should also make sure to visit the Almudena Cathedral, the Royal Palace of Madrid and the phenomenal Temple of Debod. The latter was a gift to the Spanish form the Egyptian state for helping them save the Abu Simbel temples. You can find the temple in Parque del Oeste which is within walking distance of the Royal Palace. Also, you can enter for a small fee. That is a highly recommended activity in case you have enough time to visit all important landmarks in Madrid!
(Featured image by Sven Hansche via Shutterstock)
—
DISCLAIMER: This article expresses my own ideas and opinions. Any information I have shared are from sources that I believe to be reliable and accurate. I did not receive any financial compensation in writing this post, nor do I own any shares in any company I've mentioned. I encourage any reader to do their own diligent research first before making any investment decisions.