Meet Your AI-Powered Investment Advisor: A Closer Look at Magnifi AI
AI chatbots are taking the world by storm, so it was only a matter of time before someone created one for investors. And sure enough, with the release of investing platform Magnifi, that someone has just arrived. Now the big questions are, does it work, and does it hallucinate? Here we take a look to find out what's going on under the hood and see if Magnifi is all that it's cracked up to be.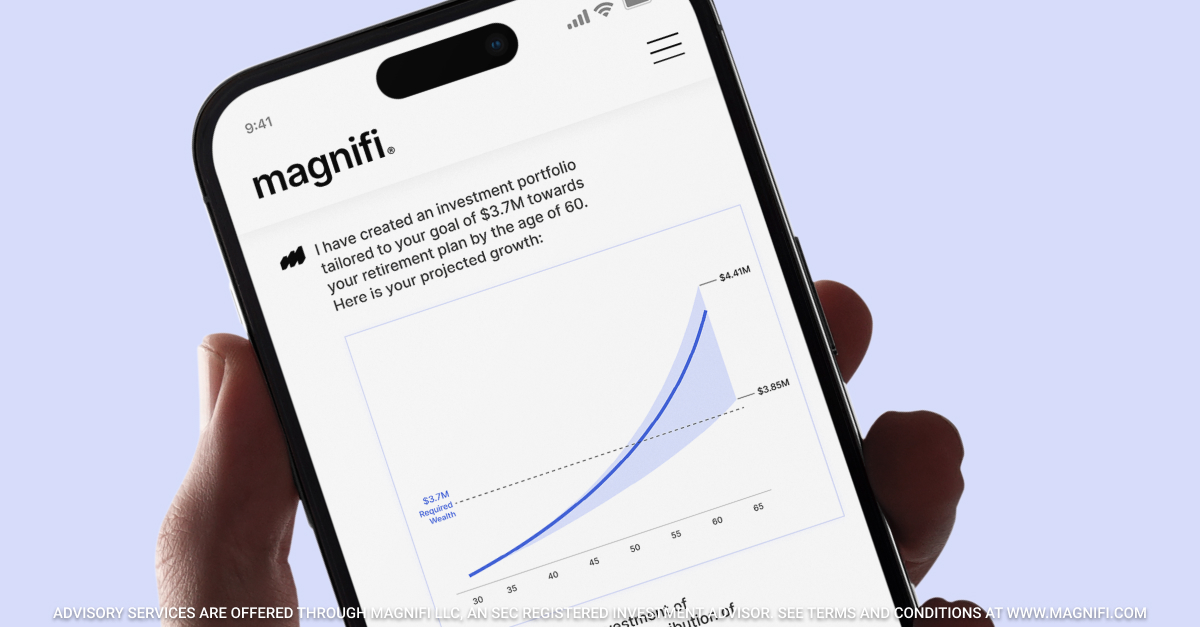 We all know how important investing is. We hear about it all the time: "Make your money work for you."
But let's face it. For most of us, this advice is often easier said than done for one of two reasons.
Problem #1 — Knowledge: For some of us, investing can just be downright scary. With all those numbers and financial terms, it's easy to feel overwhelmed, making trying to break into the world of investing feel like trying to solve an impossible puzzle.
Problem #2 — Time: For others, investing is just way too time-consuming. Maybe you're a busy parent, a full-time student, or you're juggling multiple jobs. Finding the time to sit down, do your own research, and keep up with the latest is just too much of a burden.
Naturally, the arrival of AI chatbots would seem to fix both of these problems.
And that's exactly what the investment platform Magnifi has set out to do with its latest AI innovation — an innovation that CNBC recently described as "ChatGPT meets Robinhood."
But that leaves us with one big question — can we trust it? After all, chatbots like ChatGPT are renowned for hallucinations and outdated data, so surely we can't trust them to manage our money.
Let's take a look.
---
SPOILER ALERT: If you want to skip the rest of the article, then yes, you can trust Magnifi AI. Under the hood, Magnifi is trained to take your personal investor profile into account and to only work with real-world data. Find out more here.
---
A Quick Overview of Magnifi
Before we get into the weeds, the first question we need to answer is what sets Magnifi apart from other investing platforms at a high level?
The answer to that is that it's not just about providing a platform for you to invest. Yes, that is a part of it. But, more importantly, Magnifi is also about educating and empowering you to take control of your financial future.
Of course, the big highlight here is its AI-powered investing assistant. This assistant works like your own personal investment advisor and analyst, helping you to make smart investment decisions based on your personal financial goals. We'll take a closer look at the Magnifi AI assistant in a moment.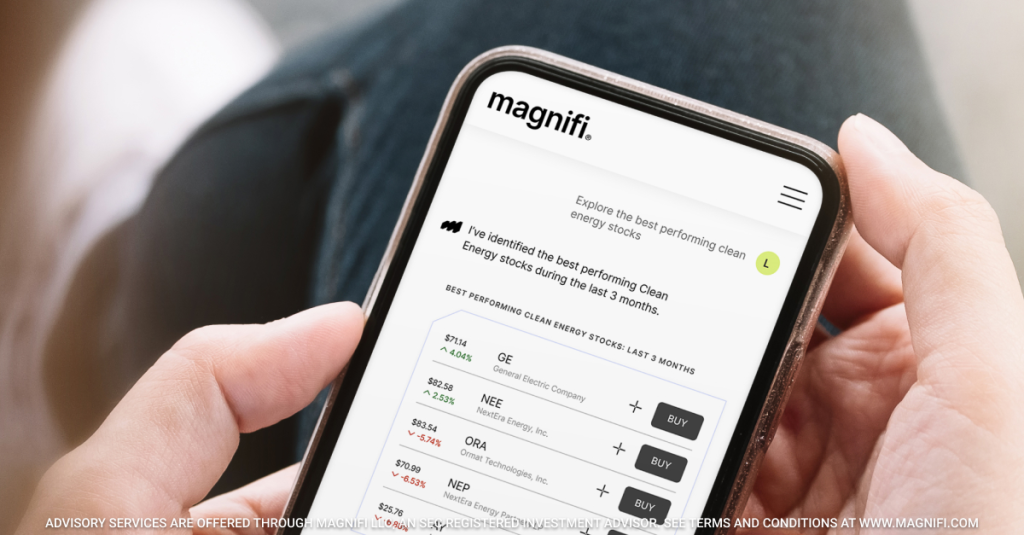 But first, before we move on, it's probably worth mentioning that Magnifi also offers industry-leading interest rates on uninvested cash. That means that even if your cash is sitting idle, it's still working for you.
---
MAKE YOUR MONEY WORK FOR YOU: Magnifi levels the playing field and opens the door to investing for everyone, allowing you to leverage AI to shape your portfolio. Find out more here.
---
Magnifi AI Is Like ChatGPT — But Does it Hallucinate?
If you saw the line about Magnifi being "ChatGPT meets Robinhood," then your first reaction should have been, "Surely that's a bad thing, right?"
And you know what? If Magnifi was just ChatGPT tacked onto Robinhood, then yes, that would be a bad thing. We all know that as amazing as they are, AI chatbots are prone to hallucinating. And, when it comes to managing your money, that's the last thing you want.
But Magnifi isn't "just ChatGPT tacked onto Robinhood." Rather, it's a completely custom platform built from the ground up to only work with the data it is fed.
Of course, yes, you can still chat with Magnifi AI like you're talking to ChatGPT. So there's no need to decode financial jargon or read between the lines. You can also talk to Magnifi's AI assistant in everyday language, so you can ask questions and get answers in real time without having to know your P/E ratios from your PEGs.
But that's about where the comparisons with ChatGPT stop.
Concretely, that means that while Magnifi works just like a regular AI chat assistant, under the hood, there's a lot more going on.
For starters, the Magnifi AI won't make a single investment recommendation until it knows your personal investor profile. That means the AI also provides 100% personalized advice by taking the time to learn about your financial needs, preferences, and goals.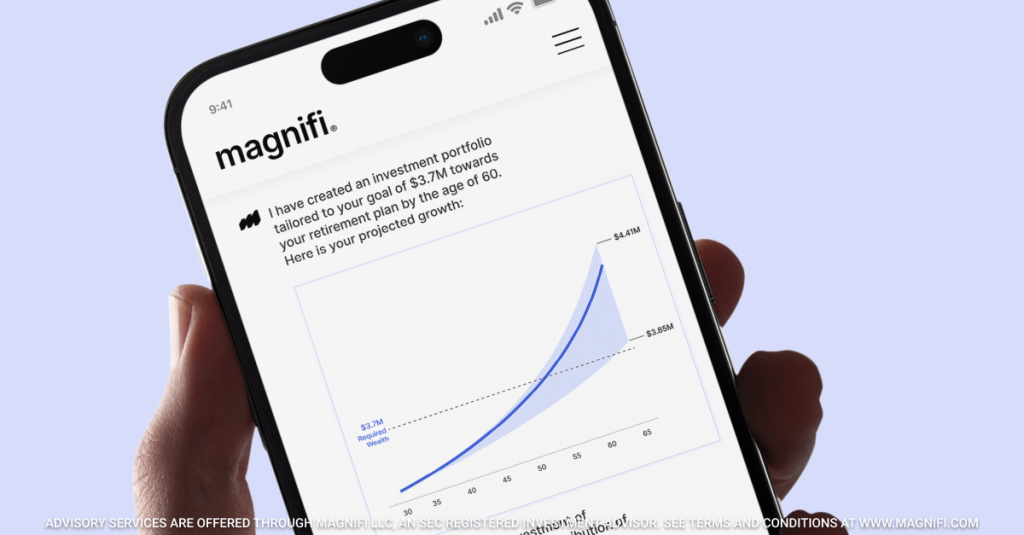 That way, it can guide you towards accurate investment choices that are just right for you with zero hallucinations.
But it also goes a lot further than this.
In steering you towards investment decisions, the Magnifi AI is also constrained to only work with up-to-date market data and analysis, along with real-time news. That means that, unlike ChatGPT, Magnifi leaves zero room for hallucinations.
---
AI INVESTMENT ADVICE YOU CAN TRUST: Forget hallucinating chatbots like ChatGPT. Magnifi won't make a single investment recommendation until it knows your profile and has the real-world data needed to back its advice up. Find out more here.
---
Step-by-Step: What Using Magnifi Looks Like
So, how exactly does Magnifi work? It's simple.
First, you set your investment goals. Maybe you're young and looking to take a few calculated risks in pursuit of high growth. Or perhaps you're nearing retirement and are looking to shift towards more safe-haven investments.
Whatever it is, Magnifi will help guide you toward working out a comprehensive investor profile which it will then use to help you reach your financial goals.
After this will come the time to make your first investment. Here, you chat with the AI assistant, get expert advice and support, and pick your first investment.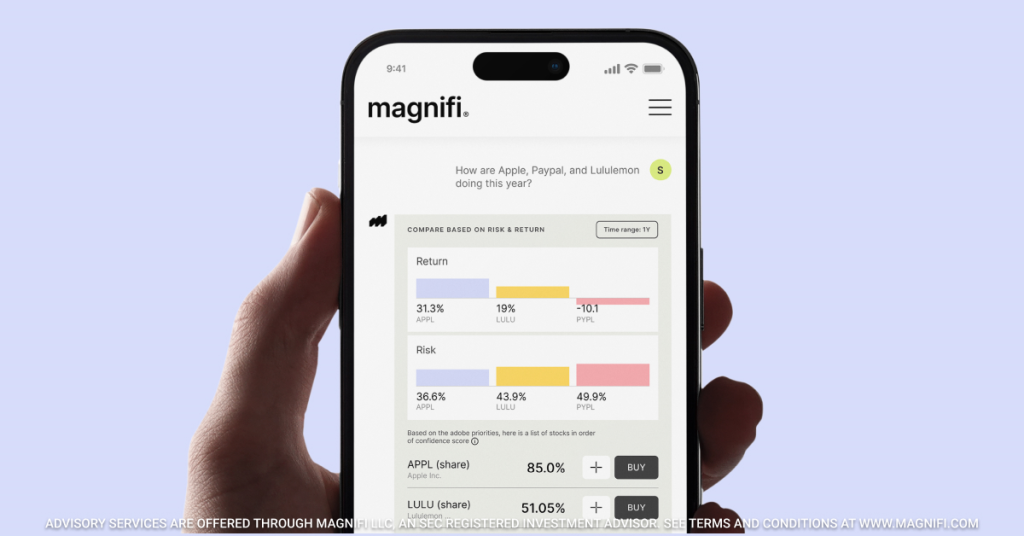 And finally, Magnifi lets you track your progress and provides updates about your investments. But this goes much further than just tracking the performance of whatever assets you're holding. You can also ask the Magnifi AI any questions at any time throughout the life of your investments and get straight answers in everyday language.
In practice, this means you have an on-call expert on everything from the impact of fed rate hikes to what recent earnings results mean for the future of your portfolio. All it takes is simple, natural language queries, no different from what you might make if you had your own personal investment advisor on call 24/7.
The Bottom Line: Magnifi Democatizes Investing
Until now, investing has meant one of two things. Either you did your own research and attempted to make sense of everything on your own, or you used professional advisors.
Clearly, neither of these was ideal.
As we already know, navigating investment on your own is time-consuming at best. And it's downright confusing at worst.
And as for turning to advisors — this really only works if you're a high net-worth individual who's got the funds to justify the time needed to get truly personal advice. For the rest of us, however, turning to professional advisors, more often than not, results in generic advice and next to little ongoing support and advice.
But Magnifi completely changes the game here.
By taking the advancements in AI technology, Magnifi has completely democratized investing. Now anyone can get unlimited access to completely personalized financial advice, along with 24/7 ongoing support to not only track how, but also understand why your portfolio is evolving the way it is.
This represents a massive shift in bringing down the barriers to the world of investing.
So why not give Magnifi a try? After all, smart investing shouldn't be a privilege – it's for everyone. And with Magnifi, you can invest with all the confidence of a seasoned guru.
---
MAKE AI WORK FOR YOU: Unless you've got Warren Buffet on speed dial, you'll be hard-pressed to beat Magnifi AI. Give it a try today.
---
__
(Featured image courtesy of Magnifi)
DISCLAIMER: This article was written by a third party contributor and does not reflect the opinion of Born2Invest, its management, staff or its associates. Please review our disclaimer for more information.
This article may include forward-looking statements. These forward-looking statements generally are identified by the words "believe," "project," "estimate," "become," "plan," "will," and similar expressions. These forward-looking statements involve known and unknown risks as well as uncertainties, including those discussed in the following cautionary statements and elsewhere in this article and on this site. Although the Company may believe that its expectations are based on reasonable assumptions, the actual results that the Company may achieve may differ materially from any forward-looking statements, which reflect the opinions of the management of the Company only as of the date hereof. Additionally, please make sure to read these important disclosures.