The TopRanked.io Weekly Digest: What's Hot in Affiliate Marketing [Week 18]
With summer coming and "beach bods" on everyone's mind, we here at TopRanked have been thinking a lot about the weight loss niche. So if you wanna find out why Diet Gurus are dead and Nutri Prophets are the future, then this week's issue is for you. We've also got Quora hacks, a great affiliate program, and, if you stick around to the end, the most boring closing thought you'll ever see.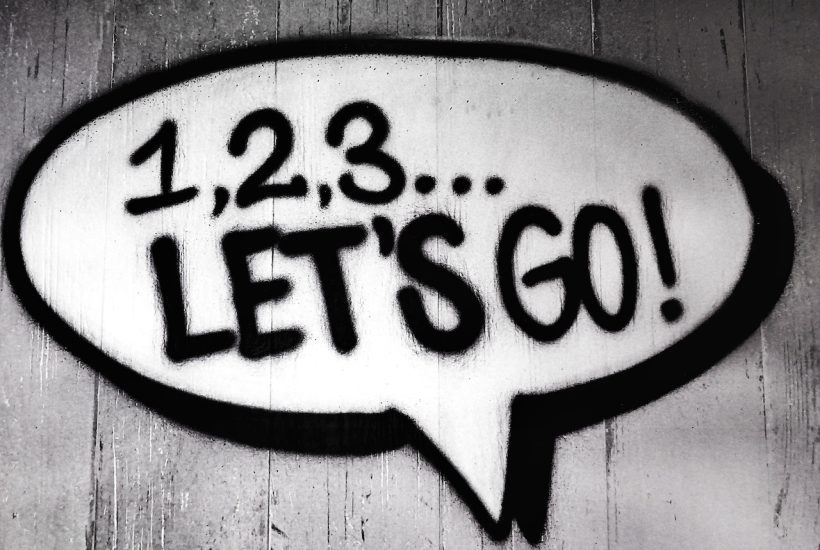 Quick Disclosure: We're about to tell you how great NutriProfits is. And we really mean it. Just know that if you click on a NutriProfits link, we may earn a small commission. Your choice.
With fast summer approaching, we here at TopRanked have only been thinking about one thing.
Beach bodies.
Of course, being the health-conscious types we are, we went straight down the dieting rabbit hole.
That had us looking at anything and everything under the sun, starting with clean eating.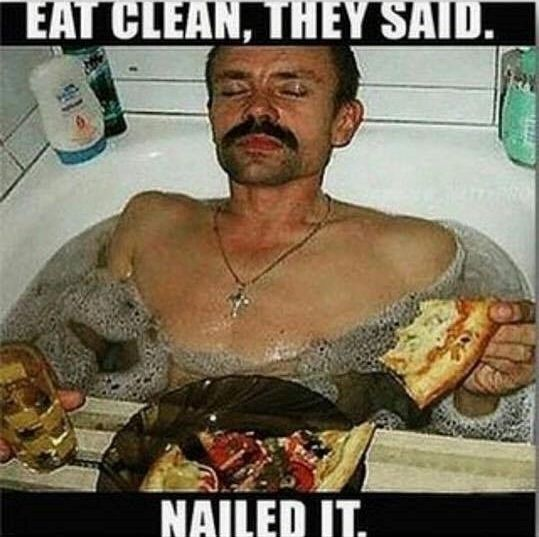 But then something happened, right around the time we got to intermittent fasting.
We started to notice a pattern.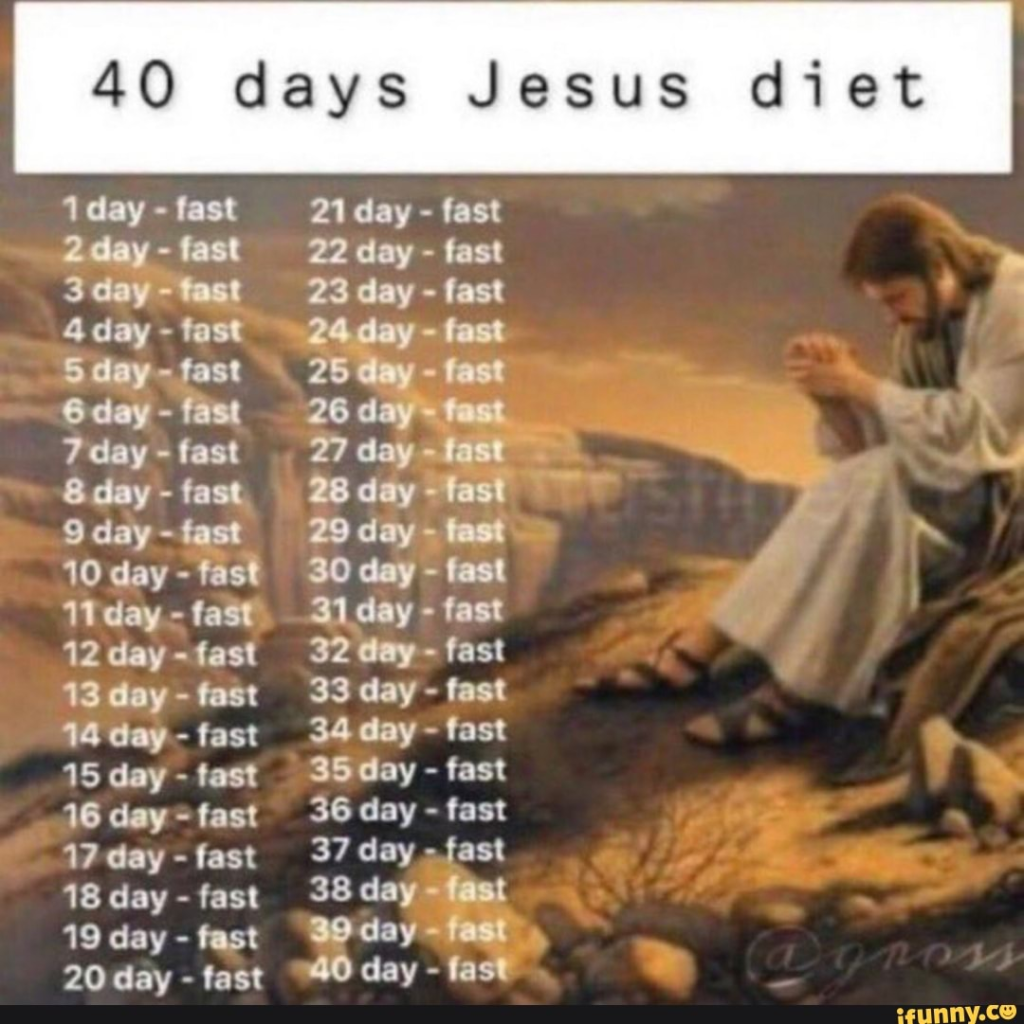 In everything we looked at, from fasting to clean eating, the bible was there first.
And if you think we're making this up, check out this page about "clean eating" on bibleinfo.com.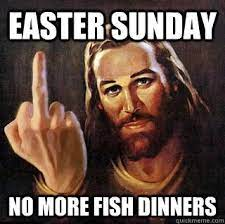 So that had us thinking… if the bible pretty much called "first" on every dieting craze, does that mean prophets are bound to make a comeback as dieting gurus?
I mean, it's not the worst idea. They could even start calling themselves the Nutri Prophets.
Now the only question is, how will this new wave of Nutri Prophets start making some NutriProfits?
Read on for the answer.
Topranked.io Affiliate Program of the Week — NurtiProfits
If you spotted the cheesy pun, then you spotted this week's top affiliate program. For those that didn't, that program is none other than NutriProfits.

Here's everything you need to know to start making some NutriProfits as a Nutri Prophet.
NutriProfits — The Basics
NutriProfits is a hard-hitting affiliate program jam-packed with health and beauty offers that cater to just about anyone and anything. That means NutriProfits does everything from helping men grow their members to helping grannies get rid of their varicose veins.
And while there's nothing we love more than a big, varicose vein-free member, where NutriProfits really got our attention was its huge catalog of weight loss products.
Here's How NutriProfits Will Help You Profit From the Beach Bod Craze
If there's one thing you need to know, it's that we here at TopRanked aren't alone in our sudden obsession with our beach bodies. The month is May, and with less than two months until summer hits, millions are thinking the same thing.
Fortunately, NutriProfits has a little something for everyone.
Of course, while we did do some diet research in our own quest for the perfect, summer-ready beach bod, we're not going to pretend to know what half of these weight loss products are. What green barley has to do with weight loss, we'll never know.
What we do know, however, is that NutriProfits has close to 20 different weight loss programs all under one roof. And then once you add NutriProfits dozens of other body image-related programs (bodybuilding, stretch marks, etc.), what you have is a killer affiliate program to make some money off the pre-summer body obsession.
We also know that some of the NutriProfits weight loss programs are based around some fairly well-established diets (you have heard of keto, right?). That means that even if 'educating' people about green barley isn't your thing, there are still some easy sells in the NutriProfits stable.

What're the Profits Like at NutriProfits?
As for the profits at NutriProfits, the simple answer is that they're quite good. The longer answer is that they range from 30-40%, with the exact payout dependent on the price of the product you sell.
To put a more concrete range on that, the lowest-paying weight loss product at NutriProfits (Green Coffee 5k) pays a 30% commission, netting you $22.20 per sale. The highest-paying NutriProfits weight loss product (African Mango) pays 40%, netting you $47.20 per sale.
After this, the usual disclaimer applies — how much you actually earn with NutriProfits comes down to how well you can promote. But it's enough to say that the sky is the limit.
How Well Does NutriProfits Look After Its Affiliates?
This one's simple. NutriProfits is right up there with the best when it comes to getting all the basic affiliate support parts right. The support team's responsive, the affiliate dash is great, and all the bells and whistles you could want are there (GEO links, sub IDs, etc.).
They also offer payouts in a bunch of currencies (EUR, USD, GBP, PLN) and impose a very reasonable $120 minimum withdrawal limit. (For the math-averse, you'll hit that in 3-6 sales, depending on what products you promote.)
The only bit where things get a little less than perfect is with some of the promotional material provided for the products. I mean, don't get us wrong. NutriProfits makes sure there are plenty of decent creatives for all of the products. And there's nothing bad here. It's just that with these assets being provided by the brands themselves, the quality varies from exceptional to exceptionally average.
Start Your Nutri Prophet Journey Today With NutriProfits
If we haven't already made it clear, summer's coming. And yes, that means there's some serious money to make right now in the weight loss niche.
So don't just sit there, sign up for NutriProfits here.

Or, if you still want to know more, check out our full NutriProfits affiliate program review.
Affiliate News Takeaways
Bluesky at night, Affiliate's Delight?
In case you missed it, Jack Dorsey's new social platform, Bluesky Social, sorta launched this week.
Of course, Bluesky currently only has somewhere around ~50k members so far. That means it's probably still too early to use it for anything other than shitposting for the lulz.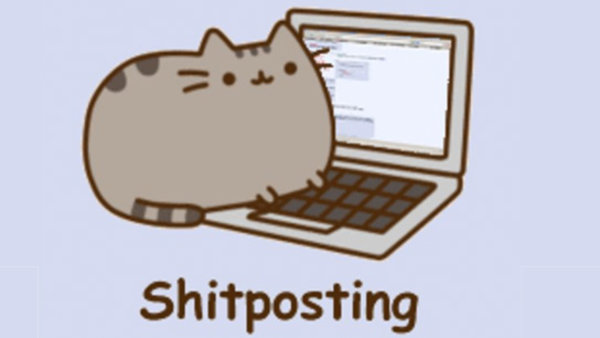 Also, the early version is also kinda… primitive. That means it's probably too early to start trying to game algorithms or anything like that.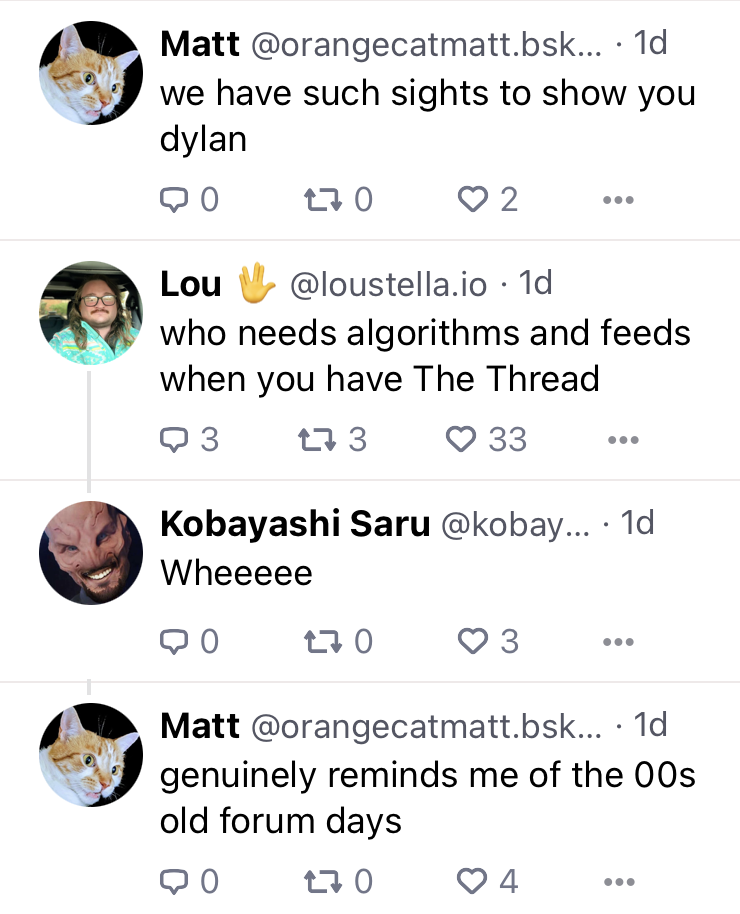 But, with more than a small handful of people currently far from enamored with Twitter, who knows where this thing will go?
Only time will tell.
Takeaway
Some of the biggest profits on social platforms are there for the taking while the platform is still in its infancy. So if you're not at least keeping an eye on Bluesky as a potential cash cow, you can bet someone else is.
Of course, with only ~50k users (mostly made up of the usual tech/trans/media Twitter user base), it's gonna be a little hard to fly your attempts to sell under the radar right now. But, with a little time, that might change.
Here's a Little Quora Trick
We all know about using Quora to promote stuff and profit. And if you aren't already wise to this jig, it goes a little like this:
Find a question. For example, "How can I lose 20kg in 1 week?"
Provide a helpful answer that accidentally name-drops a product: "Here's some useful information. Oh, and if you want to use this advice, you'll need African Mango!"
Profit… (Or should that be NutriProfits…?)
But while Quora's great in theory, in practice, it's not so simple.
As we said, everyone knows about Quora. And that means everyone's doing it. And when everyone's doing it, that means you're battling a thousand other Nutri Prophets who're also trying to pimp their NutriProfits products.
So how do you get ahead?
Try This One Weird Quora Trick
This little Quora trick first appeared on the Indie Hackers forum last week. (Which, in case you've never heard of it, is full of useful marketing tricks, even if it's not about affiliate marketing per se.)
The trick goes a little like this.
Head to Google.com
So a search: site:quora.com keyword "1 answer" "k views"
Get a list of popular Quora questions that only have one answer.
Here's an example: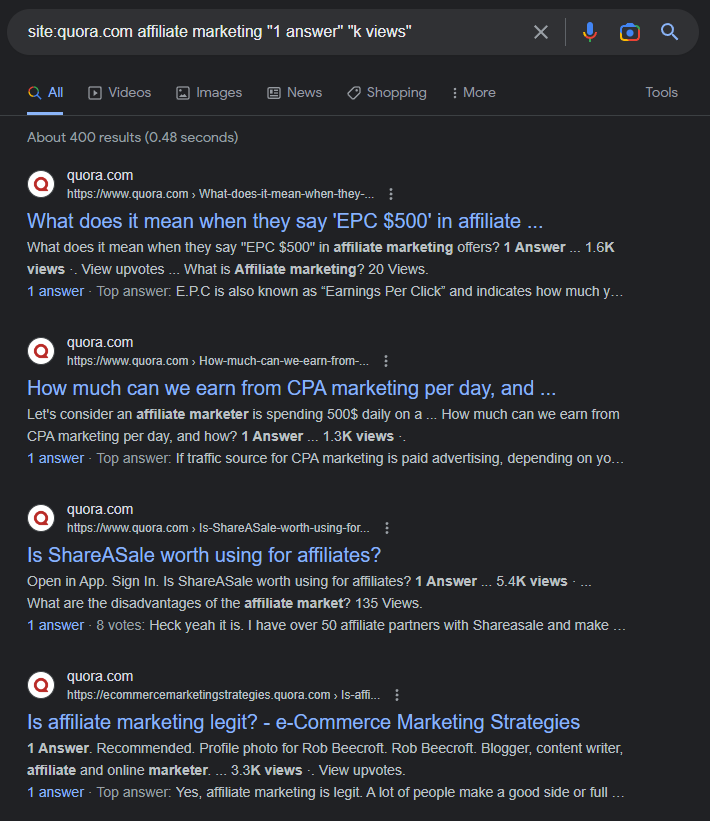 And there you have it. A bunch of Quora questions that only have one answer, but at least 1000 views (that's where the "k views" part comes in).
And as proof that it works, here's one of those results: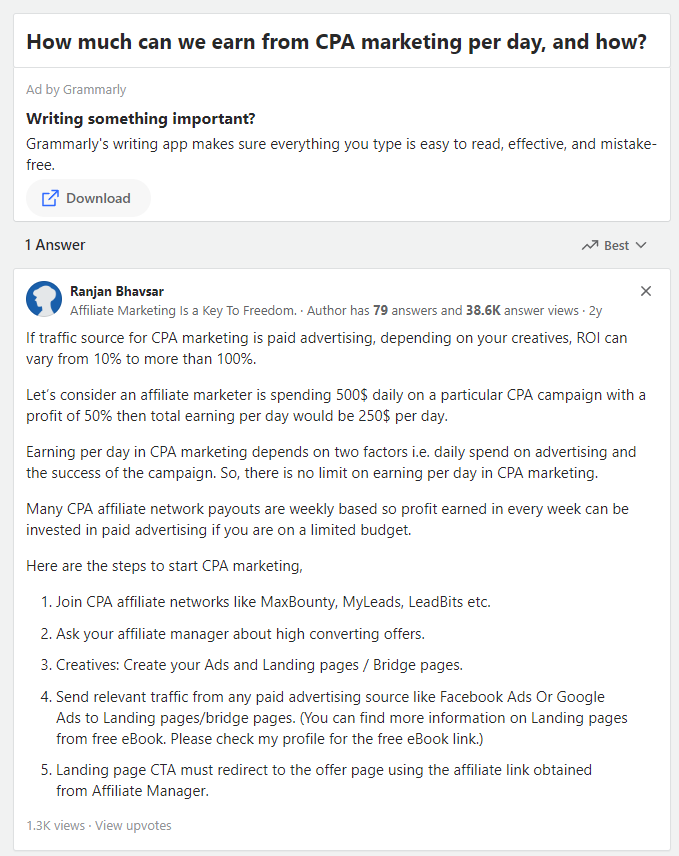 Takeaway
Clearly, this method finds potential questions even for the most generic, over-saturated keywords like affiliate marketing. So if you wanna start pimping your wares on Quora, follow the steps above and profit.
And if you're stuck for ideas about what to try selling on Quora, might we suggest you start exploring some weight loss keywords? We hear NutriProfits can team you up with some great products here.

What's Happening in Search Land
The buzz around New Bing may have started to die down, but Microsoft is still doubling down on it. That means we're still seeing a bunch of new features appear.
The latest from this week are chat histories (like how ChatGPT stores your history), chat plugins (like how ChatGPT's getting plugins), and multi-modal search (like how GPT4 is able to handle images).
Sounds a lot like ChatGPT, right? Of course, this isn't really a surprise, given that that's basically what's behind new Bing.
With that said, there is one new feature that ChatGPT doesn't have, and that's browser automation (or "actions"). These will allow the user to automate things in their browser by typing into the chat prompt.
As for how this will look, one example given here was "bring my passwords from another browser." No need to explain what this prompt is meant to do.
Of course, for all the developments and features, it still seems Bing traction has stalled for now. Mircosoft is still bandying around the 100+ million users number. Although it has added "half a billion chats" to this claim.
Meanwhile, over in Google Land, there are unconfirmed rumors about a big May update going around. However, in the absence of any word from Google, these remain nothing more than the usual "my traffic tanked" anecdotes for now.
Takeaway
Really, there's nothing new here. Google algo updates wrecking peoples' rankings are old hat by now. And if "half a billion chats" from a 100 million user base is something to be proud of, then we can rest assured that AI search isn't coming for our SERPs just yet.
Just to put those numbers into perspective, that equals an average of 5 chats per active user. And if that's not terrible engagement numbers, then I don't know what is.
Closing Thought
With summer approaching, the prospect of long lazy days on the beach does too.
Of course, while that whole warm sun and cool water thing sure sounds nice, the reality is that a whole day at the beach does start to get a little boring. That is, unless you've got a setup like this dude.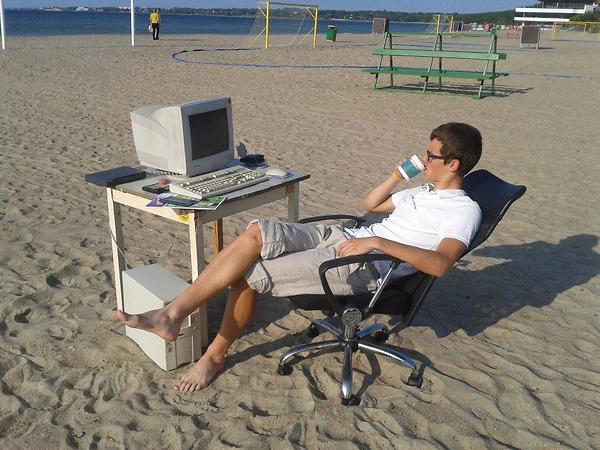 And for the longest time, we thought there was nothing wrong with this belief. I mean, who wants to sit around being bored when there's online marketing to do, right?
Well, apparently, Derek Muller does.
Now, in case you're not familiar with that name, Derek is the guy behind the Veritasium YouTube channel. And if you've never heard of that channel before, there's a good chance you've at least seen a screen grab from it do the clickbait rounds before.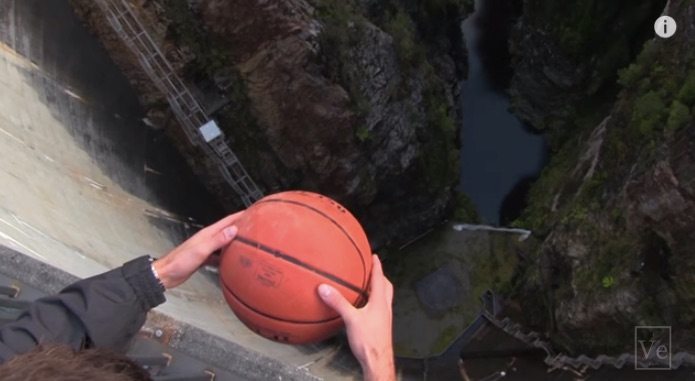 So, with intros out of the way, here's the video.
Alternatively, if you don't feel like watching it, here's a quick outline of why Derek says boredom is good.
Being bored allows the mind to wander. This is useful for creativity and goal-setting.
Boredom can be a warning that we are not doing what we want to be doing.
Boredom can motivate us to switch goals and take action.
Boredom can cultivate thoughts about the future and our lives, leading to autobiographical planning.
Boredom has been shown to make people more likely to donate to charity and engage in meaningful activities.
Avoiding boredom by constantly seeking stimuli through phones and other devices can limit creativity and goal-setting.
Being bored provides an opportunity for the brain to rest and recharge.
Boredom can lead to increased self-awareness and a better understanding of one's thoughts and emotions.
So there you have it. Maybe being bored isn't so bad after all.
And, hey, if you're going to be bored, what better setting to do it in than a beach?
What's that? You're afraid of showing off your beach body? Well, hey, at least you've now got something in common with a few hundred million other people.
Why not use some of that non-boredom time to help them all out with NutriProfits?

__
(Featured image by SevenStorm JUHASZIMRUS via Pexels)
DISCLAIMER: This article was written by a third party contributor and does not reflect the opinion of Born2Invest, its management, staff or its associates. Please review our disclaimer for more information.
This article may include forward-looking statements. These forward-looking statements generally are identified by the words "believe," "project," "estimate," "become," "plan," "will," and similar expressions, including with regards to potential earnings in the Empire Flippers affiliate program. These forward-looking statements involve known and unknown risks as well as uncertainties, including those discussed in the following cautionary statements and elsewhere in this article and on this site. Although the Company may believe that its expectations are based on reasonable assumptions, the actual results that the Company may achieve may differ materially from any forward-looking statements, which reflect the opinions of the management of the Company only as of the date hereof. Additionally, please make sure to read these important disclosures.