Lessons from Robert Rubinstein on impact investing
There are investment opportunities that have both social impacts and financial returns.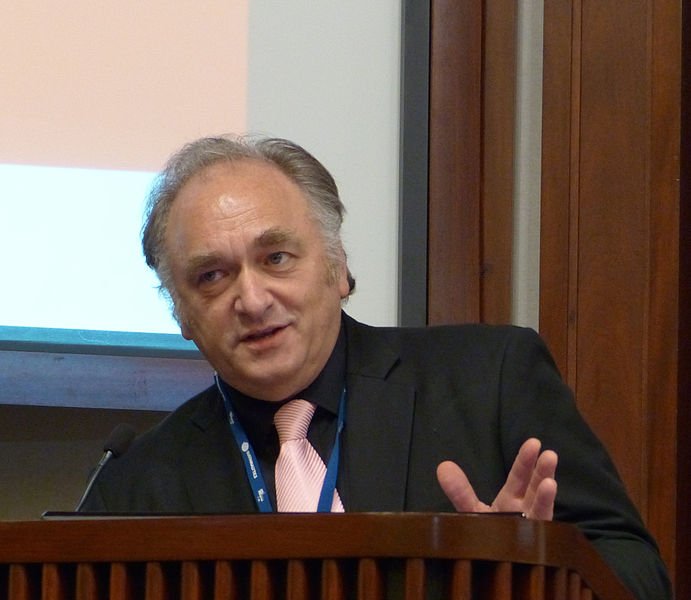 Robert Rubinstein wants to create an economy that nurtures well-being. For two decades, he has worked tirelessly to encourage business leaders and investors to join him.
Robert Rubinstein's Triple Bottom Line Investing (TBLI) Conference just celebrated its 20th anniversary in Stockholm, Sweden.
The conference, which educates asset owners and managers about investment opportunities with social returns alongside financial returns, has been held 34 times now across Europe, North America, Latin America, and Asia.
Spreading the word
Although he was born in Brooklyn, Rubinstein has lived most of his life in the Netherlands. He became interested in ESG Investing (Environmental, Social, Governance) while working as a magazine publisher in the 1990s. He ran what he calls, "The first European management magazine on sustainability." But when his financiers "pulled the plug" on the magazine, Rubinstein sought out new methods for spreading the good word of ESG and SRI (Socially Responsible Investing).
Thus, TBLI was born. That first year, Rubinstein partnered with the Rotterdam School of Management. "There were about a hundred attendees. [RSM] was so risk-averse that I had to sign a contract promising to cover any financial losses personally. In exchange, I was allowed to keep 50% of any profits. To their great surprise, we made a profit."
His vision realized and financially vindicated, Rubinstein went solo the next time around and created the TBLI Group to manage the conference. From the beginning, he set out to distinguish TBLI from other conferences focused on ESG, SRI, and impact investing. He did this by putting more of a focus on provocative and educational content.
Challenging each other
"What I remember and what I really liked about those first few years is that we had very aggressive conversations," Rubinstein recalls. "We encourage attendees to challenge each other — in a polite way of course. Don't just believe what people are saying because you'll never learn that way."
What set it apart also created friction as the conference found its footing. "This hurt us because some asset owners don't like being challenged, but we never ask anyone questions that they can't answer. We just want people to feel that they've learned something."
Rubinstein identifies this conviction with the critically-acclaimed HBO drama "The Wire," which has a theme of questioning authority. He compares his conference's unwillingness to 'play the game' to the attitude of lead character Jimmy McNulty, the rebellious detective who was always willing to ask tough questions. "People do what's right for them, instead of the right thing to do. That's pretty much the essence of 'The Wire.'"
On impact investing
This attitude has remained an obstacle to getting investors excited about impact investing. "Everybody is still interested primarily in the financial returns. A small group of investors does focus more on impact first rather than returns, but they are a minority. The vast majority, when they invest, they want it to grow. They want a market-rate return."
Rubinstein's task and the task for all of the speakers at the TBLI Conference is to enlighten these investors. Rubinstein focuses his attention on asset owners and managers, making this a doubly daunting task.
"Convincing people is easy," Rubinstein says. "If you ask anybody, 'do you want a financial return and a social/environmental value?' Even cocaine traffickers and serial killers would all say, 'Sure!' Why would anyone be against that? But that question is not often asked to clients because asset managers are afraid of their clients. They're afraid the client will lose money and that they will lose the client. That's the difficulty."
Rubinstein also thinks that the media plays a part in mystifying the impact investing world. "It's not sexy," he says with a laugh. "They aren't covering the ESG and impact investing world on the front page of the Wall Street Journal. They'd rather cover artificial intelligence, FinTech, and Blockchain. The two sectors that provide the largest employment in the world are small-scale agriculture and hospitality. But people are putting their money into AI, FinTech, and blockchain! Sustainability isn't sexy."
Since the Great Recession, interest in impactful investing has increased. Rubinstein sees his mission as one of turning this interest into concrete gains. "There's a lot of chatter about impact investing [since 2008]. It's like a fitness club; everybody wants to show that they're a member of the club, but nobody actually wants to get on the exercise machines. People talk about it because they want to be a part of the club, but it doesn't always transfer into new money flows."
Nevertheless, Rubinstein remains optimistic that through socially responsible investing, major social concerns such as climate change and poverty can be addressed. "The financial sector doesn't have big, complex infrastructure that has to be torn down and built up again; they press a button and money goes in the direction they want. Once they're brought into it, you can mobilize a lot of money quickly."
The biggest hurdle is that, according to Rubinstein, "Products don't reflect their true cost." The prices of commodities such as fossil fuels do not reflect social and environmental costs, such as damage to the environment. He insists that when such costs are taken into account, sustainable investing actually provides the best return out of all investing strategies.
"I want a society where people are honorable; they do what they say and say what they do. Unlike now, where the ones who are talking the most are doing the least, and the ones that are doing the most are talking the least."
But Robert Rubinstein is a talker and a doer. The TBLI Conference Nordic 2017 proves that. He is prepared to continue this work for as long as it takes to see real, structural change.
"Impact investing is akin to farming. The financial sector are hunters. They are incentivized for short-term behavior. It's difficult teaching farming to hunters. It takes time. But that's what we've been doing with TBLI."
(Featured image by Stephen J Cassidy via Wikimedia Commons. CC BY-SA 3.0)
—
DISCLAIMER: This article expresses my own ideas and opinions. Any information I have shared are from sources that I believe to be reliable and accurate. I did not receive any financial compensation in writing this post, nor do I own any shares in any company I've mentioned. I encourage any reader to do their own diligent research first before making any investment decisions.