The TopRanked.io Weekly Digest: What's Hot in Affiliate Marketing [+ Showcase IDX Affiliates Review]
Today, we're going old school — direct mail, print media, and all things that are dead (but apparently not dead according to some shock stats). We'll also couple this news with a nice affiliate program (Showcase IDX), and show you how to put 2 and 2 together to make some money. And while we're at it, there's a little something about a chance to make a quick buck from the recent Poshmark closure.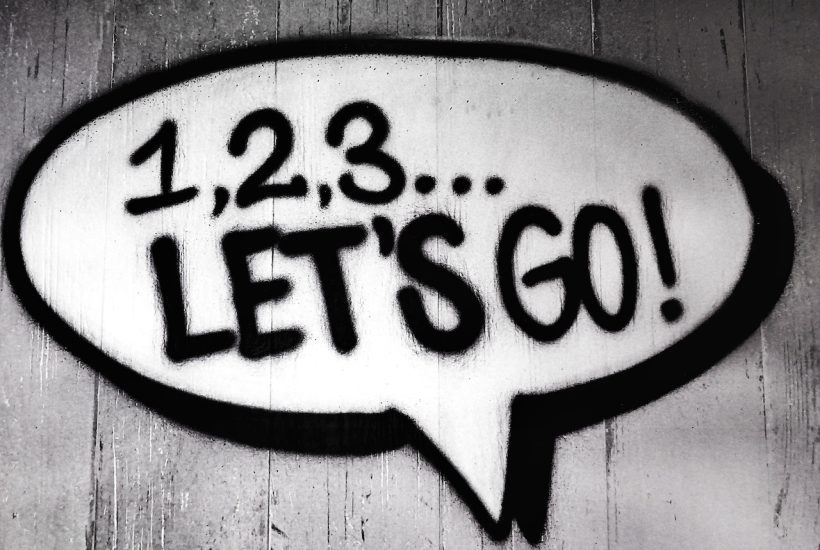 Sometimes, we come across something that's hard to ignore.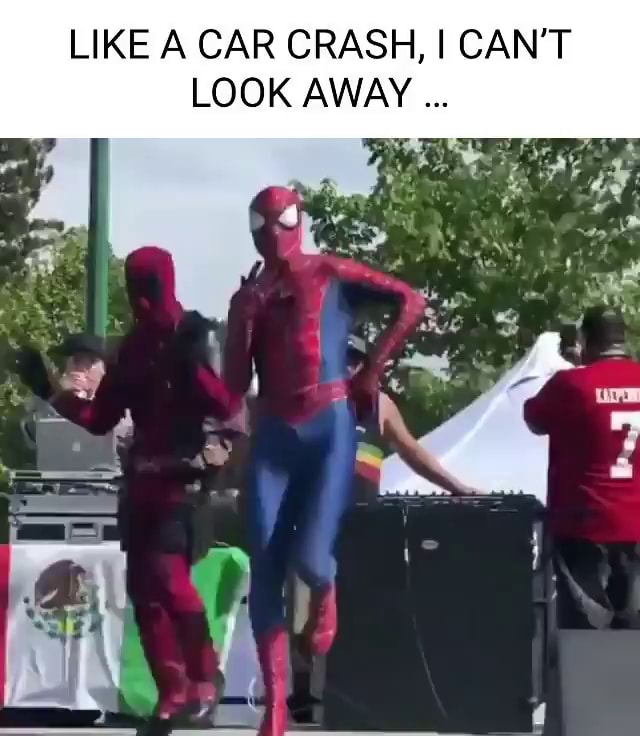 Like that time when Elon Musk names his baby X Æ A-Xii.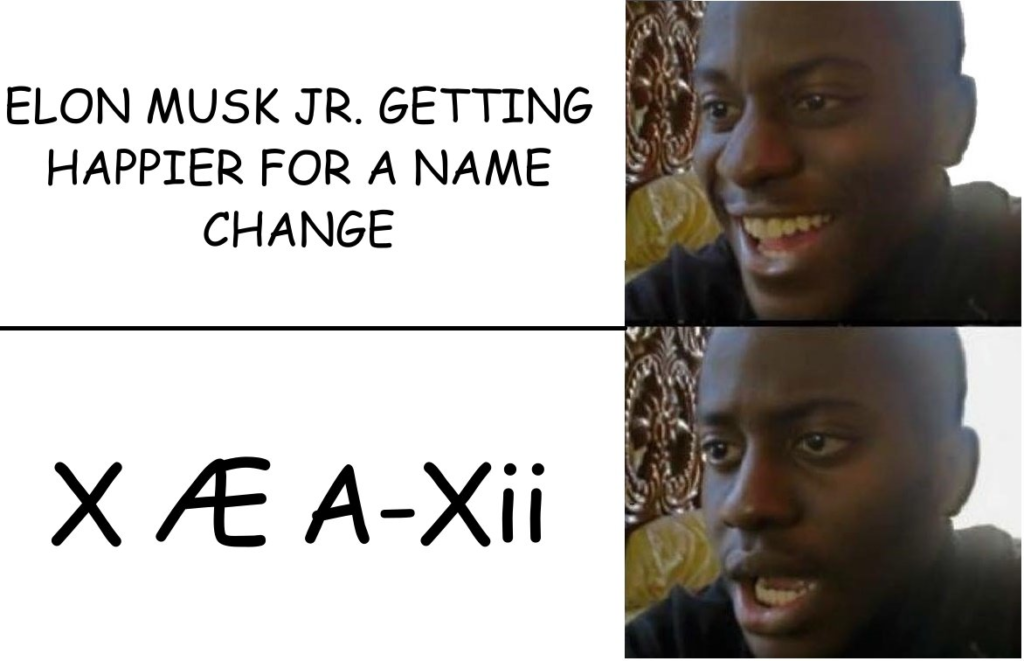 Well, let me tell you. This week, I had a similar experience.
And it opened my eyes to a great affiliate opportunity.
Want to learn more?
Topranked.io Affiliate Program of the Week — Showcase IDX
While browsing through a list of affiliate programs I'd been sent, I ran across a name that caught my attention.
That name was Showcase IDX (this week's affiliate program of the week), and my first reaction was, IDK what that IDX means.
So I looked it up.
And I'm glad I did.

Here's Why I'm Glad I Looked Up Showcase IDX
For those not in the know (I wasn't until this week), IDX stands for "Internet Data Exchange".
It's basically how realtors syndicate listings across multiple listing services.
And Showcase IDX, which comes as a WordPress plugin with a host of other features besides mere IDX syndication, is a leading solution provider in this space.
Showcase IDX also has an excellent affiliate program — but more on that soon.
For now, let's just rattle off a few "features" that Showcase IDX offers besides property listing syndication.
Lead Capture: Showcase IDX helps agents capture leads by giving independent realtors the power to provide top-tier services (like portal-quality search) themselves.
Real Estate Listing Pages: Every realtor needs slick property listing pages. Showcase IDX extends WordPress so independent agents can spin up pro-level listing pages in a snap.
CRM Tools: It goes without saying that agents need to manage client relationships. Showcase IDX comes with built-in CRM tools to make this process a breeze.

Here's What Showcase IDX Offers Affiliates
Showcase IDX runs a well-supported affiliate program that pays reasonable commissions.
Now, at first the commissions aren't exactly the most eye-catching. We're talking about a 10% cut for the first 12 months.
But consider this:
Showcase IDX clients are unlikely to abandon after a month or two, even if they decide they don't like it. There's a switching cost involved in changing provider, meaning once they've subscribed, they're probably sticking around with Showcase IDX for at least 12 months. (There are plenty of programs offering you so-called lifetime commissions on products that most clients abandon much faster than this.)
Showcase IDX plans range between $74.95 and $119.95 per month. That nets you between $89.94 and $143.94 per year for every referral.

As for the other bits and pieces you need to know:
Showcase IDX offers a 60-day cookie, giving your referrals plenty of time to convert without you having to miss a commission.
Showcase IDX incentivizes signups through affiliate referrals by offering exclusive discounts on the first month's billings.
There's a two-tier program allowing you to earn 15% on your Showcase IDX referrals' referrals.
Fast payouts via PayPal with zero minimum balance requirement.
Showcase IDX Signup Details
Signing up to become a Showcase IDX affiliate is pretty simple. Fill out this form to get the ball rolling.
After that, all you need to do is start promoting (and there's an idea about how you can do this in the news section).

Affiliate News Takeaways
X vs the Bots
When you can't be bothered typing something out, you copy and paste it. And when you can't be bothered copy-pasting it, you share a URL.
I can't be bothered typing up how/why X is going to start charging everyone $1/year to sh**post, so here's a URL that I know WordPress will graciously convert to an embed for you:
I also can't be bothered typing up anything about how X is also going to introduce two new premium tiers. So, again, here's another URL that WordPress will automagically embed for your reading pleasure:
Takeaway
Here's a few ideas about what this could mean.
"Aged Accounts" Could Become Way More Valuable
This one's a big 'maybe'.
First, it's based on the assumption that X will call the mandatory payment testing a success and roll the requirement out into production.
Second, it's based on the (probably erroneous) assumption that the "existing users [who] are not affected" during the testing phase will continue to be unaffected if mandatory payments become a thing.
So with the caveats out of the way, the first takeaway is that buying up a bunch of X accounts right now could be a smart bet.
Assuming X puts a "one account per payment method" restriction in place, an account that's exempt from payment will jump in value by quite a bit more than just the $1/year being proposed.
If $8/month Was Too Much for You…
As for the premium tiers, if the new, cheaper tier comes with all the same features as the current premium option (just with more ads), then it could become a bit more attractive.
As a reminder, here's a few of the features X Premium gives you that might be useful for hawking your links/content/etc. on the platform:
Prioritized rankings in conversations and search
The right to reply to "verified-only posts"
Longer posts (up to 25k characters)
Text formatting
Post editing
Poshmark Shutting up Shop
Today, Poshmark announced that it's shutting up shop in Australia, India, and the UK. And, according to the British tabloid The Daily Mail is to be believed, users are furious.
Of course, this is the same rag whose latest "exclusive" is titled "Harry and Meghan are seen strolling hand-in-hand on a romantic holiday". So I did the smart thing and double-checked whether the outrage was a real thing or something concocted for the sake of a story, and yeah, the outrage is real.
Anyway, with that little introduction done, let's rewind a bit for those who don't know who/what Poshmark is.
Poshmark is technically an online marketplace for new and used fashion, home goods, and electronics.
And while you can certainly find electronics and other stuff on the platform, it's mainly used as a place where solopreneur sellers hock used/vintage/etc. fashion.
And the emphasis here is on solopreneur — a quick scroll through the listings soon reveals the platform's yet to be dominated by professional power sellers like eBay and others tend to be.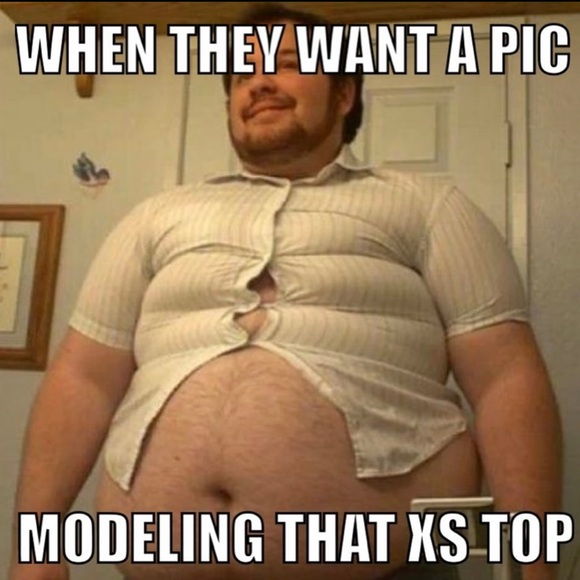 So, now we've got the facts, let's get to the point — this news spells out one thing that's useful to us.
Fashion buyers and sellers in the UK, India, and Australia will soon (in about a week's time) be looking for a new platform to buy and sell on.
As for what this means in terms of opportunity, the first thing you need to know is that this isn't a massive opportunity. That's because the reason Poshmark is closing down Australia, India, and the UK is because the platform's 'not really working' in those markets.
As for what exactly 'not really working' means, that's open to interpretation. The best I could find was that the platform had just shy of half a million active users in the past month across the UK, India, and Australia combined.
The opportunity will also be short-term. At least, it will be insofar as exploiting displaced Poshmark users searching for a new home is concerned.
For starters, Poshmark has only given a week's notice of its intention to close.
Secondly, I can't really imagine the majority of users will sit around for months on end without at least trying to find a new home where they can satiate their vintage fashion shopping habits/businesses.
Takeaway #1
This is an opportunity for a fast-acting affiliate who's got an idea of how to get in front of the Poshmark crowd. (An obvious way would be to start searching for outraged users on social and commenting with 'helpful' "Here's where I'm going" links.)
As for how to monetize, that I really don't know for sure. Given its similarities to something like eBay, the eBay partner network would be one option.
There's maybe also a way to leverage some of the interest in the Poshmark closure to get eyeballs on some other fashion affiliate programs.
Or you could target displaced sellers with something like the Shopify Affiliate Program as you teach them how to set up shop elsewhere.
In any case, time is ticking, so don't delay if you want to try and take advantage of this.
Takeaway #2
This shouldn't really need saying given that vocabulary like "de-platforming", "shadow banning", "algorithmic precarity", and other such terms are a part of modern life.
But, maybe it's still worth pointing this out — even if you're a good little boy whose online activities are strictly by the book (and by book, I mean the terms of use, the cultural norms dictating what is and isn't okay to say, etc.) building your entire business around a single platform is still a risk.
Yesterday's News
When browsing Elon's X feed to find his post about subscriptions, I ran across this.
Now, while this isn't news in itself, it did make me think of something I've been seeing more and more of lately.
Print media is making a comeback, despite widespread beliefs about it dying.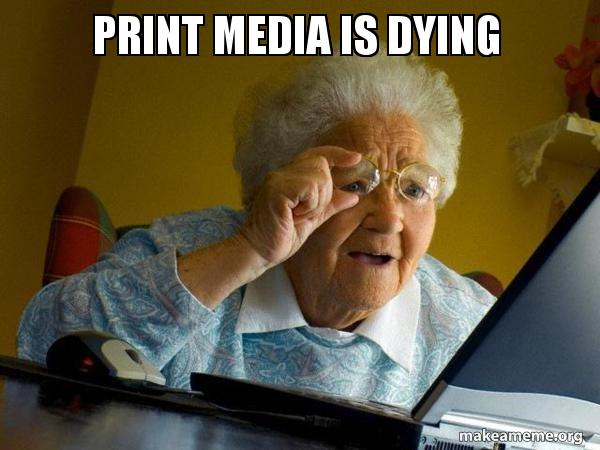 To illustrate, here's one story out of Australia. There, magazine industry revenues from advertising sales in the first half of this year totaled $29.2 million.
Now, obviously, that's not a huge sum of money (but it is a slightly less small sum when you realize Australia's population is just 25.6 million people). But the absolute dollar figure isn't what's interesting here.
What is interesting is that in the same six-month period in 2022, those revenues were just $27.1 million. And in the same period in 2021, just $24.8 million.
That's a 20% jump in two years in a "dying" industry.
What's even more interesting is the fact that this spike in print media ad spend is occurring against a backdrop of slow growth in digital ad spend.
Now, before we get too excited, let's put that into perspective.
We are only talking about a $27.1 million taking in an industry that peaked at $85.9 million. So even if it is "up" 20% in two years, it still remains 68% "down" on what it took in the good old days.
In other words, it's not like the Daily Mail's December 2000 prediction is quite coming to fruition yet. (Now you see why I questioned its reporting before, right?)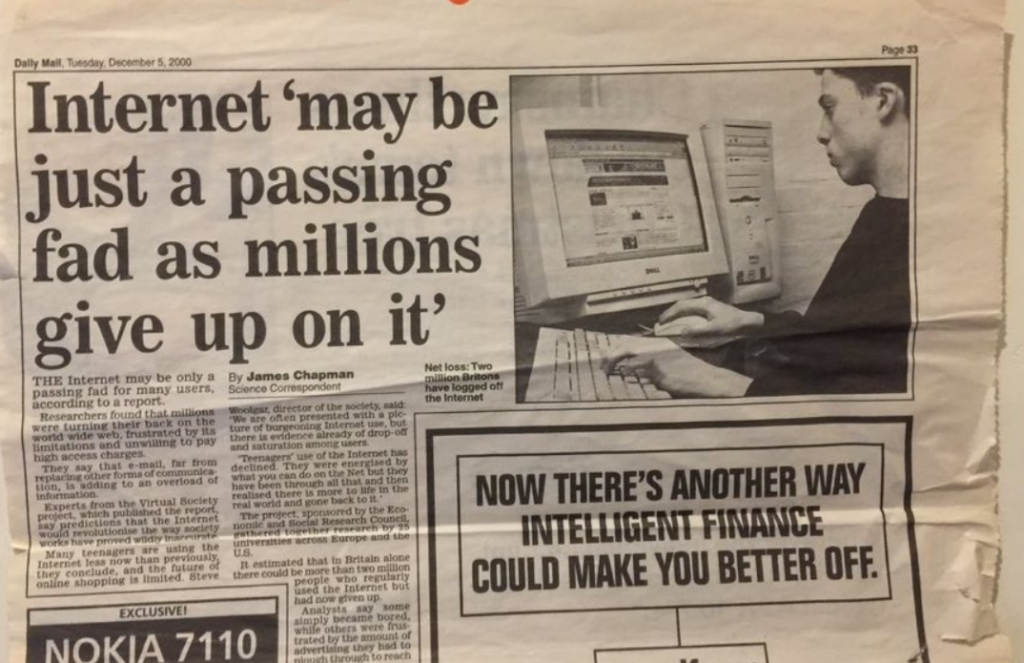 Anyway, as modest as the figures might be, the flipside perspective we should also keep is that print media is far from dying. Sure, it got a whole lot smaller, but it's definitely not dying.
As for what's driving the resurgence, a big part of it has been a return to analog with Gen Z, according to some pundits.
To quote one magazine editor, "They're digital natives but in a way that makes them feel fond of analog. They aren't as enamored of looking at a screen because everything is on a screen. Magazines are quite new for them."
Or, to quote some actual statistics rather than an anecdote:
Those aged 35 and younger are more likely to read magazines (93-94%).
73% of adults agreed that reading a magazine or book in print format is more enjoyable than reading on a device.
Magazines are experiencing growth, led by News and information (+11%), Women's fashion and beauty (+8%), and current events/political commentary magazines (+8%).
Now, obviously, this isn't some mass digital exodus by Gen Z. Chances are, if this is a case of being "fond of analog", then it's a little more like that whole resurgence in vinyl records that took place. In that case, print magazines will remain a relatively niche thing.
But it could also be a sign of something a bit more profound taking place.
As for what that "profound" thing is, I'm not going to try and describe it. Instead, I'll copy-paste something published recently that adequately sums up a "vibe", for want of a better word.
"As an exercise, I tried to keep track of what I was seeing online this weekend from Israel and Palestine. And it has been, of course, impossible to follow anything. My understanding of what's going on has not just been muddled by platforms like X, but warped entirely. I know more about adult film star Mia Khalifa's cancelation for tweeting that Hamas should shoot their videos horizontally, right-wing influencers Ben Shapiro and Andrew Tate arguing with each other about who's tough enough to go fight in Gaza, and unfathomably racist posts from verified losers than I do about anything material that's happening on the ground. I've seen so much content reported, debunked, and rebunked(?) that I think I've reached the limits of my mind's ability to understand reality."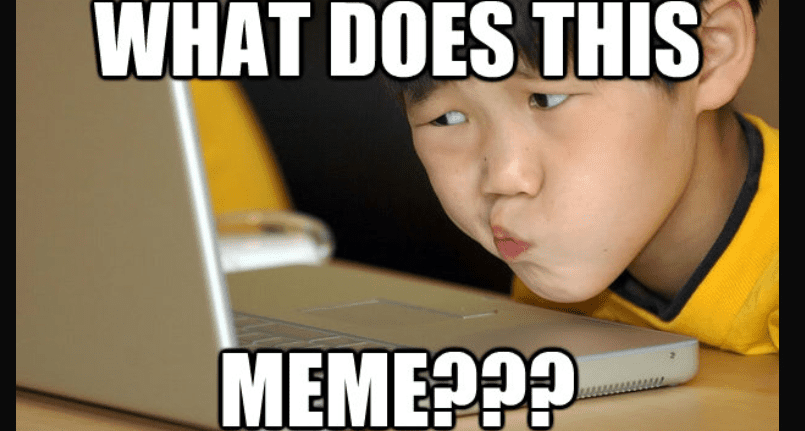 That quote comes from Ryan Broderick, who runs the Garbage Day newsletter. That's a newsletter that's basically about making sense of the internet.
That makes me wonder — if a man who built his business around making sense of what's happening on the internet feels like he's "reached the limits of [his] mind's ability to understand reality," then what are ordinary people thinking?
In any case, whether it's the "analog cool" or an escape from the overwhelming onslaught of online content, the more you dig into this, the more there is.
To ignore print media for a moment, one case in point that we covered in a previous affiliate marketing digest is Substack.
That's the same platform on which the Garbage Day newsletter is published. And it's one of a growing number of platforms/sources for content that have been steadily gaining quite a bit of steam over the last few years.
Now, I won't pretend to know exactly what's driving growth here. But, to throw one theory out there, a refreshing change from clickbait, algorithmic recommendations, ad-heavy news content, SEO spam and all the other online ills is one potential driver.
Now, as for what this means for "traditional" online media, that's a tricky one.
If you browse around enough, you'll find plenty of sources telling you social media is dying, that social media is doomed to fail, that millennials are staging a digital exodus, etc. But you'll also find plenty of sources authoritatively telling you that the data debunks such notions.
Chances are, the reality lies somewhere in between.
You see, the number of new internet users is ballooning even as we speak. Here's a nice visual from Visual Capitalist detailing where the next billion internet users will come from.
So, naturally, social media should be able to grow so long as the number of internet users keeps ballooning.
However, in more mature markets, it's not entirely unfathomable that the love affair with traditional online experiences is coming to an end. It's probably worth pointing out that raw user numbers say nothing about how engaged those users are.
In any case, if we return the focus to print media again, there's at least something immediately interesting here for marketers.
That is, a growing number of marketers are starting to sing praises for print media — here's another 'print media is making a comeback' article with a marketing bent.
One of the highlights from that article is the finding that "the amount of fake news has highlighted the lack of trust in digital channels. 56% of consumers say print is now the most trustworthy form of marketing."
And here are a few more copy-paste highlights (including the points about why print is so effective for marketing):
During the first lockdown, engagement with mail reached its highest level ever at 96% in UK households, and the biggest rise in engagement came from people aged 18 – 34.
Print marketing has gone full circle and enjoys standout against the huge amounts of marketing emails we receive every day, plus its tactile nature gives us a more memorable sensory experience.
Research by The Association of Magazine Media shows that information is easier to process and retain when it's in print. People take more time to read the content and focus more on the overall message.
Direct mail campaigns enjoy an average response rate of 9%, compared to an average 2.1% response rate for email campaigns.
Digital used to be the cheaper option. But, digital publishing is increasingly in demand and there are high costs for advertising as brands bid for the best keywords.
Takeaway
While this paints a pessimistic picture of a lot of the online media landscape, that's not really the point. Viral TikTok videos, clickbait, spamming SERPs, and whathaveyou isn't going away.
In fact, it will probably keep growing.
The real point, however, is that "slow media" is growing faster, and gets better engagement. It's also way less saturated right now.
I also used the word "slow media" here because, while there was a heavy focus on print here, online alternatives to algorithm-driven/ad-heavy/noisy platforms are growing. I already mentioned Substack. But to give another, how about Nebula? — the creator-owned "home of smart, thoughtful videos, podcasts, and classes from your favorite creators."
That had already grown to 350k paying subscribers and a $50 million valuation back in 2021 when Curiosity (as in, Curiosity Stream) made a small investment in it.
As for why those 350k paying subscribers (presumably more today) were prepared to pay for content that's mostly available on YouTube for free is anyone's guess.
Maybe the promise of exclusive content is part of it, and maybe supporting your favorite creator is another. However, there's also Patreon for that, and if you compare subscriber ratios (e.g., YouTube subscribers to Patreon subscribers/Nebula subscribers) for popular channels, Nebula is outperforming by a long way.
In any case, the big message here is that there is definitely life outside of the usual channels, even if some of those alternative channels are "dead" in the popular consciousness.
And, as for how you can take any of this and use it as an affiliate, here's one idea.
Go and sign up with Showcase IDX as an affiliate. But don't even bother trying to rank articles for "top real estate IDX software solutions" or whatever most affiliates would normally do.
Instead, go and find the mailing addresses for a bunch of realtors and spam their physical mailbox with some good old snail mail. Use that letter to drive them to your website "for more information".
Get this right, and there's a pretty good chance you'll become a top-performing Showcase IDX affiliate.

Closing Thought
There's a semi-popular saying that's formulated a little something like this meme: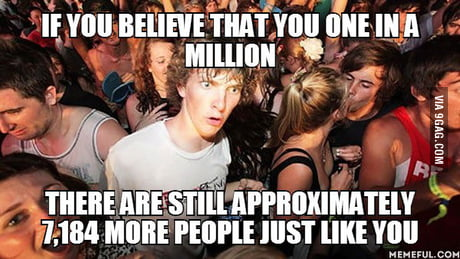 Now, apart from proving that I have a habit of digging up outdated memes (according to current estimates, there'd now be 8067 people just like you), what can we take away from this?
Here's one idea — the scale of just how big the world is.
You see, our little human minds have a hard time grappling with things on a large scale.
We think being a "one in a million" specimen is rare. But, in reality, it's not when we look at the total number of special snowflakes in the world rather than the raw probability of being a special snowflake.
As for what the point of this observation is, that's simple.
Every time you see numbers, always put them into perspective.
Big numbers are disorientating for our little human brains.
A million. A billion. A trillion.
What's the difference apart from a handful of zeros, right?
But, given the scale of the world, a number that's "tiny" when read one way becomes "huge" when read another way.
And vice versa.
To illustrate, let me paint a picture.
Maybe you think promoting Showcase IDX is a lost cause. After all, if you're lucky, there are maybe only 10% of businesses that are ready to jump ship on their IDX solution at any one time.
And, if you're lucky, you'll only reach 1% of them, and then convert 1% of that 1% in a year.
Said the other way, you might only convert 0.001% of the market (1% of 1% of 10%) in a year.
That's nothing, right?
Well, maybe.
But what if I told you there are currently 7.3 million real estate businesses globally?
That means you'll convert 73 businesses a year.
And, with a 12-month commission of between $89.94 and $143.94 per referred business (10% of $74.95-$119.95 per month), you just added between $6566-10,507 to your income.
Now, obviously, that's not a massive sum.
But, if you managed to do that off the back of a low-cost, low-effort campaign, then that's definitely not nothing.
And, if you do a decent job, you can probably capture a little more than 0.001% of the market — Showcase IDX and its ilk aren't in an oversaturated niche from an affiliate's perspective.

__
(Featured image by SevenStorm JUHASZIMRUS via Pexels)
DISCLAIMER: This article was written by a third party contributor and does not reflect the opinion of Born2Invest, its management, staff or its associates. Please review our disclaimer for more information.
This article may include forward-looking statements. These forward-looking statements generally are identified by the words "believe," "project," "estimate," "become," "plan," "will," and similar expressions, including with regards to potential earnings in the Empire Flippers affiliate program. These forward-looking statements involve known and unknown risks as well as uncertainties, including those discussed in the following cautionary statements and elsewhere in this article and on this site. Although the Company may believe that its expectations are based on reasonable assumptions, the actual results that the Company may achieve may differ materially from any forward-looking statements, which reflect the opinions of the management of the Company only as of the date hereof. Additionally, please make sure to read these important disclosures.