Woman to Watch: SpaceX President and COO Gwynne Shotwell
If Elon Musk is the heart and soul of SpaceX, the COO and president Gwynne Shotwell is the leader and brains running the company.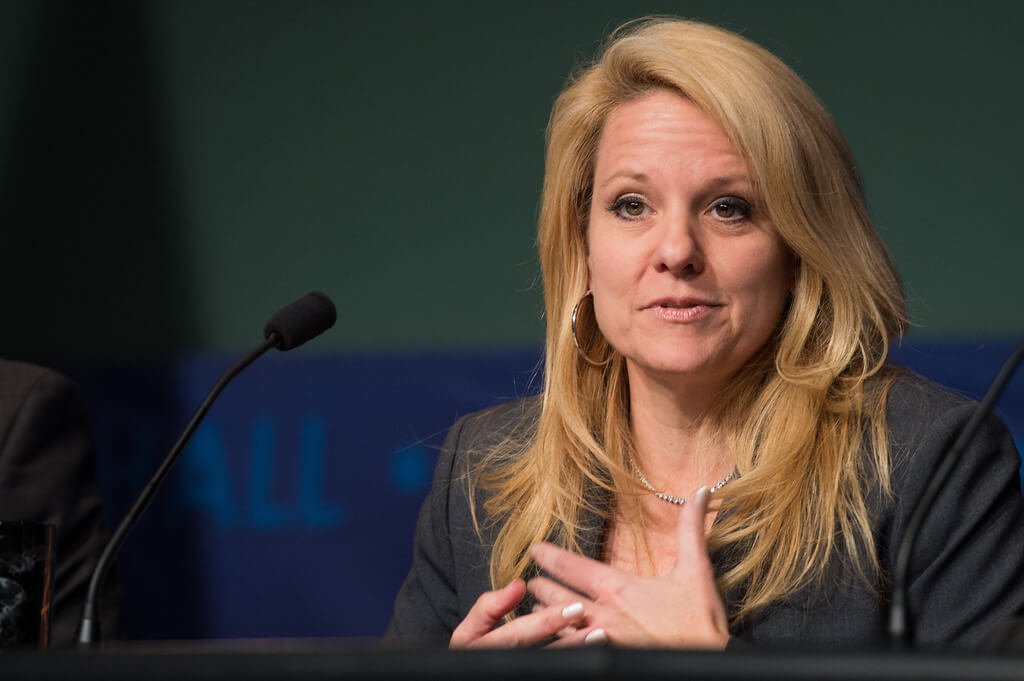 Elon Musk may be the face and founder of SpaceX, an aerospace manufacturing and space transport service company. However, the person who runs the daily operations there is Gwynne Shotwell. She is the company's president and chief operating officer (COO), making her its second-in-command.
Shotwell's story can be seen as an inspiration to women who are interested to work in the fields of engineering and aerospace, which are mostly populated by men. And her leadership in SpaceX, as well as her previous ventures, makes her another excellent member of our women to watch.
Shotwell's childhood and early life
Born in Evanston, Illinois on November 23, 1963, Shotwell spent her childhood in a small village called Libertyville and studied there starting from elementary to high school. When she was in third grade, she was fascinated with machines. She was an achiever during her high school days, but she also became a part of the school's cheerleading squad and basketball team.
Her entry into the world of engineering was not her original plan. Her mother suggested she should try it since she was struggling to think of what she wanted to be after finishing her studies. It was when they attended a panel discussion by the Society of Women Engineers (SWE) that she finally understood what she truly wanted to do in life.
Shotwell then attended the Northwestern University for her bachelor's and master's degrees in mechanical engineering and applied mathematics, respectively. After graduating, she went on to work in the automotive industry and even entered the management training program of Chrysler. However, after realizing that she did not want to stay in the said industry, she left the company.
Going into the aerospace industry
After Chrysler, the young Gwynne entered the progressive aerospace industry when her friend asked her to try an open position at The Aerospace Corporation in El Segundo, California. From then on, she stayed in the industry and the company, where she worked on spacecraft designs, operational hazards of re-entry vehicles and space shuttle integration.
In an interview with Marie Claire, she said, I built a thermal math model of a satellite, so it was really intensely technical and analytical." She even supervised a Federal Aviation Administration study concerning commercial space transportation.
Ten years later, Shotwell left Aerospace and received an offer for a directorial role in rocket building company Microcosm, Inc.'s space system sector. She worked there for four years before chatting up with another friend and former Microcosm employee who transferred to SpaceX.
Her said friend gave her a tour of the Hawthorne-based company, and she even spent a few minutes conversing with Musk himself. Following the tour, Shotwell received a call to apply for the company, which was new and only had 10 employees at the time.
Working at SpaceX
Upon joining SpaceX, Shotwell became its eleventh employee and took on the role of the business development department's vice president. Her employment at SpaceX was proven to be a good move for her because it led her and the company to great success as she attended to corporate clients who want to send satellites into space.
Eventually, Shotwell's list of responsibilities in SpaceX grew as she dealt with the company's financials, government, and legal matters aside from attending to customers. She then had a hand in helping the company land its first significant contract with none other than the National Aeronautics and Space Administration or NASA. The deal cost $1.6 billion, and SpaceX was hired to help with providing and delivering supplies to the International Space Station.
Following this success, Shotwell was then promoted to the positions of SpaceX's COO and president. Musk helped her ease into the new roles by talking to her colleagues regarding his choice to give only Shotwell the promotion because she was initially concerned about any possible conflict among her team.
SpaceX's Mars rocket test
Back in January 2018, Shotwell announced during an aerospace conference at the Academy of Medicine, Engineering & Science in Texas that "vehicle tests" could commence at SpaceX's Boca Chica launch site in the late part of 2018 or in early 2019. At the time of the conference, the launch was at its construction phase.
Speculations based on Musk's and Shotwell's comments indicated that the company's launch facilities in Texas will be for its work on interplanetary colonization. SpaceX's BFR and BFS would also be tested and ultimately launched at those sites.
Shotwell's life lessons
As one of the women who rose in an industry dominated by men, Shotwell would definitely become a role model for those who also aspire to become successful in the fields of science, technology, engineering, and mathematics (STEM). For those who want to learn from her, here are some of her lessons that can bring inspiration.
Pursuing passions
When one faces a crossroad in life and should make a decision between passion and career, Shotwell's take on it is to just pursue the field that he or she is passionate about, saying "the key is to join an industry that you have a passion for. If you love cars, then automotive is where you should end up."
Leader in tech
Shotwell is one of the few women in the tech industry, and throughout her stay, she never let her gender be an obstacle to her success as she consistently removes the limits for women who want to enter the said industry. She related her story about attending the SWE panel, where she was interested and listened to one panelist, a female mechanical engineer who had her own company that made eco-friendly construction materials. Following the engineer's talk, Shotwell approached her and talked about the engineer's job and her suit, which Shotwell also loved.
Striving for work-life balance
When it comes to balancing work and life, Shotwell does not strive for the equilibrium of both aspects, but she dedicates her time to one that truly deserves a lot of attention anytime. She said, "There are times when the balance is far more devoted towards work. And you get to pick the times that you get to spend with your family and you make those count. To me, work-life balance means stable, not necessarily 50-50."
(Featured image by NASA HQ PHOTO via Flickr. CC BY-NC-ND 2.0)