The TopRanked.io Weekly Digest: What's Hot in Affiliate Marketing [Week 38]
In this week's digest, we've got birds, worms, a crypto comeback, some age-old advice, and a couple of insights on the broader affiliate marketing ecosystem. We'll also take a look at this week's topranked.io partner program which, in addition to its attractive commissions and affiliate support, presents a perfect opportunity to get in on a big trend right before it takes off again.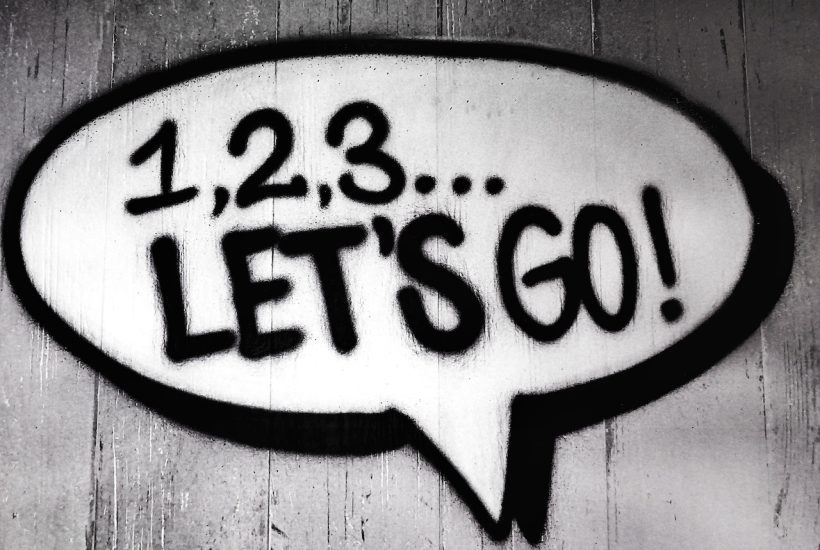 We independently review products to bring you the best of the best. When you click one of our links, we may earn a small commission.
They say the early bird catches the worm. And nowhere is this more true than in making money.
Take stocks, for example. The age-old advice is buy low, sell high. In other words, get in early before the trend gets hot. Then get out early before the trend reverses.
The same applies to marketing, too.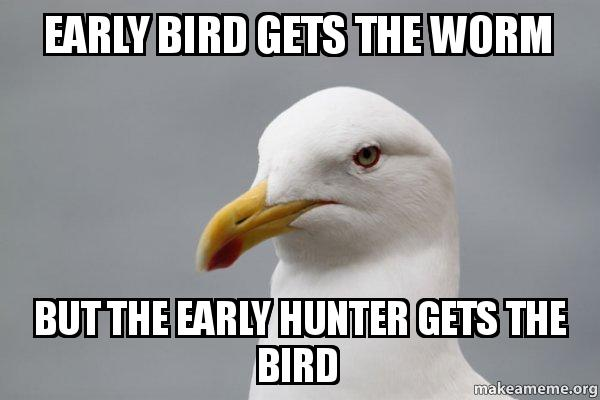 For example, if you'd been hammering away on an SEO strategy for, let's say, fidget spinners before they actually became a "thing," there's a pretty good chance you would've made outsized rewards.
After all, with the time it takes to execute such a strategy, the Johnny-come-latelys would've only just been starting to see some traction about the same time the trend died off.
So, on that note, maybe it's time to take a new look at crypto.
Sure, the masses have fled, and interest has bottomed out. But a turnaround is definitely on the cards — it happened last time there was a crypto "bubble," and you can bet it will happen again.
And in case you're still in doubt, did you hear that NASDAQ's currently toying with the idea of providing institutional crypto services? Yeah, you'd better believe crypto's gonna make another comeback.
TopRanked Affiliate Program of the Week
If you're like us and you think now's the perfect time to start acting on a new crypto strategy, you're probably gonna love this week's latest addition to our affiliate marketing directory — Coinmama.
Coinmama at a Glance
Here's what's on offer for Coinmama affiliates:
30% commission on ALL referral purchases. In other words, lifetime commissions.
No cap on commissions.
A trusted crypto exchange with an established reputation.
All the tools you need to succeed — content recommendations, performance tracking and reporting, and an on-call (well, on-email) affiliate manager who's there to support you with everything you need.

A Top 15 Crypto Exchange, 4 stars on Trustpilot
As marketers, we all know that social proof is one of the most powerful things when it comes to pushing someone to buy.
This is where Coinmama shines with its industry-leading four-star rating on TrustPilot.

Meanwhile, other exchanges struggle to keep up.
Take a look at Binance, for example. It can barely hold onto its paltry two stars, and it currently has a 68% one-star review rate.

Oh, and did we mention that Coinmama featured as a top-15 crypto exchange on Yahoo Finance last year?
Wanna Just Buy Crypto Instead
Okay, so maybe you're too busy in other niches to dedicate much energy to marketing crypto. But that doesn't mean you can't buy and sell the stuff.
So hop on over to Coinmama for fast-track verification, multiple payment options (including CC), and instant delivery.
Oh, and did we mention that four-star Trustpilot rating?

Or, if you're still sitting on the fence, why not check out our full Conmama affiliate program review?
Weekly News Takeaways
The Final Countdown
As promised in last week's affiliate marketing digest, here's your reminder that Google Search On '22 is just five days away. There's not much more to say at this point other than to tune in if you're keen to get a jump on the next big changes in SEO.
Affiliate Marketing Search Trends
On that note, we thought we'd pull up a little something from the Influencer Marketing Hub 2022 Benchmark report. We'll dig more into this report in the weeks to come, but for now, let's focus on the search-related bit — interest in affiliate marketing.
First, here are the highlights straight from the report:
Search engine requests for affiliate marketing grew by nearly 30% over 2021
Searches for affiliate marketing rose more than 300% between 2017 and 2021
What's Google Got to Say About It?
Now, Influencer Marketing Hub pulled Ahrefs data for this number and only focussed on US searches. But, just for fun, let's look at Google trends worldwide data for the same periods.

The nice little thing about seeing the data on a chart like this is it's pretty quick to visualize when spikes happened. So, for example, it's pretty easy to see the first spike pretty much lines up with a bunch of other things that took off around Covid time.
What's curious, though, is that the interest is showing a bit more durability than other Covid-driven trends. To illustrate, let's slide the graph forward to include this year.

Boom. Right as the bubble was bursting for other Covid-inspired trends like Bitcoin, interest in affiliate marketing took off again.
Now, of course, there is that little note about Google changing its collection system at the start of this year. But even if that explains the blip back up to nearly 100% interest, the trend is still clearly heading up.
What to Make of It?
There isn't really much to make of all this that isn't already semi-obvious — interest in affiliate marketing has never been higher than it is right now.
What we can add, however, is that growth in interest is much stronger in some regions than others. For example, growth in the US is pretty mild compared to somewhere like Kenya, which is currently sitting at about 3-4x what it was in 2020.
So, Is Affiliate Marketing More Competitive than Ever?
Well, yes and no. There's a couple of points to consider.
Non-US geos are growing fastest: If there's one thing we can take away from the last note above — that growth in interest is strongest in some non-US regions — we can also assume that new affiliates are not all targeting the crowded US market. Heck, many are probably not even targeting English speakers. In other words, the amount of new competition will largely be market-dependent.
Affiliate marketing revenues are on the up: If we take a look at reported annual affiliate marketing revenues in the US, many niches are keeping pace with, or beating, growth in interest. So while more affiliates might be fighting for a slice of the pie, the pie is also growing.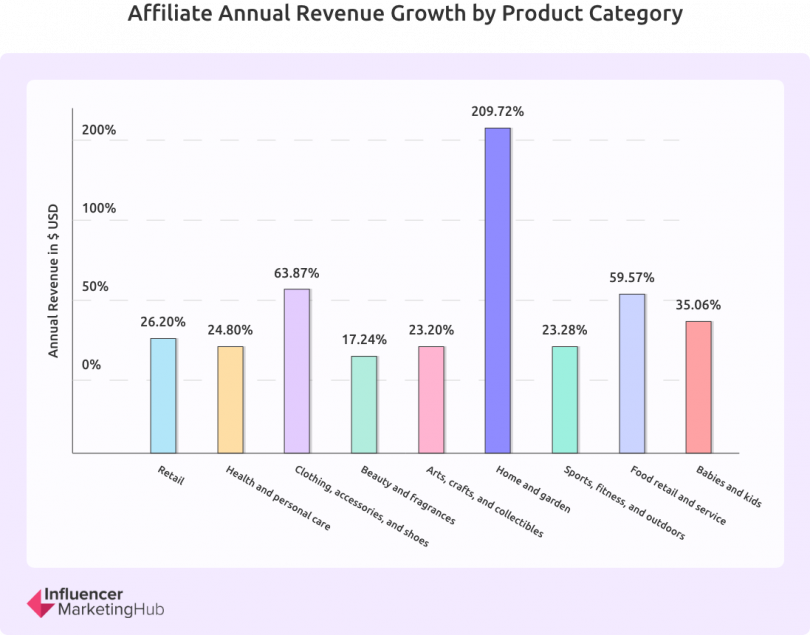 Takeaway
The takeaway here is simple.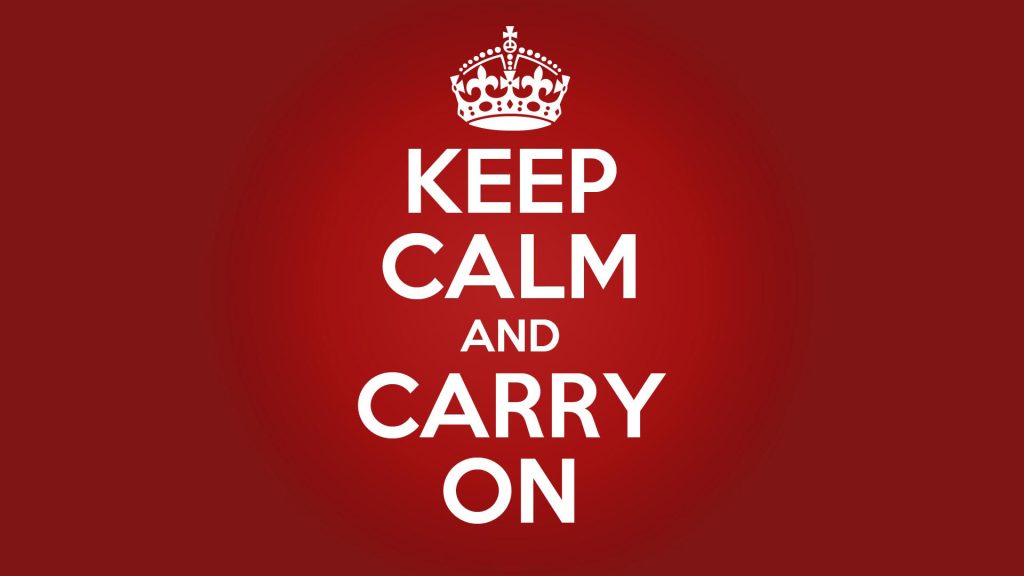 While data like this is fun to know, drawing conclusions from it can quickly become an exercise in futility.
Interest is up. Revenues are up. Anything else is just splitting hairs unless you can actually see it having an impact on you directly.
Closing Thought
Yesterday, James Clear wrote a great reflection on the passing of time and the importance of now. Here's an extract:
"Whatever age you are today, your future self would love to be it… Looking back in a few years, today will seem like the time when you were young and full of potential. Make the most of it."
Or, for those who prefer to consume their inspiration in Latin:
Carpe Diem.
So go ahead. Seize the day, boys (and gals). Seize the day.
__
(Featured image by SevenStorm JUHASZIMRUS via Pexels)
DISCLAIMER: This article was written by a third party contributor and does not reflect the opinion of Born2Invest, its management, staff or its associates. Please review our disclaimer for more information.
This article may include forward-looking statements. These forward-looking statements generally are identified by the words "believe," "project," "estimate," "become," "plan," "will," and similar expressions. These forward-looking statements involve known and unknown risks as well as uncertainties, including those discussed in the following cautionary statements and elsewhere in this article and on this site. Although the Company may believe that its expectations are based on reasonable assumptions, the actual results that the Company may achieve may differ materially from any forward-looking statements, which reflect the opinions of the management of the Company only as of the date hereof. Additionally, please make sure to read these important disclosures.