This Is Web 3.0: Blockchain dApps to Power the VR and AR Metaverse
We're hearing a lot about exciting new technologies these days: dApps, NFTs, augmented reality, and the metaverse. However, while this is all interesting enough in its own right, it's still not half as interesting as it's about to get. It's time to look beyond Meta and NFTs: companies like XRApplied are working at the meeting point of these Web 3.0 technologies, and things are about to get huge.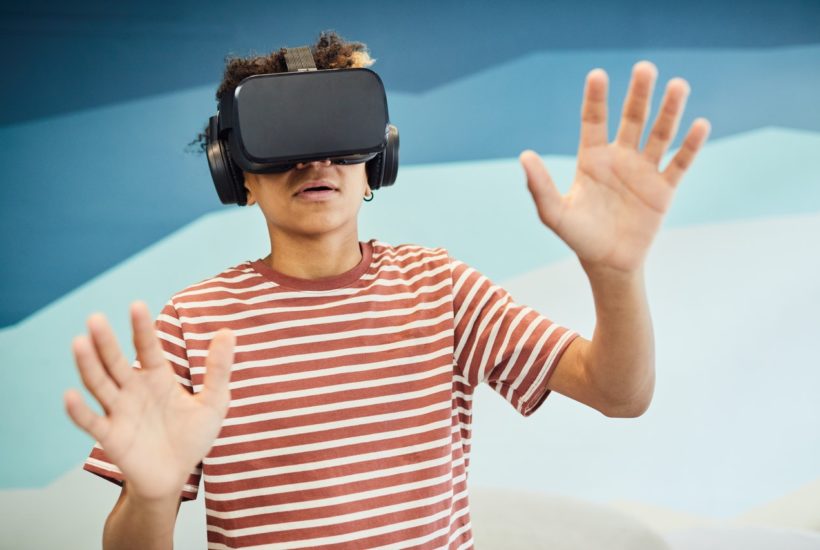 Most of us are also somewhat familiar with the gamut of crypto technologies like NFTs, smart contracts, and currencies. At least, we're familiar enough to know that it all happens on the blockchain. And we know they're all going to be part of the metaverse.
Most of us are also familiar with other emerging technologies, too. Things like Augmented Reality (AR) and Virtual Reality (VR) are gaining major traction, especially now that Meta (NASDAQ: FB) is throwing its weight behind them and the broader metaverse ecosystem.
What most of us are less familiar with, however, is how all of these technologies are starting to combine to create a whole new breed of apps and platforms. This is where the real innovation in the metaverse is happening, and it's only just getting started. In fact, even people working at the coalface of tech innovation don't even know just how much is possible—it still requires too big a stretch of the imagination.
Indeed, if we knew what we're about to see in the metaverse just a few short years, it would be verging on unbelievable. It would be like telling your nineties self that your web browser was going to become a powerful graphics suite, before also muttering under your breath that the whole thing will run on a mini pocket computer that doubles as a mobile telephone. To borrow a phrase that the kids are fond of these days, your first reaction would be "mind blown."
Let's hypothesize about the future metaverse: dApps
So we might not know exactly where all of this technology is headed, but we do know it's going somewhere—there's just too much momentum behind it now for it to just be a flash in the pan. That means it's time that we start looking seriously at where it might all be going—to ignore what's happening would be to turn your back on the greatest opportunity of the decade.
So let's start with the basics and take a look at dApps, or decentralized applications for those who prefer proper English.
In case you haven't heard, dApps are quickly shaping up to be one of the major themes that are emerging in the metaverse. In fact, dApps are a defining feature of what we're now calling Web 3.0 technology.
The fundamental principle behind dApps is the decentralization of data. This can be done in a variety of ways, with blockchain being the one grabbing the most attention right now. A very simple example would be the now ubiquitous like button and where its like data is stored.
How do we decentralize the like button and what's the point?
So, let's say someone comes out with a dApp that allows you to give a like to a piece of content. The obvious question is "what's the point?" After all, Facebook, YouTube, Twitter, and whoever else you might want to name all seem to have done a pretty good job of it.
However, in naming these companies as examples of how the like button is already working fine, we also touch on the major problem with it: the like data is controlled by closed platforms.
Now, let's say we decided to store this like data on the blockchain instead. Every time you hit like, a new entry would take place, indelibly liking your like to a particular piece of content. What possibilities would that open up?
Well, the first and least interesting for many of us is the ability to verify the authenticity of the like. This might be nice in some cases where we don't trust the platform handling the data, although for most of us we seem to trust the social apps we use just fine.
However, there's a much more important use case for storing like data on the blockchain, and this is where things really start to get compelling.
Your identity in the metaverse: the transferable, verifiable you
Before we touch on the major use case for blockchain-based like buttons, let's just circle back on the metaverse for a moment. To make sure we're all on the same page, we need to remember that the metaverse is more than just a technology. The major idea behind the metaverse is that we will live in the digital realm just as much as in the real world.
This creates problems with the current systems we have in place. For example, we're all familiar with the problem of spam/fake accounts on social media platforms. Imagine what would happen if people could create spam/fake humans in real life? Or worse, imagine what your life would be like if your entire identity was erased the moment you stepped outside of, let's say, your office?
This is where dApps come into play in a major way in the metaverse. For example, what does decentralized like data enable?
For starters, it means that like data across platforms could be aggregated into a sort of metaverse identity—a personality you can carry around with you anywhere, not just on TikTok. Just like in the real world, your credibility as, let's say, a TikTok influencer would now carry over into your new email newsletter. Email service providers could, for example, verify the email was coming from you (a real human, not just a spam bot that's never interacted with anyone in its life), and that the person you're sending it to has already engaged with you and your content. This would then allow all sorts of features like intelligent mailbox sorting, social proof verifications, etc.
Oh, and it would also allow you to transfer your account literally anywhere. Instead of having years of content locked up on Facebook, you could now take that content with you to any platform.
Now let's make it immersive: that's where the metaverse really happens
While all of this dApp stuff is interesting, none of it is really that exciting to us yet. As much as it would be nice to move our data around between platforms, most of us just don't live online enough to care as much as we should.
But, if we take a look at where Meta, Apple (NASDAQ: AAPL), and other big tech companies are spending their money, it's not on dApps. And this isn't just because it's outside of their best interests. Instead, it's because the metaverse will really happen once we're immersed in technology, and that's not going to happen until we have stylish, affordable VR and AR hardware that's useful on a daily basis.
And to finish, let's put two and two together
Once we put all of this metaverse, Web 3.0, blockchain, and dApp stuff together, it becomes painfully clear where the next big revolution is about to happen: VR and AR dApps. This is where the possibilities really open up, and it's where the 'smartphone browser running a graphics suite in the 90s' moment is going to happen.
For this reason, while the work of Meta and its ilk is interesting, it's companies like XRApplied (CSE: XRA) where things get downright exhilarating. This is where technology is really going to make major leaps: VR and AR applications that move our interactions with technology away from the screen, and our data into decentralized, verifiable blockchains.
__
(Featured image by Vanessa Loring via Pexels)
DISCLAIMER: This article was written by a third-party contributor and does not reflect the opinion of Born2Invest, its management, staff, or its associates. Please review our disclaimer for more information.
This article may include forward-looking statements. These forward-looking statements generally are identified by the words "believe," "project," "estimate," "become," "plan," "will," and similar expressions. These forward-looking statements involve known and unknown risks as well as uncertainties, including those discussed in the following cautionary statements and elsewhere in this article and on this site. Although the Company may believe that its expectations are based on reasonable assumptions, the actual results that the Company may achieve may differ materially from any forward-looking statements, which reflect the opinions of the management of the Company only as of the date hereof. Additionally, please make sure to read these important disclosures.