Top 10 mobile app development trends to watch out in 2021
The mobile app development trends are only a small part of the whole new world waiting just around the corner. Innovational technologies based on artificial intelligence, machine learning, etc, are working on meeting customer demands in the competitive field. Read more about the latest mobile app trends in this article.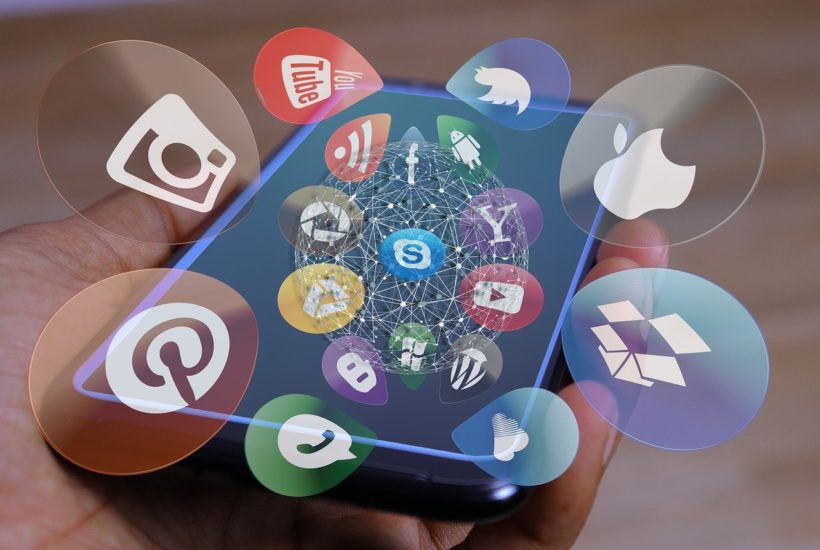 2020 was a challenging year for us all. Regardless of profession and nationality, the dramatic changes affected us all. The new reality triggered a response with global market changes, and, first of all, changes in mobile apps. While we go with the flow and sometimes even unconsciously, there are in-depth researches that prove changes are more than significant.
Global mobile usage statistics
The rise of mobile internet users globally already indicated over 4.28 billion. According to Statista, internet usage and mobile penetration registered a spike in the growth of user numbers. In the near future, the numbers will change dramatically. With 4,66 billion active internet users, 90% use mobile internet and mobile apps to go online. To date, Northern Europe is ranked the first with mobile internet penetration. It is followed by Western Europe and Northern America. It means that half of the world's population is already using mobile technologies for any purpose.
Along with the mobile penetration and technology revolution transforming consumer behavior, mobile apps are now actively developed to transmit the businesses into the digital platform. Due to COVID-19 restrictions, the users were forced to go online. Now they feel more comfortable interacting with the businesses through the user-friendly application. For 2020, mobile app consumer spending counted $102 billion worldwide on the App Store and Google Play. For Q1 2021, App Annie already registered $32 billion in-app purchases on both markets. It is the unprecedented growth of the mobile app market summarizing the impact of the pandemic. The numbers are forecast to reach over $270 billion by 2025.
Analyzing the user behavior and mobile activities social media apps are still the top popular ones with billions of active users per day. For 2021 January, the number of active social media users worldwide amounted to 4,20 billion. An average user may have a registered account on more than eight social media platforms. With notification popping from all the apps, the user may spend no less than 2 hours on social media each day. To understand the scope of interaction, it is counted that the world spends about 10 billion hours on social media every day. Such an enormous resource and large consumer market are priceless for businesses.
Mobile app usage statistics worldwide
Mobile apps are no longer just means of entertainment. The global scope of digitalization, the role of mobile apps in business processes and strategies are more than significant. Applications help to get higher consumer engagement and retention. It means mobile apps are now the best tools for the promotion of business processes. Each industry has developed strategies to meet the demands of modern consumers. Understanding 2021 mobile app trends for the top 3 popular industries we may partly see the whole picture of mobile apps' role in our lives.
Mobile app trends in education
We may divide the development of e-learning before and after pandemic phases. The digital-driven era was already proving e-learning as top trending around the globe. Before the pandemic, education apps and e-learning were more for short-term learning options. While during the pandemic, it has practically become the only means.
The education industry market is predicted to increase by $375 billion by 2026. Today, the top popular learning apps on the Google Play market and App store register up to $100 million annual revenue. For 2021 and the future, the education industry will continue to develop and expand, using high-end technologies like AI, AR, and VR.
Mobile app trends in healthcare
One of the top mobile industries that skyrocketed in the past few years is telemedicine and mHealth. The segment already counts $45,7 billion (the value for 2020), and by 2025, it is projected to reach $113 billion.
Mobile apps working on delivering medical services have automated most of the processes. Those apps make it possible to hold consultations, make prescriptions and track patient's health data.
With AI, Blockchain, and machine learning, health apps will become smarter and more productive. The development of the industry will include the integration of IoT. With the integration of various health trackers and wearables, mobile apps are to become essential in the nearest future.
Mobile app trends in fitness
Fitness is a health-related industry that is now a separate and fast-growing segment. A vast percentage of the population is striving for a healthy lifestyle by tracking activity and doing workouts. In these terms, fitness apps have already gained millions of active users. For 2021 the segment has already reported 378,7 million users worldwide with $4,4 billion annual revenue.
As for the future, the industry will be more intelligent. Fitness apps based on AI, machine learning, deep learning, AR, and VR may become the best health and fitness assistants for users.
Top 10 mobile app development trends
High technologies and the new mobile app trends are meant to make apps more functional. Each new technology brings a bunch of new functions that once seemed unreal. The more developed and enhanced the app is, the more users it gains. Therefore, the businesses aim for mobile app development following 2021 trends.
IoT (Internet of Things)

Generation Z would hardly remember the times when we lived without the internet. Well, to tell the truth, even generations Y and X now cannot imagine life without the internet. Think of any action, and it may somehow be associated with online activity. If not now, then in the nearest future, the internet will definitely fill every interest.
The reason why we describe the role of the internet in detail is the Internet of Things trend. It is already in the house, literally. IoT is a network of connected gadgets that may interact and control. The network that once connected only people is now working on connecting objects. It is how British technologist Kevin Ashton described IoT in 1999. The futuristic scenes from sci-fi movies, like controlling house appliances remotely, are the new normal. Would you be surprised if I set off the house alarm with a voice command? Nope, not anymore!
In 2018, the technology already had over 5,9 billion connected devices. By 2030 this number is predicted to exceed 25,4 billion units.
The most typical and in-demand use of IoT is the smart home technology that allows controlling smart appliances with a mobile app. The best product trending on the market of smart homes is the Amazon Echo Bluetooth speaker powered by Alexa. The device pairs with smart gadgets in the house and controls them with voice commands. For those who prefer Google services, Google Nest Hub sets up smart devices and controls them through Google assistant.
IoT is aimed not only to make life more comfortable but secure. It cares for security through biometric Cyber Security scanners, controls health monitors, and wearables.
The future trends of IoT
Wider integration of IoT in healthcare

Subscription-based services
Business models change and adapt rapidly to align with reality. Subscription-based services are the new trend developing super fast. The model is beneficial for both consumers and service providers. It gives and keeps access for a specific period as long as the user wants it to keep. On a subconscious level, consumers feel more secure and confident when they have a choice to quit the service anytime they want.
In terms of market growth and industry future, the subscription management platform will grow to $7,813 million by 2025.
The trend is developing in two directions with thousands of options to choose from.
1. Streaming services. Various content streaming services are gaining millions of revenue through monthly subscriptions. For Q1 2021, Netflix has already generated $6,14 billion.
2. Monthly subscription boxes. Millions of beauty addicts have already subscribed to get monthly beauty boxes. The satisfaction rate proves the efficiency of the business model.
Besides all the streaming services we are so much addicted to, like Netflix, Amazon, Apple tv plus, etc, there are still so many interesting services you can benefit. The top popular subscription-based service that may be interesting for companies is HubSpot that offers a full stack of software services based on the CRM platform. The solution is used for marketing automation, building a customer base, and much more.
With the e-learning industry trending this year, the subscription services that offer online courses, masterclasses, and lessons are of great need. The masterclass is one of such platforms offering hundreds of material on different topics.
Monthly subscription box services have become a new mainstream in e-commerce and m-commerce attracting subscribers with surprise boxes. Names like ipsy, Barkbox, Allure Beauty Box, and others offer to get surprise products every month at a fixed price.
For the future, subscription-based services will be transformed to become more customer-centric. With mobile optimization, the technology will make the consumer experience more comfortable. The rates for subscriptions are getting lower as the best working strategy for consumer retention.
5G technology
This year we will finally welcome the 5G network, the technology that caused so many conspiracy theories. According to statistics, after the launch, it will immediately have up to 100 million connections. By the end of the year the number will exceed 600 million subscriptions. It is worth waiting for this technology because, compared to the 4G we are using now, it is going to be 100 times faster and more stable.
The super-fast 5G technology will become a lifesaver for streaming services to deliver smooth 4k streaming without interruptions. It will also become possible to handle VR 3D objects. In fact, the integration of 5G will trigger a chain reaction of a number of technologies:
Wireless medical services
M-commerce
With the gaining popularity of e-commerce, mobile commerce (m-commerce) respectively becomes widely spread. And again, the pandemic has become an enormous trigger for both technologies. In that environment, both consumers and retailers were "forced" to move online. As for statistics, m-commerce so far registers 72,9% of global e-commerce sales. In 2021 the industry is predicted to generate $3,56 billion revenue. The businesses that already got e-commerce are now more focused on developing and promoting mobile commerce. The new technology will be based on customer behavior and demands.
There are two ways of promoting the trend, PWA and native apps. Progress Web Apps are responsive web pages installed on smartphones as an app and works as an app. This is a great option for a fast transition from e-commerce to m-commerce. Those who think big, act big, choosing a mobile app to promote m-commerce. In both cases, the aim is to gain the satisfaction of the end-user.
To reinforce e-commerce and m-commerce, Facebook and Instagram social media platforms are updated with new features of shopping directly. This is a huge step forward to raise user engagement.
The future of m-commerce is more personalized. It will offer shopping through AI and a more realistic experience with AR and VR.
The future trends of m-commerce
Voice navigation and shopping
Blockchain
Blockchain technology is already a trend but, somehow, it is still sometimes misinterpreted. In plain language, blockchain records information and makes it impossible to hack or change. By 2025, the blockchain market will reach $39,7 billion (in 2020, it registered $3 billion).
The potential of blockchain is far beyond cryptocurrencies. One bright performance of the technology is decentralized apps (Dapps). They connect users and providers directly without a mediator. Daps are already used in segments such as healthcare, trading, and finances.
The future trends of Blockchain
BAAS (Blockchain-as-a-Service)
Transparent gaming and betting
Wearables
We have already talked about smart gadgets, but wearables are a whole new world. It deserves a more comprehensive report as one of the major trends of the app market. In 2 020, the number of connected devices had already reached 776,23 million. It will register stable growth in the future. The market analysis is no less impressive. The wearable market has grown from $13,2 billion (2019) to $16,12 billion in a year at a CAGR of 19,48%. By 2025 the market is predicted to reach $61,4 billion.
Some of the most popular wearables are smartwatches, fitness trackers, smart jewelry, and body sensors. People are possessed with the ability to track physical changes so easily. This is why, together with wearables, fitness and healthcare apps are of great popularity.
To survive in the competitive mobile app market, new apps should have wearable integration. With the option of wearable integration, the app will be one step forward to user engagement. A bright example of consumer retention is Apple's latest strategy. To keep the dominating positions, Apple Watch will operate as an independent device without requiring a companion iOS app.
The future trends of wearable may sound unreal, but we may once live in this reality:
Contact lenses with a virtual assistant
Virtual keyboard through nail polish

Flip phones
We used to have flip phones, and we loved them so much. And no wonder why we greeted the new Samsung and Huawei foldable devices. As for mobile app development, the foldable display has become a new challenge for developers. They now have a task to build compliant apps that may smoothly change the size and interface. For an average user, the experience with a large display to enjoy videos and games is A thing.
Augmented Reality and Virtual Reality (AR & VR)
Augmented Reality and Virtual Reality are trends bringing changes in reality that no longer seem futuristic. It all started with some funny filters and games, but we may so far state that the future is AR and VR.
The technologies are already used in thousands of mobile apps, offering a more realistic user experience. For example, Google maps have already rolled out the Live View option to navigate in the real world. The technology brings tangible changes in the healthcare, education, retail, and tourism industry.
A bright example of AR and VR technology is Мakeup Genius apps for L'Oreal products that offer customers to apply the virtual product to their image and try the look. This smart solution is a lifesaver for those who have issues visualizing how the product will look on skin or whether the color is suitable for the skin tone or not.
The development of mixed reality gadgets like smart glasses is also contributing to a better visual experience.
The future of AR and VR
AR & VR based visual learning
VR exploration activities
Event streaming
We would never think that event streaming would become a trend until we got COVID-19 reality. During the first weeks of the lockdown, everyone was thinking of nothing but the virus. Slowly we adapted to the reality of transferring offline activities into the online platform. It is forecast that even after the complete succession over the virus, virtual event streaming will prosper.
Similar platforms offer more than watching events online. The users can connect to virtual events, change the rooms, and communicate with other participants. Today, users around the globe have a chance to take part in online events without any effort. This perspective is groundbreaking and practically erases the limits of distance.
Let's hope that after the pandemic, we will get our lives back with all the crazy stuff and offline events. With the worst scenario, we can end up with a hybrid-events era combining online and offline.
Edge computing & Cloud-native
Cloud technology is the trend that will get mobile app development to the next level; more secure and faster. Cloud integrated apps are promising better performance being stored on the cloud and running on the cloud. With similar apps, the internal storage of the phone will be no longer overloaded. By the end of 2021, over 83% of enterprise workloads will be cloud-based. The future development of cloud-native apps is closely connected with 5G, IoT, and edge computing trends. And vice versa; all the other development trends are associated with cloud-native. All in all, the mobile app development trends are interdependent. The mobile app market will grow with simultaneous and consonant development of all trends.
The win-win solution is beneficial on both sides. Developers will be able to build apps faster and have easy access to apps for changes and updates. The users may access their cloud-integrated apps on different devices and without having to install them.
The future of Cloud-native
Edge computing is another crucial technology related to data storage and computation. The technology is responsible for bringing computing as close to the source of data as possible, thus reducing latency and bandwidth use. Simply put, edge computing is working on running fewer processes in the cloud and bringing the processes close to the user.
As predicted, 2020 was groundbreaking for most of the mobile app development trends. Edge computing was one of them to become mainstream. As predicted, the market will reach $250,6 billion by 2025 and with already 50 billion connected devices, edge computing will not be practical, but crucial.
Epilogue
Every single day brings something new to speed up the processes and make life more comfortable. In fact, we are witnessing the Fourth Industrial Revolution. It is blurring the boundaries between the real and virtual, physical and digital, biological and artificial.
The mobile app development trends mentioned above are only a small part of the whole new world waiting just around the corner. Innovational technologies based on artificial intelligence, machine learning, etc, are working on meeting customer demands in the competitive field.
Following the latest mobile app development trends and understanding market demands, it is possible to get a product adopted to this very present reality and with an eye on the future.
—
(Featured image by geralt via Pixabay)
DISCLAIMER: This article was written by a third party contributor and does not reflect the opinion of Born2Invest, its management, staff or its associates. Please review our disclaimer for more information.

This article may include forward-looking statements. These forward-looking statements generally are identified by the words "believe," "project," "estimate," "become," "plan," "will," and similar expressions. These forward-looking statements involve known and unknown risks as well as uncertainties, including those discussed in the following cautionary statements and elsewhere in this article and on this site. Although the Company may believe that its expectations are based on reasonable assumptions, the actual results that the Company may achieve may differ materially from any forward-looking statements, which reflect the opinions of the management of the Company only as of the date hereof. Additionally, please make sure to read these important disclosures.