4 questions to ask before investing in a mobile app
The mobile app market is growing faster than ever. If you are planning to delve into it, there are some questions you need to answer first.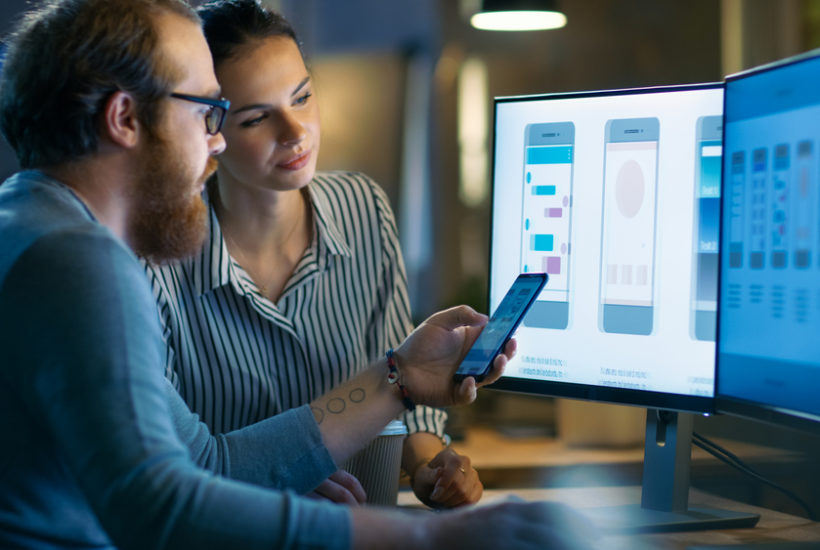 Surprisingly, our life is now clung to mobile apps. For eating, walking, sleeping, we have apps for everything. Developing a business mobile app has become almost a necessity today.
There exist 2.6 billion smartphone subscribers globally, and 179 billion mobile apps are downloaded per year as per the Statista reports. Given the number of mobile apps in the market, it can be said without a doubt that the competition is becoming more and more intense every second.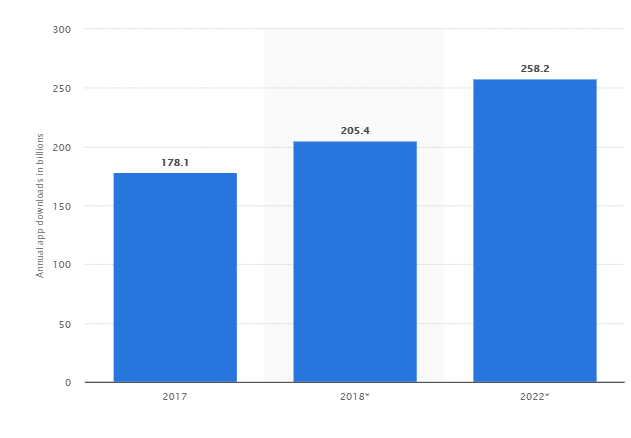 Considering all of this and more, the mobile app market still has a lot to grow. Investing even a penny in it will definitely make anyone scratch their heads but if done after some research and prep work, can bring a good amount of fortune.
Following are some questions to be considered before setting your foot into mobile app investment.
1. Does a market even exist for my app?
In the growing world of digitalization, there are quite a couple of markets available for the application only, if it stands out and shines. Google's Eric Schmidt has rightly stated that "Mobile is the future of Software Development".
It is true that apps make life easier and enjoyable and today we have apps for almost everything. Apps do have a lot of market reach but, there is the other side of the coin too. The market is already full of apps that are designed for the same purpose as yours and to be "THE TALK OF THE TOWN," it definitely must-have features that are easy to use and appeals to a large crowd. Hence, before presenting your app to the market, you must seek the answer to this question and proceed.
There is one more example of why you need to validate and cross-check your mobile app idea. Check this tweet by Tom Scott on app idea.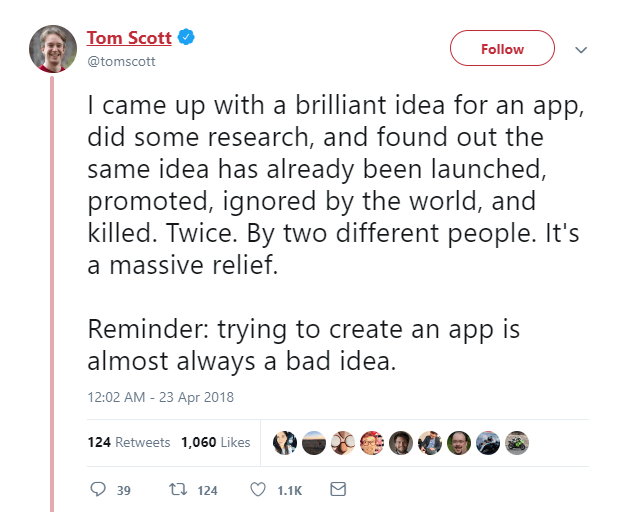 2. Whatever I invest, will it or more bounce back?
There are billions of apps available in the app store but nobody wants to spend even a penny on it. In that case, investing in a mobile app isn't a bad idea right? And if you are worried about returns then there are several options to monetize an app. Sure, you can make people pay for it but the thing is nobody wants to so you gotta be inventive. You can try the following;
A. In-app purchases.
B. In-app advertising.
C. Cost per install models.
D. App sponsorships.
App owners must use different methods simultaneously, but only the smartest will engage users and make the app financially successful.
3. What will hinder the success of my app?
The success factors for business-specific apps are the same as those that are targeted towards the general audience and consumers, even though myths surrounding the contrary to the above claim are commonplace. Failure and success factors for mobile applications are the same for all categories of apps. Not just the service your app is offering but its appearance and experience can affect an app's success if not developed so. Therefore, make sure you have a majority of the below-mentioned key elements in your app as they make a better possibility for your app becoming a winner.
Keep the app simple and easy to use
Simplicity always wins the heart. A user enjoys using a simple app than the apps that make it harder to find ways and navigate. If a user finds your app to be difficult in navigation, they will quickly delete the app and find another app that fulfils the purpose they need.
Friendly mobile experience
An app that appears to be not so friendly can easily annoy a user. Therefore, the developers of mobile applications must take extreme attention to detail in offering smooth and uncomplicated services to their app users.
Fast loading time
Being impatient is human nature. An app that takes time to load is already a failure. The ideal loading time for any app is maximum 15 seconds, 16-20 seconds, however, is still manageable, beyond that is a big no-no.
Size and position matters
Larger screen sizes are no less than a double-edged sword for mobile app designers. How your presenting things on your app in what size and where can definitely hinder the success of your app. Keep in mind the position and the size of the buttons, controls, images and content as well while getting your app developed.
Performance
Once your app is developed don't just proceed to launch. Ensure first that your app and its functionality are good to go out in the market. Regardless of the device, an efficiently developed app should function as it is expected to. Apps with unique and powerful functionality, are sure to make their position in the App Store and stand out among the thousands of others in the mobile application market.
Offline capabilities
The internet is not necessarily to be present all time, everywhere. Therefore, many app users expect the app to function even in poor connection or no internet. An app with no connection makes it more desirable and enjoyable for users. Note the point.
4. Should I in-house or outsource app development
The most important decision to be made after all the above is whether to go for in-house app development or should you outsource app development. Both the practices are widely practised across the globe and have various pros and cons.
Let's lookup on the brief detail of both the method along with their benefits and drawbacks.
Advantages of in-house app development
Better Understanding of Business Requirement

Easy Resource Management

Authorizing

Better or Easy Coordination
Disadvantages of in-house app development
Time-consuming

License and Certificates

Staffing and other issues
Advantages of outsource app development
Wider Options

Less Investment

Lower Risk

Better time Utilization
Disadvantages of outsource app development
Communication & Barrier

Quality Risk

Customized Design
Both the methods are effective and beneficial. However, it is up to you which one will be favourable as per your requirements. Again, make sure you choose the right app development partner to increase the chances of app success and business growth.
A piece of advice
There isn't any better way to get closer to the customer rather than mobile apps. Customers are the critics of your company. They can make your app or break it. According to Oracle, 50% of young people claim they would neither buy nor recommend products from a company which offers poor mobile app experiences. By creating extra sales for mobile app users and allowing personalized experience for each user you can build your brand efficiently. To add a cherry to the cake, the most amazing advantage of a mobile app are the app stores as they suggest your apps to customers while they are searching for another application and thus a large scale of people can recognize the company even though they are unaware of it.
(Featured image by Gorondenkoff via Shutterstock)
—
DISCLAIMER: This article expresses my own ideas and opinions. Any information I have shared are from sources that I believe to be reliable and accurate. I did not receive any financial compensation for writing this post, nor do I own any shares in any company I've mentioned. I encourage any reader to do their own diligent research first before making any investment decisions.