Trump's latest executive order: boon or bane for infrastructure reform?
Supporters of infrastructure reform are hoping that the executive order will prove to be a significant first step.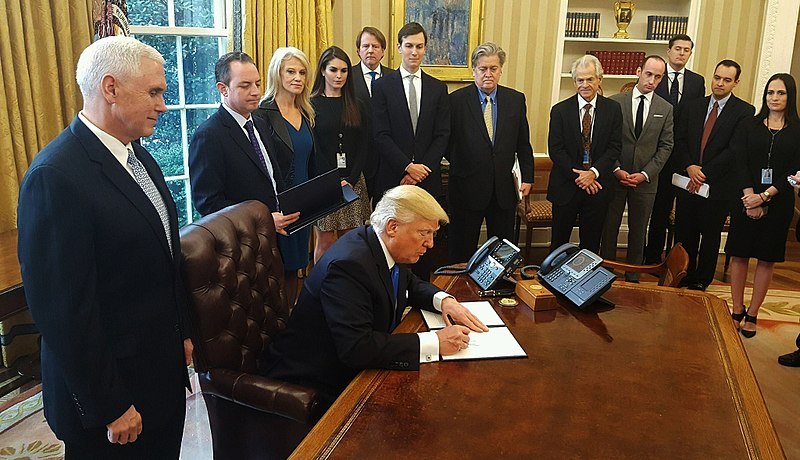 Describing the nation's deteriorating infrastructure as a "massive, self-inflicted wound on our country," President Donald Trump this week signed an executive order designed to help speed the completion of major infrastructure projects nationwide.
Trump's executive order encourages a quicker, more efficient environmental review and permitting process for major infrastructure projects. The goal, he said during a press conference, is to "cut down on some of the red tape" on large infrastructure projects. He made it clear that even though the process will move faster, projects with environmental concerns must meet environmental requirements. Otherwise, he said, "We won't approve it."
Although Trump has yet to reveal any concrete details of his proposed $1 trillion infrastructure plan, he has repeatedly stated that the plan will rely heavily on private capital. The president has pledged $200 billion in federal funds and wants those funds to leverage the rest of the $1 trillion from the private sector and state and local funds.
Many potential private-sector investors and partners are painfully aware that the permitting and environmental review processes alone have long been a deterrent to private investment in infrastructure projects. Some projects have endured an approval process of up to 20 years.
The president said the executive order was preceded by briefings regarding the nation's infrastructure agenda and discussions related to the delivery of world-class infrastructure for which the U.S. previously was known. To do that, he said, the nation's "badly broken" infrastructure permitting process must be reformed.
Trump said it took only 11 months to build the Empire State Building in New York City in the 1930s, yet it can take decades longer for infrastructure projects today. Major highway projects can require up to 16 approvals by nine different agencies before construction can begin. In the past, that has often taken decades of waiting. The president said he hopes to bring that process down to an average of only two years.
The president discussed a new "One Federal Decision" processing plan whereby a major infrastructure project would be assigned to a lead federal agency. That agency would be responsible for steering the project through federal review and authorization processes. The oversight agency would deal with only one designated person at each agency involved.
Transportation Secretary Elaine Chao said the U.S. Department of Transportation's Infrastructure for Rebuilding America (NFRA) grant program will also play a role in meeting the nation's infrastructure needs. That program, she explained, supports the incorporation of more state, local and private funds into project funding while "encouraging the use of innovative permitting authorities and bringing greater accountability into the process." The goal, said Chao, is to use funds more efficiently, speed the delivery of projects and ensure that both urban and rural areas benefit.
According to the executive order, "Inefficiencies in current infrastructure project decisions, including management of environmental reviews and permit decisions or authorizations, have delayed infrastructure investments, increased project costs and blocked the American people from enjoying improved infrastructure that would benefit our economy, society and environment."
Reforming the permitting and review processes could help change that by leading to more private capital being invested in long-overdue infrastructure projects. Supporters of infrastructure reform are hoping that the executive order will prove to be a significant first step. Process change, if it becomes a reality, will be a welcome change.
—
DISCLAIMER: This article expresses my own ideas and opinions. Any information I have shared are from sources that I believe to be reliable and accurate. I did not receive any financial compensation in writing this post, nor do I own any shares in any company I've mentioned. I encourage any reader to do their own diligent research first before making any investment decisions.
Featured Image by via Wikimedia Commons