The upcoming Tesla Model 3 sales will most likely boost the price of copper
Pre-orders for Tesla's Model 3 could be a harbinger of much better news for bullish copper investors.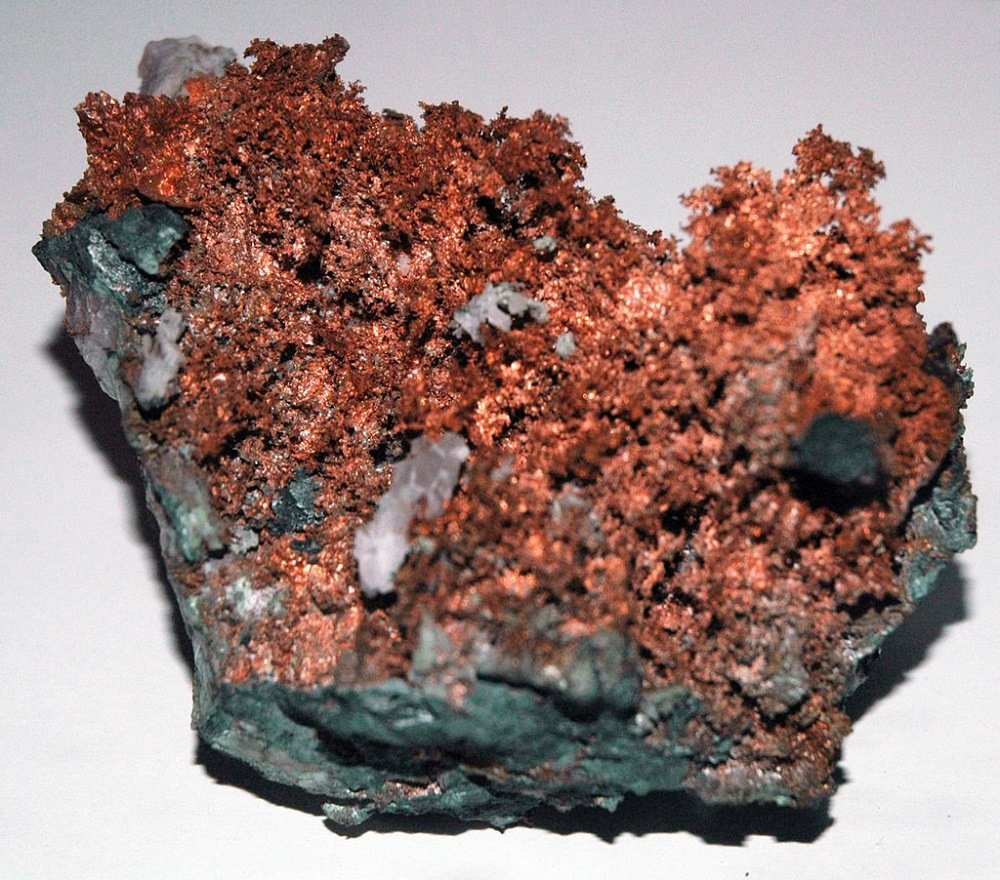 Latest news in the copper sector: Batteries in electric vehicles could consume more than 900,000 tons of copper by 2030, Tesla Model 3 could encourage the rise of the price of copper and much more.
The case of China's broken abacus/ZeroHedge:
Following China's official revelation on Friday that, for the first time since April 2009, it increased its gold holdings by "only" over 600 tons – supposedly in one month, which goes without saying is impossible and confirms how even the PBOC not only cooks its books but is willing to confirm that it does so – many have sprung to ask: what is really going on behind the scenes at the central bank which even Bloomberg's conservative estimates saw its gold tripling to over 3,510 tons.
Perhaps the answer is very simple: while many assume that the only reason China revealed (some of) its latest gold holdings is to further bolster its case for admission into the IMF's Special Drawing Right, the real reason why the PBOC may have resorted to telegraph to the world that it has much more gold is simply to prop up its markets.
Mid-Week Trivia Question:
How does silver get its name?
Gold and silver maple leafs get new packaging/CMI:
Gold Maple Leafs and Silver Maple Leafs are receiving packaging makeovers, changes clearly mandated by investor disfavor with packaging that the Royal Canadian Mint has used since the coins were introduced. Gold Maple Leafs debuted in 1979, Silver Maple Leafs in 1988. The changes appear to be good moves, which should increase sales of Silver Maple Leafs and help keep Gold Maple Leafs the preferred pure (.9999 fine) gold bullion coins.
Since inception, 1-oz Gold Maple Leafs have been packaged ten to a tube. Because Maple Leafs are 24-karat, pure gold, they are "soft," relative to alloyed gold coins, such as American Gold Eagles and Krugerrands. Further, because of the design of the coins and the tight-fitting tubes, it is difficult to remove, inspect, and reinsert 1-oz Gold Maple Leafs in their tubes without scratching the coins. Actually, reinserting Gold Maple Leafs without at least some scratching is nearly impossible. Further, if the persons inspecting the coins do not know how easily the Gold Maple Leafs are damaged, needless damage often occurs while the coins are out their tubes. With the new packaging, each 1-oz Gold Maple Leaf will be encapsulated in plastic and suspended in the middle of a plastic card, somewhat as 1-oz gold bars are packaged.
A Norwegian gold allocation would counter sovereign incompetence risk/ZeroHedge:
Although successful in the past, the current situation, considering energy and the global economy, warrants a critical reassessment of their investment strategies. The Fund needs to perform better now that oil prices are below the necessary $70 per barrel, which balances the budget. Norway started to withdraw from The Fund, shoring up deficits amidst a slowing economy. Moreover, global stock markets are retreating, and fixed income (bonds) may have peaked. The Fund invests a small portion in prime real estate in New York, London, and Singapore. However, this may also be at a peak with finance sector turmoil.
None of these factors, driving the present situation, were forecasted by mainstream financial media or academics. The greatest risk to The Fund is the lack of Norwegian government and Norges Bank (Norwegian Central Bank) crisis experience. Central Banks are biased towards inflation, but not getting it, risking an overshoot in the future. Mismanagement could cause The Fund, which has taken two generations to accumulate, to disintegrate over the next five to ten years, filling budget shortfalls while the overall value declines. Therefore, The Fund must protect itself, adjusting allocation, from current and unforeseen risks. This is the case for The Fund to invest 5% of overall holdings into physical gold:
Poor man's gold spurned as Indian farmers strapped for cash/Swansy Afonso:
Silver imports by India, one of the world's top buyers, will probably shrink this year to the lowest since 2012 as the government cracks down on black money, farmers struggle for cash and stockpiles remain ample. Purchases from overseas plunged 60 percent to about 3,000 metric tons last year and will contract further in 2017, according to Chirag Sheth, an analyst at Metals Focus Ltd., an independent precious metals research firm, in Mumbai.
Demand for jewelry has suffered after Prime Minister Narendra Modi scrapped old high-denomination notes in November to clamp down on the black market and bring more transparency to the financial system. That hit the rural economy which depends more on cash than urban areas and hurt demand from farmers. Inventories are "sizeable" after record imports in 2015, Sheth said.
Strike at BHP's Escondida Mine takes the toll on Chile's copper output, GDP/Mining.com:
An already three-week-long strike at BHP Billiton's (ASX, NYSE: BHP) (LON: BLT) Escondida mine in Chile, the world's biggest copper mine, dragged down the country's GDP by 1% in February and is expected to significantly affect the nation's annual output, authorities have warned.
With every passing day Escondida remains inactive, Chile loses 3,470 tons of copper output, authorities warn. Chile's Mining Minister Aurora Williams said the country's copper production is predicted to have fallen by 12% last month when compared to February 2016, mostly due to the labor action at the massive mine.
"With every passing day Escondida remains inactive, Chile loses 3,470 tons of copper output," she said according to local newspaper La Tercera (in Spanish). Williams added that while Escondida was forecast to produce nearly 1.1 million tons of the metal this year, "after 25 days (of the strike) we can expect lower production already by some 95,000 to 100,000 tons, which naturally will go on rising while the strike lasts."
Sagging copper could get a boost from massive Tesla Model 3 sales/The Street:
Pre-orders for Tesla's Model 3 could be a harbinger of much better news for bullish copper investors. Investors in copper were licking their wounds on Friday as the metal finished another down week, its worst since early January.
A big culprit in the weakness of copper prices has been the slowing Chinese economy and fears that the People's Republic of China will accelerate exports of the metal to alleviate its own rising stockpiles. Another event, half a world away, could be a harbinger of much better news for bullish copper investors. That was the 325,000 (and counting) $1,000 deposits taken by Tesla (TSLA) from potential buyers of the company's Model 3 mass-market battery-powered car, slated to go on sale late next year.
According to a forecast by Bloomberg New Energy Finance, batteries in electric vehicles will consume more than 900,000 tons of copper by 2030, which amounts to about 5% of 2014 global production. In 2010 the metal was trading at about $10,000 a ton, a price that has dropped recently to about $4,700.
Wall Street bearish on gold on higher U.S. rate-hike expectations/Kitco News:
Expectations for U.S. interest rates did an about-face this week, and so did the outlook for gold among Wall Street traders and analysts in the weekly Kitco News gold survey. "The interest-rate picture changed dramatically from Monday," said Kevin Grady, president of Phoenix Futures and Options LLC. "When we came on Monday morning, the percentage for an interest-rate hike was around 30% (based on the Federal funds futures). We' re looking today at about 75%." As a result, the majority of Wall Street voters flipped to a bearish view of gold over the next week, after they previously had been bullish for four weeks in a row.
As they say, what a difference a week makes/Luzi-Ann Javier:
The flip side of declines in the euro, yen and British pound in recent months has been a massive increase in gold buying as investors in Asia and Europe try to protect their wealth. The hunger for bullion is so strong that purchases of exchange-traded funds backed by gold last year eclipsed buying by the world's central banks, the biggest holders of the metal, for the first time since at least 2010. So far in 2017, investors poured $3.1 billion into the ETFs backed by precious metals, after a record inflow of $23 billion last year. That's helped boost gold prices 6.8 percent since the end of December, following the biggest annual gain in five years.
Pete's Corner:
The Two-Way/NPR: In Southern India, a story that sounds like the plot line of a Hollywood adventure is unfolding. Over the past week, on orders from the country's Supreme Court, a panel has found a treasure estimated to be worth $22 billion in the underground vaults of a Hindu temple in Trivandrum, India.
Inside the Sree Padmanabhaswamy Temple, investigators were counting the staggering hoard of gold coins and statues of gods and goddesses studded with diamonds and other precious stones. Outside, small groups of armed policemen patrolled the temple grounds in the heart of the Kerala state capital, Trivandrum. Metal detectors were hurriedly installed at temple entrances after six days of searches revealed a treasure trove of artifacts, statues and temple ornaments made of gold and embellished with jewels.
The valuables were donated to the temple by devotees over hundreds of years, and India's erstwhile royal family has been the custodian of the treasures. The vaults had not been opened in about 150 years and the treasure spans some 500 years. India's Supreme Court ordered that the vaults of the temple be inventoried after a man filed a suit that worried about how the trust was caring for the riches.
In some ways, that's where the story gets interesting. With the find, India is in the middle of a heated discussion about what rights to afford former royalty and what should happen to riches like these that include historic pieces destined for museums.
Queen Elizabeth II Diamond – New sovereigns just released/M J Hughes Coins:
2012 was Queen Elizabeth II's Diamond Jubilee, celebrating 60 years of reign. The Sovereign features a new reverse design to commemorate the Queen's Diamond Jubilee. A new portrayal of St. George and the Dragon has been created for the reverse, designed by Paul Day.
Money Laundering – Hidden in Plain Sight/Reuters: People ask, why is there so much paperwork to open an account"? Trade-based money laundering is one of the most effective means to launder and move criminal proceeds. It represents a tremendous reputational, financial and compliance risk to financial institutions.
Findings have suggested that a staggering 80% of illicit financial flows from developing countries are made through trade-based money laundering (TBML). TBML is the method through which the large amounts of criminal proceeds are effectively placed, layered and integrated into the international financial systems using trade.
Pete: This really is why so of the paperwork to open an account can be lengthy.
"CanaPux" – Converting crude oil to solid pellets touted by CN/Canadian Mining & Energy:
Will CanaPux help transport oil sands bitumen safely to market by rail? It sounds like CN Rail is betting on the new technology to be a safe alternative to shipping oil in crude liquid form.
According to the Globe and Mail newspaper, CN, Canada's largest railway has filed a patent application for a new technology that turns bitumen—the heavy crude produced from the oil sands—into a mostly solid dry good, by mixing and wrapping it with a polymer. Then in the event of an accident, the packets would not explode, leak, or sink in water, the railway believes. The newspaper report further explained, "[o]nce the pellets reach a refinery, heating separates the bitumen and polymer mixture, along with their polymer casing. The tablets are also designed to absorb the weight of being stacked on each other. "It has to handle a lot of different forces," said James Auld, senior manager of corporate development at CNN, told the Globe and Mail in the interview.
"Crude-oil shipments by rail rose sharply six years ago, driven by a lack of pipeline space in North America. The increase was spurred by rising petroleum production in new oil fields that lacked pipelines, particularly the Bakken Formation that touches parts of North Dakota, Montana, Saskatchewan, and Manitoba," reported the newspaper. "If spilled into the ocean, the buoyant pellets—dubbed CanaPux—can be retrieved by vacuuming them up. On land, they can be picked up by hand, or with machinery, CN added in the article."
Mid-Week Trivia Answer:
Our name for the element is derived from the Anglo-Saxon for silver, 'seolfor,' which itself comes from ancient Germanic 'silabar.' Silver's chemical symbol, Ag, is an abbreviation of the Latin word for silver, 'argentum.' The Latin word originates from argunas, a Sanskrit word meaning shining. This highly valuable metal is slightly harder than gold and has the highest electrical conductivity of any of the metals. Interesting Silver Facts: Silver was found to be separated from lead by civilizations are early as 3000 BC. Its uses were mentioned as far back as the Bible, in the book of Genesis.
—
DISCLAIMER: This article expresses my own ideas and opinions. Any information I have shared are from sources that I believe to be reliable and accurate. I did not receive any financial compensation in writing this post, nor do I own any shares in any company I've mentioned. I encourage any reader to do their own diligent research first before making any investment decisions.
Featured Image by James St. John via Flickr / CC BY 2.0