What is happening with the American Capitalism
Unsurprisingly, Wall Street is once again clamoring for another shot of heroin because all those trillions of dollars that were distributed in the spring and summer have already been spent. The Nation's total debt both public and private has now surged to $78 trillion, or a record 390% of GDP (for comparison, it was 350% at the start of the Great Recession).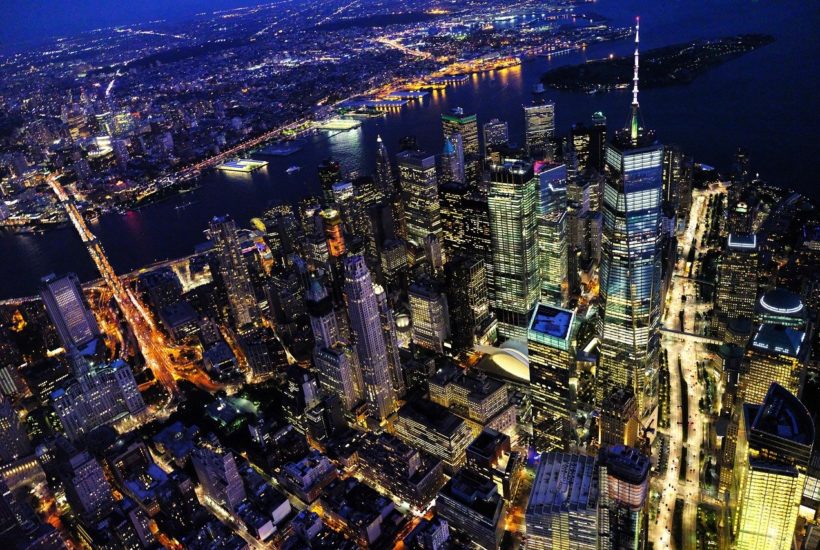 The Japanese word for goodbye is Sayonara. But it doesn't just mean goodbye, it means goodbye forever. Unfortunately, that is what our country is doing to American Capitalism.
In the quixotic fantasy world of Keynesian economics, the more money a government borrows and prints the healthier the economy will become. Those who adhere to this philosophy also believe such profligacy comes without any negative economic consequences in the long run. This specious dogma contends that it is ok for a government to dig further into a big deficit hole during a recession because massive public spending will help the economy to climb out faster. And then, a government can cut spending in the good times, which leads to big-budget surpluses.  
The trouble with this theory is the time never arrives to bring the scales into balance. Case in point, during the pre-pandemic year 2019, the U.S. had a deficit that was equal to 5% of GDP—one of the worst figures since WWII. This deficit occurred during a time which was purported to be one of the best economies in history. Today, there are negotiations for yet another "stimulus" package after having already spending $3 trillion (15% of GDP) earlier this year. Speaker Pelosi and the Democrats want to spend another $2.2 trillion and Republican President Trump says, "I would like to see a bigger stimulus package, frankly, than either the democrats or Republicans are offering."
Unsurprisingly, Wall Street is also once again clamoring for another shot of heroin because all those trillions of dollars that were distributed in the spring and summer have already been spent. It seems both parties are ignorant of both history and real economics. The salient point must be stressed that no government has ever engendered a viable economy through the process of piling yet more debt on an already bankrupt pile. And no, having its central bank monetize the whole stinking dung heap is not a panacea.
We already know how this story turns out. A paragon for this experiment of unfettered fiscal and monetary profligacy in the nation of Japan.
Japan's debt to GDP ratio is projected to rise to 250% by the end of 2020.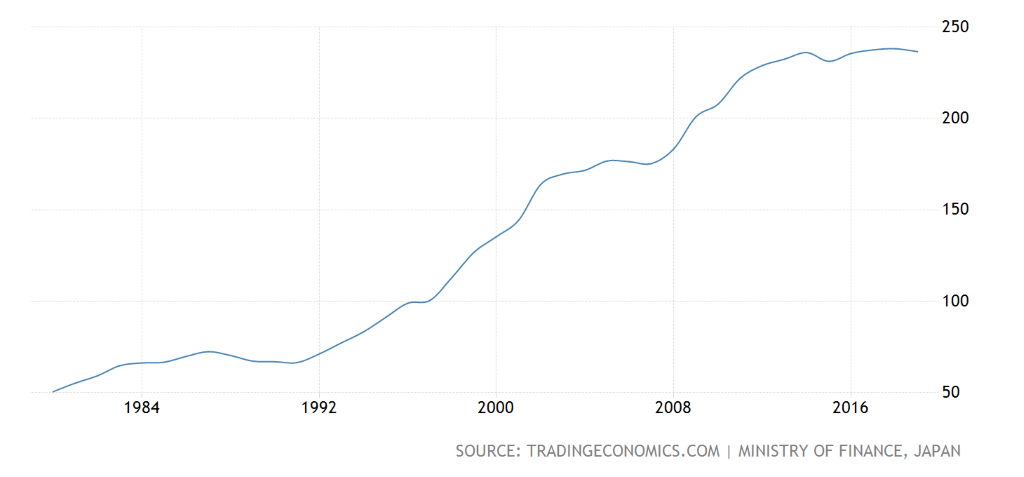 The Bank of Japan's Balance Sheet has skyrocketed since 2000, as the BOJ has been compelled to frenetically purchase half of all JGBs (Japanese Government Bonds).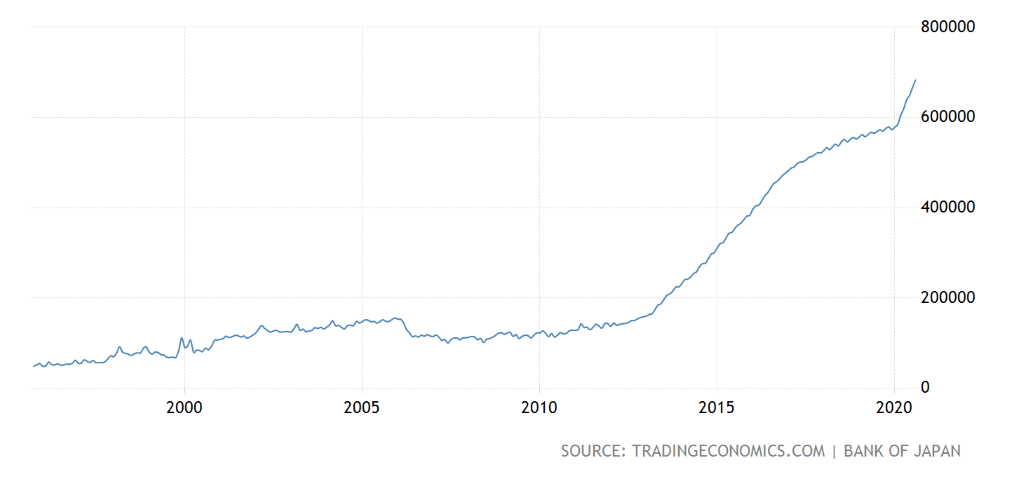 Meanwhile, all Japan's borrowing (a quadrillion yen outstanding) and money printing has not moved the needle on the nation's GDP.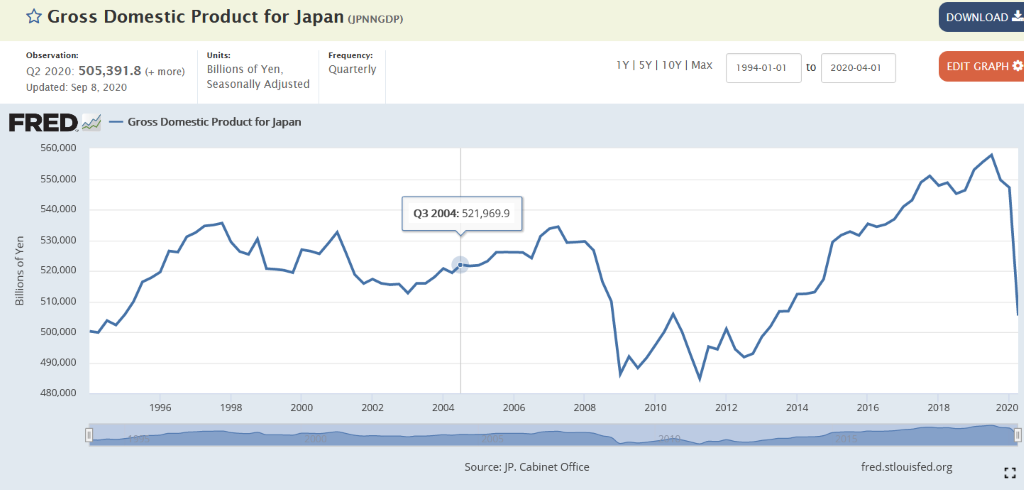 Japan's major equity Benchmark (Nikkei Dow) has endured three major crashes since the year 2000. The Index has only managed to increase about 15% from the start of the new millennia; and yet is still down 40% since 1989.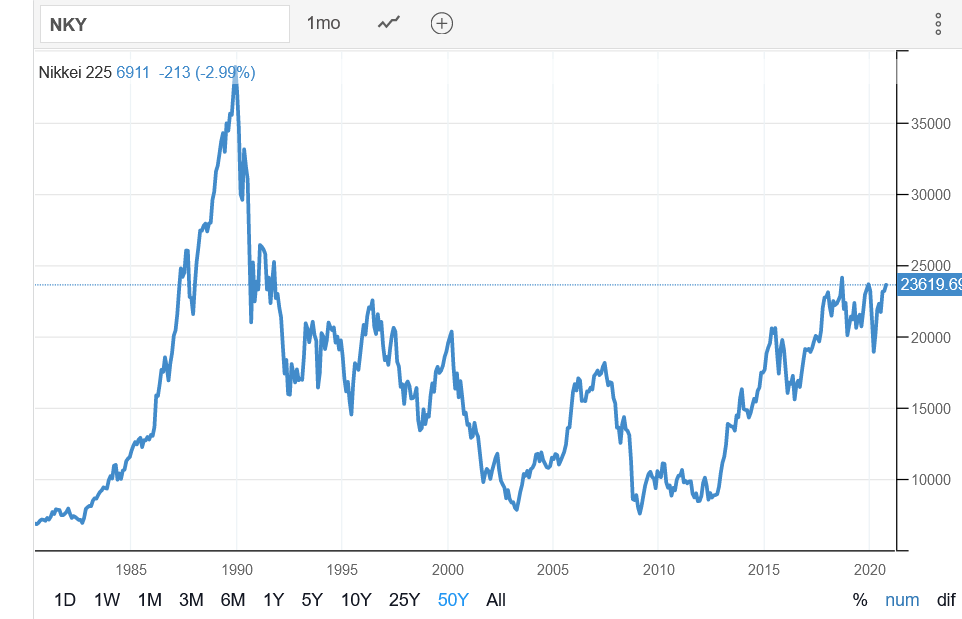 The conclusion from Japan's experience is clear. Massive fiscal and monetary stimulus does not at all boost GDP in the long run. In contrast, in rots the economy to its core. Although it can provide for a small gain in stock prices, it also comes with major crashes along the way. And ultimately, it can lead to intractable inflation and economic Armageddon.
Turing back to the U.S., Jerome Powell said this gem in a speech given on October 6th, "The US federal budget is on an unsustainable path, has been for some time, but this is not the time to give priority to those concerns." Powell also stated that the risks of overdoing stimulus are smaller than the dangers of not borrowing much more money right now—all of which will be printed by him with alacrity. That's tantamount to a doctor prescribing for a morbidly obese man with late stage heart disease to shove down boxes of fried Oreos rolled in pig lard until he feels well enough to begin the diet.
So, what economic benefit did the U.S. get for borrowing well over $3 trillion in new debt during fiscal 2020 and having it all monetized by the Fed's printing press—an endeavor that has brought the National debt to a daunting $27 trillion? Oh, and by the way, the Nation's total debt both public and private has now surged to $78 trillion, or a record 390% of GDP (for comparison, it was 350% at the start of the Great Recession)—ah the good old days! Well, it will generate a projected GDP loss of about 4% this year and has turned out a measly 5% gain in the S&P 500.
This begs a question for all those geniuses in government: if government borrowing and spending equates to higher GDP growth, then why is it that the debt to GDP ratio perpetually climbs? Exactly when are those Keynesian multipliers supposed to kick in?
This is what the U.S. will get for turning all Japanese…an anemic economy, an equity market that limps forward, and a nearly extinct middle class. According to a recent report on the Japanese experience since its bubble burst in 1989 by Oxford Economics professor Shigeto Nagai, "The share of low-income households has been rising at the expense of middle-income groups in a process of secular income decline across percentiles." In other words, poverty is rising in Japan across all classes with the country's middle class suffering the brunt. The U.S. is also preparing to enter into a secular period of Japanese style lost decades with the middle class eroding away. The poorest 50% of all Americans, about 165 million people, collectively owned about $2.08 trillion in wealth in the second quarter of 2020, according to Federal Reserve, that's less than the net worth of our 59 richest billionaires, according to Bloomberg data sighted in the NY Post.
The Fed and D.C. are trying to squeeze more air into the gargantuan equity bubble, which is exacerbating these trends. A bubble that has grown to the most massively distorted proportion ever witnessed in economic history.
All insolvent governments eventually collapse. Our nation has also become addicted to asset bubbles, free money, and artificially-low interest rates. Indeed, the entire developed world is positioning itself for an interest rate death spiral of unprecedented proportions.
Expediting this perdition will be a move to state-sponsored digital currencies. Bloomberg reported on October 9th that the BOJ has started to experiment with cryptocurrencies; joining Russia and China in this endeavor. And sorry, it is not Bitcoin. It will be a blockchain based currency that is completely controlled by the government of Japan. The primary reason for this is clear: Central banks are preparing to usurp all control of money from the private sector. Meaning, governments will impose profoundly negative interest rates on savers in an attempt to keep asset bubbles growing. However, to accomplish this nefarious task central bankers will need to ensure the public cannot take their money out of the banking system. Hence, investors will need to be on high alert for government blockchains and intractable inflations across the developed world in the future.
This means the saddest part of all is that the Japanification of the U.S. is actually the best outcome we can now hope for. The more likely eventuality will be the utter economic devastation coming from the implosion of the international bond market due to artificially produced record-low interest rates on insolvent sovereign debt that will slam into intractable inflation.
__
(Featured image by Igormattio via Pixabay)
DISCLAIMER: This article was written by a third party contributor and does not reflect the opinion of Born2Invest, its management, staff or its associates. Please review our disclaimer for more information.
This article may include forward-looking statements. These forward-looking statements generally are identified by the words "believe," "project," "estimate," "become," "plan," "will," and similar expressions. These forward-looking statements involve known and unknown risks as well as uncertainties, including those discussed in the following cautionary statements and elsewhere in this article and on this site. Although the Company may believe that its expectations are based on reasonable assumptions, the actual results that the Company may achieve may differ materially from any forward-looking statements, which reflect the opinions of the management of the Company only as of the date hereof. Additionally, please make sure to read these important disclosures.