What Is the Use of Artificial Intelligence and Robotics in the Healthcare Industry?
The future is closer than we think. We already use intelligent solutions based on AI and machine learning, not even realizing how they make our life easier and more comfortable. Every time you ask Siri something, the technology works for you giving you the answer you were looking for. AI mobile app development, advanced in healthcare, will change the curve in favor of positive treatment outcomes.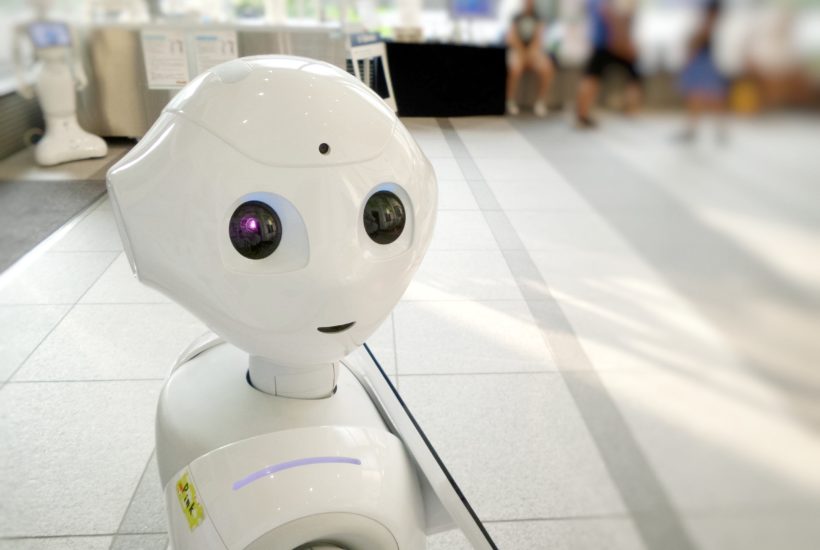 The Healthcare industry, as one of the most sensitive segments, still lacks innovations and automation. It has registered tremendous development and improvement in past decades, but many gaps can be filled with technologies. And one of them is the potential of AI and robotics implemented in healthcare. 
The truth is that robots have been used in healthcare since 1985. The first one was the brilliant performance of the DaVinci robot and the grape surgery video that has started the technological and robotics era in the healthcare industry. DaVinci and descendants are human-controlled, which means human errors are still possible.
Artificial Intelligence in Healthcare: Market Size
In 2020, the global healthcare AI technology market was valued at $6.7 billion. It is expected to grow at a CAGR of 41,8% by 2028. The rising demand for healthcare apps and deep learning technologies will help the industry predict diseases based on historical data, speed up diagnosis and treatment with content analytics and NLP tools. 
Benefits of Robotics and AI in Healthcare
The technologies are getting sophisticated at doing things we were used to, but they are much more effective, fast, and low cost. With a soon-to-become part of our lives, robotics and AI will significantly influence medical services.
Performs high-quality patient care: medical robots may support frequent monitoring of patients, minimally invasive procedures, and intelligent therapeutics with minimal human interaction.
Delivers operational efficiency: service robots ensure consistent processes, reducing demand for human workers and streamlining routine tasks.
Creates a safe work environment: disinfection robots are aimed at limiting pathogen exposure and reducing hospital-acquired infections.
Fills healthcare industry gaps with automation: most medical services processes like paperwork are resource and time-consuming. With AI and big data processing, it is possible to automate the workflow and focus on patients.
Empowers decision-making: with the help of predictive analytics and big data processing, AI-powered robots contribute to decision making and early diagnosis.
Revolutionizes end-of-life care: the end of life is a phase plagued by loneliness. Companion robots help people remain independent longer without hospitalization.
The new generation technologies are creating AI-controlled robots that will replace medical staff and increase productivity in several directions. The AI healthcare application development and implementation of robotics in most processes may significantly improve medical services.
Improving accuracy
Technological solutions are most valuable for being more accurate than human interaction. Robots cannot get tired, and they don't have an emotional connection. That is why a significant portion of adverse outcomes of any medical procedure performed by a robot will perform tasks with extreme precision. The human surgeon will take a supervising role in AI-controlled and robot implemented medical procedures like surgery.
Precise diagnosis
The successful outcome of any treatment starts with a precise and fast diagnosis. The most frequent human errors are detected on diagnosis, making dramatic choices affecting the treatment and patient's life. Robots can solve diagnosis mistakes and detect patterns describing conditions more precisely than human specialists. Machine learning algorithms analyze thousands of relevant case studies, correlations of variables and offer a more accurate diagnosis.
According to tests, AI-powered robots already rival the best doctors and may even surpass them in the future, cutting the number of cancer-caused deaths by 87% due to early and precise detection. PathAI machine learning program for accurate AI-supported cancer diagnosis already delivers customized medical treatment and reduces errors in diagnosis.
Remote treatment
Remote has become the new normal amid pandemic and global restrictions. But no one could imagine that healthcare and medical services may also become remote. The idea is not new, and the first attempts of remote medical services with robots were first discussed in the 1990s as the means of fast treatment for soldiers on the battlefield. The industry could not use the complete potential remote treatment, but robotic surgery today seems real with 5G penetration. Developed countries have already started testing and practicing robots for autonomous robotic care for treating soldiers and not only. DARPA (Defense Advanced Research Projects Agency) has already launched robotic surgery services for armed forces.
Malpractice issues
Before fully inserting AI-powered robots, the healthcare industry has started implementing robots controlled by humans. No matter how precise the robot is, it is still coordinated by the doctor who carries the risks. There may be situations when the expertise of a doctor controlling the machine is limited, and the doctor carries all the risks. AI advanced system promises to be smart enough to make its own decisions without human interaction and confirmation.
Augmenting human abilities
Will robots replace doctors? This question is the most sensitive when it comes to artificial intelligence and robots. One thing is clear: robots are created by humans, and humans will always be superior in controlling and conducting machines.
Robots paired with humans can improve health and medical services by deepening the interaction between doctors and patients, collecting more information, and developing more precise health habits. One of the latest innovations in robotics is the exoskeleton robot that aids medical staff and disabled persons to gain more independence.
Augmented intelligence will make it easier for patients to follow care plans, connect to doctors faster and align treatment if needed. The past few years' AI healthcare application development scales prove that health apps will revolutionize medical services.
Supporting mental health and daily tasks
The futuristic scenes of people talking to robots, having philosophical conversations may soon become a reality. AI-powered companion robots may perform daily functions like supporting patients, reminding them to take medicine, doing regular check-ups, and much more. Acting more like personal assistant companion robots will help sick or elderly patients feel less stressed and lonely.
Auxiliary robots
Facilitating medical services and unloading the workflow auxiliary robots can become a helping hand and valuable assets for promoting ongoing tasks like restocking, cleaning, bringing items. It will help nurses spare more time on patients and deliver better care.
Auxiliary robots will be crucial during pandemics cutting the human interaction and the chances of spreading viruses and infections. Service robots like Moxi Robot, introduced by Diligent Robotics, will soon allow front-line staff to reduce direct contact with patients and carry out the treatment.
Moving forward
The future is closer than we think. We already use intelligent solutions based on AI and machine learning, not even realizing how they make our life easier and more comfortable. Every time you ask Siri something, the technology works for you giving you the answer you were looking for. AI mobile app development, advanced in healthcare, will change the curve in favor of positive treatment outcomes. Nevertheless, robots and AI will not take complete control over medical services or any other industry anytime soon. We still need qualified specialists and human intervention as essential factors ensuring the accuracy of the process. Human relationships, patient-doctor connections are still crucial for treatment and cannot be replicated by machines. 
—
(Featured image by Possessed Photography via Unsplash)
DISCLAIMER: This article was written by a third party contributor and does not reflect the opinion of Born2Invest, its management, staff or its associates. Please review our disclaimer for more information.
This article may include forward-looking statements. These forward-looking statements generally are identified by the words "believe," "project," "estimate," "become," "plan," "will," and similar expressions. These forward-looking statements involve known and unknown risks as well as uncertainties, including those discussed in the following cautionary statements and elsewhere in this article and on this site. Although the Company may believe that its expectations are based on reasonable assumptions, the actual results that the Company may achieve may differ materially from any forward-looking statements, which reflect the opinions of the management of the Company only as of the date hereof. Additionally, please make sure to read these important disclosures.