Thinking About Teeth Whitening? Read This Before You Damage Your Teeth
DIY at-home Teeth whitening products are popular. And, while most are effective at whitening your teeth, only a few are actually safe if you value the health of your teeth. Unfortunately, many of the most popular products will strip your enamel, sensitise your teeth, and potentially leave you with inflamed gums. Here's what you need to know before you try at-home teeth whitening for yourself.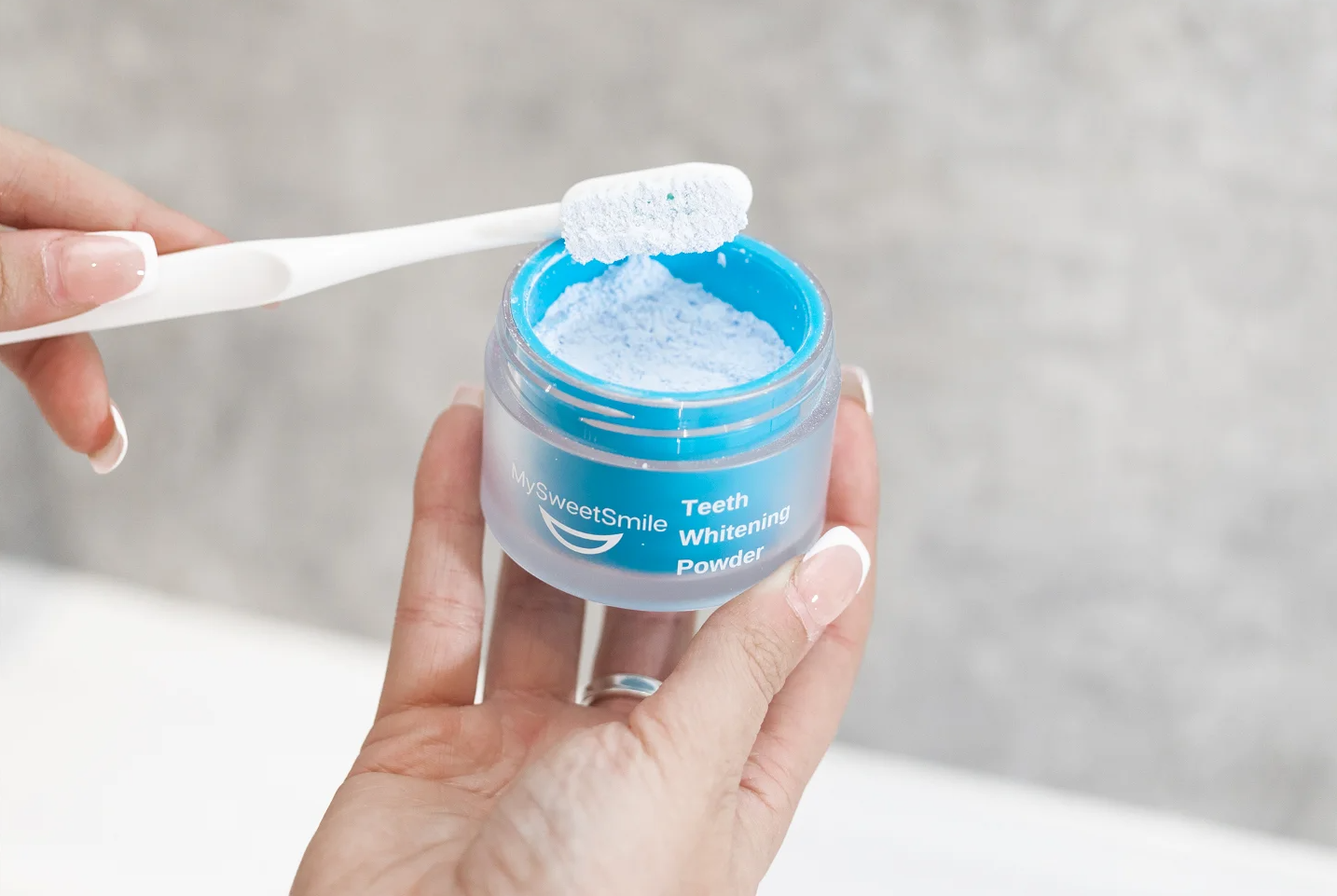 So, all those years of drinking coffee, munching on berries, and maybe even enjoying the odd spot of tobacco have finally caught up with you? And now you're looking for a DIY at-home teeth whitening solution?
Well, before you go any further, stop.
If you value your teeth at all (and, presumably, you do if teeth whitening interests you), then there are some things you need to know.
The harsh reality is that the wrong teeth whitening solution can be brutal on your teeth and mouth.
We're talking stripped enamel, severely irritated gums, and intensely sensitive teeth.
So if any of that sounds like something you'd give your right arm to avoid, then how about you give us just 3 minutes of your time and we'll help you find the right solution instead?
Sound good?
Good, here's what you need to know about teeth whitening kits.
---
LOOKING FOR A GREAT, DENTIST-APPROVED TEETH WHITENING SOLUTION?
If you don't want to read the article and just want a great dentist-approved (that is, gum-safe, enamel-safe, 100% effective) teeth whitening solution, MySweetSmile is currently running a buy 2 get 1 free promotion.
Explore the range and take advantage of the offer here.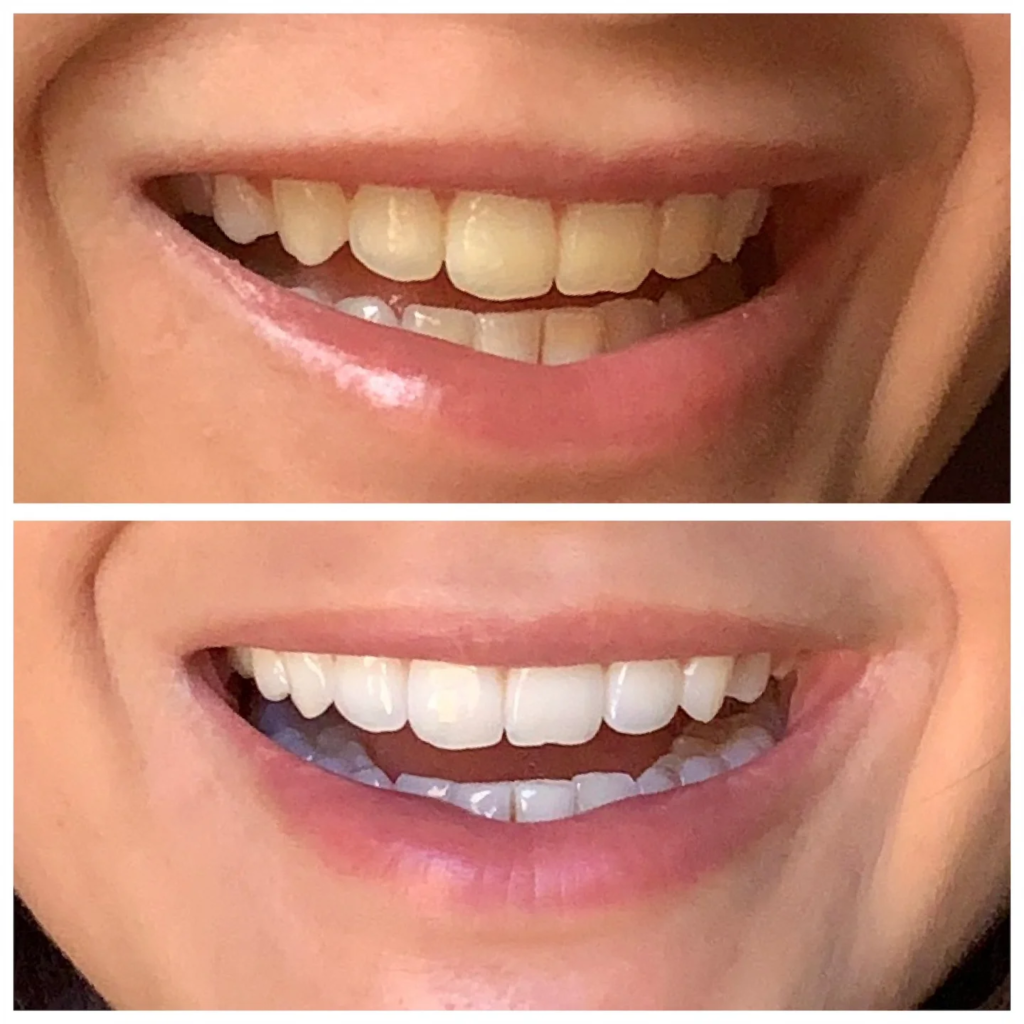 ---
Why Finding the Right Teeth Whitening Solution Matters
If you've read the ingredients list on any teeth whitening solution, then you've probably run into words like PVP-K30, Phosphate Disodium EDTA, and Sodium Hydroxide. (PS: That's part of the ingredients list for a popular budget teeth whitening kit available in the UK.)
Any of those make any sense to you? No?
Okay, I'll volunteer one.
How about Sodium Hydroxide?
That's a chemical that's commonly known as drain cleaner.
Now, don't get me wrong here. There's a world of difference between gargling drain cleaner and using a teeth whitening kit that contains Sodium Hydroxide. Chances are, if you swished drain cleaner around your mouth today (and lived to tell the tale), your teeth would be gone tomorrow.
That's because the concentration of Sodium Hydroxide in a teeth-whitening solution is low enough that its effects become very mild.
And that's a good thing. It means that in pretty much the same way it loosens the gunk from the walls of your drains, it can also loosen the stains clinging to your teeth in a much gentler way.
However, here's the thing.
Over the long term, the difference between gargling drain cleaner and using a teeth whitening kit might not be all that great.
Unless, of course, the right ingredients (in the right amounts) are added to the teeth whitening kit.
You see, in the same way that Sodium Hydroxide is effective in lifting stains from your teeth, it's also equally effective in weakening your enamel. Keep using it long enough, and you may just eat all the way through your enamel.
Now, as we just said, this isn't a concern if the right ingredients (in the right amounts) are in your teeth-whitening solution.
However, most of the popular kits on the market are shooting blind (that is, if they even include anything to repair your enamel at all).
---
ALWAYS LOOK FOR DENTIST-APPROVED TEETH WHITENING PRODUCTS
MySweetSmile's teeth whitening products are enamel safe, earning them the coveted "dentist approved" title that other brands are sorely lacking.
Explore the range and take advantage of the buy 2 get 1 free promotion here.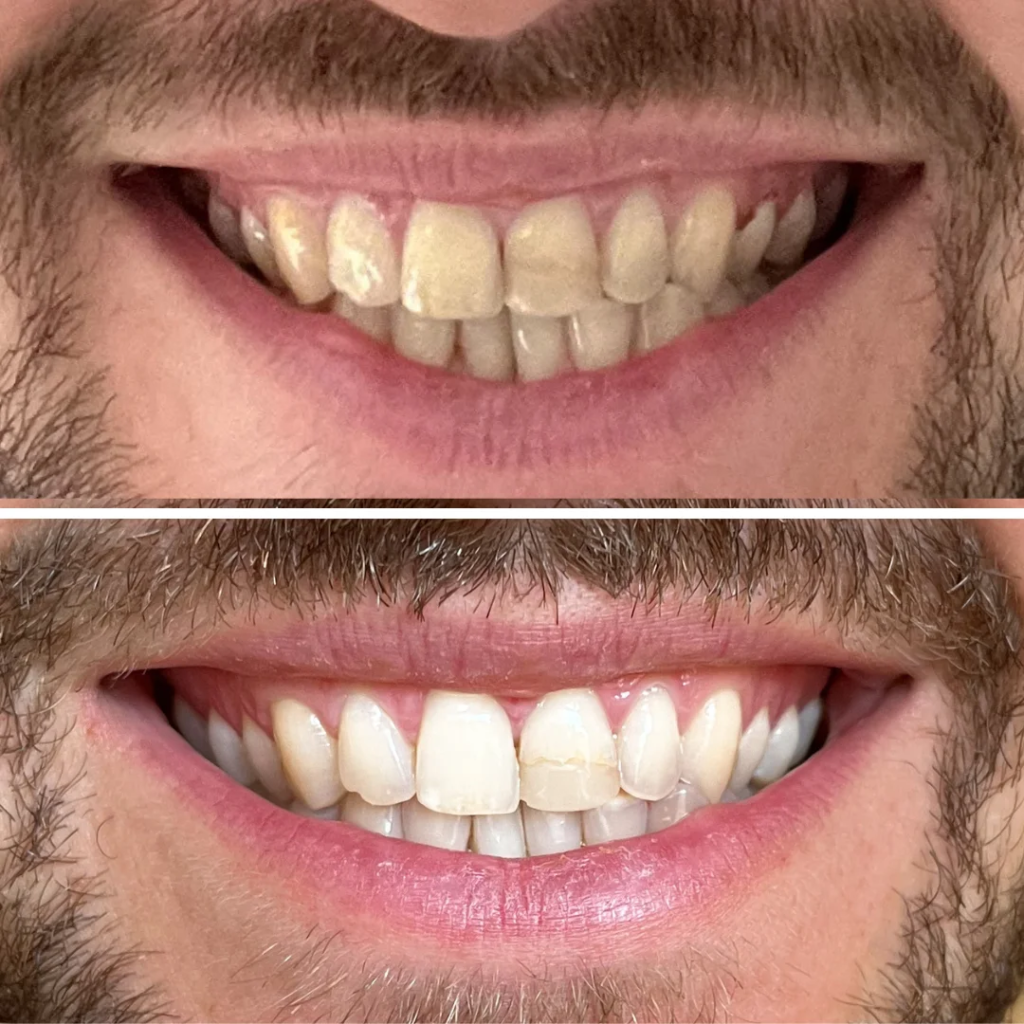 ---
Here's How Many Brands Get Teeth Whitening Wrong
Full disclosure here — the ingredients list copy-pasted above was from the popular Molarclean brand. And, if you browse their website, you'd be forgiven for thinking it's a great solution.
After all, we see verbiage like "five-star rated", "50% cheaper than other brands", and (the big one), "scientifically proven, by leading UK Laboratory: Intertek, to whiten stained enamel teeth."
But take a moment to re-read that last statement.
And then think about what we just covered above.
Are you asking yourself "but where are the scientists/dentists who are willing to say it's safe for your teeth?"
That's what I asked myself, too.
And guess what? I found no such mention anywhere about their product actually being safe for teeth.
And that, right there, is the real problem.
The harsh reality is that even an apathetic teenager in the school science lab could create something that will whiten your teeth. The basic principles are relatively simple.
However, creating something that will do it without destroying your teeth is a whole other thing.
And that's probably why some of the most popular teeth whitening solutions, for all their claims about scientifically proven teeth whitening abilities, make no such claims about safety.
Now compare that with a product like the dentist-approved, enamel-safe & CPSR-approved Teeth Whitening Powder by MySweetSmile.
Pick the Wrong Product and You'll Risk More Than Just Stripped Enamel
Obviously, we don't have the time and space to cover all the risks you run if you choose the wrong teeth whitening product. After all, we did only ask for three minutes of your time.
But just to give you a quick run-down of some of the risks you'll face when choosing a non-dentist-approved teeth whitening solution, consider the following.
Tooth Decay
We've already partly covered this above. But it's worth mentioning it one more time here, because Sodium Hydroxide isn't the only popular ingredient that can (literally) eat away your dental health.
Other popular ingredients, including Hydrogen Peroxide, can also do damage to your teeth. This really goes to show just how important it is that you buy a dentist-approved teeth whitening solution that's been demonstrated to be enamel-safe.
Gum Irritation
Speaking of Hydrogen Peroxide, gingival (gum) irritation is a common side effect. Yet, despite this, many popular teeth whitening solutions are still based around it.
What you really should look for is a PAP-based formula, as is used in MySweetSmile's products, such as its PAP teeth whitening strips.
Abrasive Ingredients
You've probably heard about teeth-whitening solutions like using baking soda or charcoal. And if you have, don't think for a minute that these are any safer than "chemical" solutions.
Truth be told, these are just as bad as, instead of chemically lifting stains, they rely on mechanically lifting stains. As such, they won't just weaken your enamel — they'll just strip it right off.
So, seriously, think twice before using an abrasive teeth-whitening solution.
Or, just play it safe and go straight for the MySweetSmile dentist-approved teeth whitening powder. It's 100% effective, and 100% non-abrasive.
---
PLAY IT SAFE WHEN YOU WHITEN YOUR TEETH
MySweetSmile doesn't include any abrasive materials in its teeth-whitening products, keeping your enamel safe and secure where it should be — solidly attached to your teeth.
Explore the range and take advantage of the buy 2 get 1 free promotion here.
---
Here Are the Products You Should Use Instead
Just to quickly recap all the above, here's what you should be looking for in a teeth-whitening solution.
Enamel Safety: Many popular products fail to properly protect your enamel. A proper, teeth whitening product will not only whiten your teeth but will also protect your enamel.
Non-abrasive: Don't get fooled by "natural" solutions like baking soda. The way these work is kind of like taking sandpaper to your teeth, making them just as harsh (or maybe even more harsh) than chemical-based whiteners.
Non-irritating: Many popular teeth whitening products contain ingredients like hydrogen peroxide that wreak havoc on your mouth, causing problems like severe gum irritation.
Now, if that looks like a lot to take in, there is a simpler way to find the right product.
Simply look for one that's dentist-approved.
Here are a few from MySweetSmile that are precisely that (dentist-approved).
Deal Alert
Before we get to the products, here's an FYI you'll love.
MySweetSmile is currently running a Buy 2 Get 1 Free sale on all of the products featured below.
You'll also receive a complimentary upgrade to Free Next-Day Delivery.
To take advantage of the offer, just add 3x products of your choice to the cart and the offer will auto-apply.
Now for the products.
Remove years of yellowing in 30 minutes.
Won't cause sensitivity or gum irritation.
Dentist-approved, Advanced PAP formula.
Recommended by The Guardian, Times, etc.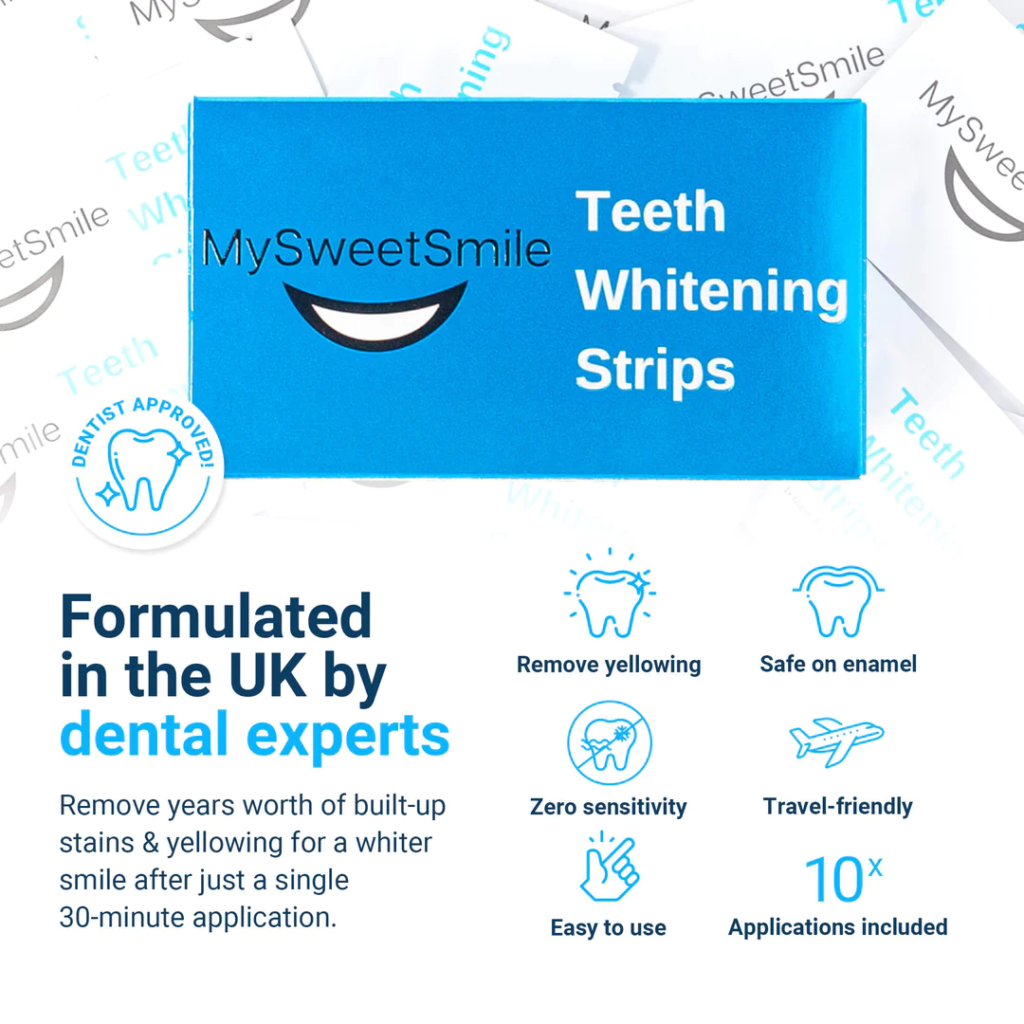 Remove all types of stains & yellowing.
Get teeth dentist-smooth & squeaky clean.
Non-abrasive & safe for enamel + gums.
Best Teeth Whitener 2023 – The Independent.
6-month whitening supply per tub.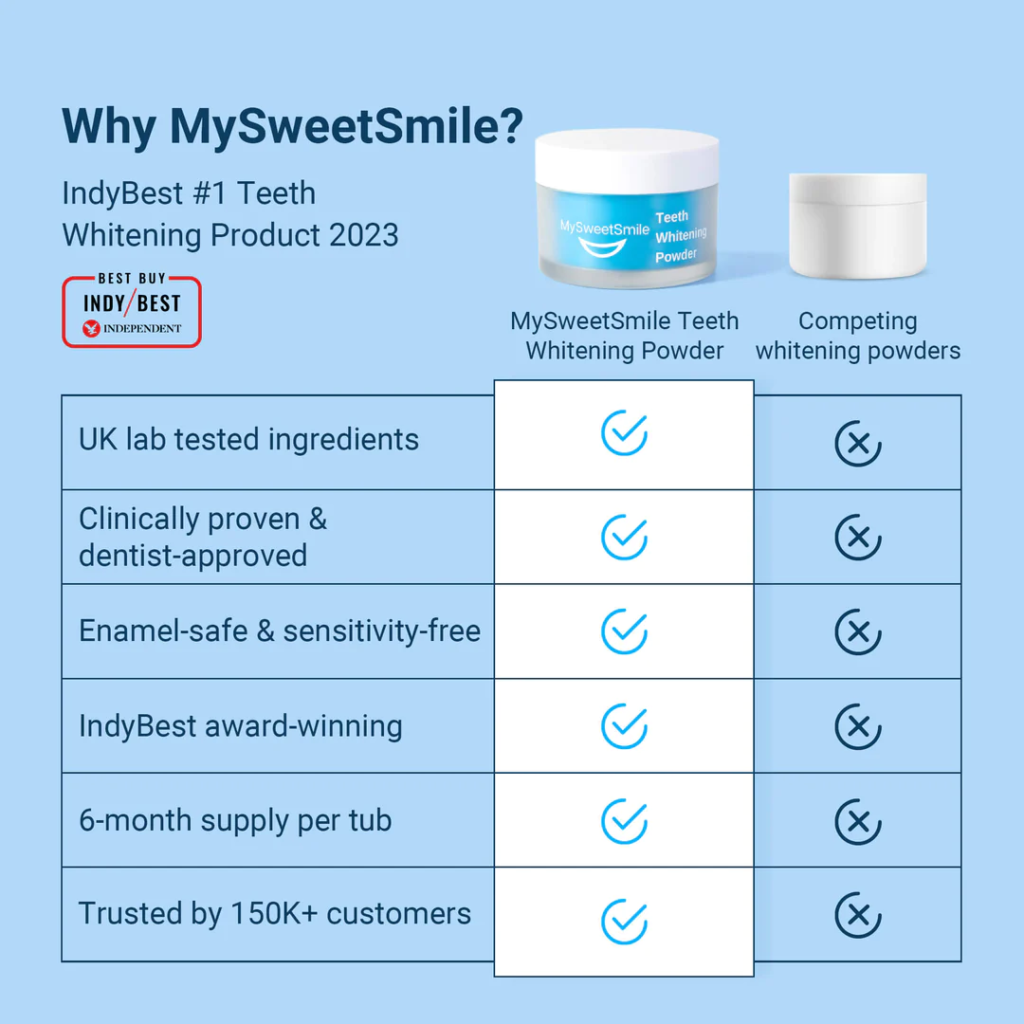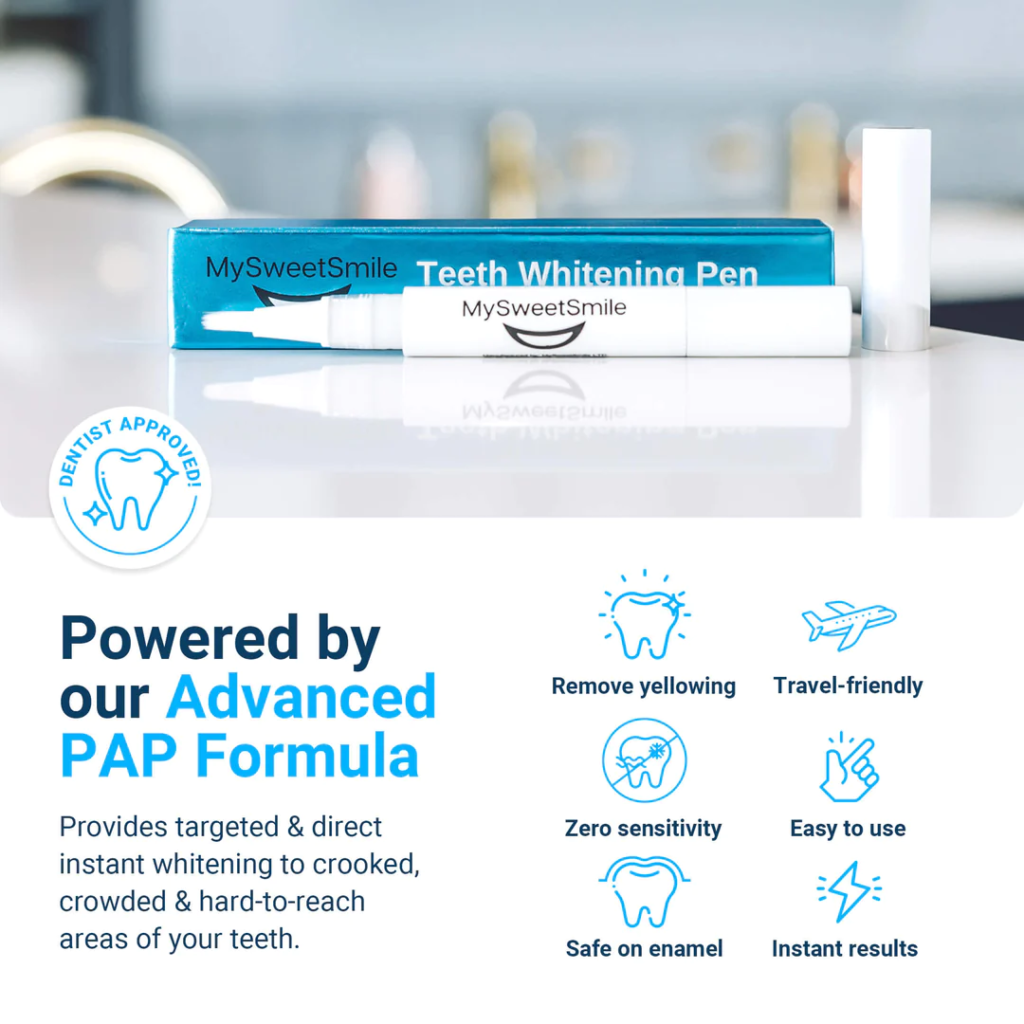 Okay, this one isn't a teeth whitening product. But if you value your teeth, caring for your enamel (even when you're not actively whitening your teeth) is important.
Reduces tooth sensitivity & repairs enamel.
Slows tooth decay & plaque formation.
Clinically proven, nHA+ formula
As seen in The Independent, Daily Mail, etc.
Enjoy hot and cold foods & beverages again!
__
(Featured image by courtesy of MySweetSmile)
DISCLAIMER: This article was written by a third party contributor and does not reflect the opinion of Born2Invest, its management, staff or its associates. Please review our disclaimer for more information.
This article may include forward-looking statements. These forward-looking statements generally are identified by the words "believe," "project," "estimate," "become," "plan," "will," and similar expressions, including with regards to potential earnings in the Empire Flippers affiliate program. These forward-looking statements involve known and unknown risks as well as uncertainties, including those discussed in the following cautionary statements and elsewhere in this article and on this site. Although the Company may believe that its expectations are based on reasonable assumptions, the actual results that the Company may achieve may differ materially from any forward-looking statements, which reflect the opinions of the management of the Company only as of the date hereof. Additionally, please make sure to read these important disclosures.