Cheap technology is replacing expensive and labor-intensive jobs
Today, more than at any time since the Industrial Revolution, technology is eliminating expensive labor. This is deflationary, not inflationary. And it'll contribute to the great deflation.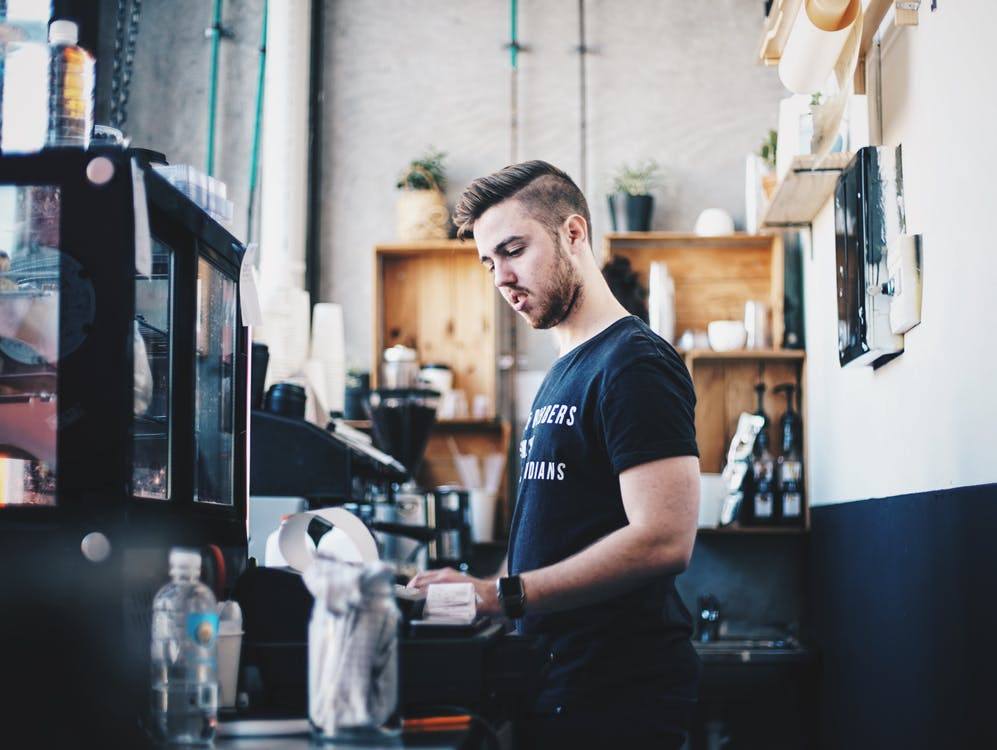 Over the past decade, labor activists have aggressively pushed the "fight for $15," or a nationwide minimum wage of $15 per hour. This directly affects fast-food restaurants. They tend to hire young or low-skilled workers who earn minimum wage (or close to it).
Hey, I get it. They're looking out for the little guy. But in pushing for higher wages, they are simply speeding up the inevitable death of entry-level jobs.
Take Panera Bread and McDonald's.
Both companies have made major investments in kiosks that allow customers to skip the line, and most of their major competitors have either already started doing the same or intend to start soon. (Your local grocery store may have been doing this for years, too.)
It doesn't stop there.
Starbucks has an iPhone and Android app that lets you order coffee and even pay for it on your phone.
I can order from my neighborhood Domino's on a mobile app and have my pizza waiting for me in less than 10 minutes.
All of these cases have one thing in common: Cheap technology has replaced a human cashier or order-taker.
When Ms. Yellen talked this week about inflation on the horizon, I also wonder if she's never shopped on Amazon or one of its online competitors.
As more shopping shifts online (first-quarter e-commerce sales in 2017 increased 14.7% year-over-year, for example), there's far less demand for physical retail stores… and the army of clerks and cashiers than man them.
Amazon is also quickly making the delivery boy redundant with aerial drones… and driverless cars and trucks will soon squeeze out millions of truck and taxi drivers. All of this works to lower costs, not raise them.
And it's not just entry-level workers on the chopping block. Goldman Sachs made news this week by announcing that it's using technology to automate some of its more labor-intensive investment banking tasks.
No one is going to cry over the sight of unemployed investment bankers. But if banking jobs can be automated away, then why not attorneys or even doctors?
You might laugh, but Cologuard, the company behind the do-it-yourself colon cancer test, now allows a cheaper lab technician to screen samples. That's a lot less expensive (not to mention more comfortable for the patient) than having a highly-trained proctologist perform a colonoscopy.
And the trend applies to music and media too.
Cable TV is dying a slow death. Cheaper streaming options like Netflix have turned the economics of the business inside out. And younger consumers are so accustomed to getting music for free (or close to it), that getting them to pay for it is next to impossible.
You get my point.
Today, more than at any time since the Industrial Revolution, technology is eliminating expensive labor. This is deflationary, not inflationary. And it'll contribute to the great deflation.
It's also, ultimately, a very positive thing. Efficiency creates a higher standard of living over time, even if the transition can be painful to live through.
That's a longer story for another day.
For now, suffice it to say that inflation won't be a problem anytime soon. If you're betting on higher bond yields or higher commodity prices, you're likely to be sorely disappointed.
In an environment of stable or falling prices, current income is the name of the game.
—
DISCLAIMER: This article expresses my own ideas and opinions. Any information I have shared are from sources that I believe to be reliable and accurate. I did not receive any financial compensation in writing this post, nor do I own any shares in any company I've mentioned. I encourage any reader to do their own diligent research first before making any investment decisions.