FIFA stops paying Diego Maradona £10,000 after misbehavior
Some of Maradona's wild antics during matches include smoking a cigar at the Spartak Stadium and swearing at fans.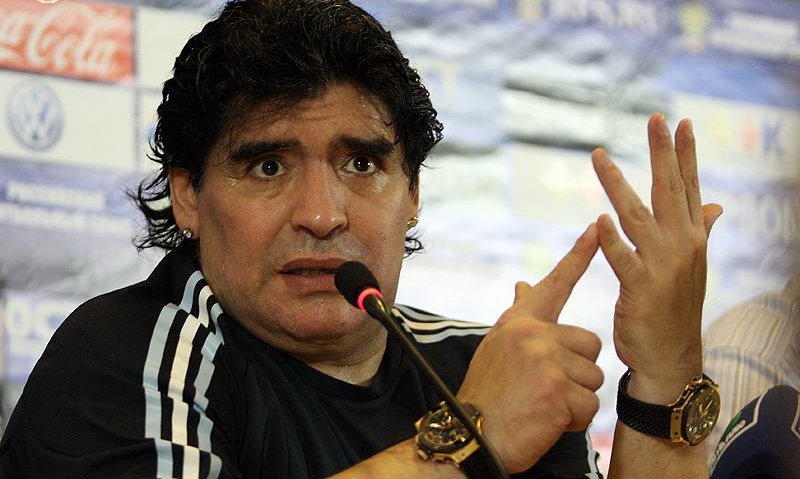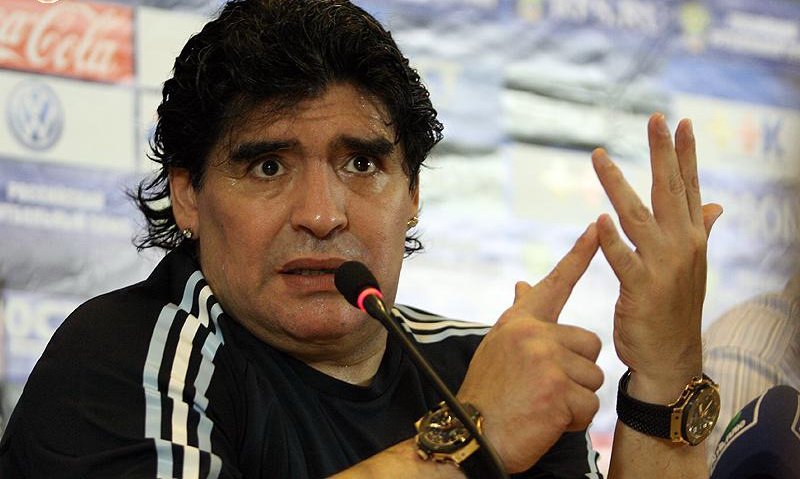 Diego Maradona, who was hailed as the best player in the 1986 World Cup, had been spotted in every game of Argentina at this year's FIFA. He was making the most out of the £10,000 paid to him to be there at every match of his country, drawing enjoyment and controversy throughout his attendance.
Aside from the £10,000, his travel, accommodation and other expenses were all shouldered by FIFA. This was because he was chosen to be an ambassador for the tournament as part of FIFA President Gianni Infantino's legends scheme. The concept is to include at least one former icon from each nation at the World Cup, mix the past and present, and remind the younger generation of the tournament's storied history, per Esquire.
However, the soccer tournament's governing body has decided to stop paying Maradona, after the former Napoli forward displayed a series of misbehavior during the FIFA 2018 World Cup in Russia, according to Pulse.ng.
During Argentina's World Cup opener against Iceland, Maradona was seen smoking a cigar at the supposedly non-smoking Spartak Stadium. He later apologized for that, according to The Telegraph.
He was also accused of discrimination when he made a gesture to South Korean fans by pulling his eyes to the side. Maradona explained on Facebook that he was just trying to tell them it was nice to see that Asians cheer for them after he saw an Asian boy wearing an Argentina shirt.
Additionally, Maradona admitted to binge-drinking white wine, and then he swore at the crowd below his VIP box during Argentina's match against Nigeria. When his country won the match after Marcos Rojo scored, he raised his middle fingers at fans.
However, his antics went out of control, which FIFA said were "embarrassing and provocative." So the organization decided to pull him out of his ambassadorial duties, Daily Post Nigeria reported. He was also warned to behave properly for the rest of the tournament; otherwise, he will be banned from the stadium.
Amid his misbehavior, Diego Maradona had been a subject of fake news after a health scare. Reports spread that he had a heart attack, was hospitalized and even died. He denied the news via an Instagram post, saying that he's "fine." He was in a private jet flying to Moscow. As it turned out, he just had neck pain and too much white wine.
In his official Facebook page, he wrote, "I want to tell everyone that I am fine, and I was not taken to hospital. At half-time, my neck hurt a lot and I had a faint." He was checked by a doctor and was advised to go home, but he wanted to stay and finish the game, per NZ Herald.
The 57-year-old told Venezuelan TV network Telesur that he is not dead and is "more alive than ever." His lawyer is now trying to track who's responsible for spreading the fake news about his death, and Maradona is giving $10,800 as a reward to those who can give them accurate information, Business Insider reported.
Meanwhile, Argentina was beaten by France at 4-3. Maradona offered to take charge of their national team for free.
(Featured image by Alexandr Mysyakin via Wikimedia Commons. CC BY-SA 3.0)