The fight against cybercrime makes cybersecurity the top investment choice for 2019
Cybercrime has become an increasingly prominent problem for businesses around the globe and VirtualArmour International Inc. (OTCMKTS: VTLR) (CSE:VAI) (F: 3V3.F) is beginning to turn the tide.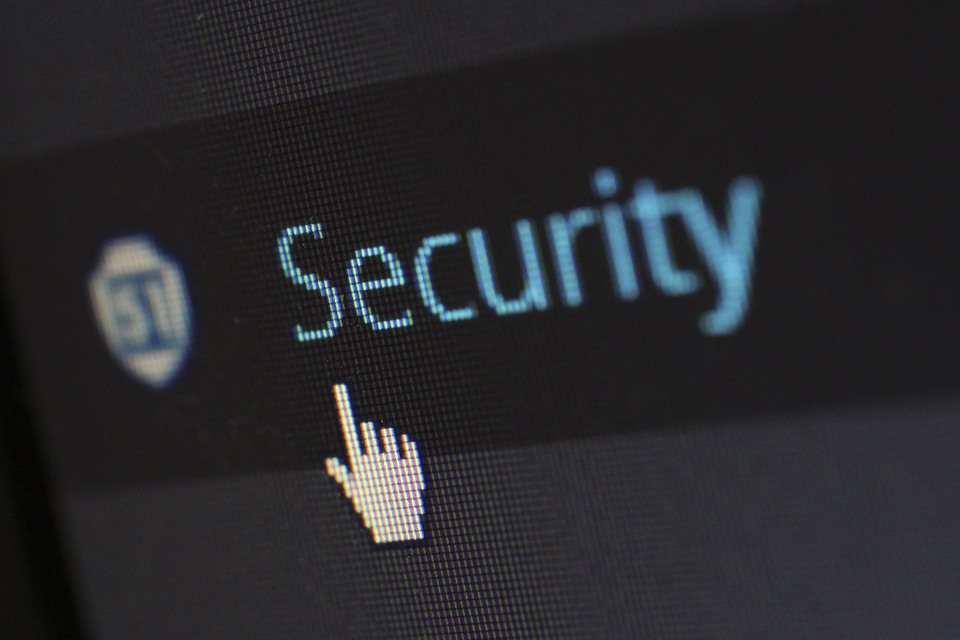 As much as anything else, 2018 was the year of cybercrime. A string of high-profile attacks, hacks and data leaks have left businesses scrambling, and broadly failing, to protect themselves. Cybercrime costs the global economy $600 billion a year. The problem is only going to get bigger but VirtualArmour International Inc. (OTCMKTS: VTLR)  (CSE:VAI) (F: 3V3.F) could play a key role in winning this war.
The world is woefully unprepared
The problem is that most businesses, especially small businesses, lack the tools and resources to protect themselves against cybercrime. Small businesses are disproportionately affected and often lack the in-house resources to truly protect themselves. Cybercrime can be devastating, it costs the average American firm $15.4  million per year, and can significantly undermine customer confidence.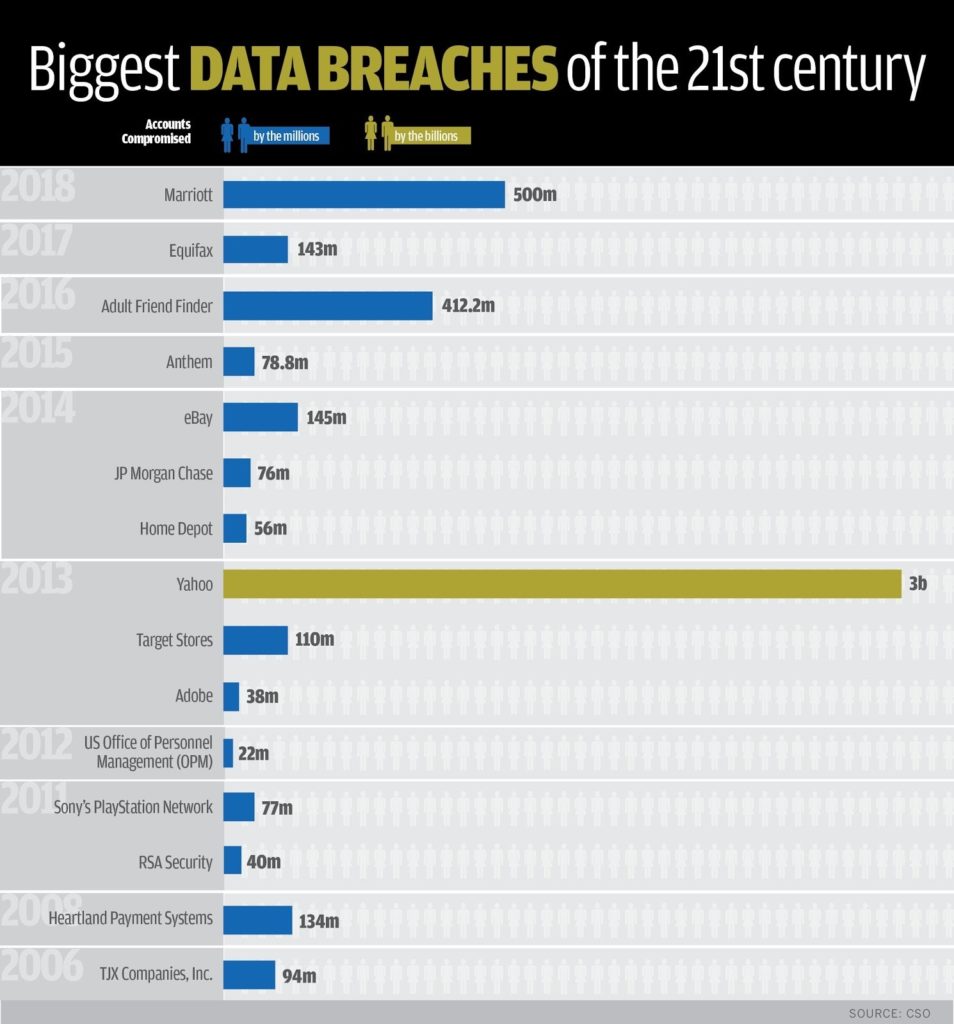 Even multinational names with near-limitless resources have failed to protect themselves. Marriott International, the world's largest hotel chain, revealed that the private information of up to 500 million guests had been compromised. This news came off the back of a string of high-profile data breaches affecting everyone from Facebook to the USPS.
This $6 trillion dollar problem is not going to go away, and if anything it will only become bigger. Cybercrime is the biggest threat to businesses and nobody seems to be prepared. Criminals have already recognized the opportunity and are building their own macabre parodies to legitimate business in the form of "Cybercrime as a Service", a criminal sector that is already worth a staggering $1 trillion.
An opportunity in disguise
The criminals are still a step ahead, forcing security experts to play catch-up. Companies' security efforts are largely uncoordinated. Generally they are implementing their own siloed, often underfunded and understaffed, cybersecurity measures that can't react to a rapidly changing landscape. Yet adversity creates opportunity, and for the right company the sky is literally the limit.
The cybersecurity sector has been growing at an unprecedented rate. In 2017, cybersecurity spending already exceeded $120 billion and is expected to surpass the $1 trillion figure by 2020. Analysts also believe that a large proportion of cybersecurity spending goes unrecorded and that the true figure could be much, much higher.
The problem is simple, most in-house teams lack the necessary expertise to tackle cybersecurity problems. In-house teams often have multiple responsibilities and their efforts are siloed, meaning that they have to work harder to prevent threats that others have already dealt with. They are also struggling to fill positions, with 3.5 million unfilled positions expected by 2025.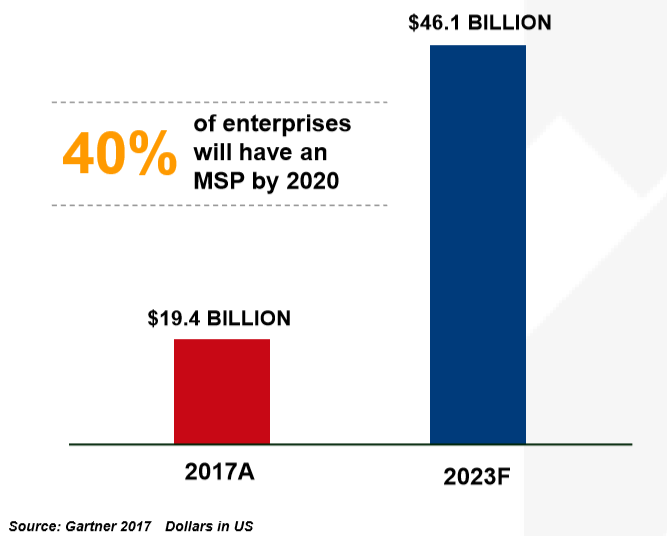 This is why the future of cybersecurity is dedicated, pure play companies with the tools, talent, and time to provide world-class protection to multiple companies. Companies have come to increasingly rely upon managed security service providers (MSSPs) to fill knowledge gaps and 64% of organizations already receive some services from an MSSP.
Bespoke Cybersecurity Solutions
By far the most interesting example of a company with this pedigree is VirtualArmour International Inc. (OTCMKTS: VTLR)  (CSE:VAI) (F: 3V3.F) Through their dedicated Security Operation Centres (SOC) based in Middlesbrough, U.K. and Salt Lake City, Utah, the company provides a full suite of cybersecurity solutions.
Virtual Armour is a new breed of Crimefighter, working to keep companies secure from Cybercrime
Find out why VirtualArmour is a new breed of crimfighter
VirtualArmour focuses upon providing a tailored service for each client, allowing them to work with companies of all sizes in 30 different countries on 5 continents around the world. They conduct a full security review and build solutions for a specific company's needs. VirtualArmour then provides detailed threat intelligence and analytics before implementing their new solutions.
The company also provides its customers with unparalleled feedback through their proprietary CloudCastr Customer Portal. This portal allows customers to monitor threats in real time and helps VirtualArmour retain an incredible 15-minute response time.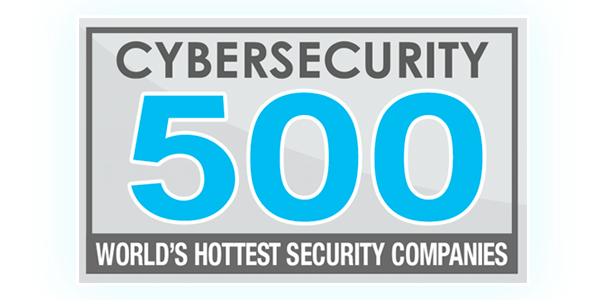 This focus on revolutionary technology has led to VirtualArmour being named one of the hottest cybersecurity companies in 2018 by the research firm Cybersecurity Ventures. They were listed alongside some of the world's best known names like  Palo Alto Networks, IBM Security, and Carbon Black.
This highly focused approach has paid dividends. VirtualArmour has over 125 enterprise clients, including several fortune 500 companies. It has also ensured that the company has a 100% retention rate for the last six quarters, other "best in class" MSSP's would expect a 95% retention rate at best, with many barely pushing 90%.
Incredible growth in a high-potential industry
This impressive retention rate helps put the potential of VirtualArmour into context. In Q3 2018 the company saw an overall quarter-on-quarter revenue increase of 41% and signed 12 new clients, including a $3.7 million contract with a leading medical equipment company to modernize its IT infrastructure.
The company is expected to build on this success and accelerate its growth into 2019 and beyond. By mid-2019 they expect that many of their contracts will be annual recurring revenue, rather than shorter term agreements. The company also expects to increase the value of its managed & professional services revenue with a focus on recurring revenue
This is all happening in a sector that is literally on fire. In 2018, there were $1.8 billion worth of merger and acquisition deals in the cybersecurity sector. Large companies are attempting to partner with more specialized, high-potential, operators, providing companies like VirtualArmour, and their investors, with a potentially powerful exit strategy.
A unique opportunity
This sort of opportunity is incredibly rare. We are looking at a sector that is on the cusp of explosive growth, without the legal anxieties that come with investing in other high-growth sectors like cannabis. As the world continues to become more connected, cybersecurity will be more important than ever and it is safe to predict that we will see a huge boost in spending by governments and companies.
The winners from this relatively young sector are still emerging and investors who make the right pick today will be the ones who reap by far the greatest rewards. Put simply, there are few pure play prospects in any industry today that are as interesting as VirtualArmour.
—
This article may include forward-looking statements. These forward-looking statements generally are identified by the words "believe," "project," "estimate," "become," "plan," "will," and similar expressions. These forward-looking statements involve known and unknown risks as well as uncertainties, including those discussed in the following cautionary statements and elsewhere in this article and on this site. Although the Company may believe that its expectations are based on reasonable assumptions, the actual results that the Company may achieve may differ materially from any forward-looking statements, which reflect the opinions of the management of the Company only as of the date hereof. Additionally, please make sure to read these important disclosures.