Forget the price of gold: the real story is Inca One and Peru's gold mining boom
Peru has one of the world's largest gold mining sectors and the government is finally taking steps to formalize an industry that has long operated in the gray market. This is excellent news for small Peruvian miners, who make up a large portion of the country's production, as well as for Canadian companies like Inca One, who have long supported the country's burgeoning artisanal mining sector.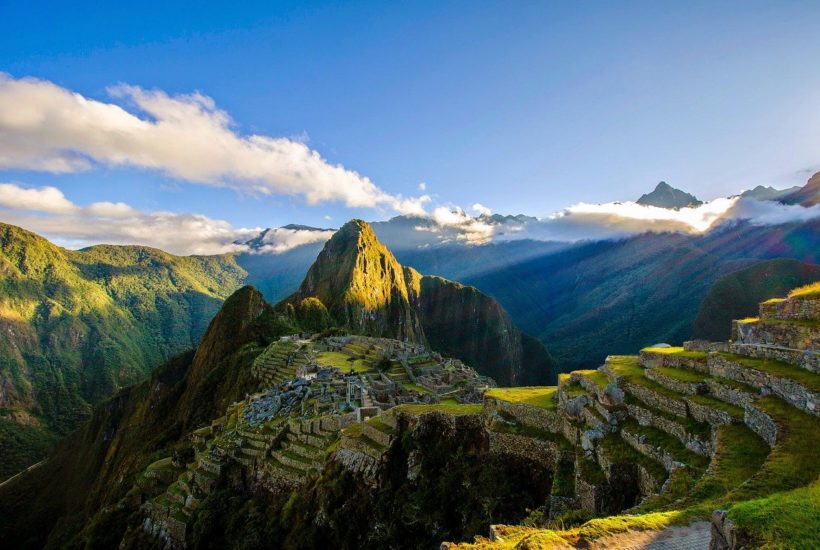 Resource investors might be betting on rising gold prices helping the fortunes of Newmont Goldcorp (NYSE: NEM, TSX: NGT) and GFG Resources Inc. (TSX-V: GFG, OTCQB: GFGSF), but most won't know the gold industry's most interesting story. China might officially produce the most gold in the world, but if unofficial operations were taken into account, the world's largest gold producer would be Peru. The Peruvian government has finally taken steps to make that official by formalizing the mining sector and in the process created a unique investment opportunity in the form of Inca One Gold Corp. (TSXV: IO.V, OTC: INCAF, FRA: SU92.F).
Why Peru is the best-kept secret in the gold mining industry
Most talking heads and resource investors will obsess over gold price predictions and miss the bigger story. The price of gold will undoubtedly bolster producers in the short-medium term but the best investment strategies look years into the future. This is why Peru is the story every gold investor needs to understand.
Mining is the lifeblood of Peru and officially represents 14% of Peru's GDP and 60% of the nation's exports. Unofficially, it is even more important, with over 333,000 Peruvians making their living through undocumented mining operations. Small-scale producers are essential to the country's rapidly growing gold mining industry. The government has taken steps to bring this gray market industry into the light through an extensive formalization process, which it recently extended.
Once formalized, the market share of Peru's small-scale and artisanal miners will likely grow rapidly. Official standards will help bolster the industry and Peru's economy. The majority of big gold producers, such as Newmont Goldcorp and GFG Resources, haven't moved to capitalize on this opportunity—but small-cap gold producer Inca One Gold Corp. (TSXV: IO.V, OTC: INCAF, FRA: SU92.F) has positioned itself perfectly.
Providing support to Peru's small miners
Inca One is a Canada-based, small-cap gold producer with two gold milling facilities in Peru. Rather than taking the typical approach of purchasing land and directly controlling operations, the Inca One team has opted to focus on providing support to Peru's rapidly growing small-scale and artisanal mining sector.
Currently, small-scale gold mining makes up approximately 20% of Peru's gold mining operations. Since 2001, Peru's small-scale mining industry has grown by 81%—this figure is likely to continue to grow over the coming years as the Peruvian government takes steps to support its smaller miners.
Inca One's management team identified the Peruvian opportunity early on. The company has spent the last six years cultivating a positive relationship with both the Peruvian authorities and small-scale miners. This is why the company has proactively supported the Peruvian government's formalization process and was the first publicly traded gold processing company to obtain full permits under the legislation.
Forging sustainable growth
There are many reasons for a company to focus on small-scale producers, but the most important is sustainability. By cultivating a diverse network of smaller clients, Inca One is helping to stimulate the wider Peruvian economy and protect its own interests simultaneously. A larger number of clients means that the company isn't exposed in the event of a project failing and that they are able to grow with the wider Peruvian mining sector. This approach also makes Inca One an interesting bet for ethical investors as it minimizes the extraction of wealth from the Peruvian economy.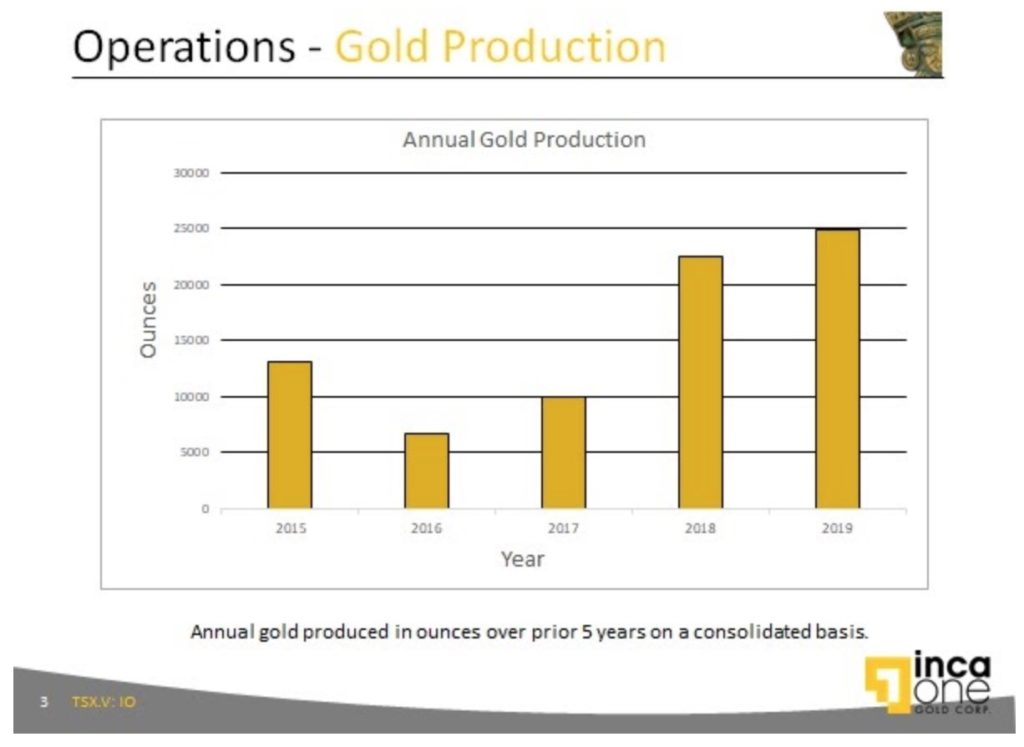 This philosophy has given Inca One a lot of room to grow. The company has seen consistent growth for the past three years. In 2019, the company processed 24,850 oz (0.94 ton) of gold. That figure is expected to grow in 2020, and it is just using 35% of its total capacity. Inca One's team has keenly understood the market opportunity in Peru and has set their company up as the go-to gold processor for the country's artisanal miners.
The best way for investors to profit from Peru's mining boom
Many investors likely overlooked the growing mining renaissance in Peru because they couldn't see a clear way to invest. Inca One Gold Corp. (TSXV: IO.V, OTC: INCAF, FRA: SU92.F) provides a way for both North American and European investors to directly support, and benefit from, the rapidly growing artisanal mining trend in Peru.
This approach doesn't rely on the price of gold rising, but rather on the fact that Peru is set to become an integral part of the global gold supply chain. This helps to shield investors from sudden market shifts and represents a more sustainable investment than purchasing gold bullets or even investing in a more traditional North America-focused gold extraction company.
Inca One represents a unique opportunity because the company's management team foresaw the mining boom underway in Peru and positioned themselves perfectly. The company can not only benefit from organic growth in the region but actually reinforce it, creating a positive cycle that benefits the Peruvian economy, small-scale mining, and investors alike.
Five reasons investors should care about the Peruvian mining boom
The explosion in legal small-scale producers represents a unique opportunity that Inca One can help investors benefit from
Ethical investors can make a positive impact while growing their portfolio
The small-scale Peruvian mining sector has grown 80% since 2011 and is worth over $1 billion
The formalization process has been recently extended and is expected to help the Peruvian artisanal mining sector grow
If the illegal mining sector is fully formalized, Peru is set to become one of the world's largest gold producers with huge untapped resources
—
(Featured image by 272447 from Pixabay)
DISCLAIMER: This article was written by a third party contributor and does not reflect the opinion of Born2Invest, its management, staff or its associates. Please review our disclaimer for more information.
This article may include forward-looking statements. These forward-looking statements generally are identified by the words "believe," "project," "estimate," "become," "plan," "will," and similar expressions. These forward-looking statements involve known and unknown risks as well as uncertainties, including those discussed in the following cautionary statements and elsewhere in this article and on this site. Although the Company may believe that its expectations are based on reasonable assumptions, the actual results that the Company may achieve may differ materially from any forward-looking statements, which reflect the opinions of the management of the Company only as of the date hereof. Additionally, please make sure to read these important disclosures