All eyes on gold and silver: The hottest stocks to buy for September 2017
Here are expert's tips on what stocks to buy this month.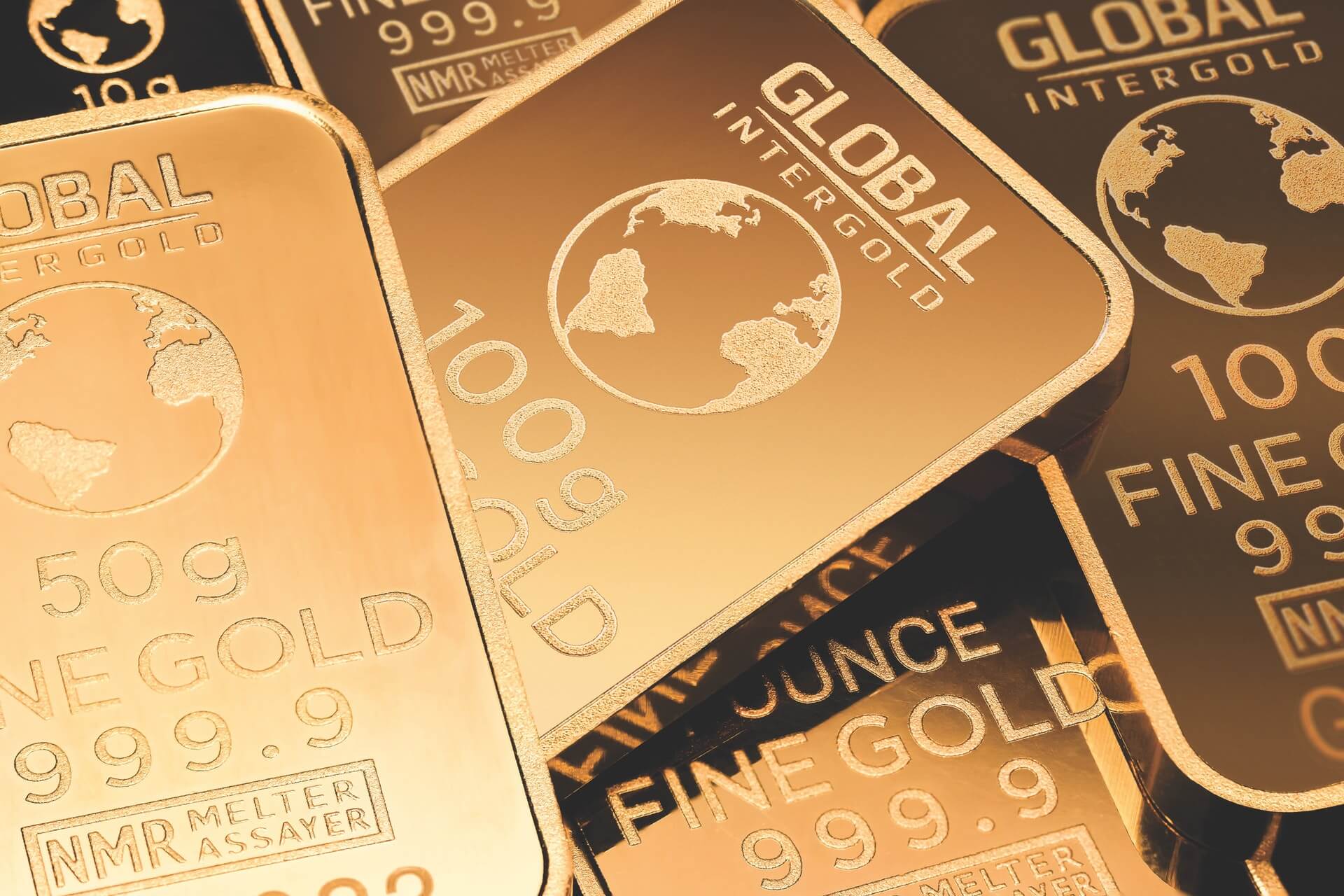 Most people associate me with being a day trader, because I sit at my computer and trade all day long, while I run my live trading room. However, I've been swing trading for the last 24 years. Every three months I teach a special live Master Swing trading class where I share all my hot seasonal swing picks.
I like to identify periods of reoccurring strength among stocks, commodities, currencies, and bonds along with what the dark pool is trading. It's the dark pool that really moves the markets.
The software that I use to identify strong seasonal periods is equityclock.com Their research spans the last 20 years. The software that I use for dark pool data is Livevolpro.com. Their research goes back to 2011, which is great for back testing. At this most recent San Francisco MoneyShow on August 25th, I shared all my hottest stocks to buy right now. For those of you who couldn't attend this show, I didn't want you to miss out on these hot swing picks so I've decided to share it in this article.
Let's start with gold
I've been in love with gold. Recently I've been whispering to buy gold. Especially on July 25th, we spotted the dark pool buying it. The dark pool loves to trade $IAU, the iShares gold trust. Last year, we spotted them buying it January 25th, 2016, at $10.85 and selling it November 2016 at $12.55. This July, we spotted them buying 15 million shares of $IAU. When I see these huge orders coming in, I tweet it out immediately: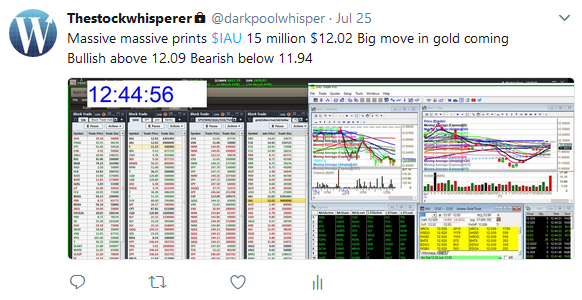 Let me show you the actual trades from my Livevolpro software. So many times, these really big trades happen during lunch. These are my favorite dark pool prints. Many times, we'll see large trades happen right at the close. We don't pay much attention to those because they don't give us a bias. A lot of big funds don't like to hold overnight, so they dump at the close. It's the trades that happen right in the middle of the day that really move these stocks like these huge trades for 15 million shares that happened at 12:35 EST.

I've been extremely bullish on gold because $IAU has remained above $12.02 and has recently broken above $12.55 where the dark pool was selling back in November. I've been bullish on gold since last Christmas, if you have been following my articles I posted up a chart of the gold futures hitting a major support level on the weekly chart. Let me show you where we are at right now.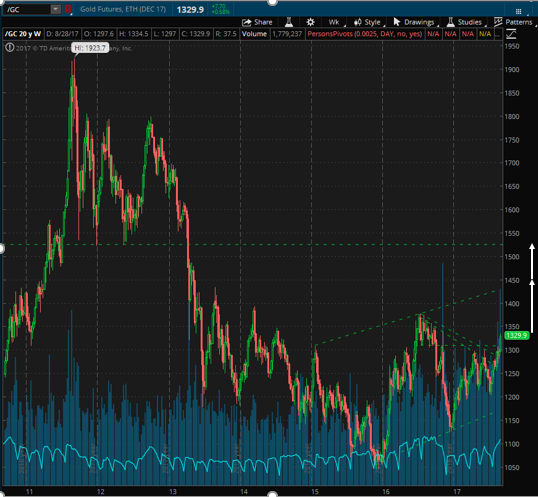 As you can see the gold futures have broken above 1300, major resistance level. The next major target would be the top of this channel around $1437. If gold can break above 1437, my next target would be $1525.
Now let's check out the seasonality chart for Gold futures.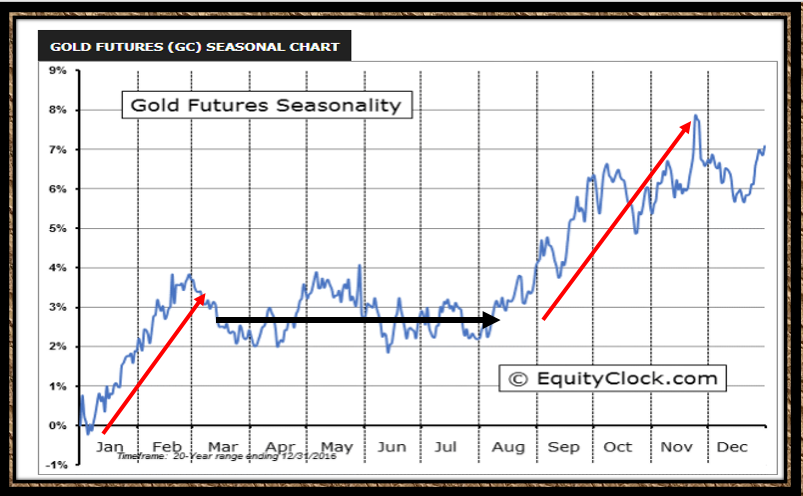 You can see that over the past 20 years, gold has rallied starting at the beginning of August all the way up until the end of February. When the prints and the seasonality line up, these are your hottest swing trades.
And on to silver futures
I also love silver as well right now, check out the chart on /SI, the silver futures.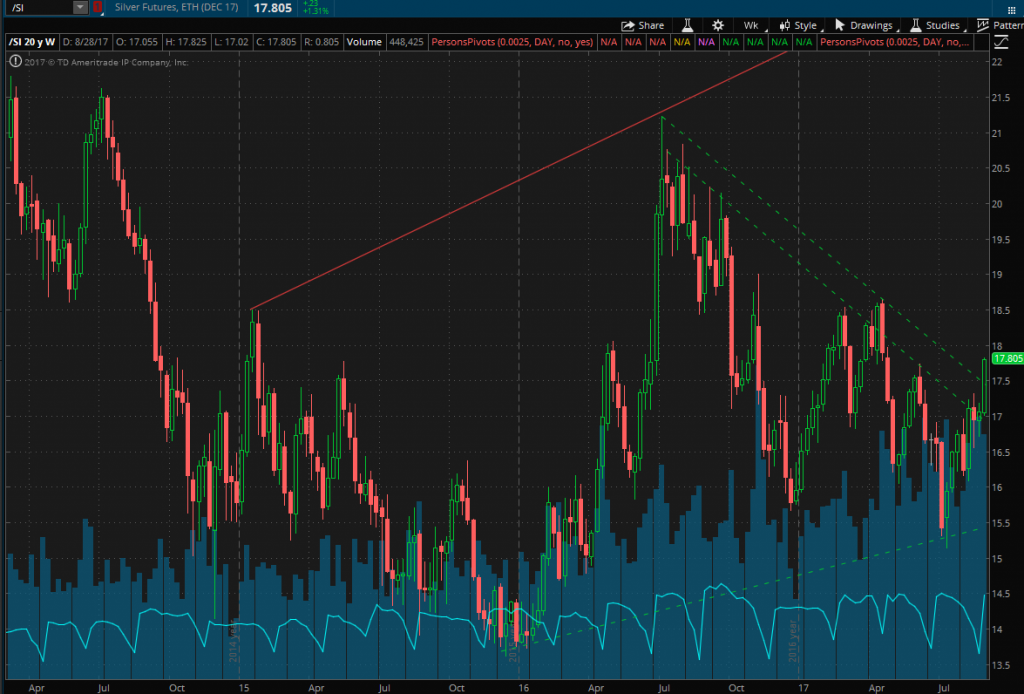 You can see that silver has also broken above major resistance and volume has really been coming in as well. The next major level up for /SI is $18. If silver can break above 18, there is a great trade up to the first resistance $26 for a longer-term trade.
Over the past few months, I've been spotting the dark pool buying $USLV, the Credit Suisse AG- VelocityShares3x Long silver ETN. Below are just some of these big prints I spotted.

Note that on this ETN, the dark pool likes to buy USLV at around 3 pm EST. This is a specific pattern for this ETN.
Now let's check out the seasonality for silver: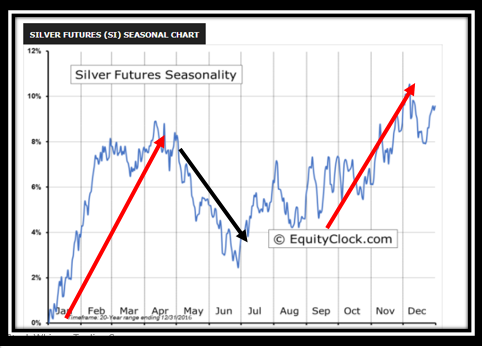 You can see that over the past 20 years, silver has rallied starting in September all the way until April. Again, we have dark pool prints combined with seasonality for an amazing swing set up.
There are many more hot swing picks for this season besides gold and silver. This includes natural gas, Starbucks, steel, and Costco.
—
DISCLAIMER: This article expresses my own ideas and opinions. Any information I have shared are from sources that I believe to be reliable and accurate. I did not receive any financial compensation in writing this post, nor do I own any shares in any company I've mentioned. I encourage any reader to do their own diligent research first before making any investment decisions.