Here's Why You Should Be Stocking up on Stablecoins in 2022
There are two important things you should know in 2022. The first is that the US Dollar is gaining strength as the Fed reels in its inflationary monetary policy of recent years. The second is that stablecoins are the crypto asset that you need to hold. With stablecoin products from AQRU now offering yields as high as 12%, you simply can't afford not to at least take a moment to consider them.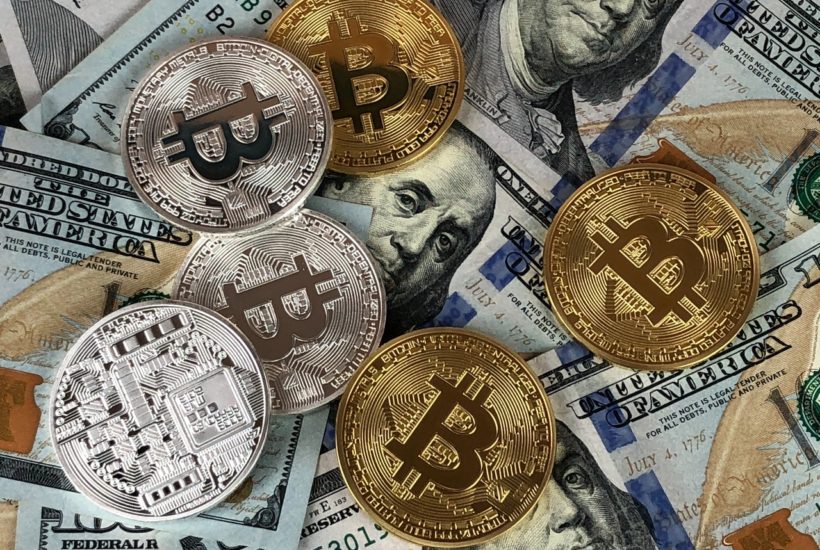 For all the attention that cryptocurrencies and other blockchain innovations like NFTs have been getting, stablecoins have remained somewhat under the radar. However, while they might not have offered the most exciting option in recent years, things are about to change.
The first driver of these big changes will be monetary policy changes coming out of the U.S. Fed as the economy stabilizes and inflation picks up. The second of these is the emergence of new stablecoin-based financial products from AQRU, enabling investors to hold USD equivalent assets that will generate far greater yields than any other USD denominated instrument.
Here's a look at what stablecoins are and why you should be interested in them in 2022.
In Case You Missed It, Here's What a Stablecoin Is
In a nutshell, stablecoins are tokens whose value is pegged to another asset. This could include anything from currencies to precious metals, although the most popular are USD₮ Tether tokens which, as its name might suggest, is pegged to the USD.
Generally, the mechanics of any given stablecoin are a lot like any other backed currency. For example, in the same way that federal banks kept gold reserves to back their currencies once upon a time, stablecoin issuers also keep reserves of the underlying asset.
In the case of Tether's USD₮, reserves are said to match issued tokens one-to-one, which ensures the cryptocurrency is 100% backed and ready to be redeemed at any moment.
There are other options available as well, with USD Coin (USDC) being another opopular alternative. After this, there are other options like Binance USD and Terra USD.
Why Would Anyone Want Stablecoins Instead of Regular Dollars?
There are as many reasons for holding stablecoins as there are stablecoins out there. However, up until now, the major reason why people hold stablecoins is that they provide a low-cost option for trading and transacting in cryptocurrencies. This is especially attractive to anyone who actively trades between unpegged cryptocurrencies and traditional currencies.
To take one example of why this is so attractive, the fees for withdrawing Ethereum from a Binance account are currently 0.00625ETH which is equivalent to about $17-18 USD at the time of writing. This means that, for anyone exiting an Ethereum position worth less than about $18,000USD, it's more economical to exchange it for a stablecoin cryptocurrency than to make a withdrawal to regular cash.
The other major advantage stablecoins offer is speed. In most cases, converting cryptocurrencies to regular cash necessitates interbank transfers, meaning money gets tied up in the ether for extended periods. For active traders, this is especially burdensome and is a problem easily solved by exchanging between stablecoins and other cryptocurrencies instead.
So What Makes Stablecoins So Attractive to the Rest of Us in 2022?
The US Dollar hasn't made for the most attractive holding currency for the last couple of years. With interest rates at all-time lows and the Fed desperately printing dollars in a desperate attempt to stimulate economic activity, the toxic combination of inflationary pressure and low-interest rates has acted as a prominent warning to keep out unless absolutely necessary.
However, things are starting to change. Inflation is actually picking up, prompting the Fed to begin pulling back the reins on its stimulatory policies. This means we should see an end to rampant currency printing, along with increasing interest rates.
Taken together, this is creating increased demand for the US Dollar which has seen it begin rebounding against other currencies in recent months. Further, analysts are predicting these gains will continue throughout the year, meaning holding US Dollars right now is a whole lot more attractive now than it has been in a long time.
At this point, it is worth noting that rate hikes don't mean reasonable interest rates are on the horizon. Remember, with rates currently at 0.25%, it's going to take a while before they even match the inflation rate, and even longer to begin looking attractive.
However, we're not here to recommend that you hold US Dollars directly, even if they are starting to look more attractive.
Here's Why You Should Hold Stablecoins Instead
There's a good reason why we've singled out stablecoins. Yes, part of it is the increasing attractiveness of the US Dollar. However, the more significant reason is owing to the much greater yields available through products like AQRU's stablecoin yield accounts, which are currently returning at rates of up to 12%.
How such high interest rates are possible is largely a function of how greatly in-demand stablecoins are right now. With crypto markets still as hot as ever, active traders simply can't get their hands on enough stablecoin right now, especially if they're involved in the split-second world of arbitrage. This means they're prepared to pay enormous premiums for instantaneous but temporary access to stablecoins to execute large transactions.
Why You Should Hold Your Stablecoins with AQRU
Of course, these sorts of lending practices were going on well before AQRU entered the market, so it's not the only option available here. However, while other options exist, they will generally require you to directly deal with the underlying instruments, which has the dual consequences of increasing complexity and risk.
In terms of risk, the advantages of AQRU are twofold. First, by managing deposits for many clients, AQRU can diversify risks across multiple contracts at all times. For the average investor, this is a lot harder to achieve, both in terms of the workload required, and the usual lack of necessary funds. The secondary advantage of its lower risk profile is that AQRU is then able to insure client funds at economical rates, thus providing guarantees on all deposits.
In terms of complexity, the attractiveness of AQRU is hard to understate. The entire product functions in the same way as an online bank account, meaning that once customers have completed the mandatory KYC, all they need to handle is making deposits and withdrawals from their account.
When you take AQRU's 12% yield on stablecoins into account, the entire package is hard to ignore. With essentially the same security as an ordinary US Dollar bank deposit, but with much higher returns, the only reason to not consider it is if the Fed drops interest rates and starts printing money again. Although, in that case, AQRU offers similar products for Bitcoin and Ethereum.
__
(Featured image by David McBee via Pexels)
DISCLAIMER: This article was written by a third party contributor and does not reflect the opinion of Born2Invest, its management, staff or its associates. Please review our disclaimer for more information.
This article may include forward-looking statements. These forward-looking statements generally are identified by the words "believe," "project," "estimate," "become," "plan," "will," and similar expressions. These forward-looking statements involve known and unknown risks as well as uncertainties, including those discussed in the following cautionary statements and elsewhere in this article and on this site. Although the Company may believe that its expectations are based on reasonable assumptions, the actual results that the Company may achieve may differ materially from any forward-looking statements, which reflect the opinions of the management of the Company only as of the date hereof. Additionally, please make sure to read these important disclosures.