How to hold yourself accountable & examine your racial biases
Although we say we want to make a change, many of us are not willing to put in the work if it involves being uncomfortable. Kim Scott, founder and CEO of Radical Candor was told her workshop was inherently racist and detrimental to the Black business community. In order to understand why, Scott gathered more information, read books about racism and fixed her mistake.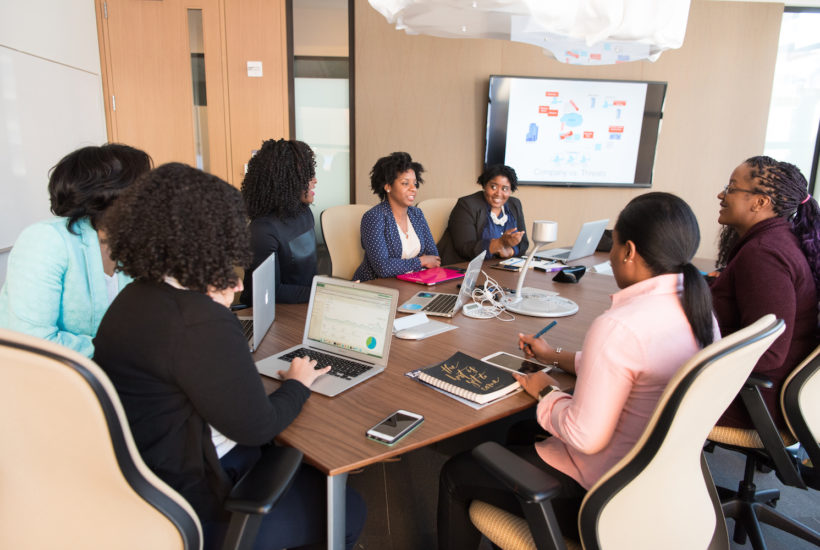 There's an overwhelming outcry from the Black community to white "non-racist" Americans asking us to support them by doing our self-work. This outcry isn't new, we're just collectively deciding to listen for the first time. And now, white America feels lost in how to best be an ally in the business world and outside of it. Yet, they have told us time and time again—address the unconscious biases in your life, be anti-racist, and support the Black community through donations, protests, shopping at Black-businesses, and the list goes on. Do anything you can to uplift the Black community.  
Although we say we want to make a change, many of us are not willing to put in the work if it involves being uncomfortable. And unfortunately, the first step of addressing one's biases can be very uncomfortable because you have to admit that your impact may not have always been as great as your intention was.
Kim Scott, founder, and CEO of Radical Candor, coined the term radical candor as well as authored the book Radical Candor. She uses lessons in being incredibly open and honest to teach top executives at Fortune 500 businesses about better communication, but recently she was faced with some radical candor that made her very uncomfortable. 
Scott was told that a practice she designed and totes in her book is inherently racist. She created a workshop called "Whoops the Monkey" in which you pass around a stuffed monkey and share your most recent failure. It was designed to rid your team of the fear of failure and promote innovation, however, it's impact was far from positive. Her steps moving forward are something we can all look to when wondering how to confront our own biases. 
1. Gather more information
After Scott was told her workshop was inherently racist and detrimental to the Black business community, she immediately sought to understand this better. She did research, reading books like Me and White Supremacy, How to be Antiracist, and Racism as Zoological Witchcraft which discusses animalization as a form of racism. She sought the guidance and coaching of professional diversity and inclusion experts. Believe it or not, people get paid to explain this, so don't go around asking your Black friends. Once she had a better understanding of the roots of this claim, she was able to move forward.
2. Asses why you're was being defensive
Most people when confronted with their unconscious biases become defensive. If you believe in your heart you are not racist, and then you're confronted with your own subliminal racism, you'll want to explain it away.
Ask yourself Why am I so defensive about this? What am I guarding? Diversity and Inclusion speaker Risha Grant says our intent versus our impact holds a lot of ego. Grant is a big proponent of having open conversations to create deeper understanding. Oftentimes we say things without realizing the true impact of our statement. Someone tells a crass joke, the intent was to make people laugh, but the impact was belittling or hurting someone or an entire community. Do not defend your intent. Understand the impact and move forward.
3. Accept your wrongdoing and take accountability
Once you drop the notion of "what I really meant was…" you can take accountability for your mistake. Scott demonstrated what this looks like by not only claiming the wrongness of her workshop but also addressing the unconscious biases behind it. She says she understands that she, nor her kids, have ever or will ever have to cope with being compared to animals, being called monkey as a sign of dehumanization and degradation, so she didn't realize how devastating that could be. Yet, she knows how much harm she did and wants to correct her errors.
4. Fix the mistake
Fix it. For Scott, that meant changing the name of the workshop to "Whoops-A-Daisy" and replacing the stuffed monkey with a stuffed daisy. It also meant reaching out to her publishers and editing her book. Radical Candor e-book is now updated and any future publications will be changed as well. Moving into the future is one part, but restoring the damage done in the past is equally as important. She reached out through her blog to any executives she's worked with and explained how this practice can make people associate failure with a Black racist slur, as well as silence Black employees when it comes time to participate in this exercise.
5. Share your experience
It is so important to share your experience. At this moment you have grown into a more understanding and self-aware person. It might not have felt great moving through a process that makes you feel vilified, but the place you're in now feels better. If we can normalize changing our opinions and admitting we were wrong, more and more people will release their egos and make a change within themselves that will feed into a more inclusive world.
—
(Featured image by Christina Morillo via Pexels)
DISCLAIMER: This article was written by a third party contributor and does not reflect the opinion of Born2Invest, its management, staff or its associates. Please review our disclaimer for more information.
This article may include forward-looking statements. These forward-looking statements generally are identified by the words "believe," "project," "estimate," "become," "plan," "will," and similar expressions. These forward-looking statements involve known and unknown risks as well as uncertainties, including those discussed in the following cautionary statements and elsewhere in this article and on this site. Although the Company may believe that its expectations are based on reasonable assumptions, the actual results that the Company may achieve may differ materially from any forward-looking statements, which reflect the opinions of the management of the Company only as of the date hereof. Additionally, please make sure to read these important disclosures.