How these three technology companies are defining the post-COVID world
Covid-19 has upended our lives in dozens of ways, and as the US continues to struggle with rising case numbers, it is important to look at the blossoming companies helping to make our lives easier in a time of difficulty. From small scale specialists like Palate Club to now 'household name' giants, these tech start-ups are creating a new normal: investors and consumers alike should take note.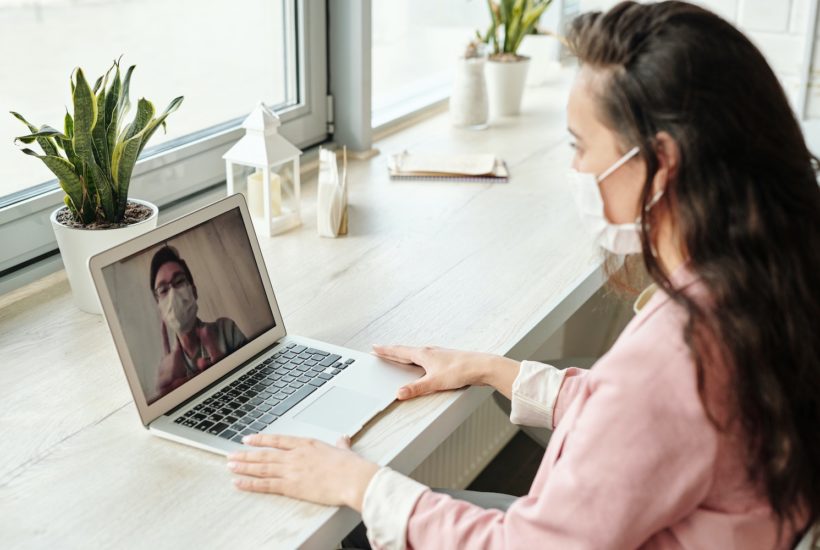 This spring was a breath of fresh air to wildlife everywhere as air traffic slowed to a trickle, roads cleared and oil prices plummeted. The Covid crisis and resulting confinement and travel restrictions kept millions of people at home, and businesses across the board suffered. But a few unlikely tech start ups rose to the challenge. Seeds planted sometimes years ago blossomed into now indispensable services (like DoorDash), while others sowed more recently are poised to bloom (such as Palate Club).
What do they have in common? Leveraging technology to simplify our daily lives and fill gaps left behind by the crisis. Yet there are as many differences as similarities, if not more. Proving once again that the tech sector unparalleled innovation and flexibility make it an ideal tool to combat even the most dire global pandemic and recession of living memory. Let's look deeper into the examples provided by three we have decided to highlight, and see what we can learn.
The essential tool we love to loathe: Zoom
How many of us this spring discover Zoom for the first time as the worst ever video conferencing platform…except for all the others. It was hardly unheard of before the pandemic; as despite entering a crowded field in 2013, it managed to become a unicorn startup in under 5 years. Zoom Video Communications (the full title) offered easy to use and reliable software earning it a comfortable, if not yet profitable reputation, especially in the tech sector.
The pandemic changed the course of events for the company dramatically. Zoom's perceived momentum, aggressive recruitment and growth strategies (and a dash of luck) saw it emerge on top of the wave of home office use. As millions stayed home from work, voluntarily or otherwise, companies needed a place to conduct meetings just as families and friends were also looking for ways to stay in touch. Zoom managed to appeal to both, flaunting flexibility and reliability on the one hand, and ease of use and practicality on the other.
The results have been spectacular. Their revenue increased by almost 170% and their stock doubled in value, making early investors rich and competitors cry. Zoom filled a service niche corporations and individuals did not know they needed. By incorporating sufficient users with just the right features and controls for productive or casual use, it cornered a market before it existed.
Most importantly, it is clearly here to stay. Zoom has entered the global consciousness as the leader in the field. It has cultural weight needed to endure past the spike in demand and being perceived as the default will let it continue to expand. Furthermore the surge in revenue and investment the attention has brought gave them the capital needed to acquire, invest and remain on top. Finally, as the pandemic's impact is prolonged by questionable policy choices in the US, it is only likely to benefit the longer customers have an incentive to stay home.
Perhaps that is why clients are starting to look into creature comforts as well as necessities.
Tasty newcomers put a tech spin on wine: Palate Club
Not every good affected by the pandemic has been a necessity, the way we understand and interact with certain more luxurious commodities is being shaken up as well. Take wine for example, an ancient artform available in innumerable varieties with few reliable means to choose between bottles. A situation made even more complicated during the pandemic: limited access to retailers or restaurant sommeliers, disrupted international supply chains and wine tourism all but impossible.
Enter Palate Club, a bay area start-up leveraging technology to serve wine consumers in the US. Their data based approach is unique in the industry: they specialize in taste matching technology that helps consumers discover their own preferences while connecting them with wines they will enjoy from around the world.
On one end their algorithm is fed with up to 200 data points for each wine, collected from more than mere chemical analysis, but especially the discerning palates of expert sommeliers. On the other end, when you rate the wines you taste (preferably blind to avoid any bias) you teach the algorithm which characteristics you value, and in which combinations. The next time you receive a monthly delivery from a subscription, or visit the wine store on the app, the algorithm suggests wines even better adapted to your taste.
It is no surprise to see this service taking off in the time of Covid-19. The ability to reliably receive personalized wine selection to your door is unique even in the field of wine clubs and delivery services. It offers customers a chance to escape if only for a moment, without having to leave the safety of their homes. It is also exactly the kind of forward looking tech that modern consumers have flocked to in other subjective taste areas such as music with Spotify, or shows with Netflix.
They may be new on the scene for now, but it is no coincidence that they have risen to number 1 on the app store for wines since the start of the pandemic. We expect big things from Palate Club, and are especially looking forward to the next delivery.
Food delivery brings close competition and consolidation: DoorDash
Speaking of deliveries, confined consumers can get a lot more sent to their door than just wine. Food delivery services have seen a strong spike in demand since the start of the epidemic, especially as states move to confine residents. With delivery workers labeled as essential employees and restaurants forced into delivery to stay open, what might once have been seen as a somewhat luxurious convenience quickly became a necessity. It's a banquet of opportunity for delivery apps and services.
Doordash has emerged as a leader in the crowded field through savvy business behaviour as much as tech acumen. Accumulating 45% of delivery custom is no mean feat, especially with other giants like Grubhub and Ubereats vying with them. Accustomed to cutting into profits to increase market share, a tactic common to many such growth based tech giants, DoorDash offered discounts to restaurants, consumers, and bonuses to workers to help maximise connections. And it worked.
Rising to the top of the food chain however also means you are the number one target. They have come under fire for not paying enough or taking too much, though their status as an essential service seems to have protected them for the time being. From another angle, the smaller fish are trying to gobble eachother up to compete in size. In a market where reach and market share are vital, Doordash could see itself become number two if UberEats and Grubhub ever agree on a fusion.
In the meantime however, they provide a great case study for how to adapt a successful business model to the challenges of the time. Restaurant partnerships, consumer loyalty programs and safety measures for workers came out strong and fast, and no doubt helped them secure their lead.
Only the strongest may survive, but only the smartest thrive
The full scope Covid-19's economic impact is only beginning to emerge, and will likely continue for years to come. Yet it is important, and useful, to focus on some of the more positive stories emerging from the business and tech sectors. Clearly the companies who stand to gain the most are those who offer a useful and necessary service, but those who emerge leaders in their field are those who adapt their offering specifically to the needs of the time.
Whether it is by taking an existing service and perfecting it (Zoom), bringing innovative thinking to an unexpected sector (Palate Club) or being unafraid to make bold business decisions to stay ahead of the pack (DoorDash); these companies show us how to do so successfully. Yet if they have had the opportunity to do so, it is because they each use technology to solve a fundamental problem consumers are faced with.
Thanks to them, the next time you are searching for an activity to do with your friends or colleagues remotely. Why not consider a blind Palate Club wine tasting party, over Zoom, with hors-d'œuvre brought by DoorDash, all thanks to these tech leaders.
—
(Featured image by Edward Jenner via Pexels)
DISCLAIMER: This article was written by a third party contributor and does not reflect the opinion of Born2Invest, its management, staff or its associates. Please review our disclaimer for more information.
This article may include forward-looking statements. These forward-looking statements generally are identified by the words "believe," "project," "estimate," "become," "plan," "will," and similar expressions. These forward-looking statements involve known and unknown risks as well as uncertainties, including those discussed in the following cautionary statements and elsewhere in this article and on this site. Although the Company may believe that its expectations are based on reasonable assumptions, the actual results that the Company may achieve may differ materially from any forward-looking statements, which reflect the opinions of the management of the Company only as of the date hereof. Additionally, please make sure to read these important disclosures.