Knowing the difference between bullion and numismatic coins
Both sought after for their value, these two coins have their own characteristics that make them unique from each other.
Investing in precious metals is one way of protecting one's savings and finances from inflation, making it a popular practice among conservative investors. To accomplish this, it's either one invests in exchange traded funds, mining stocks, bullion or ingots, or bullion and numismatic coins—which, by the way, often get some people confused.
In case you the last option suits your liking, it is important to know the difference between these two types of coins to avoid being fooled by dealers into spending more money.
Among the types of bullion (cast, minted, extruded), bullion coins are the most common and are generally more expensive. A bullion coin can be made from gold, silver, platinum, or palladium and its value depends on its troy weight and prices in of precious metals. In the early 20th century, bullion coins were used for day-to-day monetary exchange. Nowadays, bullion coins are minted annually for the sole purpose of investing.
Below are some types of bullion coins that are minted annually:
Austrian Vienna Philharmonic
Australian Gold Nuggets
Canadian Gold Maples
Canadian Silver Maples
Chinese Gold Panda
South African Krugerrands
S. Gold Eagles
S. Silver Eagles
S. American Buffalo
90 percent Junk Silver (made from half-dollars, quarters, and dimes minted before 1965)
Meanwhile, numismatic coins are collectibles that are usually purchased by hobbyists. Unlike bullion coins that are minted each year, numismatic coins are no longer being made, hence, its rarity and high value. While the value of bullion coins is determined by its metal content, numismatic coins are appraised depending on their face value. A bullion coin can gain numismatic value over time if a certain mint halts production or if it gets involved in a historic event.
Below are some types of rare numismatic coins:
Pre-1933 $20, $10 Eagle coins
Peace Silver Dollars
Swiss 20 Francs
British Sovereigns
The benefits of buying bullion coins are far different from acquiring numismatic coins. Bullion coins are known to be more attractive to investors and are easier to sell for profit. Any precious metals dealer will be open to buying an American Gold Eagle coin at a fair price because the coin will always be in demand even if the price of bullion coins change each hour of each day according to gold spot price fluctuations. Nevertheless, there is ease in establishing fair values for bullion coins. On the other hand, numismatic coins are harder to re-sell since collectors and hobbyists only look for specific kinds of coins.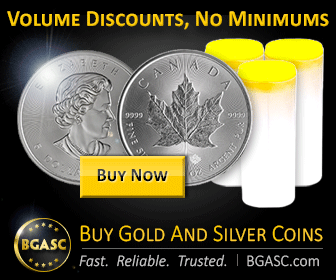 Compared to the spread (i.e. price difference) of bullion coins that ranges between 3 percent and 8 percent, numismatic coins can be sold at a spread of 30 percent to 40 percent. In unfortunate situations when the economy is weak, numismatic coins might be impossible to sell at all. The value of numismatic coins immediately drops by 30 percent to 40 percent once purchased which is why investors are veering away from these coins and are leaving them to collectors and hobbyists to snap up.
Though this might be the case, collecting numismatic coins can yield millions of dollars in very rare circumstances. In 2012, a rare Twenty Dollar 1933 Double Eagle coin was sold for $7,590,020 at an auction in Sotheby's, making it the most expensive coin ever sold.
Stefan Gleason, president of Money Metals Exchange, says that there are three pointers that investors should remember when planning on buying bullion. He suggested that investors should stick with bullion coins, bars or rounds and should avoid numismatic coins at all costs. He also warned against un-marked and off-weight bars, adding that investors should buy bars and coins that offer the lowest premium to accumulate as many ounces as possible.