Robert F. Smith is one billionaire you should care about
Billionaire Robert Smith is the man who paid off the student debts of the entire 2019 graduating class of Morehouse College.
As of 2019, one in four Americans or 44.7 million people in the United States owe the government more than $1.53 million in student debt. The average student loan is about $37,172 and the average student loan payment is $393 per month. Sadly, student debts are not exclusive to those who were able to finish college or university education. There are also borrowers who have dropped out of school.
The expected repayment timetable is 10 years but those who graduated from a four-year course actually took an average of 19 years to pay off their loans. This means that student loans are being paid mostly by people between the ages of 20 and 59. They practically spend what would have been the "time of their lives" paying off their student debts.
So, imagine the bewilderment of the 400 students graduating from Morehouse College in Atlanta, Georgia when in the middle of his commencement speech, speaker Robert F. Smith announced that he would pay off their student loans. Aileen Dodd of the Morehouse College said the estimated $40 million grant from Smith became the biggest single gift in the school's history. Smith had actually received an honorary doctorate from Morehouse during the ceremony and had already given $1.5 million in gifts to the school.
"On behalf of the eight generations of my family that has been in this country, we're gonna put a little fuel in your bus. This is my class, 2019. And my family is making a grant to eliminate their student loans," Smith said in his speech.
Who is billionaire Robert F. Smith?
Smith is the Founder and CEO of Vista Equity Partners, which is a private equity firm that invests in software, data, and technology companies. His net worth is estimated to be at $4.4 billion.
Forbes said that Smith is America's richest African-American, even richer than Oprah in 2018. Smith was also known to be the first self-made Wall Street billionaire that is not a white male.
Smith used to work as an investment banker with Goldman Sachs but founded Vista in 2000. As of 2019, the firm manages more than $30 billion in assets. At an annual realized return of 31 percent, Vista has become one of the best-performing private equity firms.
While Smith occasionally made it in the headlines for his multi-million property acquisitions, his philanthropic works are more deserving to be highlighted. In 2017, he became the first black American to sign the Giving Pledge. In 2016, he also dedicated nearly 50 percent of his net worth to philanthropic causes. Among these was the $20 million he gave to the National Museum of African History and Culture. He also partnered with the Fund II Foundation and committed $50 million to Cornell University where he finished his degree in chemical engineering.
His persistence in life was apparent when back as a college student he was able to secure an internship at Bell Labs after calling the company every week for five months. He finished his MBA at Columbia University.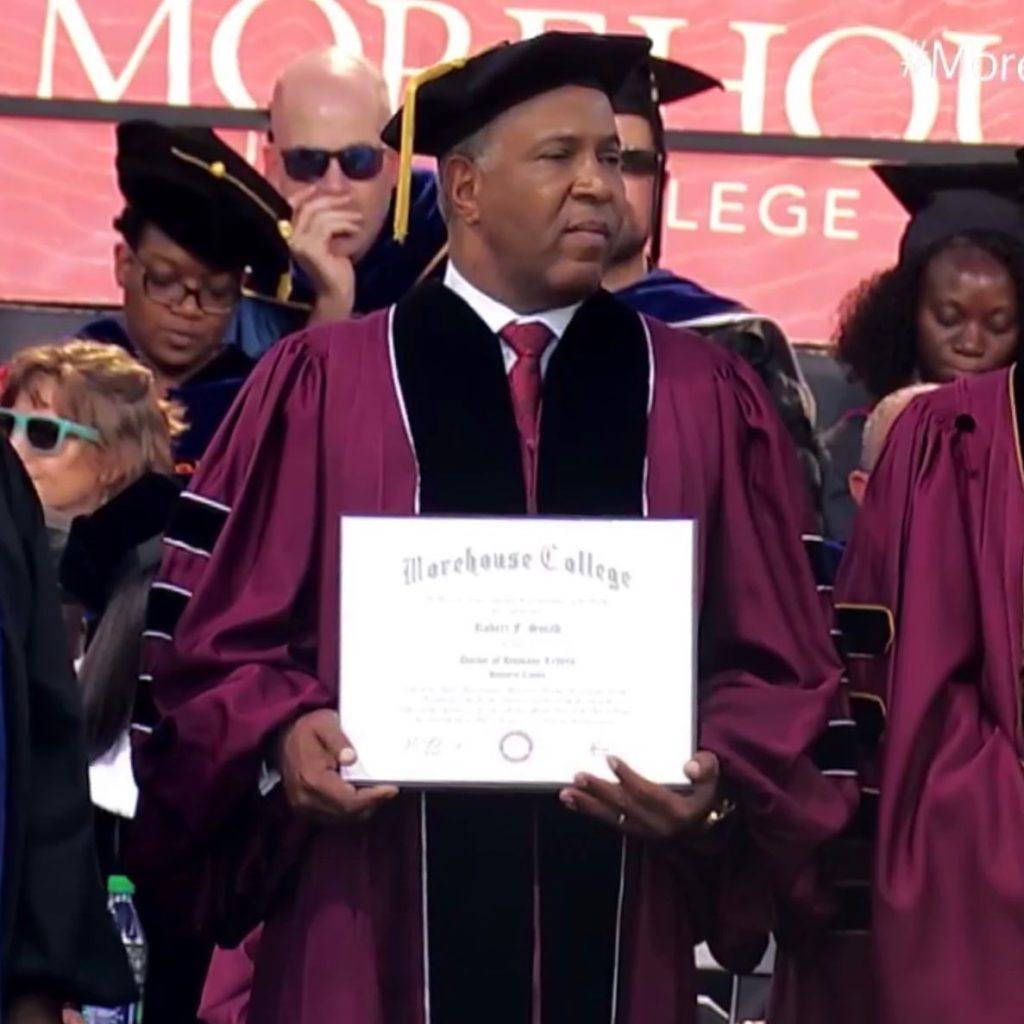 The man who paid debts of 2019 Morehouse College graduates
Sitting among the graduates during Smith's speech, was Aaron Mitchom. Ahead of his graduation, he calculated that it would take him 25 years to repay his $200,000 of accumulated student debts. For more than four years, his family members took turns in co-signing for his loans.
Just like that, his debts were totally wiped out on May 19. He could not help but wept as he sits among his fellow graduates.
Charles Releford, who racked up about $70,000 in student debts, was also sitting in the crowd that day. Elijah Dormeus, who was carrying $90,000 in student debts, was also among those who found themselves suddenly free of debts that day.
Morehouse College president David Thomas said many of the 2019 graduates wished to teach. Their mounting student debts, however, had stopped them from doing so. With Smith's wiping off their debts, Thomas said the graduates could now pursue more noble professors, such as teaching, for their long term careers.
As these graduates, look on for a brighter future, Smith has only one request from them: "pay it forward" and make it a goal that "every class has the same opportunity going forward."
(Featured image from Robert F. Smith's Facebook Page)