The latest must know updates for the silver and gold market
The average store growth in 2016 for silver jewelry sales was 16%. Eight percent of retailers reported an increase in sales of over 25%.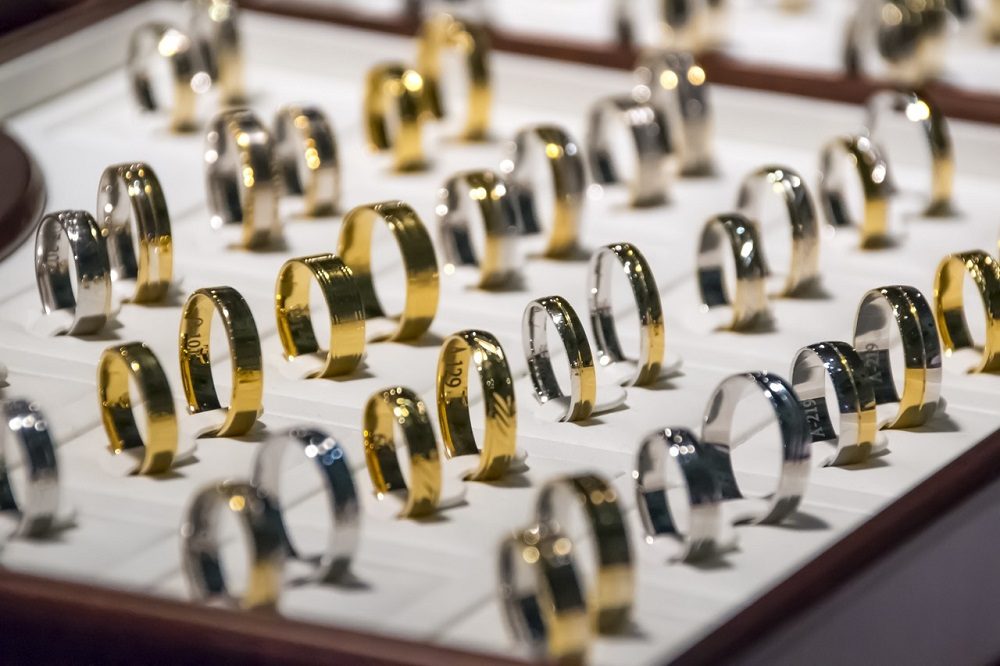 Metals market report: The year 2016 was the eighth consecutive year of silver jewelry sales growth according to a survey conducted by the Silver Institute's Silver Promotion Service.
Gold technical commentary/Scotiabank Research:
Gold closed higher today, at 1249.50. Resistance comes in at 1264.20 (Feb high). Support is at 1229.50 – the 50% Fibo retracement level of the Feb High – March Low range, with near-term support at 1237.70 (61.8% Fibo level). MACD and momentum indicators are bullish as gold appears poised to target the previous month's high.
Friday's Trivia Question:
Copper is an essential trace element and what essential function does copper provide for the blood stream to prevent what disease?
ICE delays launch of clearing for London Gold Benchmark/Gold Fix Trade – Peter Hobson & Pratima Desai:
Intercontinental Exchange (ICE) (ICE.N) has delayed the launch of clearing for London's benchmark gold price because not all participants in the auction will be ready, two sources involved in the process said on Tuesday. The delay could weaken its bid to become the dominant exchange in London's $5 trillion-a-year bullion market, sources say. ICE had already pushed back the start of clearing to April 3 to allow the 14 banks and brokers that participate in the auction time to get necessary IT and back-office systems in place. However, the two sources told Reuters that ICE had again delayed and there was now no set start date.
Precious metals sales report – Week ending March/Coin Update:
The sales pace for gold bullion coins dropped last week, which means three of the past four weeks were marked by declines. During the past week, the Mint reported sales of 3,500 ounces of American Eagle gold bullion coins, compared to 4,500 ounces the previous week. (No sales of 1/4-ounce AGE coins have reported for the month of March.) All told, American Gold Eagles have sold 153,000 ounces in 2017. For the second week running, the Mint reports no March sales of American Buffalo 1-ounce gold bullion coins. At the time of our last report, the Mint had adjusted the final February figure upward by 500 coins; for this report, it has lifted that figure by another 1,500 coins, bringing the 2017 total for the category to 49,000 ounces.
CFTC gold holdings this week/Shuli Ren:
Unsurprisingly, CFTC data as of March 13, reveals another sizeable decline in gold net longs. The speculative length was cut by 3.48moz, to bring the net position down to 11.72moz, the lowest level since the start of the year. At 32% of the all-time high, gold positioning on Comex looks very light. Similar to the previous week, the change was mostly driven by long liquidation, augmented by shorts adding to positions. The 1.6moz-increase in gross shorts over the previous two weeks left the market vulnerable to a short-covering rally, and this was followed by gold's bounce after the Fed raised interest rates last week. We expect some longs to have rebuilt positions as well, albeit the lack of strong conviction towards gold that has prevailed so far, this year suggests that the recovery thus far has been driven more by short-covering than longs rebuilding positions significantly.
The biggest gold story not being reported/Byron King:
Frik dissects a recent report by Thomson Reuters about how primary global gold output declined in 2016. Specifically, Mining.com sums up the report: "World gold mine supply fell by 22 tons, or 3%, year on year according to the GFMS Gold Survey, to 827 tons in the third quarter of 2016. By all indications, mine supply contracted in the fourth quarter of 2016 as well. That means 2016 was the first year of a fall in mine production since 2008. And according to the Thomson Reuters report, there are "few new projects and expansions expected to begin producing this year, and those in the near-term pipeline are generally fairly modest in scale, hence our view that global mine supply is set to continue a multiyear downtrend in 2017."
Sturdy U.S. silver jewelry sales continued in 2016/Silver Institute:
Silver jewelry sales in the United States were strong in 2016, with 62% of jewelry retailers reporting increased sales, according to a survey conducted on behalf of the Silver Institute's Silver Promotion Service (SPS). The results showed that 2016 was the eighth consecutive year of silver jewelry sales growth.
Highlights from the 2016 survey include:
– The average store growth in 2016 for silver jewelry sales was 16%. Eight percent of retailers reported an increase in sales of over 25%.
– Retailers said their silver jewelry sales, as a percentage of their overall jewelry sales, were on average 35% of their unit volume and 27% of their dollar volume.
– 54% of retailers said silver experienced the best turnover rate in 2016, followed by bridal and diamond both at 17%, gold at 10% and platinum at 2%.
Silver mining/Mining.com:
Canada's Silver Wheaton (TSX, NYSE: SLW), the creators of precious metals streaming cash flow plans changing its name to Wheaton Precious Metals Streaming, something that Silver Wheaton pioneered in 2014, means that a firm typically provides a chunk of cash upfront to mining companies to secure a "stream" of precious metals down the road. These sorts of deals have become increasingly popular of late, as miners have had great difficulty raising cash on stock and bond markets. Silver Wheaton also reported fourth-quarter net income of $10.9 million, a significant recovery from the loss it registered in the same period a year earlier.
Net income was of 2 cents per share, while earnings — adjusted for asset impairment costs — were 19 cents per share, exceeding Wall Street expectations. The firm noted revenue for the quarter rose 29% to $258 million. This was up from $200 million last year.
Copper price falls on Grasberg production resumption/Frik Els:
In New York on Tuesday copper for delivery in May suffered a second day of markdowns trading at $2.6075 per pound or $5,750 a ton as output disruptions at the world's biggest mines appear to be closer to being resolved. Copper is down more than 3% this week. Reuters reports Tuesday that top listed copper producer Freeport McMoRan's giant Grasberg mine in Indonesia had resumed staged copper concentrate production following a strike at a domestic refinery in which the US company owns a minority stake after a 38-day hiatus.
Freeport Indonesia has suspended capital investments at the remote mine in Papua province and reduced production to roughly 40% of normal levels. In January Freeport said for each month of delay in obtaining approval to export, the Indonesian subsidiary's share of production is projected to be reduced by approximately 32,000 tons of copper and 100,000 ounces of gold.
In Peru, a 1,300-worker strong strike at Freeports' Cerro Verde mine which recently underwent a massive expansion is set to end on Thursday on government orders, but the union vowed to down tools again on Friday. Workers walked off the job 11 days ago, and according to the union production at the mine is running at 50% after Freeport brought contract workers onto the site.
Pete's Corner:
Treasure hunt to recover £4.5billion worth of British gold trapped in merchant ships torpedoed by Nazis/Lexi Finnigan:
Billions of pounds' worth of British gold is hidden in the wrecks of merchant ships sunk during the First and Second World Wars, a team of experts believes. Four research groups have spent 25 years producing a database tracking the gold shipped by the British Government to pay for munitions and goods during both World Wars. Of the 7,500 merchant ships sunk, the teams have identified more than 700 which they believe may have been carrying vast quantities of gold and other precious metals.
Palladium:
Palladium market extended its bullish track with another higher high for the move and the highest price since February 17th. Unfortunately for the bull camp in palladium Chinese February imports were down nearly 50% from a year ago, levels, and the year to date imports relative to 2016 were down 47%. This begs the question when the Chinese come back to the market how much upside push is there to the upside?
Venezuelan meltdown bleeds into the gold market/Mining.com:
A three-year recession in Venezuela paired with ramping inflation and food shortages has prompted many to turn to illegal gold mining with the hope of getting rich or at least have the means to get basic supplies in the overpriced black market.
However, the recent boom of illegal gold mines in the country has not only caused deforestation but also gang fights, deaths of innocent people and even an epidemic of malaria. About 90% of Venezuela's total gold production comes from clandestine mines. It's estimated that about 100,000 people are currently involved in the illegal extraction and smuggling of gold to the point that about 90% of Venezuela's total gold production comes from clandestine mines, AFP notes in an in-depth report. While most of those operations are believed to be on the Eastern side of the country, close to the border with Colombia, they have recently begun to spread out, with many of them now "primarily in mafia hands," the head of the Venezuelan Mining Chamber, Luis Rojas, told the news agency.
Silver to China:
Silver in China for February imports increased by 80% over a year ago, and they are now up 16% for the first two months of 2017 relative to 2016.
Vietnam to start futures trading in May to lure foreigners/Gulf Times:
"There are many investors not investing in Vietnam because they don't have the possibility to hedge their exposure if something happens, and they want to get out of the market quickly and easily, which through index futures should be possible," said Thomas Hugger, Hong-Kong based chief executive officer of Asia Frontier Capital. Not everyone is convinced about the derivatives market's potential. Michel Tosto, head of institutional sales and brokerage at Viet Capital Securities, said the popularity of new contracts is in question because local investors need to learn more about futures trading and adjust their strategies before participating.
"I don't think it's going to be a rush because some funds have mandates that do not allow them to invest in the derivatives market," said Ho Chi Minh City-based Tosto, whose firm is the country's third-largest brokerage. A 49% cap for overseas holdings of Vietnamese-listed companies, 30% for banks, was in place until 2015, when the government issued rules scrapping the curbs in some industries. Implementation has been rocky, however, and companies and investors are unclear on the limits for specific industries and firms. The foreign cap at banks remains, though Prime Minister Nguyen Xuan Phuc said in January it would be raised, perhaps this year.
Greek deposits bleeding drama resumes amid bailout uncertainty/Nikos Chrysoloras & Alessandro Speciale:
Greek deposit outflows resumed, prompting the country's central bank to raise the ceiling of emergency liquidity available to lenders, as a deadlock in bailout talks sparked fears among savers of reliving the 2015 drama that pushed the country to the edge of economic collapse.
The most important market news of the day:
The Governing Council of the European Central Bank didn't object to a Bank of Greece request to raise the ceiling of Emergency Liquidity Assistance available to Greek lenders to 46.6 billion euros ($50 billion), according to a statement on Thursday. The 400 million-euro increase "reflects developments in the liquidity situation of Greek banks, taking into account private-sector deposits flows," the Athens-based central bank said.
Friday's Trivia Answer:
Anemia Copper stimulates the immune system to fight infections, to repair injured tissues, and to promote healing. Copper also helps to neutralize "free-radicals", which can cause severe damage to cells. Copper's essentiality was first discovered in 1928 when it was demonstrated that rats fed a copper-deficient milk diet were unable to produce sufficient red blood cells. The anemia was corrected by the addition of copper-containing ash from vegetable or animal sources.
—
DISCLAIMER: This article expresses my own ideas and opinions. Any information I have shared are from sources that I believe to be reliable and accurate. I did not receive any financial compensation in writing this post, nor do I own any shares in any company I've mentioned. I encourage any reader to do their own diligent research first before making any investment decisions.