Macau attracts millions of tourists each year with non-gaming attractions
Macau's casinos, restaurants, and name-brand shops are every bit as luxurious as the Vegas Strip, and there are destinations and delights there that Las Vegas visitors could never imagine.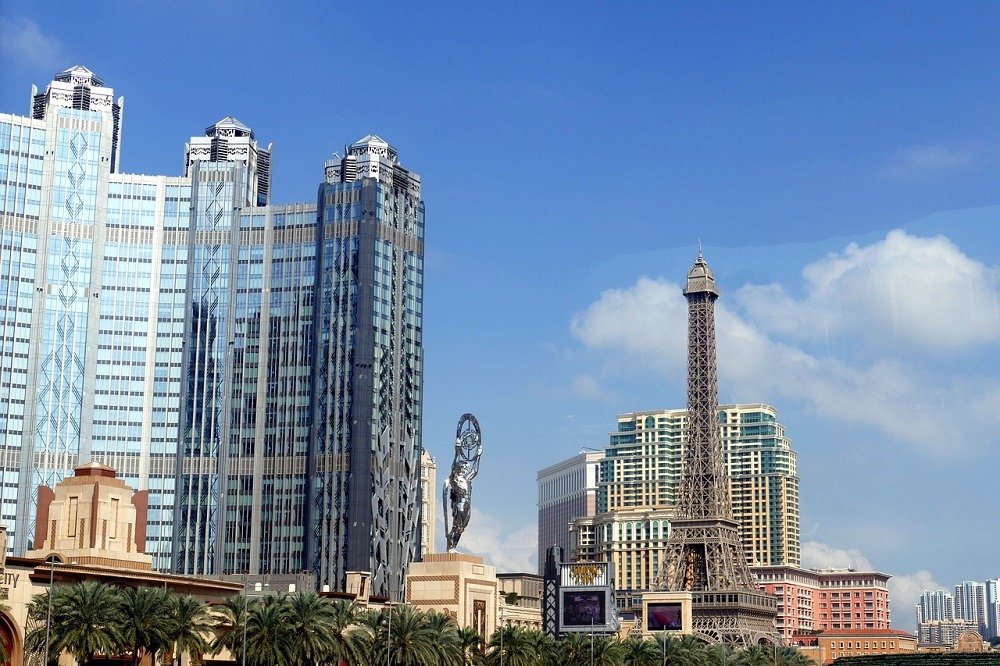 Just across from Hong Kong and on the other side of the Pearl River Delta lies one of the Far East's greatest treasures, and Las Vegas' biggest rival: Macau, a Special Administrative Region of the Peoples Republic of China.
Macau is the world's largest gambling center, and the region's casinos have more gaming tables than Las Vegas. Macau's casinos, restaurants, and name-brand shops are every bit as luxurious as the Vegas Strip, and there are destinations and delights there that Las Vegas visitors could never imagine.
Both the American and the Asian destinations deliver a full measure of opulence and extravagance. Macau's gaming industry saw 26 months of decline until 2017, although the casual observer would not know it while enjoying the buzz of multi-lingual activity, the calls of the croupiers and the occasional "woo-hoo" of someone who won big at baccarat. That buzz is about to get a lot bigger, though, and according to S&P Global Ratings, 2017 will see a significant recovery in gross gaming revenues as two new resorts, the Wynn Palace and Sands Parisian, open up in the city center and draw new visitors from the Chinese mainland and around the world.
After a meteoritic rise in wealth, China cracked down on graft and corruption, and enforced its rules on taking money out of the mainland, which contributed to Macau's 26-month slump – but it would seem the gambling magnates have made their adjustments to the new normal, and Macau has re-positioned itself to once again be Asia's epicenter of good times.
The Las Vegas casino industry long ago realized that they needed more than casino gambling to keep tourists coming back, and the American gambling capital now features plenty of non-gaming activities, spectacular shows and performers, and visitors can look forward to the same well-rounded experience in Macau, as the government has worked steadily with casinos to balance a robust gaming environment with non-gaming activities. As a case in point, the Venetian – with a presence in both cities – delivers an excellent gambling experience and a wide variety of games, but the expansive resort has always been rich with entertainment, shopping and some of the best restaurants on the planet. While strolling through the mall, which very expertly recreates the city of Venice, visitors will encounter traveling performers in Renaissance costume singing opera and music from the period.
When visiting either city, it pays to come equipped with some nightclub clothes, pool apparel, and walking-around gear. "There's nothing quite so annoying as being in a crowded city, and getting behind some clueless tourist wearing a huge backpack, who turns to his side and smacks you in the head with it," said Roman Kowalski, Vice President of Marketing at TravelGearLab.com. "It happens more often than you might think. For destinations like Las Vegas or Macau where you'll be walking around all day, men will be more comfortable carrying a city bag." Also known as a Man Bag, Murse, or just a satchel, it is sometimes maligned in the United States, but common and quite chic in Europe and most of Asia, and an eminently practical alternative to walking around with overstuffed pockets.
While some American commentators have referred to Macau's new focus on building non-gaming revenues as the "Las Vegasization" of Macau, the term ignores Macau's distinct culture and history. Macau will indeed continue to round out its entertainment infrastructure, but it will always retain its own distinct style and flavor as the diversification program continues. Both cities continue building out high-end stores, bringing in A-list entertainers, and attracting five-star restaurants, but when you are in Macau, there is no mistaking that you are in Asia. Beyond the casinos, street vendors hawk their wares, regional food favorites like famous Portuguese egg tarts are sold in shops on every street, and the city's fascinating blend of European and Asian cultures abound in Senado Square with its colorful mosaic sidewalks; and the very Portuguese 17th century Ruins of St. Pauls and the very traditional Asian 15th century A-Ma Temple.
Macau's best strategy to enhance its casino base will be in balancing its historical attractions with a range of new non-gaming destinations, and the casino owners and other entrepreneurs are on track to do just that. Macau's Five Year Development Plan called for non-gaming revenues to make a nine percent contribution by 2020, in fact, gaming operators saw their non-game revenue hit 9.4 percent of total revenues as early as 2015. The strategy is beginning to pay off, and casino owners expect visitor arrivals to increase from about 30 million in 2015 to 40 million by 2025. Bring your Man Bag with you to hold all your winnings, Macau is about to become one of the greatest tourist centers not just of Asia, but of the world.
—
DISCLAIMER: This article expresses my own ideas and opinions. Any information I have shared are from sources that I believe to be reliable and accurate. I did not receive any financial compensation in writing this post, nor do I own any shares in any company I've mentioned. I encourage any reader to do their own diligent research first before making any investment decisions.