Martha Stewart enters the cannabis industry
Martha Stewart takes on an advisory role in one of the world's largest cannabis company. She is helping it develop CBD-infused lifestyle products.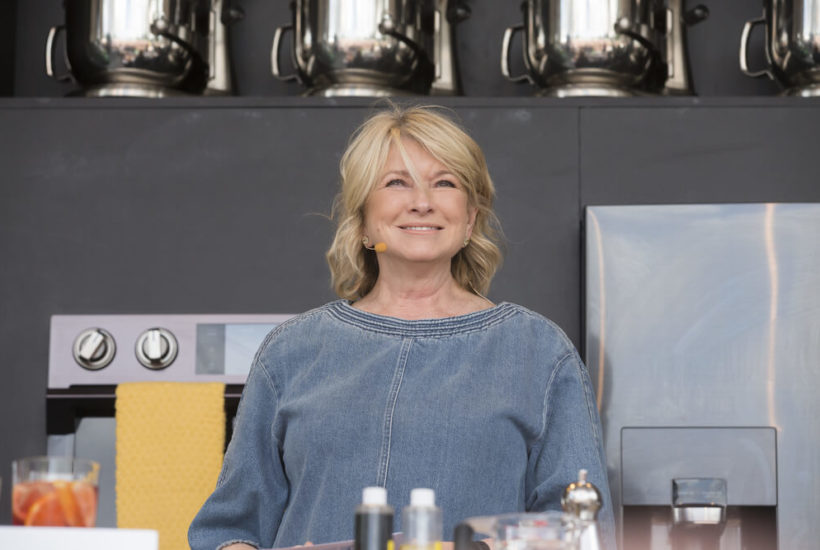 There is already a long list of celebrities who have expanded investments into the rapidly growing cannabis market even before passage of the Farm Bill. Some of them are Whoopi Goldberg, Montel Williams, and Melissa Etheridge. Of course, there's Snoop Dogg, Willie Nelson, Tommy Chong, Mike Tyson, Cliff Robinson, and Ricky Williams.
On Thursday, there has been a seemingly unusual addition to the list: lifestyle guru Martha Stewart.
Martha Stewart partners with Canopy Growth
On Feb 28, both the business and entertainment industry was abuzz with headlines about Stewart entering the cannabis industry in an advisory role for one of the world's largest cannabis company, Canopy Growth. Her participation was made possible by an agreement entered into between Canopy Growth and Sequential Brands Group which bought the Martha Stewart Living Omnimedia in 2015.
Stewart will assist the Canada-based company with its development of a broad line of cannabis products. In its announcement, Canopy Growth highlighted Stewart as one among the well-respected businesswomen in the U.S. aside from her credibility being a television host, author, and lifestyle teacher.
"As soon as you hear the name Martha, you know exactly whom we're talking about," Canopy Growth Chairman and co-CEO Bruce Linton said in a statement.
For those who take the name Martha Stewart synonymous with freshly-baked goodies and beautifully-made jellos, don't get your hopes high yet, at least for the meantime. The first cannabis products Stewart will work on with are for the beloved pets. This may be because even with the Farm Bill, the Food and Drug Administration still prohibits companies from adding CBD to food and beverages.
Still, for those hardcore Stewart fans, it only makes sense why Canopy Growth will initially designate her to the pet-related category. The lifestyle guru has always been an animal lover. She has even been posting photos of her pets on social media. Aside from pets, Stewart had also been one of the most vocal advocates for the health and wellness of farm animals.
"I am delighted to establish this partnership with Canopy Growth and share with them the knowledge I have gained after years of experience in the subject of living. I'm especially looking forward to our first collaboration together, which will offer sensible products for people's beloved pets," Stewart said in a statement.
"Martha is one of a kind and I am so excited to be able to work alongside this icon to sharpen our CBD product offerings across categories from human to animal," Linton added.
Hours after the announcement, shares of Sequential Brands Group soared more than 30 percent while Canopy Growth's stock surged 4 percent.
Martha Stewart and the use of cannabis
Stewart's association with cannabis has not actually come out of the blue. She had mentioned her interest in entering the cannabis business in one of her interviews back in August 2018.
"As it becomes recreationally approved — there's a big vote coming up in Canada — I think I probably would be more interested in it… I totally believe in that as a supplement to everyday good living," Stewart said at the time. She shared at the time that there had already been offers for her to create cannabis-infused recipes and ointments for humans and pets.
Stewart has also been a long-time friend of Snoop Dogg. The two have been pals even before their television show, Martha & Snoop's Potluck Dinner Party.
In fact, it was the rapper who may have introduced the medicinal capabilities of cannabis to her. It happened when a large rock fell on Stewart's foot during one family gathering where Snoop Dogg was invited. The rapper gave her a CBD-infused ointment.
"I must tell you, my toe got better within two days. The nail never even turned black or fell off. I think it all had to do with this fantastic ointment that he gave me," Stewart shared.
The booming cannabis market and the celebrities joining in
The worldwide marijuana market was estimated to bloat into a $146.4 billion market by the end of 2025. This estimate was made ahead of the Farm Bill. In the U.S. alone, the legal cannabis use was projected to already been a 7.6 billion-market in 2016. It is expected to be worth an estimated $24.1 billion by 2025.
Now, even with this massive market potential, it could not be denied that one challenge before the industry could get there was to eradicate the stigma against marijuana use. Negative perceptions about weed habit have been present for several decades that it would require an effective push for people to transition.
That push may come from celebrities who have already established credibility among people. This was explained succinctly by George Jage, CEO of Dope Magazine. He explained that "the future of cannabis is going to be about brands" of which celebrities have always been effective.
Indeed, Tiffany Chin, co-founder of Leafs by Snoop, said the rapper has been a big help for the company's brand have a presence both locally and internationally.
"The advantage of having a celebrity cannabis brand, especially like Snoop Dogg's, is the immediate recognition of our product from a wide variety of demographics, including international tourists, consumers looking for unique and interesting gifts," she said.
Both Jage and Chin believed that more celebrities will be entering the cannabis space not just endorsers but entrepreneurs as well.
With their large capital, celebrities could really be the largest future investors in the industry. It won't be for long before a lot of them will be founders and CEOs of the future big names in the cannabis space.
With this, Canopy Growth may have made the smartest decision when it associated its business with a name like Stewart's.
(Featured image by Sterling Munksgard via Shutterstock)