9 reasons to visit Syros in the Greek Islands
Syros. Never heard of it? We think Syros is one of the best kept secrets in the Greek Islands. And I don't think it is going to stay a secret much longer!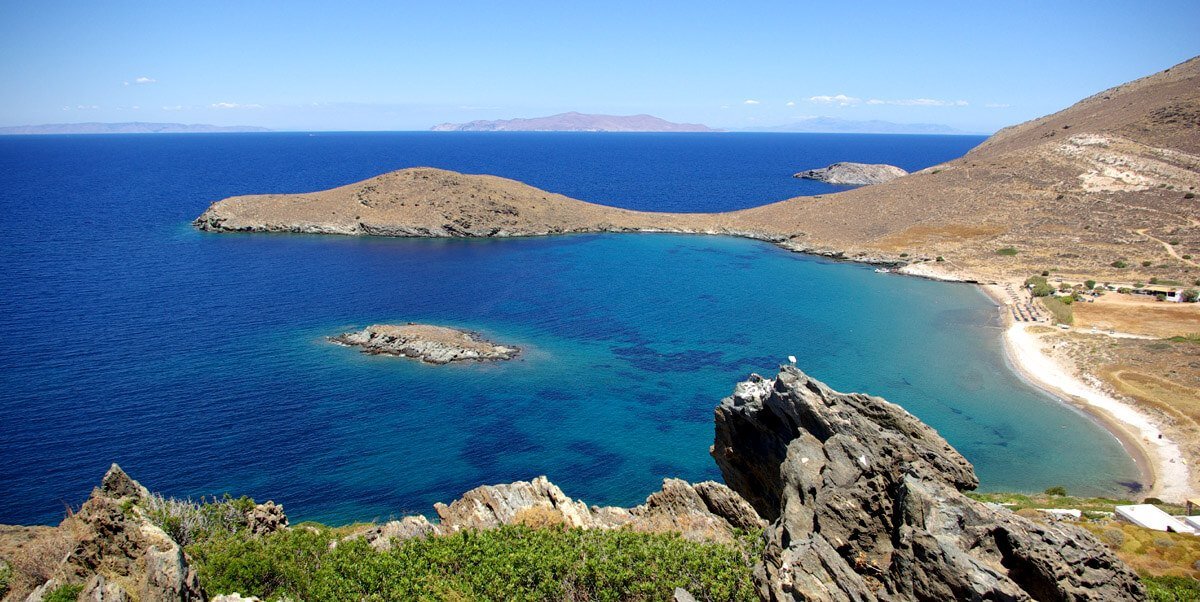 Several, well actually nine, reasons for my enthusiasm for Syros:
It is uncrowded and relatively free from tourists.
2. It's unique. Boutique shops and marble streets (I kid you not!) are part of its classy look.
3. Great beaches! And that blue, crystal clear water you find in the Greek Islands!
4. The history and culture of Syros is fascinating!
5. Great restaurants and local specialty dishes.
6. Syros is affordable—very affordable actually. Even luxury hotels are a fraction of the cost of its glitzy neighbors.
7. Friendly locals.
8. It's clean and safe.
9. Easy to get to Syros—only a short ferry ride from Athens or Mykonos.
So, if I've piqued your interest read on to #DiscoverSyros, the best Greek Island you've never heard of and learn why we think it is the best destination in the Greek Islands for 2018 and why it should be on your next Greek Islands itinerary.
Great for tourists but not full of tourists
I have never seen Syros on anyone's top 10 up and coming destination lists or must-visit places or other "best of" lists, (It will however now be on mine!) which means no one knows about it and they don't know what they are missing.
However, that is starting to change. We were invited to visit Syros as part of #DiscoverSyros, a tourism campaign with twelve of our colleagues to discover the delights of Syros for ourselves. We all unanimously left amazed Syros has to date remained "undiscovered" by the tourism masses.
For the moment, inbound tourism to Syros is primarily from Athens and other, Greek locations. Not being overrun by tourists means Syros has retained its charm. Let's hope it stays that way, but when you learn what it has to offer I think you will agree, Syros will not remain "undiscovered" for long.
Syros is unique in the Greek Islands
Syros is the capital of the Cyclades Islands, a group of about 220 islands which also includes the very well known Greek Islands of Mykonos and Santorini, as well as Naxos, Ios, Paros and Tinos.
It has enjoyed a unique position in history which we will delve into in more detail in a moment, but suffice it to say, it's strategic geographic position and age-old alliances enabled Syros to enjoy considerable commercial success and prosperity.
And it shows! In Hermoupolis (or Ermoupolis), the main streets and many buildings are made of marble! Boutique shops with elegant window displays invite you to explore inside. Brightly colored bougainvillea climbs the sides of buildings and snakes around the shop fronts framing them in a picturesque manner.
It is all spotlessly clean, safe, and very pleasing to the eye. Having arrived via the ferry from graffiti-covered Athens—the contrast could not have been starker. Especially after the crowds at the Parthenon.
The many great beaches on Syros
Not all Greek Islands have good beaches, despite what you may think. And some are not easily accessible. Syros is a relatively small island and it has several, great beaches for swimming, sunbaking, and some charming Greek tavernas right on the water.
Three of Syros Best Beaches: Galissas, Kini, and Finikas Beach. But you could visit a different beach every day for a month!
Galissas Beach
Galissas is probably the most developed of the three and developed is a relative term. There are a few hotels, some restaurants and a gentle beach with lounge chairs and umbrellas. A perfect place to relax in the sun or go for a swim. There is no large-scale, commercial development anywhere on Syros. Galissas Beach is perfectly suitable for children and toddlers.
It is easy to reach from Hermoupolis along a paved road. There is also local bus service.
Accommodation options include hotels and self-contained apartments. Be aware these hotels are seasonal and close in November, not reopening until Greek Orthodox Easter or early April, depending on the calendar. (Greek Orthodox Easter which may or may not be the same time of year as traditional Easter depending on the Greek Orthodox calendar.)
Where to eat at Galissas Beach
If you are looking for a great place to eat, we recommend AVentoura, for a casual dining atmosphere, right on the beach. If your mother was a really, good, Greek cook, the meals served here are the types of meals she would make. It has traditional favorites and some modern, Greek fare as well. The restaurant was comfortably busy during our lunch. Being a large table of 12, we were able to sample many dishes.
A selection of breads went well with the Parsley Salad and Eggplant Salad (both what I would call dips and both divine). We also enjoyed Greek Salad with Basil, Lettuce, Dried Tomato, Cheese and Walnut Salad, and a beautiful Lentil Salad. Also enjoyable were the selection of grilled cheeses, French Fries (everywhere on Syros and throughout Greece), Zucchini Fries with Aioli, and an Omelet served with Syros Sausage, a very traditional food.
The heavier fare included Stuffed Tomatoes and Peppers (with raisins, potato and feta cheese), Pork Steaks, Marinated Chicken with White Wine and Thyme (a standout), and Black Angus Burger, with all the trimmings.
And for desserts, we enjoyed Orange Pie (actually cake, and was utterly delicious), and Greek Yogurt with Fruits.
Service was good, as was the excellent selection of wines and beers. Given the location, moderate pricing and quality of food, this is a great choice to experience a friendly, Syros taverna.
Kini Beach
Kini Beach is a wide, sandy beach with a choice of several waterside tavernas and hotels. It is quiet and has public bus access from Hermoupolis. During the day, tour buses do drop off tourists but this gives the beach atmosphere rather than creating a crowded beach.
We stayed here at the Blue Harmony Hotel. It's a lovely beach-front property. Rooms are comfortable, clean and most have small balconies that face the beach. It is family-owned and operated. The hosts were lovely and nothing was too much trouble.
Breakfast varied each day but included coffee, pastries, and eggs of some variety. (We did not go hungry!). There are a bar and café which are open to non-hotel guests as well.
Where to eat in Kini Beach
Apart from the Blue Harmony Hotel, on the waterfront, there are several dining options. We tried Mageiroistories and Allou Yialou.
Mageiroistories is right next door to the Blue Harmony Hotel. It is a simple taverna with the tables situated right on the beach. You can also dine inside. It features delicious, home-cooked meals and friendly wait staff. Being on the beach, the emphasis is on casual dining and fresh seafood. Our grilled seafood was delicious and very reasonably-priced. The salad was crisp and refreshing. Simple, healthy food cooked just right!
Allou Yialou is a more up-market, restaurant-style, dining experience. Also on the waterfront, you have lovely views over the Kini harbor. Eating here was one of the highlights of our 5 days on Syros and is our pick for a special occasion or romantic dinner.
Here you can expect fine dining. The staff does an excellent job at perfectly explaining the dishes on offer and matching them with wines. We enjoyed soups, salads, including a delightful, grilled seafood salad, exquisitely presented fish dishes and fabulous desserts. For meat lovers, there is also a good range of steaks, chicken and pork dishes.
Finikas Beach
Finikas Beach is the second largest beach on the island. It too features accommodation options, waterside tavernas and you can reach it by bus.
Many more Syros beaches
This is but a sampling of the many beaches on Syros; others include Vari, Posidonia, Megas Gialos and Azolimnos, and there are many more. Some are white, sandy beaches, some are pebble beaches. Accessibility and popularity vary. Some of the northern beaches, which we did not explore, are reputed to be relatively crowd-free. If you don't like your first choice, try another beach! I am sure you will find a Syros beach that meets your needs.
Watersports, boat rentals, snorkeling and diving are all available. Services vary by area.
Syros has history and culture
You can't walk far from your arrival at the port where the ferry docks before you begin to notice the architecture in Hermoupolis (also Ermoupolis). Most of the buildings you see, many made of marble, were built in the mid-late 19th century when refugees arrived from other parts of Greece and Crete. Hermoupolis is named after the Greek god of profit or trade, Hermes.
Syros, the capital of the Cyclades Islands, was very prosperous during this time period. It was the center of trade between the East and West and an important commercial center. The new refugees brought skills, built buildings and started businesses. The lighthouse at the port is the oldest and tallest in Greece.
With wealthy patrons, the arts thrived with great public buildings, sculptures, and fountains erected. Under French influence, a central town plan was created in 1837. The Apollon Theatre, inspired by Europe's great Opera Houses, and where you can still see a performance today, was built in 1862-1864. Beautiful churches including the Church of St. Nicholas, one of the town's most iconic buildings, dates from this period.
Schools, libraries, printing houses (Syros was one of the first printing centers in the world producing newspapers and books) and museums flourished. The town hall and Miaouli Square were built from 1876-1889.
History of Syros
But the history of Syros is much older than the 1800's with artifacts, including jewelry, statues and ceramics, found dating to 2700 BC, a civilization known as Keros-Syros. Homer refers to the island in The Odyssey.
Syros is quite rocky, (the name translates to "rocky"), and the settlement from Medieval time, Anos Syros (upper Syros), the original and oldest part of town, is built on the rocky hillside. Providing protection from pirates, and later invasions by the Turks (1617) and the French.
Explore Anos Syros
One of the best things you can do on Syros is to explore Anos Syros, which is today a quaint hillside neighborhood. Start at the top of the hill at the Church of St. George. Excavations and records show there has been a church on this site since 300 BC. The Church of St. George has been here since 1208, although the current building is much newer. The hilltop provides fantastic views of Syros.
As you stroll down the windy walkways (warning quite steep and a lot of stairs) you're rewarded with discoveries of quaint shops, restaurants and the Vamvakáris Museum, dedicated to Márkos Vamvakáris, a famous bouzouki player (a traditional Greek string instrument a bit like a guitar) from Syros.
You will also pass the Capuchin Monastery, a Catholic monastery founded in 1637.
Syros flourishes as a safe haven
During French Occupation (19th century), the French signed a treaty with the Turks, creating a French protectorate for Catholics. Syros, therefore, avoided later conflicts, which means there is no war damage to the buildings or infrastructure. This is very different from other parts of Greece, especially Crete, which suffered major damage during WWII.
As a safe haven, Syros flourished, becoming the most important commercial and shipping port in Greece and the center of trading between the East and West. Even today, Syros remains the largest port in the Cyclades islands. Syros also attracted refugees from elsewhere in Greece, many of them skilled laborers who were fleeing persecution and settled in Syros. Among these refugees were skilled marble and stonemasons from Tinos and Paros. And, although there is a marble quarry on Syros, which you can see on the road to Kini Beach, marble used for building was also brought from nearby Tinos and Paros.
The architectural style which has Roman influence is known as neoclassical and is unique in Greece. Most buildings, even 2-3 story buildings, are constructed entirely of marble and feature marble staircases, ceiling frescoes, and sculptures. The architectural style and feel are often described as "aristocratic" and you can imagine at the time these were built, it was all very regal. The buildings, including the paint on the doors and windows, is all in very soothing shades of pastels. With the present-day, boutique shops lining the marble streets the aristocratic feel remains.
Visit the old industrial museum
For a look at Hermoupolis during its peak, visit the Old Industrial Museum. The museum contains relics and machinery from when Syros was a thriving municipality full of tanneries, flour mills (for loukoumi, more on that below), cloth mills for silk and cotton from Egypt, sawmills, ironworkers, shipyard, and soap factories. Located inside an old factory, the Katsimantis dyeworks, built in 1888, the building has also been a factory making nails, needles and lead shot. In 2000, it was converted to a museum.
Inside you'll find:
– The first electric car manufactured in the world
– Maps and pictures, town plans, old machinery, tools and industrial products
– Visit the Anerousis Lead Shot Factory with its original equipment form 1889.
– Kornilakis Tannery from 1880, also survives with much of its original equipment
– Velissaropoulos Textile Factory housing a collection of various machines from textile factories in Hermoupolis.
Syros in modern times
Each year Syros hosts the Aniya Syros Festival a festival of animation. The festival and the Greek National Opera (GNO) combined opera and animation in 2015, and this has become part of the festival. 2017 marks the 10th anniversary of the Aniya Syros Festival.
A film school and studio, to film and edit "Hollywood" blockbuster movies on the island, was announced in October 2017.
And tourism is a growing industry on Syros, visitor numbers continue to increase, and more and more jobs are created in this sector.
Specialty food of Syros
Here are a few local specialty foods, you will find on Syros, and one specialty drink! It is worth seeking these out as you won't find them in too many other places, and certainly not outside of the Greek Islands.
Loukoumi
You might know it as Turkish Delight, but in Greece, it's called Loukoumi, simply water, starch and sugar. Traditional flavors include rose, bergamot, and mastic. My favorite flavor was rose, resulting in a subtle, pink-colored loukoumi. In Syros, Loukoumi is still made by hand, using time-honored processes. Loukoumi from Syros is famous, primarily because of the nature of the water on Syros, which gives the loukoumi a unique consistency and taste.
The water, starch and sugar are heated in a copper cauldron. The mixture is stirred, both by machine and by hand until the mixture is of a certain consistency. The success of the batch is therefore heavily reliant on the experience, gained over many years and handed down from generation to generation, of the operator. The mixture is then cooled in wooden crates, dusted with icing sugar, cut into small squares and again dusted with icing sugar before being packed, ready for sale.
Loukoumi is the island's number one food product and was the reason there were so many flour mills at the turn of the century on Syros.
Fennel pie
Fennel pie is very common on the island of Syros and it comes in many shapes and sizes. It is also known as marathopita and is simply pastry enveloping a mixture of spices, wild greens (horta) and fennel leaves (the greens growing above the fennel bulb). It is incredibly healthy for you and you will find it in most Syros restaurants.
Fennel, thyme and sage all grow wild in Syros, as do many "wild greens". There may be up to 6 or 7 different types of wild greens in horta. As the different wild greens have different growing seasons, the nature of the wild greens changes with the seasons and therefore so does the Fennel Pie! A good place to eat fennel pie is at Archontariki Ermoupoli or Stin Ithaki tou Ai.
It is simple to make, as demonstrated by the staff of Archontariki Ermoupoli.
Cheeses and cheese dips
We enjoyed many, fine cheeses on Syros. Look out for St Michael's cheese. It's a hard, slightly spicy cheese made from pasteurized cow's milk, not dissimilar to a good Italian, parmesan cheese.
On more than one occasion, we enjoyed a spicy, cheese dip, called kopanisti. You make kopanisti with soft cheese and it has a creamy consistency and peppery flavor.
Look out also for any home-made, soft, hard and fresh cheeses that might be available. They are quite common on Syros and are a great opportunity to try cheeses that might be new to you. One such location was at the Tsipouro Distillery, below.
Tsipouro
Greek tsipouro is like Turkish raki or Italian grappa, it is a spirit made from the grape skins leftover from wine production. It is a very popular drink at social gatherings throughout Syros, as well as many other Greek Islands.
While on Syros we visited the first commercial distillery on the island making tsipouro. We tasted the product at the Syros Distillery and it was good! It was here we also enjoyed some home-made cheeses, made by the distiller's family. And the distillery has a fantastic view!
The distillery is newly open to the public, and are still setting up a website. When we get a link we will provide one.
Local sausages
I love to try local sausages, wherever we travel. And, the pork and fennel sausages on Syros are a standout! Make sure you try them at the many restaurants which feature them.
Other great Syros food
Look out for honey, olives, capers, sun-dried tomatoes and walnuts in your travels around the island. They're all good and just seem to have more taste than the same product from other places.
More great restaurants and bars in Hermoupolis
There are many dining options in Hermoupolis ranging from the very basic to fine dining. As well, there is a thriving bar scene on Syros. Coffee on Syros was also good. Here are a few of our favorites:
Stin Ithaki tou Ai
The location alone of Stin Ithaki tou Ai, is reason to visit this friendly taverna. It's located in the most attractive lane in Hermoupolis, with its marble pavers and gorgeous bougainvillea adorning walls and pergolas. There is plenty of indoor seating available. But, it is outdoors, under the bougainvillea, you want to be enjoying the warm, Syros climate.
This restaurant wins the award for the friendliest staff on Syros. It has all your favorite, Greek foods and is very moderately priced. Make sure you try the Fennel Pie here!
Suerte!
On more than one occasion we visited Suerte! for some excellent, late-night cocktails and wines. Indoors is cozy, which suited us just fine as September evenings can be cool. In the warmer months, there is plenty of outdoor seating to take advantage of.
The drinks list gives you the opportunity to enjoy Greek wines, including some wines from Syros. So, while in Rome, take advantage of it! There is also a full range of cocktails, beers and spirit drinks. Suerte! Is a perfect place to drop in for a nightcap to end your perfect day in Syros!
Megaron Café Bar
Long-time readers are well aware of our love affair with coffee. And on Syros, although we did not visit all the available cafes, we quite enjoyed the coffee at Megaron. Situated in another one of those beautiful, marble streets in Hermoupolis, inside a stately, old building, Megaron has a relaxed atmosphere to enjoy your brew of choice.
More great reasons to visit Syros
And if I still haven't convinced you, the locals are friendly, helpful and there is a lot of English spoken, (in case you don't speak Greek). Syros is safe and clean. The roadsides and beaches were spotless. Everything looks well maintained.
And it is all very affordable! Just a fraction of the cost of it's more expensive and glitzy neighbors Mykonos and Santorini.
Luxury hotels in Hermoupolis are much more affordable than you might find on other Greek Islands. Two five-star options worthy of consideration are Hotel Ploes and the Apollonion Palace. The Diogenis Hotel also receives great reviews.
If you are looking for luxury closer to the beach, try the Hotel Benois or the Dolphin Bay Hotel in Galissas. The Kini Bay or the Blue Harmony are both good choices in Kini Beach.
Getting to Syros
And the last and final reason, it's easy to get to Syros. Only a short ferry ride from Athens (3 or 4 hours) or on the high-speed ferry it is only a one-hour journey to Mykonos. You can bring a car on the ferry or just buy a passenger ticket.
If you need more information for planning your trip in the Greek Islands, please check our travel tips for the Greek Islands.
Have you ever heard of Syros? Do you agree it sounds like Syros is the Best Destination in the Greek Islands?
(Featured Image by G Da via Wikimedia Commons. CC BY-SA 3.0)
—
DISCLAIMER: This article expresses my own ideas and opinions. Any information I have shared are from sources that I believe to be reliable and accurate. I did not receive any financial compensation for writing this post, nor do I own any shares in any company I've mentioned. I encourage any reader to do their own diligent research first before making any investment decisions.